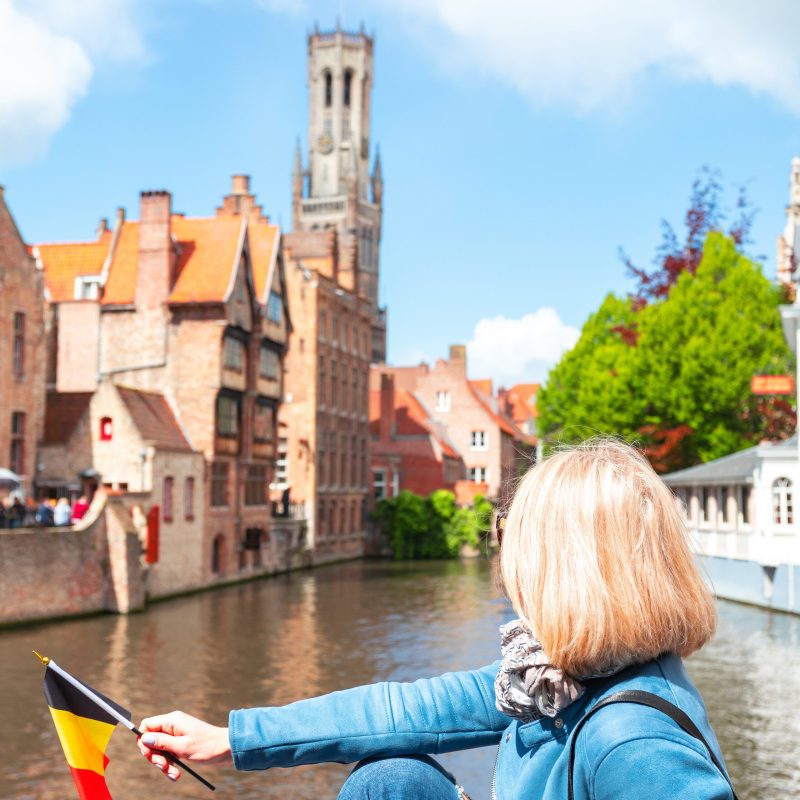 Living abroad in Spain and Thailand for a total of four years provided me with ample opportunity for solo travel, something that, just a few short years prior, I never imagined I would do.
If you're a woman and you've ever traveled alone, then you know how addicting it can be. It allows time for self-reflection and exploration and teaches us how to be truly independent. There are few things in life I have found more liberating than globetrotting solo.
If it's your first time traveling alone, then Europe is a great starting point. Europe is full of beautiful and safe cities that are ideal for the independent female traveler. Here are the 11 best European cities to visit solo:
1. Seville, Spain
Seville is big enough to get lost in but small enough that you won't actually feel lost. Situated in the Andalusian region of southern Spain, Seville has a lot going for it: brightly colored apartment buildings, cobblestone streets, friendly locals, and favorable weather.
Spaniards walk more than most people in the world, and their cities are designed for walking. In Seville, it's easy to get around on foot, though there is a newer metro system in place as well as buses and taxis for all your transportation needs.
When visiting Seville, be sure to check out the Seville Cathedral, the Alcázar of Seville, the Plaza de Toros de la Maestranza, and the Torre del Oro.
For more Seville inspiration, check out Live Like A Local In Seville: 8 Best Kept Secret Spots.
2. Lisbon, Portugal
After visiting Seville, you can head over to Lisbon, another extraordinary European city for women traveling solo.
Lisbon is a beautiful port city situated in the western Iberian Peninsula on the Atlantic Ocean and the Tagus River. The city is known for its beautiful squares, quaint neighborhood streets ideal for wandering, and excellent cuisine, as well as for its helpful and friendly locals who are accustomed to foreign visitors.
Like Seville, Lisbon can be explored on foot, but solo female travelers should make sure to board a Remodelado tram at least once during their visit, a unique experience only to be found in this stunning capital city.
For more Lisbon inspiration, check out How To Spend A Day In Lisbon, or The Best Things To Do In Lisbon.
3. Amsterdam, Netherlands
Though Amsterdam is known as the Sin City of Europe, it is actually the safest city on the entire continent.
Amsterdam was named the safest city in the European Union and the sixth safest city in the world in the 2017 Safe Cities Index. It was also named the most digitally secure city.
Amsterdam's vast public transportation system makes getting around easy. Though the city has many metro, tram, bus, and ferry routes, no trip to Amsterdam would be complete without a bike trip around the city, an ideal activity for the solo female traveler.
For more Amsterdam inspiration, check out 9 Exciting Things To Do In Amsterdam, or 5 Reasons Amsterdam Should Be On Your Bucket List.
4. Copenhagen, Denmark
Scandinavian countries are generally very safe places to visit, and Denmark is no exception. Denmark's capital city is home to some incredible cultural experiences, such as Freetown Christiania, the Tivoli Gardens, Christiansborg Palace, and Nyhavn, Copenhagen's 17th-century waterfront.
Copenhagen is also home to one of the most advanced transportation systems in Europe. The metro will take solo female travelers to almost all of the most iconic spots in the city, and it provides transportation to and from the airport.
For more Copenhagen inspiration, check out Traveling To Copenhagen: What To Know Before You Go, or How To Spend A Fantastic Day In Copenhagen.
5. Prague, Czech Republic
Nicknamed "the City of a Hundred Spires" for its stunning Gothic architecture, Prague is an unparalleled city that draws visitors back time and time again.
The capital city of the Czech Republic, Prague is known for its winding streets, famous squares, historic bridges, and fairy-tale castles.
Prague is one of the easiest cities to navigate in Europe, since its main tourist attractions are located within walking distance of one another. There are several hostels and hotels in the area that are great for solo travelers, and women traveling alone won't struggle to find like-minded wanderers in the city.
For more Prague inspiration, check out How To Spend A Day In Prague, or Prague's Hidden Gems: 7 Places To Visit Off The Beaten Path.
6. Cinque Terre, Italy
Situated on the rugged Italian Riviera, Cinque Terre is one of Italy's most scenic destinations. The centuries-old seaside villages are located in five distinct towns: Monterosso al Mare, Vernazza, Manarola, Riomaggiore, and Corniglia.
A UNESCO World Heritage Site, Cinque Terre makes visiting easy with the Cinque Terre train. Trains run frequently year-round to the area's five villages, and the stops between each town take five to 10 minutes. Travelers can purchase a Cinque Terre Card that includes both train and bus travel.
Women traveling solo will love the charm of Cinque Terre, a great place to feel comfortable on your own and relax, especially during the summer months when the beaches are open for swimming, sunbathing, and some serious rest and relaxation.
For more Italian travel inspiration, check out 8 Most Beautiful Places In Italy, or 8 Gorgeous Hidden Beaches In Italy.
7. Budapest, Hungary
Budapest is a magical city filled with history, beautiful castles, unique bars, and more thermal and medicinal springs than there are in any other capital city in the world.
Budapest is a popular destination for solo travelers, so finding accommodations will be easy. The city also offers free three-hour-long walking tours, a great way for travelers to see all of the major attractions the city has to offer.
Spending a day at any of Budapest's thermal baths is a great way for solo female travelers to sit back, relax, and unwind after hours of sightseeing. Szechenyi Baths are Budapest's most popular thermal baths, and you can purchase tickets here.
For more Budapest inspiration, check out 9 Amazing Things To Do In Budapest, or 8 Cool Hidden Gems In Budapest.
8. Hamburg, Germany
Big cities with lots of hustle and bustle may not be the best choice for women traveling on their own. This doesn't mean that big cities are unsafe, but it's easier to get around by yourself and experience a destination to the fullest in a smaller city.
Hamburg is an old-town, picturesque, and leisurely alternative to the big city of Berlin. Hamburg can be easily explored on foot, but it is still big enough to get lost in and have plenty of nightlife, culture, food, architecture, and activities to enjoy.
For more German travel inspiration, check out From 'A' To Zeppelin': 15 Things To Do In Germany, or 5 Wunderbar Facts About Germany.
9. Edinburgh, Scotland
If you're a woman traveling solo on New Year's and looking for the best location to celebrate, head to Edinburgh.
Edinburgh has one of the biggest New Year's celebration in all of Europe, and it's a great place to spend time on the street with locals and people from around the world.
Edinburgh is also home to some amazing cultural attractions, including the iconic Edinburgh Castle (where an amazing New Year's fireworks display occurs each year), Calton Hill, and the Royal Mile.
For more Edinburgh travel inspiration, check out 8 Things To See And Do In Edinburgh, or 11 Amazing Hidden Gems In Edinburgh.
10. Zurich, Switzerland
Zurich was named the 10th safest city in the world by the 2017 Safe Cities Index, making it a great destination for women traveling solo.
Zurich has over 50 museums and 100 art galleries, lots of places to shop, and jaw-dropping architecture. Though it should be noted that Zurich is an incredibly expensive city to visit, it will be worth every penny.
If you're visiting Zurich in the summer, Lake Zurich is surrounded by cafés and restaurants and has several parks with shorelines perfect for soaking up the sun, swimming, or hiring a pedal boat.
11. Bruges, Belgium
Though Belgium has been the victim of a series of unfortunate and devastating acts of terrorism, the country still holds its head high and offers incredible experiences for travelers.
With its Bavarian buildings, quaint canals, and vibrant flora, Bruges will make you feel like you're in a storybook. This striking city will leave solo female travelers feeling replenished and full of wonder and curiosity.
For more Bruges inspiration, check out How To Spend A Day In Bruges, Castles & Canals: 9 Things To Do In Belgium.
Interested in learning more about solo travel? Check out all of our articles on the subject by clicking here!