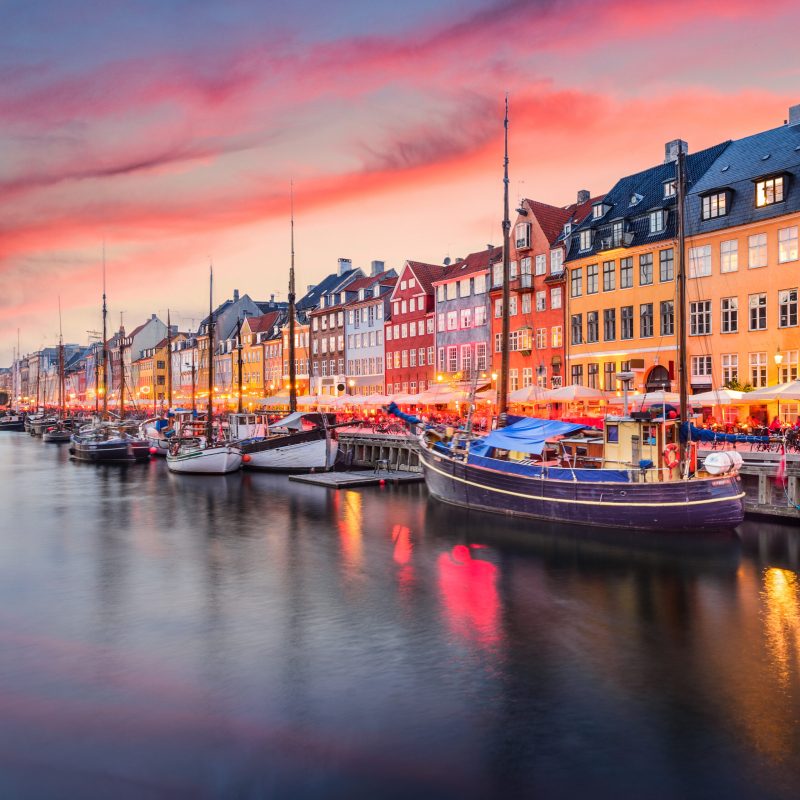 A trip to Copenhagen is the perfect introduction to Scandinavia. This charming harborfront destination was originally a fishing village; Vikings, bishops, and royalty have made their mark on the city, and more recently, the area has seen an influx of travelers.
While Copenhagen's colorful streets suffer from overtourism during the summer, I've visited twice during the shoulder season — once in the spring, and more recently in the fall — and didn't notice crowds at all.
If you're looking to experience the sights, shops, and bites the city of Copenhagen has to offer, we've got you covered. Here's how to spend a fantastic day in Copenhagen, whether it's your first or 50th time visiting the capital of Denmark.
See The Little Mermaid Statue
While it's a bit out of the way — and gets a bad rap for being a tourist trap — Copenhagen's iconic Little Mermaid Statue is an easy stop to add to your itinerary. My fiancé and I grabbed a coffee in town before walking to the mermaid statue around 9 a.m. When we arrived, we were delighted to see that we were the only tourists there.
The nearly 100-year-old statue is smaller than the pictures make it seem, but the beautiful 25-minute stroll from downtown Copenhagen to the bronze statue provides some spectacular harbor views.
Visit The Tivoli Gardens
Sadly, the Tivoli Gardens — equal parts garden and theme park — were closed during both of my visits. The amusement park has a classic, retro vibe and offers everything from swings and roller-coasters to ponds and flowers. On certain nights, the park becomes a festive concert venue.
The Tivoli Gardens are open seasonally between April and September and for Halloween, Christmas, and Easter events. Based on the number of attractions and Tivoli's delicious-looking food hall, I'd set aside at least a few hours to experience the park to the fullest.
Explore Nyhavn Harbour
If you imagine colorful buildings and fishing boats when you think of Copenhagen, you're envisioning the city's Nyhavn Harbour. The harbor is one of the most popular destinations in Copenhagen, and for good reason. Restaurants, coffee shops, and scenic vistas abound up and down this charming canal.
It only takes about 15 minutes to walk up and down the canals of Nyhavn without stopping, but you'll probably want to stop at one of the many charming outdoor cafés. Since the harbor is a tourist hot spot, bites there are a bit more expensive, but the chance to enjoy those Nyhavn views is worth every penny.
Appreciate The Art In Freetown Christiania
Art galleries, murals, music venues, and street food abound in Freetown Christiania, an autonomous community of about 800 residents in eastern Copenhagen. Many view the area as a hippie, drug-filled commune — and to be clear, drugs (mostly marijuana) are sold throughout the town — but Christiania is just as much an arts scene as it is a drug spot.
Exploring Christiania rarely takes more than an hour; don't miss the area's massive outdoor artwork and peaceful little harbor while you're there.
Learn About Danish History At The National Museum Of Denmark
The National Museum of Denmark may take up half of your day — or at least a few hours — but the unique artifacts from Denmark's past are absolutely worth your time. Located in the center of town, the National Museum of Denmark features exhibits covering everything from Danish prehistory to the country's royals, and a variety of rotating exhibits are on display throughout the year. If you're a history buff, you can delve deeper into Denmark's history with a guided tour such as the Meet the Vikings tour, which highlights treasures from the Viking Age.
Shop, Dine, And People-Watch In Stroget
For the best shopping, dining, and people-watching in Copenhagen, head to Stroget. This pedestrian street — the longest pedestrian street in Europe — is lined with both high-end and more affordable stores ranging from Prada and Louis Vuitton to the Disney Store. Quaint cafés and tasty restaurants are just about everywhere along this lively .6-mile stretch. Don't miss the Stork Fountain, one of the street's most picturesque spots.
Stroll Through The Botanical Garden
On my second trip to Copenhagen, I was delighted to stumble upon the peaceful and scenic Botanical Garden. This serene spot has welcomed visitors to Copenhagen since 1870; it features 27 glasshouses, including the main house that dates to 1874.
My fiancé and I spent about 2 hours admiring the flowers across this property. There are more than 13,000 species, including 600 Danish plants. The butterfly house is an impressive new addition to the garden.
Take A Guided Tour Of The Christiansborg Palace
For a look into the life of Denmark's royals, visit the Christiansborg Palace. Parts of this palace are still used by the country's royal family, and visitors are welcome to walk through spots like the Great Hall, which is home to the Queen's tapestries, and the Throne Room, where the Danish monarchs are announced. Plan on spending 2 to 3 hours at the palace; those interested can get a free guided tour with their ticket.
Climb The Tower Of The Church Of Our Saviour
The Church of Our Saviour is one of Copenhagen's most-visited churches, primarily because its tower offers fantastic panoramic views of the city. Getting from the ground to the top of the church spire is tough, both physically and mentally. I have a major fear of heights and struggled with the last part of the climb — during the final segment, visitors actually climb up the exterior of the serpentine spire! I made it about halfway up that spire before booking it back down.
If heights don't frighten you, the climb will take about 30 to 45 minutes. Those who'd prefer not to climb the exterior of the spire can stay on the viewing deck three-fourths of the way up. It offers nearly the same panoramic vistas as the spiral staircase, without the panicky feeling that you might fall!
Explore The Rosenborg Castle
The Rosenborg Castle is one of Copenhagen's most stunning sites, both inside and out. Outside, the Rosenborg Castle features lush greenery and a rose garden that's perfect for relaxing in. Inside, the palace, which was built by the Scandinavian King Christian IV in the 1600s, provides a lavish look at Denmark's history. You'll see the royal chambers, an impressive Venetian glass collection, the crown jewels, and the coronation throne. Expect to spend at least 3 hours at Rosenborg, but history buffs will definitely need more time!
Rent A Bicycle
One thing that impresses me every time I visit Copenhagen is just how seriously the locals take biking. Instead of parking lots, there are massive bicycle parking areas. And, come rush hour, the streets are filled with cyclists, not drivers.
It's easy to see why renting a bike in Copenhagen is a must. It's one of the best ways to get around the city, and biking in Copenhagen is easy thanks to the obvious bike lanes and bike-aware drivers. You can either rent a bike and ride around yourself or book a guided tour to learn about the city's architecture, history, and culture as you go.
Eating And Drinking In Copenhagen
Given its location, it's no surprise that Copenhagen is full of seafood restaurants. But this isn't your average seafood! One of Copenhagen's most popular dishes, herring, is a must-try delicacy. My favorite spot for herring is Nyhavns Faergekro. Its herring buffet with 13 different styles of the fish is a great introduction to this Copenhagen bite. The restaurant also serves another Copenhagen staple, smorrebrod, an open-faced sandwich with toppings like smoked salmon, cold meats, and, of course, herring!
Copenhagen specializes in more than just seafood. Another famous local bite, the rod polse, or hot dog, is available at stands all over town.
After a full day of exploring, few things can beat unwinding with a local beer, and Copenhagen is known for its breweries. Visiting a local brewery will give you the chance to see another, less touristy side of Copenhagen, since most breweries are located in the more residential parts of the city where locals live and work.
As a craft beer enthusiast, I've stopped by at least half a dozen breweries on my trips to Copenhagen. My favorites include Norrebro Bryghus and the BRUS brewing room, an outpost of the popular Danish microbrewery To Ol.
Shopping In Copenhagen
One of the most popular souvenirs from Copenhagen is the quintessential blue-and-white porcelain royal dinnerware set. These sets are available at Royal Copenhagen and typically cost between $50 and $75. Another popular souvenir is silver (think earrings and rings) from the popular Danish brand Georg Jensen.
More affordable souvenirs include Danish wool sweaters and items featuring the adorable nisse elf. The nisse shows up on everything from ornaments to figurines!
Ready to book your flight to Copenhagen? Good! You won't regret it. Here are some things to know before you go, and here's how to navigate the city once you get there.