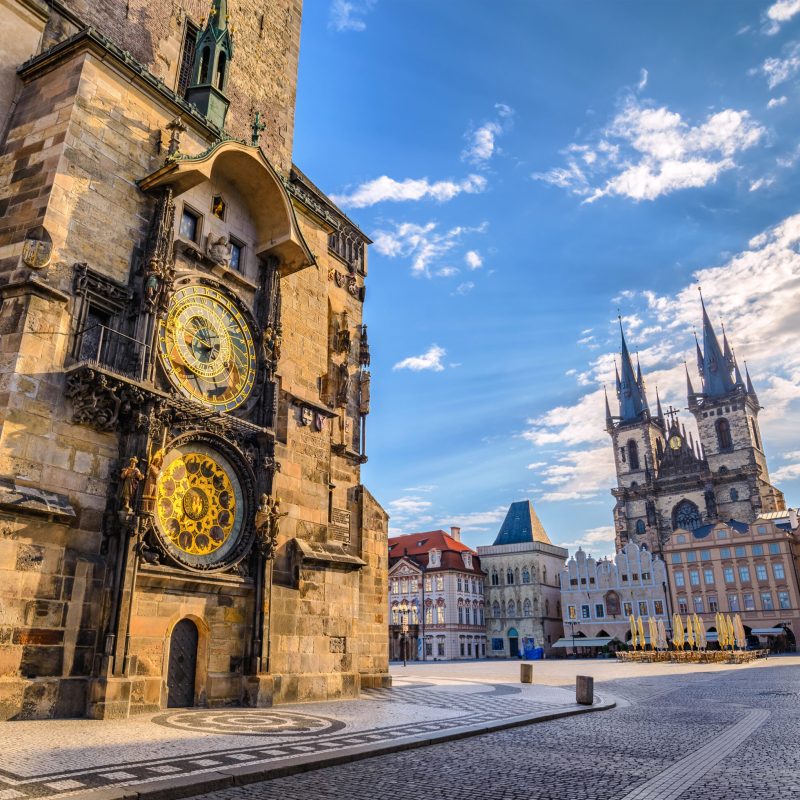 After living in Europe for several years, I'm always confronted with the same question from friends, family members, and fellow travelers: "So, what's your favorite place in Europe?"
I dread this question because there are endless breathtaking potential answers throughout the continent, all with their own charm, culture, and uniqueness. I spent most of my time in Spain, so it's hard to choose somewhere other than the country I called home for many years. Despite this, I tend to tell people that, other than Spain, my favorite European city is Prague. Hands down.
Prague is the capital of the Czech Republic, a city with extraordinary Gothic architecture, a vast castle complex (the largest in the world, actually), friendly locals, great beer, hearty cuisine, and a harrowing yet triumphant history. It's a city that calls back its visitors time and time again, and I promise it will be difficult to visit Prague only once in your lifetime.
If you're thinking about visiting, don't hesitate. If you're traveling through Europe and have given yourself limited time in the Czech capital, the city is remarkably walkable — at least with regard to its main attractions, many of which can be seen in one day.
Continue reading if you're interested in the best way to spend a day in Prague.
1. Old Town Square
Start your day in Prague's Old Town Square, the most historically significant square in the entire capital.
In the summer, Old Town Square is a great place to kick back, people-watch and enjoy a good Pilsner. During winter months, the Square observes the season with many stalls selling trinkets and food in a typical European Christmas market style. Time of year aside, strolling here is a must.
Old Town Square's history dates back to the 12th century, and it is enveloped by endless historically significant buildings. The Church of Our Lady Before Tyn, also referred to as Tyn Church, was constructed in 1365, its unique architecture completely dominating one side of the square. The facade showcases stunning Gothic features, while the interior is in the Baroque style.
While Tyn Church may be the first building you notice when you walk into Old Town Square, its most significant piece of architecture remains the 14th-century Old Town Hall, famous for the 600-year-old Prague Astronomical Clock, the oldest of its kind in all of Europe. Tourists gather around the clock every hour to watch its procession of miniature figurines.
2. Powder Tower
A prominent symbol of the city, Prague's Powder Tower, also referred to as the Powder Gate, stands 213 feet tall and, until 1836, was used by Bohemian Monarchs on their way to coronation in the St. Vitus Cathedral (listed below) at the Prague Castle.
Powder Tower is one of the most significant monuments of Late Gothic Prague, and construction of the building was completed in 1475. Though it formerly served as a gunpowder store, it's still the starting point for the Coronation or Royal Route to the Prague Castle.
From Nov. to Feb., Powder Tower is open daily from 10:00 a.m. to 6:00 p.m. In Mar. and Oct. it is open daily from 10:00 a.m. to 8:00 p.m., and from Apr. to Sept., the tower is open daily from 10:00 a.m. to 10:00 p.m. Entrance costs $4.44 USD.
3. Charles Bridge
Charles Bridge connects Prague's Old Town and Lesser Town, famous for the several stone statues lining both its flanks. If you start your day in Prague at Old Town Square, you can then pass through the Powder Tower and cross Charles Bridge, letting this be your pathway to Prague Castle. You've now just knocked out three main attractions on this list, back-to-back-to-back!
Previously referred to as 'Stone Bridge,' Prague's oldest bridge has been called Charles since 1870. It grants stunning views of the city's Vltava River on either side.
The bridge is constantly filled with tourists and locals alike, with many artists selling paintings of the city and other works. Street performers and other entertainers can also be found along the bridge, making this famous overpass a bustling spectacle of its own.
4. Prague Castle
As previously mentioned, Prague Castle is part of the largest castle complex in the world, covering an area of approximately 70,000 square meters according to the Guinness Book of World Records. The castle is among the most visited tourist attractions in Prague, welcoming more than 1.8 million guests per year.
A UNESCO World Heritage Site, Prague Castle was erected around 880 by Prince Borivoj of the Premyslid Dynasty. Starting in the 10th century, the castle served as the seat of Czech princes and later kings, and the seat of the Archbishop of Prague. Today, the castle is the official office of the President of the Czech Republic.
The Prague castle complex is open daily from 6:00 a.m. to 10:00 p.m. There are several different ticket options to choose from, ranging from $6 to $31 USD. For more information on tickets and pricing, click here.
5. St. Vitus Cathedral
Located within Prague's castle complex, St. Vitus Cathedral is the largest and most important cathedral in Prague. Apart from religious services, St. Vitus Cathedral has been the site of many coronations of Czech kings and queens, as previously mentioned.
Prague's most renowned cathedral is connected to some of the country's most prominent historical personalities. In 1344, for example, the celebrated King of Bohemia and Holy Roman Emperor Charles IV began the construction of the present-day Gothic cathedral. St. Vitus Cathedral is also the burial place of several patron saints, sovereigns, noblemen, and archbishops.
From Apr. 1 through Oct., St. Vitus Cathedral is open Mon. to Sat. from 9:00 a.m. to 5:00 p.m., and Sundays from noon to 5:00 p.m. From Nov. 1 through Mar., the cathedral is open Mon. to Sat. from 9:00 a.m. to 4:00 p.m., and Sundays from noon to 4:00 p.m.
6. Lennon Wall
Situated just a quick 14-minute walk southeast of St. Vitus Cathedral, Prague's Lennon Wall is a leading tourist attraction, a long stone wall completely filled with John Lennon-inspired graffiti and various Beatles lyrics that started taking shape in the early 1980s, shortly after Lennon's death.
Today, tourists visit the wall to gaze upon and take pictures against its vibrant colors, while remembering the musical legend of the '60s and '70s. Visitors can even add some of their own graffiti — you just have to bring your own materials!
After spending some time at the Lennon Wall, be sure to head to the adjacent John Lennon Pub for a delicious Czech lunch, surrounded by endless John Lennon and Beatles memorabilia. Try the restaurant's fish and chips, rump steak, or 700g roasted pork ribs.
7. Dancing House
Though located slightly on the outskirts of the previously mentioned attractions, Prague's Dancing House is situated approximately 20 minutes from the Lennon Wall, an incredibly unique piece of modern architecture in the Czech capital.
Dancing House is the nickname given to the city's Nationale-Nederlanden building, designed by Croatian-Czech architect Vlado Milunic in cooperation with Canadian-American architect Frank Gehry.
Dancing House, also known as Fred and Ginger, sits on a vacant riverfront plot, featuring a restaurant, hotel, and bar. If you're looking for a sleek, modern, and luxurious accommodation in Prague, consider residing at Dancing House Hotel.
8. SANDEMANs Free Tour of Prague
Embarking on a free walking tour is a great way to see many of Prague's main and off-the-beaten-path attractions.
SANDEMANs three-hour walking tour starts in Old Town Square, covering sites such as the famous astronomical clock, views of Charles Bridge and Prague Castle, House of Black Madonna and the Museum of Cubism, Church of Our Lady Before Tyn, the Czech Philharmonic, St. Nicolas Church, the Old Jewish Quarter, and much more.
Partaking in SANDEMANs free walking tour will provide visitors an at-a-glance-look at many of the city's popular sites, an excellent option for travelers visiting Prague for only one day.
If you only have one day to spend in Prague, we hope we've helped you narrow down your options. And we hope you get the chance to return and spend more time there!