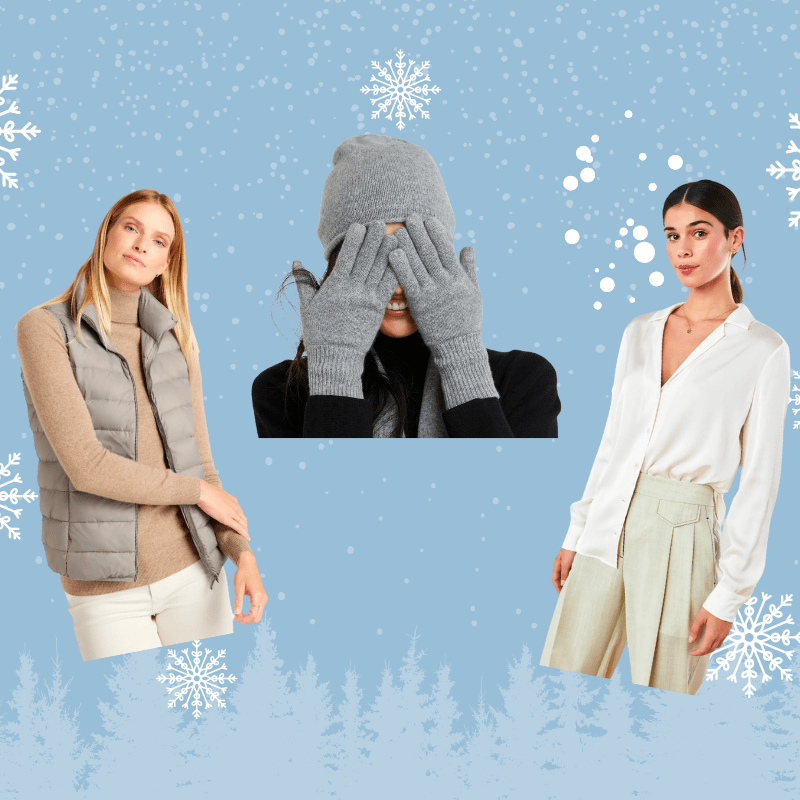 If you're anything like me, you probably looked in your closet and realized you haven't bought winter clothes in a couple of years. It quickly became apparent this holiday season while rifling through my clothes and finally settling on a few "oldies, but goodies" for the various holiday get-togethers, it was time. I needed to go shopping.
I never enjoyed shopping pre-pandemic and that feeling holds true stronger than ever now. So, I did what any of us do, I sat down at my computer to make some fashion upgrades. However, I was much more thoughtful about my purchases this time around. Obviously, affordability was my top priority, along with quality. I knew firsthand how much more I valued quality staples in my closet over trendy cheap pieces. I also factored in sustainability for the first time. I've become much more knowledgeable about the impact we are needlessly having on the environment and I wanted to reduce my footprint as much as possible.
Those factors brought me to my new favorite online shopping site, Quince. I read about Quince's mission: "To create an item of equal or greater quality than the leading luxury brands at a much lower price." Well, that fits my shopping style perfectly! As I kept researching, the way they highlighted their core values stood out. Quince believes sustainability should be the standard, not a luxury, and focuses on using sustainably produced material. In the past, I'd noticed it was primarily the higher-end (and higher-priced) clothing lines that boasted about their sustainability efforts. They are recognized by various environmental agencies for this, including the Global Organic Textile Standard and the Global Recycled Standard. For Quince, this value bleeds into fairness and safe working conditions for all their employees, including the workers at their manufacturing warehouses. Not only did they check every box on my shopping list, but these values also gave me huge peace of mind, and I was sold.
I decided to address the most pressing closet issue first: I needed new winter clothes. Heck, I needed a whole new winter wardrobe. Excited by the fact I could manage to give my staples a facelift and stay well within my budget, I opted for some new women's jackets, shirts, sweaters, pants, pajamas, and even some accessories. As I write this, I am wearing my new burgundy cashmere tee and cashmere beanie. I needed to spread the good news. Here is all the women's winter clothing I purchased from Quince so you can be inspired to upgrade your closet too!
Winter Jackets For Women
Buy Now
$49.90
Utility jackets are an easy option to throw on to run errands or even for a casual night out. I fell in love with this army green jacket, as my husband has a similar one I've long been lusting after. Unlike his, this jacket is super soft and made of 100 percent BCI (Better Cotton Initiative) cotton material. It is form-fitting, thanks to the hidden waist drawstring. However, I think my favorite part of the whole jacket is the fact they provided so many pockets! All six pockets are fully functional, snap or zip, and provide enough room for things to leave my purse in the car. This jacket is available in sizes XS-XL.
Buy Now
$39.90
In the Midwest, it's common for temperatures to be below freezing one day and sunny and 70 degrees the next. Of all my clothes, I rely on a puffy lightweight vest the most! It's easily transitioned between climate extremes and it's fashionable enough to throw over anything from a sweatshirt to a pretty blouse. This down puffer vest is made with 650 fill-certified responsible down. Although it isn't bulky, it has a temperate rating of 32 degrees, with stretchy armholes and hem, to keep you warm and cozy. The vest is available in sizes XS-XL in grey, navy, and black.
Buy Now
$49.90
A versatile fluffy fleece is an absolute MUST in the winter! This beautiful cream-colored zip-up jacket can be worn from the ski slopes to the fire pit. Plus, you can feel great about sporting the 100% percent recycled polyester, made from recycled plastic bottles as part of the Global Recycle System. In addition to cream, it's available in navy and black, and sizes XS-XL.
Buy Now
$149.90
If you don't have a black leather jacket, what are you waiting for? This motorcycle jacket can be thrown over any outfit, from running errands to a night out, to instantly elevating your style. The side zipper and belt enclosure add a bit of flair. The best part? It's a fraction of the cost of any comparable 100 percent leather jacket out there! It's available in sizes XS-XL, but it's a slim-fit so I recommend sizing up if you prefer a looser coat.
Winter Tops For Women
Buy Now
$50
A cashmere sweater is truly a timeless piece for your closet and you cannot beat this beauty for only $50! Comparable sweaters usually run $120 or more. I put it on the second my box arrived and it's been worn multiple times sincce. It's lightweight, cozy, and can be easily dressed up or down. It comes in sizes XS-XL and nine different colors.
Buy Now
$59.90
This blouse is a true beauty. Although many of us have been out of the office awhile (or retired!), it is still imperative to have a silk blouse for occasions. This blouse is made of washable silk, making it lightweight and comfortable while still oozing luxury and glamour. Although silk may not be the fabric you instantly think of during winter, there is something about putting on a cool, soft blouse before stepping out into the harsh, rough weather. It's available in sizes XS-XL and six colors.
Buy Now
$44.90
This beautiful versatile cashmere tee is less than half the price of the competitors. If you don't own a short-sleeved cashmere, what is your go-to staple to wear in fall, winter, and spring? This particular tee is made of 100 percent Grade A Mongolian super soft lightweight cashmere. It's available in sizes XS-XL and five different colors. For this price, why not buy them all?
Buy Now
$34.90
This cozy pullover is made of Quince's propriety SuperSoft fabric, the softest fleece on the market. The hoodie is slightly stretchy, lightweight, and warm, the perfect combo to instantly make it your favorite lounger. I have worked in it, I have slept in it, I have run errands in it. Once you put it on, it's truly hard to sacrifice comfort in favor of anything else. It's available in sizes XS-XL and three different colors.
Winter Pants For Women
Buy Now
$34.90
After reading the description of these bootcut pants, I had to try them. Quince describes them as "if dress pants and yoga pants had a kid — this would be it." Anytime I can combine comfort with work clothes, I am in. These pants are made of four-way stretchable fabric to be both supportive and comfy for all-day wear. I opted for the bootcut version, but they are also available in skinny leg, both styles in sizes XS-XL.
Winter Accessories For Women
Buy Now
$99.90
Wraps are the ultimate undervalued winter accessory! They work as functional blankets, cozy scarves, and fashion accents to spruce up any outfit. This particular wrap is made of 100 percent Mongolian cashmere to be the softest on-the-go wearable blanket while traveling. It is 86 by 25.5 inches, plenty big enough to curl up under. It's available in neutrals to pair with any outfit (and match the gloves and beanie!): black, oatmeal, heather gray, and navy.
Buy Now
$24.90
I love a good beanie that is both fashionable and functional. This cashmere beanie easily checks both of those boxes. The fabric matches the gloves and wrap, made of luxuriously soft Grade A Mongolian cashmere. The rolled hem adds plenty of style to wear this both indoors and outdoors. Plus, it's the easiest option to throw on when my hair won't behave. It is available in four colors: black, oatmeal, heather gray, and navy.
Buy Now
$29.90
It may be sad to admit, but the one quality I value most from gloves is being touchscreen-friendly. We all live on our phones and it quickly becomes annoying to rip the gloves off every time we hear a chime. Quince combines that with their Grade A Mongolian cashmere to create these fabulous gloves. My favorite part about this pair is the extra long cuff to easily fit into my coat sleeves and keep my wrists nice and warm. They are available in four neutral colors to fit any outdoor ensemble.
Buy Now
$129.90
I just love a great set of pajamas; however, I am particular. Don't give me any of that long-sleeved fleece nonsense, as the heat will keep me awake. I prefer light and flowy, with a touch of style. This silk pajama set easily fits the bill. Although it does come with long pants, I was delighted to realize they have a side slit to keep me cool throughout the night. Another huge bonus is that this silk is 100 percent washable, because no one wants to dry-clean their PJs. This set is available in sizes XS-XL in black, navy, and toasted almond.