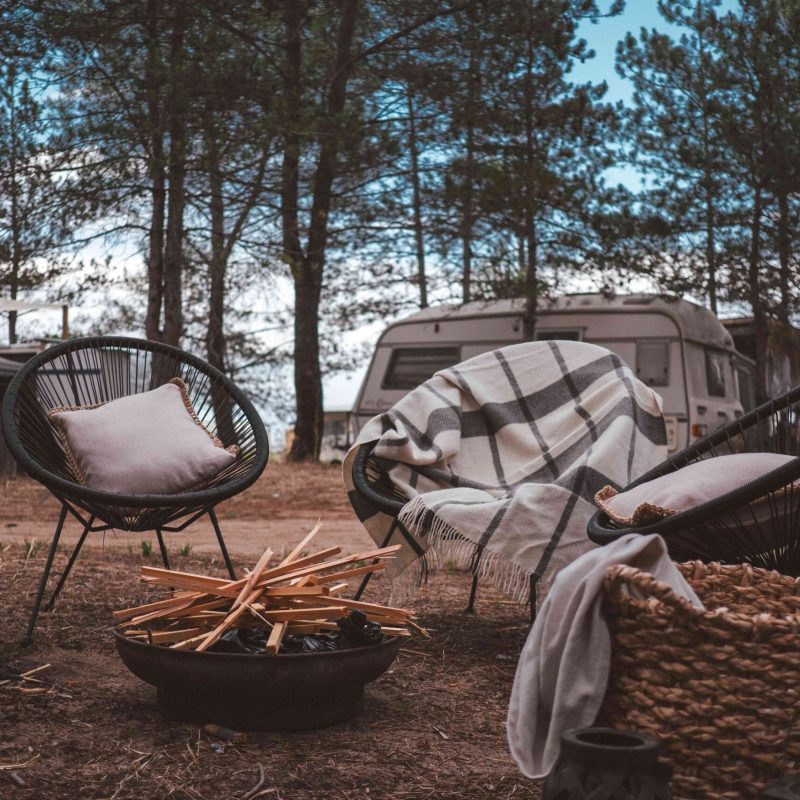 Autumn might have arrived, but that shouldn't stop you from enjoying the great outdoors. Sufficient preparation for the changing temperatures means I can continue doing all of my favorite things, including hiking and camping, even as the leaves change and mornings begin to sparkle with frost.
A heated blanket is one of the best purchases to ensure your comfort and warmth camping through the colder months (plus, you can now fly with them). But, choosing a heated blanket can be an investment, and it's important to know what factors to look for when considering different models.
Keep reading and I'll walk you through everything you need to know while shopping for an electric blanket and the seven best blankets on the market right now.
What To Look For In A Heated Blanket
The most important factor when it comes to heated blankets is safety. These cozy blankets keep you warm and snug via electricity, meaning they can pose safety problems if not properly certified and tested.
Look for blankets that have been tested and certified by a Nationally Recognized Testing Laboratory (NRTL), which certifies that electrical equipment includes the necessary safety features to be safe for consumer use. You can check out OSHA's list of NRTLSs to check that your blanket of choice has been properly certified.
When camping, what I need from my electric blanket differs from the one I snuggle under while reading by the fireplace inside.
For example, it's essential to look for blankets with an automatic shutoff so that if you head out for a morning hike and forget to turn off your blanket, it isn't burning a hole in the floor of your tent for hours. Most blankets have automatic shut-offs after four, eight, or 12 hours. Some models even come with timers so you can select how long you want your blanket on.
Outside of safety, other factors include fabric quality, size, nifty features like temperature control, good color selection, and price. Finding the best-heated blanket for your unique camping style is a matter of assessing all of these features and choosing the one that most aligns with your needs.
The Best Heated Blankets
Without further ado, here are the top heated blankets on the market right now: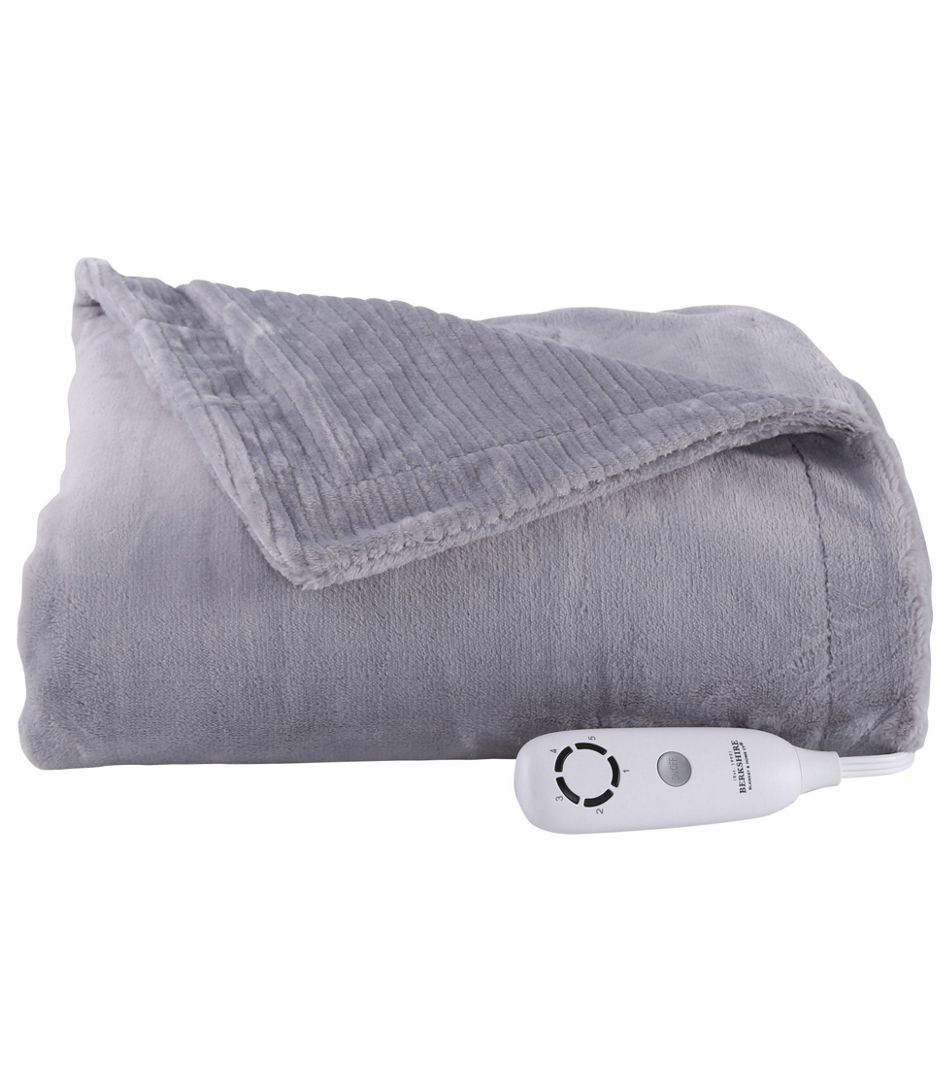 Buy Now
$119/nightly avg
I love the L.L Bean Wicked Cozy Heated Throw because of its versatility. You can use it as a stylish throw in your living room at home, and also bring it along to keep you warm during cold nights at the campsite. Although, be warned — the ribbed material and luxurious silky side will make it difficult to give up your cozy spot next to the fire!
The Wicked Cozy throw is reversible and machine-washable, which adds another layer of versatility that you don't find in every electric blanket. It's 50 inches by 60 inches — standard heated blanket size — and boasts five heat settings as well as that important automatic shutoff. 
If you're on the hunt for a heated blanket that you can use on the trails and off, it doesn't get much better than this one. Bring it along on your next national park adventure, then throw it in the wash and return it to its usual spot on your couch with minimal fuss. 
Color Options:
Cream, Gray, Shade Blue
Buy Now
$23.51
If you're searching for a handy heated blanket to stow in your car on camping trips, look no further than the Stalwart Electric Car Blanket. This blanket is one of the least expensive options, yet it still provides the reliable warmth you'd want in a camping or emergency car blanket. It plugs into any car, SUV, RV, or truck cigarette lighter. It is lightweight and easily packable, making it great to keep in your vehicle for cold days on the road. 
There's a lot to love about this blanket, including its extra long cord and extremely reasonable price point. One thing to note is that it only has one heat setting and tends to take a little longer to warm up than other more expensive blankets on the market.
It also is a thinner polyester material — perfect for storing in small spaces, such as your car or in your carry-on, but not the luxury experience you might get from pricier blankets. 
As with any product, it's all about what you're looking for. If you need an inexpensive and portable blanket for your car, I highly recommend the Stalwart Electric Car Blanket. Made with travelers in mind, this little blanket is perfect for throwing on during long drives to the campsite or using as a lap blanket while you roast s'mores by the fire. 
Color Options:
Black & White Checkered
Buy Now
$229.99
The Cozee Heated Blanket is one of the most high-quality electric blankets. It has a micro-plush velour interior, water-resistant exterior, and comes with a rechargeable battery pack, making it perfect for camping trips with minimal electric access.
Unlike many heated blankets, the Cozee uses the power of your body heat to maintain its warmth without constantly pulling from an energy source. It warms up to a maximum of 108 degrees during a five-minute surge period. Then, it maintains that temperature using a low level of electric power as well as your body heat.
For that reason, it works best when used cocoon-style — stay wrapped up in the Cozee rather than using it as a throw to maximize its heating power. 
At 60 inches by 60 inches, this blanket is slightly larger than the average heated blanket and comes with a car adaptor, making it perfect for trips on the road. The downsides are that it only comes in one color (navy blue), and the batteries only last for so long.
If you're planning on using it a few nights in a row, make sure you'll have an electric source to recharge the battery, whether it be your vehicle or an outlet at your campsite. 
Buy Now
$54.46
Similar to the Stalwart Electric Car Blanket, the RoadPro Polar Fleece Blanket is perfect for keeping in your car and bringing with you on the road. It plugs into your car's cigarette lighter and is relatively small and lightweight, yet still packs a powerful punch to keep you warm during those cold nights in the tent. 
I especially like this blanket because, at 12 volts, it's low-powered enough that you can keep it running throughout the night without worrying about draining your car or solar batteries. It comes with a nicely sized eight-foot charging cord.
The RoadPro is made of a soft polar fleece material that feels much more luxurious than the price point would have you believe. Plus, it folds easily into the included zippered storage bag, making it perfect for frequent travelers looking for something snuggly to pack on the road. 
Buy Now
$33.49
If you're searching for a blanket for every season, the Sunbeam 10 Setting Quilted Fleece is the heated blanket for you. The dial on this blanket toggles between ten different heat settings, making it easy to readjust as you overheat or begin to get cold. My only complaint about the heat dial is that it isn't backlit, meaning if you want to adjust it in the middle of the night, you'll need a flashlight to see what you're doing. 
It comes in four different colorways — admiral blue, cabernet, ivy, and mushroom — and four different sizes to fit beds (or sleeping bags) ranging from twin to king size. The Sunbeam is a quilted pattern, which gives it an extra luxurious feel. Plus, it's machine washable and dryer safe, making this not just a high-quality choice, but a convenient one too. 
Color Options:
Admiral Blue, Cabernet, Ivy, Mushroom, Night Fog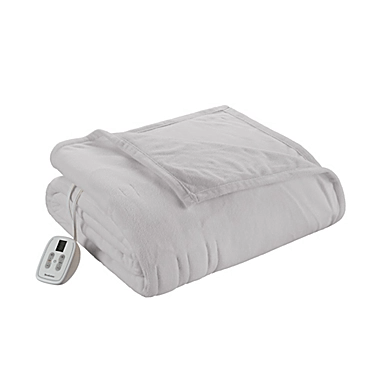 Buy Now
$54.99
When it comes to snuggling up around a campfire, it doesn't get much better than the Brookstone Twin Fleece Heated Plush Blanket. Crafted from an extra-soft microfleece polyester, this blanket feels luxurious at an affordable price. Yet, it's still light and portable enough to easily pack away for a weekend in the woods. 
I like that there are four heat settings to choose from, and the four-hour automatic shut-off provides peace of mind when enjoying the great outdoors. Like the Sunbeam 10, this blanket comes in four sizes (twin to king size) and has a removable 19 inch power cord — meaning it will stretch all the way to the campsite power outlets ten feet away from your tent!
If you're searching for a luxurious blanket to line your sleeping pad that isn't going to break the bank, the Brookstone Fleece is definitely the way to go. 
Color Options:
Cream, Light Gray
The Bottom Line
If you love camping at higher altitudes or into the fall as I do, you need to invest in the weather and climate-appropriate gear to keep you warm through the night. No matter the temperature rating of your sleeping bag, few products can beat the reliability of a heated blanket.
I adore camping, but who says you can't camp in luxury? I investigate factors like safety, material quality, heating controls, size, and price point when buying and recommending a product.
Carefully consider what qualities are most important for you in a product, and make your selection based on that. With these blankets, you'll be sure to enjoy yourself rather than spending your eagerly awaited trip shivering in your sleeping bag!
To continue shopping for your next camping trip, check out: