We have all been there: You are traveling on a long-awaited vacation and you can't post your favorite pictures or look up must-see attractions because you can't find any high-speed Wi-Fi or get service from your data plan.
Searching for internet access on a trip can feel like an annoying, never-ending chase, and it can be a major hurdle to your vacation experience. While you might get lucky and find a strong connection in your hotel lobby or in a coffee shop, having Wi-Fi at your fingertips at any time will make your entire trip easier and more enjoyable.
So how can you have access to Wi-Fi no matter where you are, at any time? The answer is a portable Wi-Fi hotspot.
Even though a portable Wi-Fi device may seem too tech-y, I promise they are very straightforward once you try it out a few times. The internet service they provide has been such a lifesaver on so many of my vacations, and I don't go on trips without one anymore!
If you are looking for the best hotspot or want to know how to use one, we are here to help you out! Keep reading to get all the information you need.
The Best Mobile Hotspots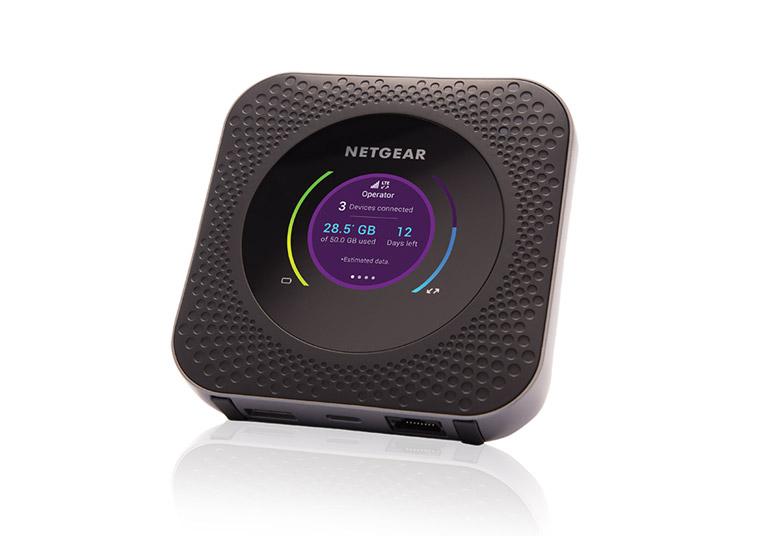 Buy Now
$399.99
The Netgear Nighthawk Mobile Router is a great option that checks all of the boxes for a portable hotspot. This router works best with AT&T and T-Mobile carrier plans, which provide coverage throughout most of the country. 
This router will offer a 4G connection for your devices, which means you can easily browse the internet and upload photos without running into problems with buffering. Additionally, with its speedy internet connection, you can connect up to 20 devices on one hotspot. 
Also, this mobile hotspot guarantees to maintain the safety of your information and data, giving you a secure, private connection. I love not having to worry about my card information or personal data being stolen when I am in a new place!
This is the best choice if you want to invest in a portable hotspot that will last you a lifetime and won't give you any problems on your trips. 
Buy Now
$29.99
The TP-Link N300 Wireless Portable Nano Travel Router is the perfect option to cover you in a pinch. This mobile hotspot is compact and won't break the bank. It provides 300 Mbps speed Wi-Fi. That's not as fast as 4G or 5G networks, but it will still give you the connection you need to browse the web or stream videos and games. 
Although it's a more basic option, it still comes with advanced security to protect your information. It has a USB port for power and it's small enough to fit in my pocket, so it's easy to take on the go.
Buy Now
$49.99
The Simple Mobile Wi-Fi Hotspot is sleek, easy to use, and reliable. It provides a 4G internet connection for your devices, which means speedy streaming and browsing. Additionally, it features an electronic screen on the front which displays the strength of your connection, your data usage, and other important information. 
This mobile hotspot gives you the opportunity to connect up to 16 devices, so the entire family can get on the Wi-Fi and still have room to spare. The battery life promises all-day use and it comes with a micro-USB port for easy recharges.
Buy Now
$139.99
The GlocalMe Triforce Mobile Hotspot is the perfect combination of features. While it's not the most inexpensive option, the price is still reasonable for the number of high-quality features it offers.
While it is compact in design and will most likely fit in your back pocket, it still has the ability to offer a 4G connection for up to 10 devices at once.
The 7000mAh power bank will give you a Wi-Fi connection for up to 28 hours of nonstop use and even has enough power for a full phone charge. The micro USB port can recharge the hotspot and the GlocalMe App can manage your data usage.
You can use a SIM card with this hotspot, but it's not needed. With this option, I can pay as I go while taking advantage of the free 1.1 GB of global data and 8 GB of U.S. data that it comes with. 
What Is A Portable Wi-Fi Hotspot?
When you are at home or work, you can use your office or home internet router to give you a Wi-Fi connection, allowing you to browse online as much as you want from your iPhone, Android device, laptop, or tablet.
However, if you are away from your Wi-Fi router and modem and want to use your tablet or laptop, you will need another Wi-Fi source. Free Wi-Fi sources can be tricky to find in public, so many people usually use a hotspot instead. A hotspot device is simply a gadget that will allow you to connect to the internet without using a plugged-in router or ethernet port.
If you have a smartphone, it can act as a hotspot and provide an internet connection for your laptop or tablet based on your phone plan. The downside of this is that the hotspot connection will drain your phone's battery and double your data usage.
So, if you don't have unlimited data, it's not necessarily worth it. Your phone battery is essential on vacation, so you will want to do what you can to avoid draining it — even if that means finding public Wi-Fi to save you a few hours of battery life.
When you bring a portable Wi-Fi hotspot on a trip that's separate from your smartphone, you can get fast download speeds whenever you want without running the risk of a dead phone battery or an expensive data bill from your cell phone provider.
How To Use A Portable Wi-Fi Hotspot
While adding another tech gadget to your list of things to bring might sound intimidating, you will thank yourself when you have your hotspot on the trip. After you buy the portable hotspot of your choice (we have listed our favorite options below), it's best to spend a few minutes making sure you understand how it works so that you don't have to worry about it on vacation.
Portable Wi-Fi hotspots usually use a local SIM card to function, so you can either connect your portable hotspot to a monthly plan or load up a SIM card with credit to use as you go. Once you have your payment plan figured out, your portable hotspot can connect to a cellular network, just like your smartphone. The hotspot will provide your tablets and laptops with a prepaid Wi-Fi connection through the cellular network, leaving you with no additional charges.
Your mobile hotspot will come with a network name and unique password (usually written on the physical device), so you can't forget any of the information.
To use your mobile hotspot:
Simply turn it on
Search for the network name on your laptop or tablet in the list of Wi-Fi networks
Choose your network
Type in the unique password.
It is pretty easy (and it only took me a few tries to figure it out!).
What To Consider When Buying A Portable Wi-Fi Hotspot
Carrier Coverage
As I just mentioned, a portable hotspot relies on a cellular network to provide you with an internet connection. So, you want to be sure that wherever you are planning on taking your portable hotspot is covered by the connected cellular provider.
Most major providers cover a majority of the country. However, you should double-check coverage if you are planning on visiting remote areas.
Battery Life
Searching for an outlet can sometimes be just as frustrating as searching for a Wi-Fi connection. To avoid the hunt for an outlet, pick a portable hotspot with a long battery life.
Although you may be tempted to buy the smallest, sleekest option, those tend to have the shortest battery life. Try to pick one that lasts at least 12 hours so you can go an entire day without having to recharge.
Where To Use Your Hotspot
Now that you have a mobile hotspot, it's time to take advantage of it. While you are on your vacation, you might use it even more than you imagine.
Here are some times I have found most helpful:
Picture Uploads
My kids and friends are always dying to see photos of my vacations (which is understandable since it's hard for me to talk about anything else in the weeks leading up to my trip). I usually get at least a few texts throughout the trip requesting a batch of vacation photos. Rather than sending 10 photos to each person that texts me, it's usually easier to post them on Facebook or Instagram.
However, when I get back to the hotel at night, I am usually too exhausted to do anything online. That's why I take advantage of my time in Ubers, eating lunch, or just taking a midday rest to connect to my mobile hotspot and post my photos online.
Restaurant Searches
No matter how well-planned my vacation itinerary is, things always change. Whether an attraction is closed for the day or an outdoor activity gets rained out, it's best to try and stay flexible on my trip. What ends up changing the most for me on vacations is where I have planned to eat.
It's hard to predict what you will be craving on your trip, and the restaurants you have picked out might not be close enough or offer enough options for the whole group.
That's why I love to find a nice place to sit down, pull out my mobile hotspot, and search for the perfect restaurant for the night. This allows me to find the best restaurant or food tour that matches my cravings and location.
Directions
Last, but of course not least, is directions. It's almost impossible to go an entire trip without getting a little turned around at least once. Although it's easy to pull out my smartphone and quickly search where to go, sometimes my phone is dead or I want to map out my entire day's worth of directions.
That's why, if I am a little lost, I will find a quiet place to sit and use my mobile hotspot and laptop to figure out where I am going for the rest of the day.
Travel And Browse
Gone are the days of hunting down a coffee shop that has free Wi-Fi. Now, with a portable hotspot in your back pocket, you can post online, stream videos, and look up any information you want — no matter where you are.
Having access to the internet will make your trip much easier, and soon enough, you will wonder how you have ever traveled without one.
To continue shopping our favorite travel products for the road, check out: