Whether I'm camping locally with my family or pitching my tent midway through a high-altitude hike, choosing the right sleeping bag is one of the most important decisions I have on my pre-trip to-do list. 
Getting enough sleep is critical for a good backpacking or camping trip, and a poorly designed sleeping bag can ruin an entire week in the woods, especially in cold weather. The best sleeping bags are designed with both comfort and durability in mind and are usually rated for specific temperature zones.
Think about your camping habits and choose a bag that appropriately reflects them.
If you spend a lot of time camping in colder climates or seasons, you might choose a bag with a down fill and a low-temperature rating. Or perhaps you like to take the family camping and you need a bag for your young children.
Whatever your style of camping, there's a high-quality sleeping bag out there for you. And remember that sleeping bags are an investment — the best ones usually come with lifetime warranties and are designed to be a steadfast companion throughout your whole camping career.
Today, I'll discuss these six sleeping bags so that you can find the perfect one:
Buy Now
$249.95
For campers who enjoy exploring a variety of climates and seasons, it doesn't get much better than this three-in-one men's and women's sleeping bag by The North Face:
The North Face Dolomite One comes with three stackable top quilts, which can be zipped and unzipped to fit the needs of a camper in temps ranging from 15 to 50 degrees. When I take those camping trips that make me almost feel like Mrs. Claus trekking across the North Pole, I bring this along and look forward to getting cozy under the stars. 
I particularly love this bag because of how well the layers work together. The bag's shell is made from a proprietary North Face material, which I've found to be both insulating and cool against the skin.
Double Bags: Details Matter
It's just as easy to zip the layers together for extra warmth as it is to shed them in the heat — the simplicity of design (without sacrificing quality) takes this bag from good to great. For a double sleeping bag, it's also pretty roomy.
Some double bags tend to overheat due to extra synthetic insulation, which can quickly turn a sleeping experience miserable, but this one is sufficiently large and temperature-controlled. I've never had to worry about waking up in a sweat in the middle of the night.
My only word of warning about the Dolomite One is that if you prefer camping in colder climes, it's only rated to 15 degrees — at temps closer to zero, you'll likely be fairly cold in this bag.
There is also a little opening in the foot box where all the zippers converge: While it's protected by a velcro flap, this opening tends to let in more of a draft than is desirable. Just don't forget the fuzzy socks, and you should be good to go!
Buy Now
$339.45
This bag is identical to the Dolomite One Double, except it's designed to comfortably fit one person rather than two. Measuring 66 inches wide, it's almost exactly half the width of the Double, providing enough wiggle room for one without creating too many cold spots.
It boasts all the unique features that make the Dolomite Double such a great bag — cooling fabric, clever quilt layering, and high-quality YKK zippers. If you want the high quality of a North Face bag but prefer to have your own space in the tent, the North Face Dolomite One is the sleeping bag for you.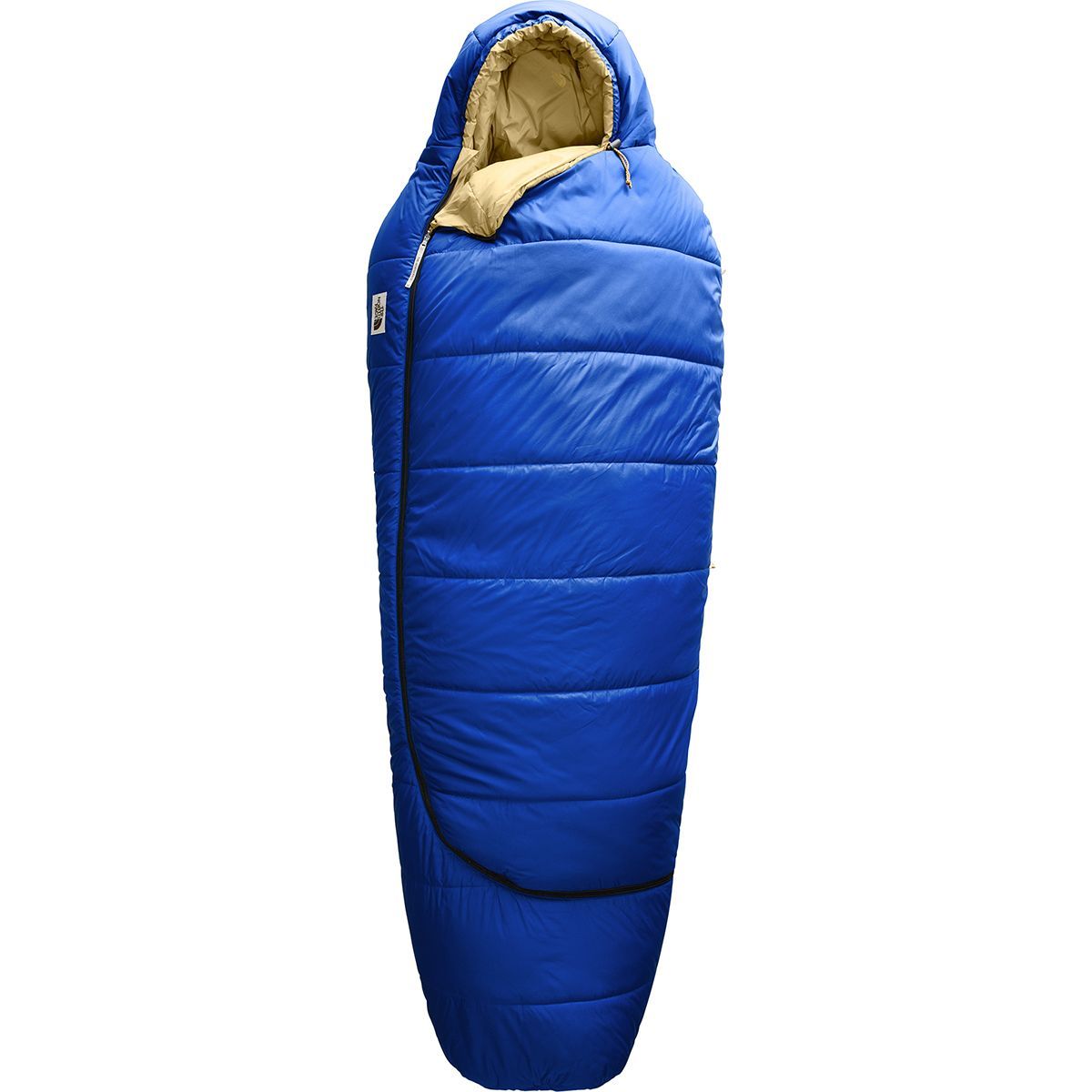 Buy Now
$118.95
One of the joys of camping is getting to spend time surrounded by nature, and with this sleeping bag, I can rest easy knowing the eco-friendly construction helps protect the spaces I love so much.
Not only is the outer shell and fill made with 100 percent recycled polyester, but the water-repellent coating is free of PFC chemicals that have been linked to environmental damage.
When I hear about a product made with recycled materials, my first instinct is to be doubtful of the quality. In this case, however, I've found that the recycled polyester fill actually gives the bag a home-y, duvet-like quality. Nothing makes me more satisfied than knowing that the material keeping me snug was saved from eternity in a landfill.
Aside from its environmental perks, the North Face Eco Trail Sleeping Bag: 20F Synthetic has a ton of thoughtful details that make it an all-around great option for any camper. The bag comes with loops that allow you to fix it to a sleeping pad or mat. This is helpful if you're a restless sleeper like me and tend to shift around a lot at night.
The bag cinches in around the neck with a thoughtfully-designed hood, maximizing comfort and warmth during colder temps; meanwhile, the zipper curves across the foot box, allowing for easy access to unzip your feet in the night if they get stuffy. While this sleeping bag is generally fitted for warmth, it does make use of extra knee room.
Finally, it includes an easy-access pocket, perfect for storing your phone during the night. If you want a high-quality sleeping bag that gives back to the environment, keep this option in your back pocket. 
Buy Now
$159.95
The Kelty Cosmic 20 has been an award-winning sleeping bag for decades, and for a good reason. This three-season bag is packed with down insulation, giving it a temperature rating of 21 degrees F. And while most down sleeping bags tend to be on the pricier side, the Kelty Cosmic 20 is an affordable budget option — just under $170 at the time of writing.
One of the best elements of this bag is how spacious it is. The Cosmic is a mummy-style bag, meaning it tapers in width towards the feet. While this can sometimes make a sleeping bag feel cramped or stuffy, in this case, the dimensions are roomy enough that size isn't an issue.
The Cosmic is on the heavier side, at 2.83 pounds, but it packs down to just over 9 liters in volume — better than average for most budget sleeping bag options.
The biggest drawback of a down sleeping bag is that once it gets wet, the bag's ability to insulate basically vanishes. Although the fill in the Cosmic is only 75 percent down, the synthetic fill is mostly concentrated on the bottom of the bag, making it largely useless in the event of rain. I recommend sticking to dry climates with this bag. 
Otherwise, the Kelty Cosmic 20 Degree 550 Down is a fantastic option for a durable yet affordable down sleeping bag.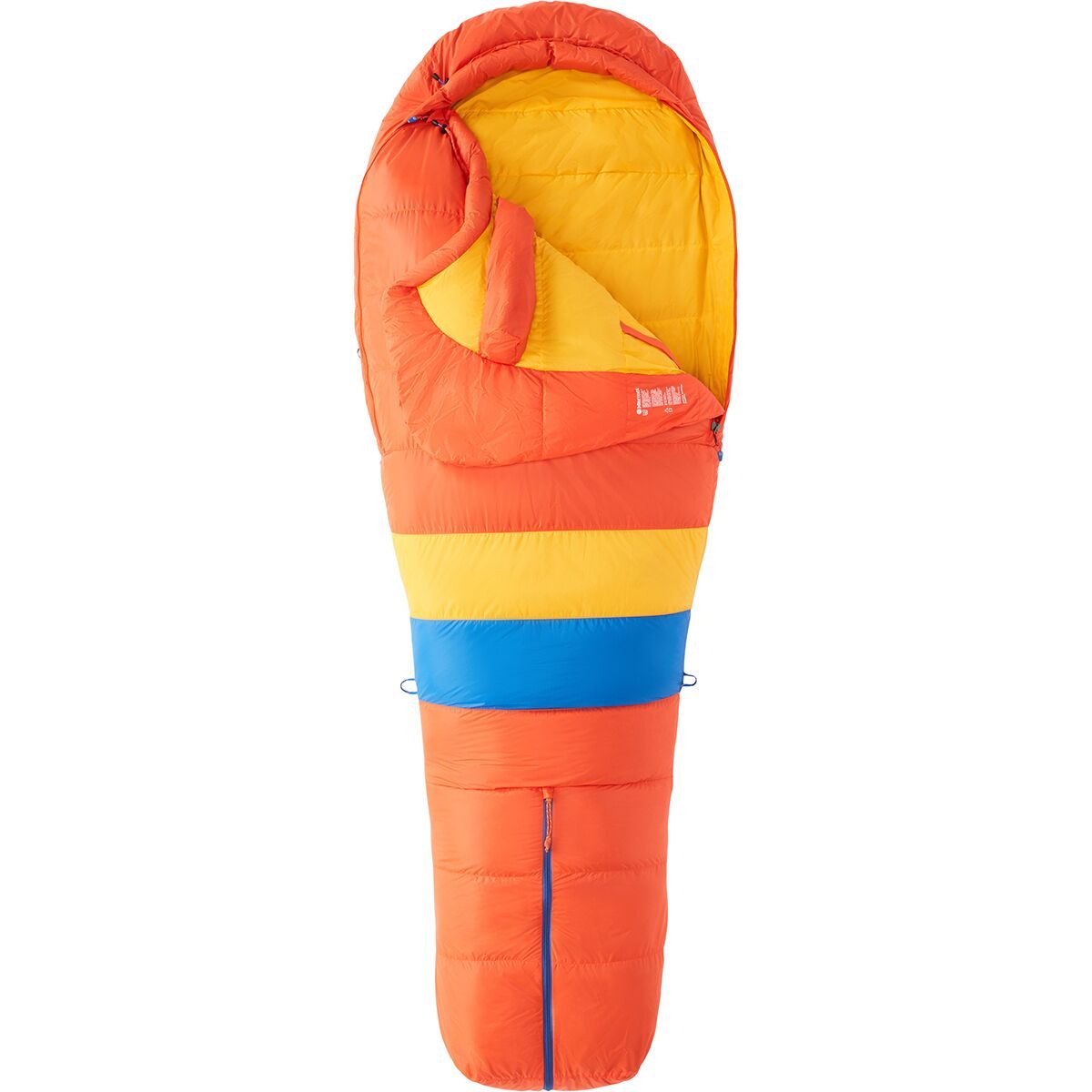 Buy Now
$218.95
If you prefer planning your adventures in warmer climates, the Marmot Always Summer sleeping bag is for you. Thanks to a light layer of 650-fill, duck-down insulation, this bag compresses extremely well. At the same time, a proprietary waterproof treatment on the exterior helps keep the fill (and you) protected from rain.
The Marmot Always Summer Bag is crafted from a cooling nylon material, and a lightweight design makes this mummy sleeping bag perfect for summer getaways or trips anytime the nightly temp doesn't drop below 40 degrees. It also boasts a convenient stash pocket, high-quality YKK zippers, and a nice little compression sack.
Even with a layer of down fill, I wouldn't recommend pushing the temperature rating on this bad boy. The Always Summer maintains the high quality we've come to expect from Marmot, but that doesn't make it a three-season bag: This one should stay firmly packed away in its tiny, efficient stuff sack until summer.
Buy Now
$119.95
Finding a well-made children's sleeping bag can be a bit of a challenge. Brands seem to assume children are more likely to brave the wilds of their own backyard rather than a campsite or mountain trail. Sadly, sometimes, they don't put as much effort into creating the same level of quality and durability as they do with adult sleeping bags.
Luckily, I've found one exception, and it's the Big Agnes' Kids Duster 15 Degree. This mummy-style bag is insulated with synthetic fill and designed to grow with your child, thanks to a clever hook and loop system that makes the bag adjustable across both width and length.
In fact, this sleeping bag can be sized appropriately for children from preschool to middle school. That's a bag well worth the investment, especially since having a well-fitted sleeping bag is key to eliminating cold spots and sleeping comfortably all through the night.
The Big Agnes' Kids Duster is rated for 15 degrees, although, I would recommend sticking within the 20—30 degree range since this is likely a manufacturer estimate. There also isn't any padding under the back sleeve of the bag, so you'll need to pack your own sleeping pad for maximum comfort and warmth.
It does have a nice built-in pad sleeve, though, which you can attach to a sleeping pad to ensure your child doesn't roll off in the middle of the night.
Sleeping Soundly And Laughing Loudly: Traveling Joy
Finding a long-lasting and high-quality sleeping bag for your next greatest adventure is as simple as point, click, and book your trip. Whether you're taking a romantic trip to New Zealand or camping with your children or grandchildren on a warm summer night, a high-quality sleeping bag can make all the difference in the world.
To continue shopping for your next camping trip, check out:
The Best Hiking Shoes In 2022