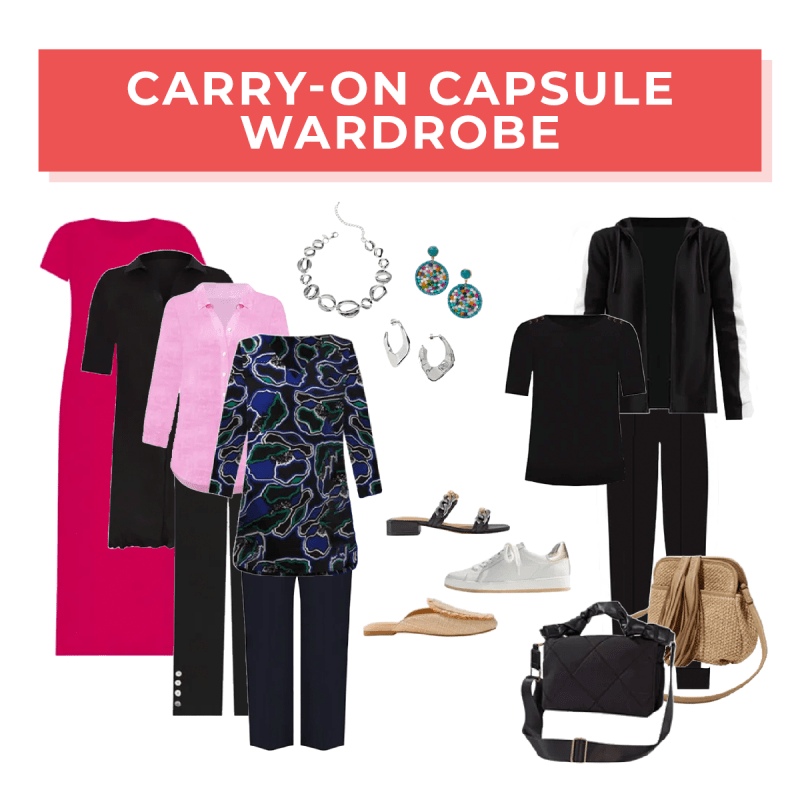 Imagine navigating the airport with just a carry-on. One lone bag glides behind you as you make your way to the check-in kiosk. From there, you skip the line to check your bags and head directly to security. When you arrive at your destination, you stride right out the door instead of waiting at baggage claim. Sounds like a dream — one that can come true with our carry-on capsule wardrobe.
Chico's is our go-to for functional, versatile, travel-friendly clothing, so that's what we're filling our suitcase with. We love this brand for its inclusive sizing options and looks that are somehow simultaneously comfortable, stylish, and timeless. When curating our carry-on capsule wardrobe, we looked for lightweight, durable pieces that are appropriate for a wide range of activities. Ironing is not on the itinerary, so we selected wrinkle-resistant pieces from Chico's treasured Travelers collection. We picked packable clothing that can easily be folded or rolled up to take up minimal space in your luggage. We also chose neutral tones that are easy to mix and match with a selection of statement pieces.
Whatever is on your agenda — from excursions to exercise — Chico's has you covered (literally). Keep calm and "carry-on" these perfectly packable tops, pants, dresses, shoes, and accessories from Chico's. Stay tuned until the end for outfit ideas.
Tops
Pants
Jacket
Dresses
Shoes
Accessories
Outfit 1
Shop This Look
Silver Tone Front To Back Hoop Earrings | Travelers Classic Button Detail Top | Leather Platform Sneakers | Zenergy Scuba Contrast Jacket | Zenergy Scuba Contrast Ankle Pants | Quilted Crossbody Bag
Outfit 2
Shop This Look
Silver Tone Front To Back Hoop Earrings | Silver Tone Bib Necklace | Neutral Fringe Raffia Mules | Travelers Classic Button Detail Top | Travelers Classic Button-Hem Crops | Neutral Crossbody Bag
Outfit 3
Shop This Look
Zenergy UPF Bungee Dress | Silver Tone Front To Back Hoop Earrings | Quilted Crossbody Bag | Chain Link Leather Slides
Outfit 4
Shop This Look
Neutral Crossbody Bag | No-Iron Linen 3/4 Sleeve Shirt | Brigitte Slim Crops | Beaded Drop Earrings | Neutral Fringe Raffia Mules
Outfit 5
Shop This Look
Beaded Drop Earrings | Neutral Crossbody Bag | Chain Link Leather Slides | Travelers Classic Short Sleeve Maxi Dress
Outfit 6
Shop This Look
Travelers Floral V-Neck Tunic | Zenergy Scuba Contrast Ankle Pants | Chain Link Leather Slides | Silver Tone Front To Back Hoop Earrings | Silver Tone Bib Necklace | Quilted Crossbody Bag