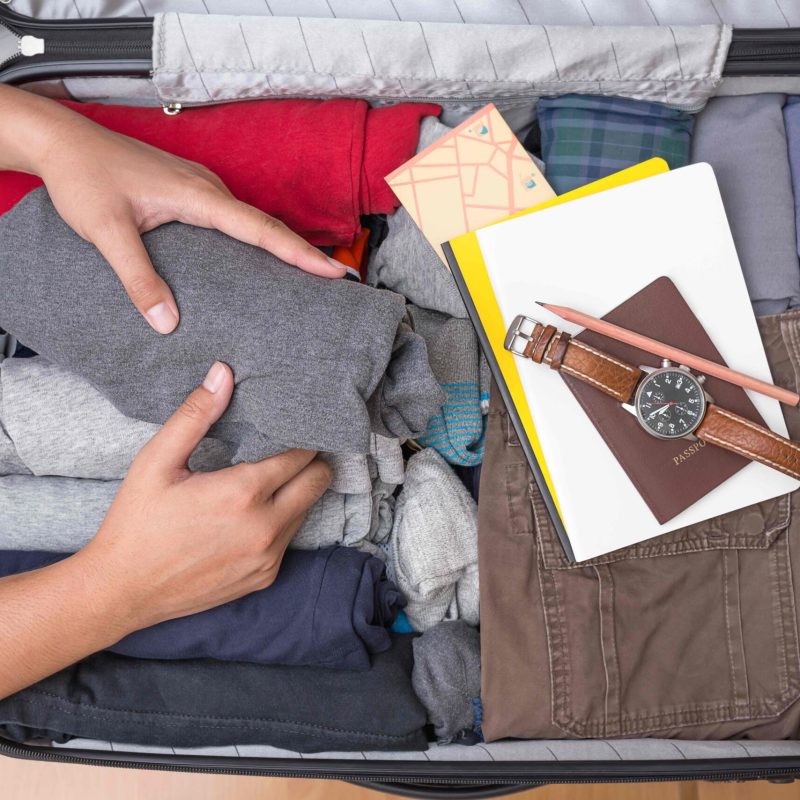 Looking put together on an airplane used to be the norm, but in the last decade or so, we've seen an indulgence in comfort (pajamas and slippers on a plane — oh my!) that has tossed out the notion of arriving in style.
I've discovered, however, that I can be PJ-comfortable while still looking professional and polished, and that has its benefits. Flight attendants have reported that well-dressed passengers are more likely to be chosen for upgrades and tend to receive greater respect from the crew than their fellow, more casually dressed passengers. And then there are those waiting for you on the other end. If you're like me and are frequently picked up by professionals, it's not a great look to show up in a hoodie and ripped jeans.
As a travel writer, I've flown about 75 times in the last year, and each time, I'm expected to hit the ground running. From the moment I land and am scooped up by a driver or a representative, I'm carted through an itinerary that sometimes keeps me out all day. It may include a hike, a winery, a restaurant, or a museum, and I must be appropriately dressed for all of it.
It seems like a daunting task, but dressing well for travel is easy once you get the hang of it. Below are my travel clothing essentials — the building blocks for outfits that are comfortable, appropriate, and get compliments every time.
Buy Now
$98
This pant looks more like grey trousers than it does athletic wear, but the fabric is breathable, stretchy, and wicks away sweat. Lightweight enough to keep you cool but offering full coverage so you're not exposed to plane seats, these pants never wrinkle, no matter how long your flight or how many times you throw them in a suitcase. They are high-waisted and flattering, and they look clean and neat with any tucked-in shirt. 
Bonus: They sport zippered back pockets to safely hold your ID or phone as you're snaking your way through security lines.
Buy Now
$69
This shirt by Athleta is fitted and buttery soft, with flattering vertical ribbing and a modest V-neck. I opted for the white shirt, as it can be mixed and matched with any bottoms. It has the added benefit of providing a UPF of 50+, so if you're outdoors, you're protected. And the substantial but lightweight fabric is perfect for the airport and plane, where temperatures are unpredictable.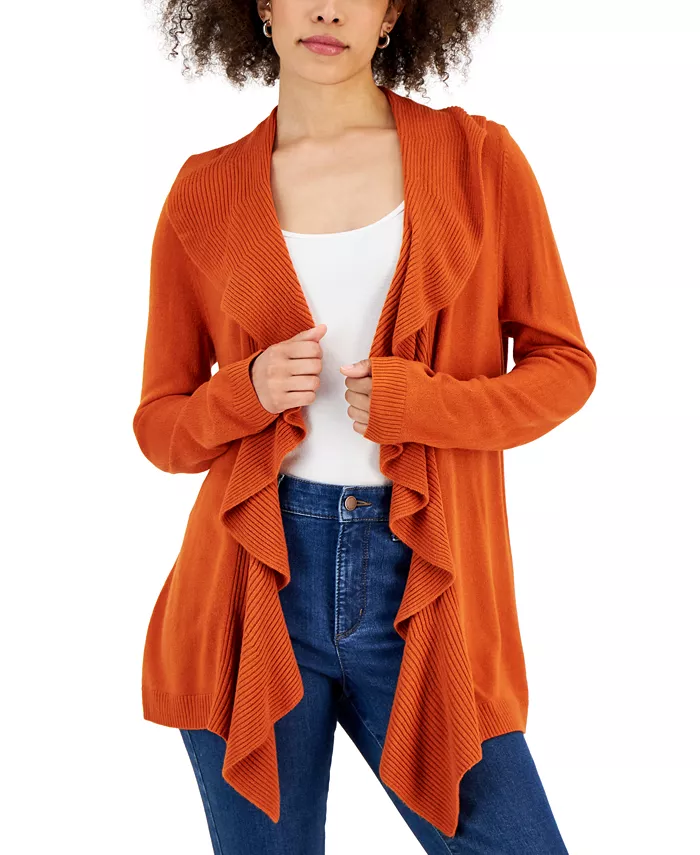 Buy Now
$29.70
A line carried by Macy's, Karen Scott offers affordable, versatile clothing. I love this cardigan because I don't have to deal with buttons, making it easy to put on and take off, even in cramped quarters like a coach seat. Rather than a structured, boxy look, this sweater flows with a gentle cascade of soft ruffles. It's hip-length and pairs perfectly with the joggers and shirt. I like it in black so I can interchange it with multiple outfits.
Buy Now
$80
Rule number one is that you never want to limp your way through the airport. There's nothing worse than blisters and sore feet when you're traveling, and since the distance between gates can be shockingly lengthy, you need to be prepared for a hike. But since shoes take up valuable luggage space, you also want a pair that can be worn with virtually anything — joggers by day and a sundress by night, for example. These classic white sneakers fit the bill on all counts. They offer an extra thick sole for cushioning, they stylishly transition between outfits, and since they're leather, they can be wiped clean in a hotel sink — no need for a washing machine.
Buy Now
$74.99
The staples of a traveling outfit are grounded in neutral colors that can be mixed and matched. But this type of outfit almost screams for a splash of color and you'll find that in an art scarf. This accessory is mostly for visual appeal, but it does add some warmth, especially when coupled with a V-neck. It also stands in for expensive jewelry, allowing you to keep your valuables at home. Art scarves are rich in color and mimic designs by museum-quality artists such as van Gogh and Rembrandt. Tying one around your neck immediately elevates your look. Buy a longer scarf for varied options. (Belt it around your waist or use it as a head scarf when the wind picks up.)
Buy Now
$189
This jacket is hooded and gives you all the protection you need against both wind and rain. It packs beautifully and is thin enough to take up little space in your luggage. With multiple pockets that are both zip and Velcro, this jacket is perfect for carrying your ID, phone, and hotel key, so no need for a backpack or purse. After packing a bulky fleece for years, I discovered that a Marmot jacket provides just as much warmth, and a splatter of mud or errant dob of ketchup can easily be wiped away.
Buy Now
$11.99
When you're running around all day, you need socks under your sneakers, both to protect against odor and to cushion your feet. But athletic socks can be thick and hold on to moisture. Instead, go for these no-show socks, which can be worn with any shoes and dry quickly when you've returned to your room for the night. Stuffed into a pair of shoes in your suitcase, they literally take up zero space, but still do the work of their much thicker counterparts.
Buy Now
$23.40
A trendy hat completes your outfit, adds sun protection, and gives you a different look for photos. It's invaluable when you're having a bad hair day or have worked up a sweat but still want to look cool and polished. This lightweight hat is packable (it will bounce right back into shape) and can be spot cleaned. 
Pro Tip: On the plane, tuck the brim of your hat under the tray table latch. It will hang out of your way and free up your lap and hands.
Once you've acquired these essentials, your look will work no matter what you're doing or who you're seeing. So pack light and enjoy the compliments — and maybe even an upgrade.
Looking for more wardrobe suggestions? Check out more below: