Electronics like tablets can be fragile. In order to ensure they last as long as possible, buying a case or protective bag is in your best interest. This is especially true if you're traveling!
Tablet bags vary in size, price, design, and extra functions. Depending on which one you buy, your tablet bag can also double as a carry-on, briefcase, or purse.
Before your next adventure, consider purchasing a tablet bag so you'll have peace of mind that your electronics are safe and sound. We asked frequent travelers about their favorite tablet bags and here are their tried and true recommendations.
The Best Tablet Bags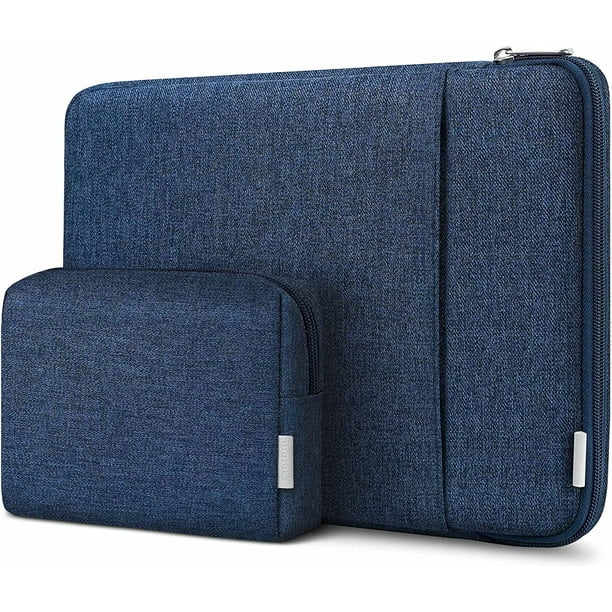 Buy Now
$29.99
"I own both a laptop and two iPads (a regular and a mini), and currently my favorite bag that keeps all three items safe is the Inateck EdgeKeeper protective sleeve. It has a two zipper pockets, the biggest of which can safely store both my MacBook Air laptop and my regular sized iPad. The inside has extra cushioned protection to save both my laptop and tablet from drops or accidental bumps.
But what I really like about this sleeve is the smaller zipper in the front. This is the absolute PERFECT size for my iPad mini, providing a snug fit with very little wiggle room for my smaller tablet to move around during travel. Overall, 'm a big fan of this protective sleeve, as it keeps all three of my devices safe during travel to and from Orlando for my trips to Disney World." – Michael L. Moore, Countdown to Magic
Buy Now
$34.99
"One thing that makes tablets so great to travel with is how compact and portable they are, so I like to use a bag that reflects those qualities. The USA Gear Compact Messenger Bag is small and easy to use, but it offers a wealth of organizational pockets you won't find in most tablet bags. It has a designated tablet pocket, a weather-resistant base, and is airline carry-on friendly." – Jon Stephens, Director of Operations, SnowshoeVacation Rentals
Buy Now
$42.99
"I personally use the TOURBON Bike Handlebar Bag for my iPad – and absolutely adore it! It is an excellent choice for cyclists who travel frequently. This bag is spacious enough to hold your bike gear, and its tablet holder makes it easy to bring your tech along for the ride. Additionally, the shoulder strap makes it easy to carry the bag off of your bike. The bag is made from a durable canvas material, and features a waterproofing coating for added protection. The bag is also equipped with two side pockets, a large main compartment, and a tablet holder that can fit most tablets up to 10 inches. The adjustable shoulder strap makes the bag easy to carry around when you're not biking." Christine Beswick, Cycle Baron
Buy Now
$47.99
"My husband owns this and loves the corner armor built into the corners of the bag. He does not have an additional case on his iPad so this feature provides extra support for his iPad while traveling. It is especially great for navigating busy airports or being packed within luggage." – Brianna Leonhard, Third Row Adventures
Buy Now
$48.71
"I always travel with my Macbook, Ipad, and camera gear, so having a high-quality bag to keep everything organized is one of my top priorities. My favorite travel bag that is perfect for keeping everything tidy and safe is the Osprey Questa Daypack. This is the bag that I swear by and have been using for the last 4 years to travel with. Unlike most personal items, this bag has an abundance of pockets, so it's easy to know where you put everything. In terms of storing my iPad, there's a large padded mesh pocket in the main compartment of the backpack that perfectly fits practically any tablet device. This pocket even has a zipper at the top, which I love because it helps protect the tablet if you're traveling with a particularly full bag. And lastly, I love this bag because it works well as a personal item when flying! It's large so you can maximize the amount of stuff you can bring but also allows you to stay organized with all the different pockets and compartments!" – Kristin Lee, Global Travel Escapades
Buy Now
$80.49
"The Samsonite Tectonic 2 Large Backpack is our top pick for me when I need to carry both their laptop and tablet at the same time. This stylish backpack features a dedicated laptop compartment as well as an additional pocket specifically designed to fit my tablet. It also comes with several compartments to keep my other items organized, making it easy to find what I need when I'm on the go." Claire Jill Parker, GoVisaFree
Buy Now
$299.99
"I've had the Nomatic 30L travel pack for two years now and have traveled with it to many business trips while carrying my tablet in its 14-inch TSA-ready tablet compartment.  What I love most about this bag is that I can carry all my other belongings with it and still securely store my tablet without fear of getting crushed under the weight. 
The tablet compartment is padded for extra protection, and being TSA-ready means less hassle at the airport checkpoints. Also, it is a carry-on size ensuring that I can keep an eye on the bag while inside the plane. The most impressive feature of the Nomatic travel pack is its waterproof feature, which comes in handy each time there's a downpour, and I'm traveling with my tablet." – Ronald Ander, CEO seoant.com
Tablet Bag Buying Guide
Tablet bags all have their own unique features and details. Some bags are all about function, storage, and being as efficient as possible. Other bags look cute on the outside and store everything you need on the inside.
Each tablet bag is different, but the following factors should be considered, regardless of which bag type you're leaning toward.
Carrying Mechanism
Tablets are more lightweight than laptops, but they still have some weight to them. That's why carrying mechanisms are an important factor to consider before buying your tablet bag.
Most likely, the best carrying option is an adjustable shoulder strap. This type of carrying device allows you to carry your tablet bag on your shoulder or wear it as a crossbody bag. If you're purchasing a tablet bag with a shoulder strap, make sure you can adjust the length of the strap to fit comfortably on your body. Also, it's in your best interest to have the option to unclip the straps and store them away until you're ready to use them again.
Carrying handles are another popular option. While useful in some circumstances, carrying handles can be a hassle, especially if you're juggling other items like your purse or luggage. That said, cases with carrying handles alone tend to be less expensive than crossbody bags or options with adjustable shoulder straps.
Protection
Some tablet bags, while impressive-looking, don't have the padding required to fully protect your electronics.
Make sure to read up on the padding of the bag you're buying. Ideally, the bag will have some sort of padding strategically placed to surround the tablet. For some models, that means there's a padded pocket specifically designed to carry the tablet.
Of course, the best tablet bags are padded all the way around!