Whether you have a 6-day cruise booked, a 10-day trip abroad, or even just a weekend staycation, you need reliable luggage. When your things are secure, you feel more at ease. Give yourself a break from the worries of packing and take a look through the bags and cases we recommend to decrease your travel stress.
If you are concerned about functionality, style, size, durability, and versatility, you won't have any trouble finding every piece you need. Traveling can be stressful, but this is one way you can take that down a notch. There are even a couple of unique items that you might not have thought you needed but will make your travels impossibly smoother.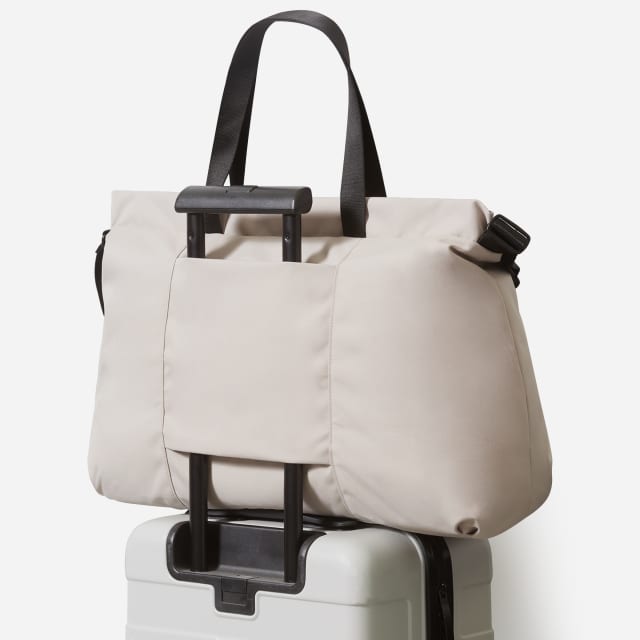 Shop Now
$85
Specs:
14.2″ H x 7.3″ W x 19.5″ L

9″ top handle drop

51″ adjustable strap drop

Made from 36.6 renewed plastic bottles.
The ultimate all-in-one weekender bag, the Everlane ReNew Transit Bag is ready to take on any adventure. It has a padded laptop sleeve, two water bottle holders, multiple pockets, and a luggage handle pass-through. There's no need to worry about juggling all of your bags in your hands as this bag can be worn crossbody, on the shoulder, as well as on your suitcase. Don't forget about the zero buyer's remorse you'll feel because the bag is also made from 100 percent recycled polyester.
Shop Now
Specs:
Full grain leather

14.2″H x 25.6″W x 12″D

Handle drop 6.5″ 
This luxury Leatherology Weekender Bag is the best kind of beautiful: functional. For a more sophisticated look, this one is for you. With tons of pockets for all of your loose items and a spacious interior for your bulky items, you're all set. It comes with an adjustable shoulder strap for versatile carrying and is available for personalization. Plus, this bag is a part of the Better Cotton Initiative for sustainable cotton to protect and restore our environment. Carry your weekend with you in style with one of the six colors.
Shop Now
$228.99
Specs:
18″ x 14″ x 8″ 

Weight 7.26 pounds

4.4 stars

Two color options
Nothing makes traveling with kids more bearable than making their experience more fun! Not to mention, it makes the experience easier for you. The JetKids Stokke Ride-On Suitcase is a lifesaver. Not only can you pack essentials in this case, but it also comes with an in-flight bed to maximize your child's comfort during your trip. Your child can also ride on the suitcase or pull it with no worries. If they get tired, which is usually inevitable, there is an adjustable strap so you can pull or carry it over your shoulder. To make it even better, there is extra storage in the top lid and a handle for your child to grab while riding.
Shop Now
$209.99
Specs:
23″ × 14.5″ × 9.5″

Internal Dimensions 20″ × 13.5″ × 9.5″

6.7 pounds

Limited 10 Year Global Warranty
Moving on to main luggage, here's a Samsonite hard case that is made to last through all your journeys. Made with durability and versatility in mind, this impossibly lightweight carry-on makes travel less of a hassle. This case is also made with safety in mind with a TSA combination lock. Don't forget the four multi-directional wheels! Overall, this case is ready to face the challenges of travel and make it a little less stressful for you.
Shop Now
$298
Specs: 
18.75″W x 12″D x 30.5″H
Weight: 11.84lbs
Weight limit indicator
For those with a little more of a chic taste, there is the Beis 29-inch Check-In Roller. This case is unique because it has a weight limit indicator so that you know if you've packed too much. Genius! Plus you have 2 inches of possible expansion with straps and endless pockets to keep all your goods inside and organized. It only gets better with the TSA combination lock as well. This is the perfect modern, stylish hard case for effortless travel.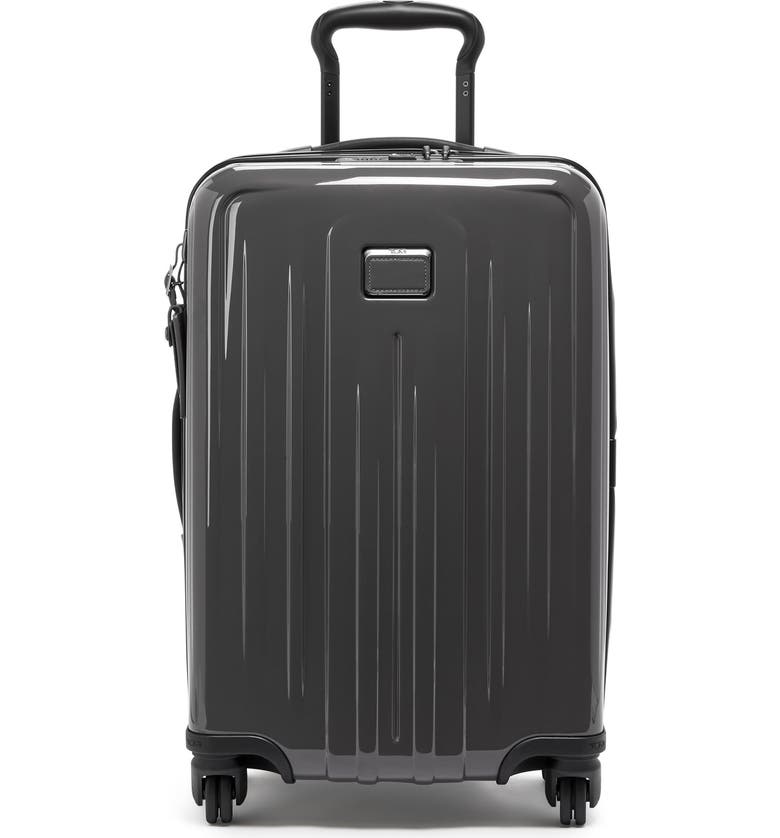 Shop Now
$695
Specs: 
22″ x 14″ x 9″
7.1 lb.
Tumi Tracer System
To get every benefit of a hard case but also experience the utmost ease of mind, the Tumi Hard Case is the one for you. It's lightweight and ready for the stress of travel. Its build has folds and reinforced corners to promote impact resistance. The compression straps and pockets allow for more space and organization. However, the highlight here is the Tumi Tracer®. This is an exclusive program for Tumi customers. The case comes with a 20-digit product number that is entered with the owner's information into the Tumi database. If lost, the case's unique number can be reported to Tumi. If you ever lose your suitcase, this system makes it that much easier to find it! This is the bag that is worth the investment.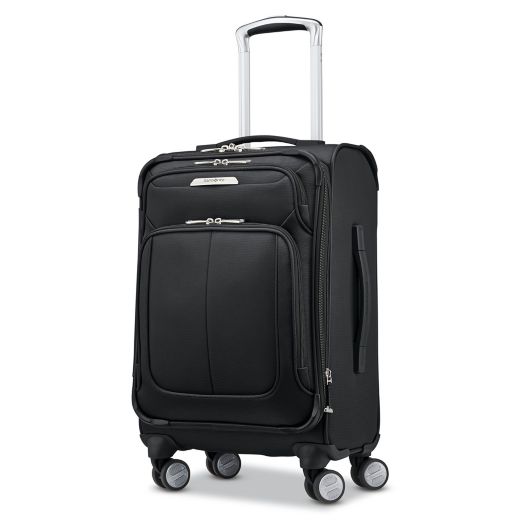 Shop Now
$142.99
Specs:
 22″ L x 14″ W x 9.5″ D 

Weight 7.1 lb.

10 year manufacturer's limited warranty
If hard cases aren't what you're looking for or you just need a carry-on, this Samsonite Expandable Spinner might be just the thing. This case has pockets and an expandable center to make sure you can optimize the space. It has tie-down straps we need when we pack just a little too much to fit in those overhead bins. However, something else makes this case stand out: It has a USB charging port. There is no compromise here; you're getting everything to make your trip easy as pie.
Shop Now
$48
Specs:
 1 year limited warranty

Made using six recycled plastic bottles

Four color options
For all of your other luggage needs — which can sometimes seem endless — here are other bags to make your adventuring easier, more sustainable, and more organized. First up we have the Terra Hanging Toiletry Bag from Calpak. This revolutionary design combined a hanging bag with a compact toiletry bag so you can have easy access to your goodies! This bag has a hidden collapsible hanging hook, an exterior toothbrush stand, and a top grab handle. The interior is water-resistant with multiple pockets. Now your bathroom products can stay clean, easy to access, and simple to pack.
Shop Now
$27.99
Specs: 
11 x 8 x 2.5 inches
13 color options
Set of six cubes
Sizes ranging from small to x-large
Packing is not all fun and games. Trying to figure out how to cram everything in your bags can be one of the most stressful parts of travel, not to mention how aggravating it is when you get to your destination and everything goes everywhere. When it comes to packing and keeping your things organized, these Veken Packing Cubes are the gold standard. This is a set of six packing cubes in various sizes so you can get the most out of your luggage. The fabric is waterproof to prevent any messes. These are also a great way to separate clothing into categories or by person if you're sharing a case! It's time to optimize your packing.
Shop Now
$58
Specs:
15″ x 5.5″ x 2″

Waist strap is 38″ at its longest and 21″ at its smallest.

Lining is 100% recycled polyester
For a personal item, the Beis sling is the perfect stylish yet versatile bag to have with you. Not only is this a limited edition, popular design, but it's also ridiculously functional. There are three exterior pockets to fit all of your immediate essentials. You will have a removable waist strap plus a shoulder strap for versatility. There's also a D-ring included for your keys to attach to. While you need a big bag or suitcase to get you through a trip, this is the bag to carry you through your experiences during the trip. Whether it's tours and attractions or getting back to nature, there's nowhere this bag would be out of place. 
Now you are all set with every luggage item and more that you'll need for your journeys.
To find more luggage and packing tips, check out:
The Top Travel Backpacks For Men And Women