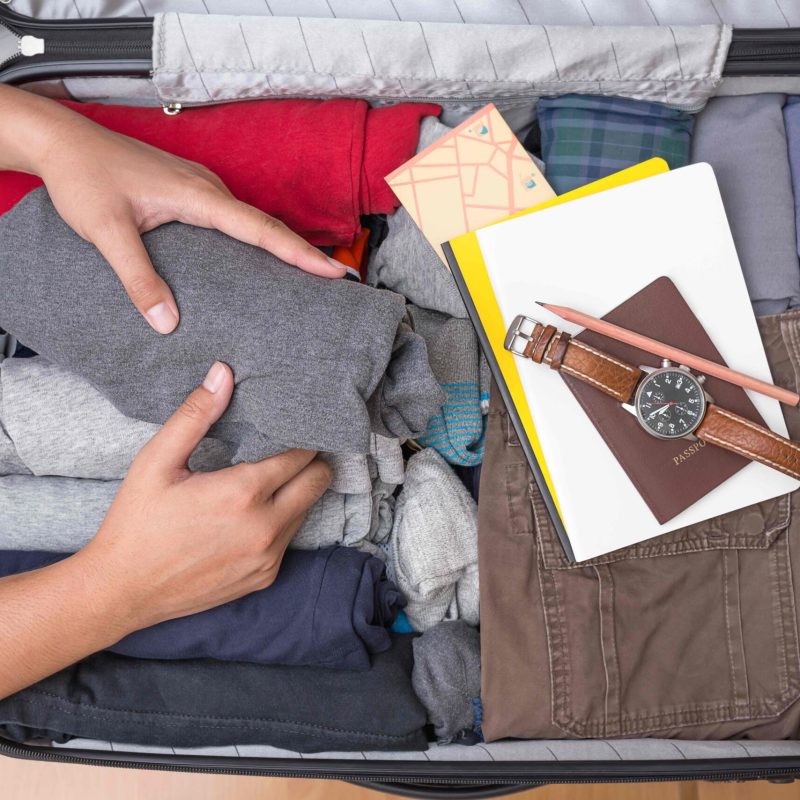 Whether you travel once a year, once a month, or once a week, I bet you have clothes you pack again and again. Timeless pieces that pack easily, are easy-care, well-made, and versatile.
After writing My 11 Favorite Women's Wardrobe Basics For Thrifty Travelers, my photographer/travel partner, Kevin, challenged me to find some basics for men from the Amazon Essentials Catalog. Always up for a research challenge, I accepted. I knew it would be easy.
10 Must-Haves To Make The List
To be included in this list of thrifty traveler basics, each Amazon Essentials piece must
Have a classic, timeless design
Be made of easy-care, light material, pack well, and be machine or hotel room sink washable
Be well-constructed
Be available in a wide range of sizes
Be available in multiple colors
Be wearable for more than one occasion when traveling
Be wearable with other Amazon Essentials I selected
Be a good buy
Be rated four stars or higher by Amazon customers
Have Kevin's Men's Travel Wardrobe Seal of Approval
With some coaching from Kevin and lots of research in the Amazon Essentials Catalog, I've put together a list of men's basics that will find a place in your suitcase for every trip without breaking the budget. In the process, we proved you can look stylish and appropriate without spending loads of dough on travel clothes.
Men's Basics For Thrifty Travelers
Layers
"Dress in layers," we are often advised. It's sound advice that works for most of the world's climates. Lightweight pieces make the best layers. Layer up in the cool morning and shed layers as the temperatures rise. Each piece can be worn all by itself or with something else. I prefer to have cotton or silk next to my skin. Most of these layer pieces are made of 100 percent cotton.
Buy Now
$29
One of the most usable garments on the list, a fleece vest is a hero. Wearable in any but the hottest temperatures, a vest helps keep your core warm. They can be worn over shirts (#6), turtle necks, sweaters (#8), light jackets, and t-shirts (#3). In addition, a fleece vest is a helpful addition to your suitcase on snowy days or on desert nights.
This 4.5-star-rated vest has a full-length zipper and two side pockets. It is offered in two materials, polyester and Recycled polyester; both are machine washable. Sizes X-Small through XX-Large come in 23 solid colors and six patterns. Some colors have an additional chest zipped pocket. Under $27.
Buy Now
$21.50
At home on the golf course or at a casual dinner, a cardigan can pair with Brooks Brothers slacks or a pair of faded jeans. Always in style, this five-button, front-pocket sweater is a classic addition to a travel wardrobe. Wear with a collared shirt, polo shirt, turtle neck, or t-shirt. This one is light enough to wear under a blazer or outerwear.
Kevin and I love this 4.6-star-rated sweater because it is 100 percent cotton (an all-climate fiber). It's machine washable. Eight colors come in six sizes — X-Small through XX-Large. Under $26.
Buy Now
$14.20
T-shirts are worn worldwide, an international fashion statement and wardrobe staple for men, women, and children. Under a shirt or as a casual shirt, t-shirts are very versatile. When traveling, t-shirts can hit the beach or layer under a collared shirt, cardigan, or even a blazer with jeans. Throw in one as a top for PJs.
Again, we love these because they are 100 percent cotton (except for the Heather color, which contains 40 percent polyester). The well-made knit shirts are machine washable and rated 4.2 stars by Amazon customers. They come in 41 sets of two. There are 40 colors to choose from. You'll find six sizes — X-Small through XX-Large. Under $17.
Buy Now
$20.90
Another multicultural garment, tanks are worn by guys and gals worldwide. Wear it as your fourth layer in the snow or as a shirt at the beach. I saw a photo of a gal wearing her hubby's tank as a dress.
These 4.5-star-rated tanks are 100 percent cotton (yay) and machine washable. They come in six packs, either all white or three black and three greys. There are six sizes — X-Small through XX-Large. Under $22.
Buy Now
$33.20
PJs, pajamas, jammies, sleepwear, nightclothes, nightshirts, or nighties, no matter what you call them, you'll need them when traveling. Kevin and I like these because, you guessed it, they are 100 percent cotton and machine washable.
These versatile garments can be worn for sleeping, lounging, and working out. According to some folks, they are perfect for a 2 a.m. raid on the supermarket ice cream aisle.
The long-sleeved t-shirt and drawstring pants are flannel. The nine different sets come with a solid color shirt and patterned pants. There are five plaids, penguins, pandas, squirrels, and polar bears (perfect for that ice cream raid). Rated 4.5 stars, choose from six sizes — X-Small through XX-Large. Under $32.
Tops
Buy Now
$14.30
A long-sleeved, button-up, and collared shirt can cover the gamut from office to bowling, hot dogs to five-star dining. A button-up shirt will be well-used on the road. Wear it with jeans (#9), chinos (#10), or slacks (#12).
Kevin liked the basic white, and I liked the black, but the 100 percent cotton shirt comes in eight solids and 17 plaids. The 4.4-star-rated shirt comes in six sizes — X-Small through XX-Large. Under $21.
Buy Now
$19
Whether you wear it alone or under a blazer or vest, a polo shirt is always in style, especially in one of the non-traditional colors like Coral Orange.
Amazon customers rated this 4.2 stars out of five. The regular-fit, 100 percent cotton shirt also comes in a slim-fit style. There are 37 solid colors and 12 patterns available. Choose from 14 sizes, X-Small to 6X-Large. Under $17.
Buy Now
$23.90
Pack a cotton sweater instead of a sweatshirt. They take the same room, but the cotton sweater will get more wear. The cable knit of this Amazon Essentials piece reminds me of the wool fisherman's sweaters I saw in Ireland this spring. The 100 percent cotton version will be comfortable in a broader range of climate and social situations.
Wear it alone, over a tank, over a collared shirt, or under a blazer (#11) or outerwear. Rated 4.5 stars, choose from six sizes — X-Small through XX-Large. Under $28.
Bottoms
Buy Now
$30.70
Jeans are another of those worldwide fashion statements. You'll see them everywhere you travel. Dressed up or down, jeans are necessary for most travelers' wardrobes.
Out of hundreds of styles, these got the nod because of the hard-wearing construction and fabric. Made of classic cotton, they also contain 2 percent spandex. That helps them keep their bootcut shape and ease just a bit after that fantastic Italian meal. Rated 4.3 stars, choose from 46 sizes with waste sizes from 28 to 42 and lengths from 28 to 34. Under $50.
Buy Now
$23.70
Chinos are lighter weight and a slight step above blue jeans in style. Falling between jeans and slacks, Kevin prefers chinos for most of our travels, finding them easier to launder and dry.
The Amazon Essentials chino has a flat front with a classic fit. Made of 60 percent cotton and 40 percent polyester, they are rated 4.3 stars by Amazon shoppers. Choose waist sizes from 28 to 60 and lengths from 28 to 34. Under $23.
Dress-Up
Buy Now
$78.80
A traditionally styled blazer can take the place of a light jacket. It's another one of those garments you'll see in most places you travel. Never out of style or out of place, a blazer can take you from sightseeing and jeans (#9) to fine dining and slacks (#12). Wear it with jeans, chino, or slacks and the shirt of your choice.
Available in black, charcoal, and navy, the one-button coat is 100 percent synthetic fibers with just a bit of stretch for comfort on a long flight. The blazer is rated 4.4 stars by Amazon shoppers. Eight sizes from 38 to 52. Under $78.
Buy Now
$32.20
A pair of slacks can get you through most dressy occasions, especially when paired with your blazer above (#11) and a crisp white shirt (#6). Switch the blazer for a cardigan (#2) for a smart-casual affair. Add a tie to the shirt for some business meetings.
These pants are available in polyester and recycled polyester. Both materials come in 10 colors. Select waist sizes from 28 to 60 and lengths from 28 to 34. Rated 4.4 stars Under $33.
Why Amazon Essentials?
All products that bear the Amazon Essentials label have been Amazon's top sellers, highly rated, and top quality. Amazon partners with the proven best to manufacture and label the Essentials line based on what consumers want.
Consistent sizing across all Essential garments is one feature I appreciate. I've noticed fewer returns because of sizing issues with Essentials. Thank you, Amazon!
All the products are 100 percent guaranteed and can quickly be returned or exchanged. Some Essentials have a "try before you buy" feature. Have it shipped; if it's not right, replace or return it. If you love it, keep it and pay the bill.
What we wear while traveling is an individual choice based on taste, destination, activities, and budget. For thrifty travelers like Kevin and me, timeless pieces that pack easily, are easy-care, well-made, and versatile make the ideal travel wardrobe.
Here's hoping you find your perfect travel wardrobe, then hit the road for a new adventure.
For further travel shopping inspiration, check out: