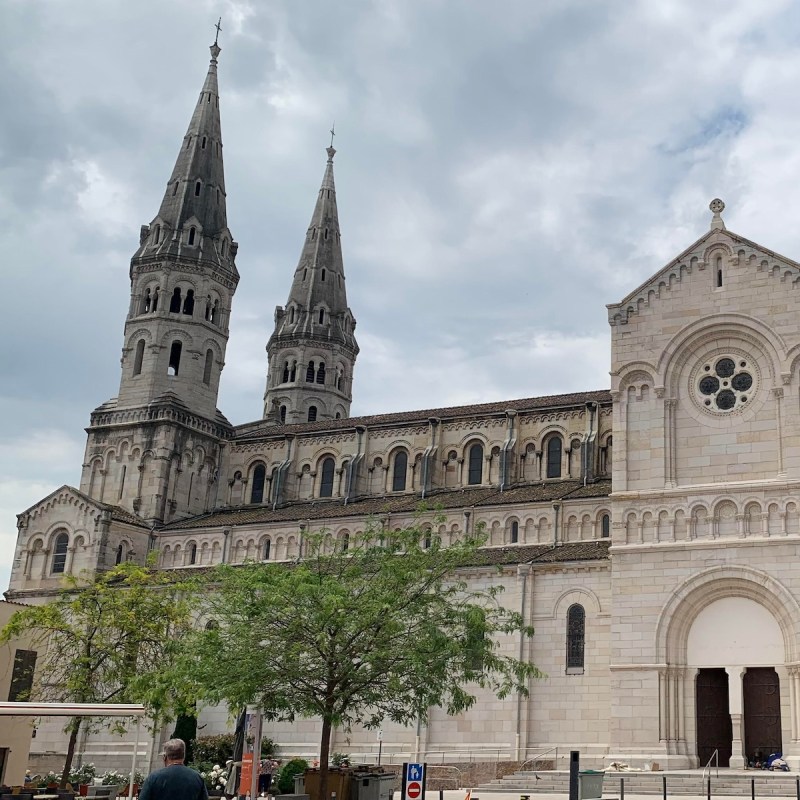 Mâcon is a beautiful city along the River Saône in the Burgundy region of France. This historic and charming French city is filled with busy Mâconnais winding around strolling tourists. Just a few of the best things to do & experience in Mâcon include medieval cathedrals, a phantasmagorically carved wooden house, an ancient apothecary, museums, beautiful Chardonnay wines, and wide-open squares made for gathering with friends.
The riverbank offers a promenade for contemplative walks and city views. As you navigate the older section of town, you will find a confluence of centuries. Beautiful Gothic and Romanesque architecture blends with modern buildings as if by magic. Wandering the hilly streets and alleyways opens up surprisingly picturesque vistas encompassing the juxtaposing architectural styles.
11 Best Things To Do Mâcon, France
1. Alphonse De Lamartine
Mâcon's beloved son and leader, Alphonse de Lamartine, is immortalized in the statue that dominates Quai Lamartine. Born in 1790, Lamartine was a romantic poet, diplomat, and politician.
His monument overlooks the large dock and pedestrian area along the River Saône. Perfectly situated between the old city center and the new business district along the riverbank, Lamartine appears to welcome you to his beautiful city.
2. Le Tracé De La Plume – "The Feather Trail"
Le Tracé de la Plume is a heritage trail that wanders through the streets of Mâcon. Marked by small triangles blazened with feathers and embedded into the streets, the walking tour takes you along a 2-hour loop. Along the way, Le Tracé de la Plume highlights ancient architecture, a tumultuous city history, and delicious local cuisine.
The trail follows 28 points of interest marked by signage that adds interesting background information for each stop. With this self-guided tour, you can spend as much or as little time exploring each area. For travelers who love to walk, it's the perfect way to visit a city.
Pro Tip: You can download the mobile app and pick up a map at the tourist office in the city center.
3. Maison De Bois – "The Wooden House"
The oldest house in Mâcon, Maison de Bois, was built between 1490 and 1510 (give or take a decade). The wooden building is intricately carved with a blend of real and fictional characters contorted into shocking poses.
The building is prominently standing on a busy corner in the city center, with tourists and gawkers pointing and chuckling, eyes lifted upward. The carvings begin on the second floor and meander up the facade. A camera zoom or binoculars is the best way to explore the expert carving details.
On street level, The Wooden House Restaurant is a popular local hangout to grab a table, enjoy a nibble, and people watch.
4. Hôtel-Dieu De Mâcon – "Hospital Of Mâcon"
Best known for the ancient apothecary, the Hôtel-Dieu ("General Hospital") is one of the most visited buildings in Mâcon. Still functioning as a medical facility, what draws visitors is the historic L'Apothicairerie. The apothecary is located on the first floor and is trimmed with stunning Louis XV-style wood paneling. The backdrop sets up a historic vision featuring nooks filled with ceramic jars; just as it would have looked centuries ago.
5. Vieux Saint-Vincent – "Saint-Vincent Cathedral"
When you see the asymmetrical Romanesque towers of Vieux Saint-Vincent, one can only imagine how they have remained strong since they were constructed between the 11th and 14th centuries. Mostly destroyed during the French Revolution, the towers and the narthex are the only original remains. The cathedral is undergoing a slow restoration bringing Mâcon's ancient history to life.
Photographers and architecture buffs love this building. Situated on a high street overlooking the city, the Vieux Saint-Vincent, with its crumbling stone facade and medieval construction, offers a wealth of photo opportunities.
6. Mâconnais Region Wine Tasting
Mâcon is home to many of Burgundy's finest wines and is part of the Mâconnais region. Known for growing the finest Chardonnay grape, the white varietal encompasses 80 percent of all vines planted in the region. It is a fabulous spot for wine-tasting adventures. If you are looking to fill your wine cellar with superb white wines, you must visit the Mâconnais.
A wine tour at the modern Domaine Nadine Ferrand vineyards is a fun place to start. The Domaine combines state-of-the-art techniques with time-honored winemaking traditions. Steel tanks stand tall while nearby oak barrels still impart classic notes. The glitzy tasting room is filled with bright lights against a black backdrop, preparing you for a celebratory wine tasting experience. There is an array of Pouilly Fuissé, Crémant de Bourgogne, and other fine white wines simply waiting for your empty glass.
7. Marché De Noël De Mâcon – "Christmas Market Of Mâcon"
European Christmas markets impart a particularly special holiday spirit and the Marché de Noël de Mâcon invites you to join in the celebration. Bright and cheerful with holiday decorations, the city revels in the Christmas season.
Saint-Pierre and Saint-Nizier Squares, in the heart of the city center twinkling with lights, are filled with traditional Christmas music, tasty goodies, and vendors with seasonal trinkets. Many European travelers specifically plan for a Christmas market adventure going town to town immersing themselves in local Christmas traditions.
Pro Tip: There are lots of fun Christmas Markets in France to wrap you in the spirit of Christmas.
8. Musée Des Ursulines
Housed in a 17th-century convent, Musée des Ursulines is an art museum dedicated to showcasing a wide variety of art spanning centuries. Art lovers with hours of time will enjoy perusing the eclectic mix of pieces.
9. Pont Saint-Laurent – "Saint-Laurent Bridge"
A casual stroll along the banks of the River Saône is one of the best ways to enjoy Mâcon. On a sunny day, it is the perfect spot to stretch your legs and explore the riverbank. A walk along the river is just removed enough from the busy main boulevard, allowing you to casually stroll and contemplate your next adventure.
The Pont Saint-Laurent is a medieval bridge crossing the River Saône connecting Saint-Laurent-Sur-Saône to Mâcon. The arched bridge was originally wooden, built by the Celts. It was refashioned in the 11th century with repeating, graceful stone arches.
10. Square De La Paix – "Peace Square"
A short walk up from the River Saône is the Square de la Paix. It is a central meeting place for locals to connect with friends at the end of the day.
Bordered by the Hôtel-Dieu, the square showcases a war memorial by Alexandre Morlon. The "Peace Square" memorial pays homage to Berty Albrecht, who played an integral part in the Resistance movement during World War II.
11. Église Saint-Pierre – "Saint-Pierre Church"
The stunning Église Saint-Pierre de Mâcon is a 19th-century, neo-Romanesque church. It frames the edge of a large plaza surrounded by shops, eateries, and benches. You can visit the inside of this gorgeous church or stay for mass if you so desire.
Pro Tip: The Mâcon tourist office is located in this square.
Plan A Visit To Charming Mâcon, France
When you are visiting Burgundy, a day trip or overnight stay in Mâcon should be on your itinerary. Simply wandering the busy streets by the River Saône, sipping a coffee at a charming café, or exploring the historic city center imparts a very French feel. The mix of modern architecture juxtaposed by the medieval structures melds seamlessly. New and old mesh together with a rhythm that flows along every corner.