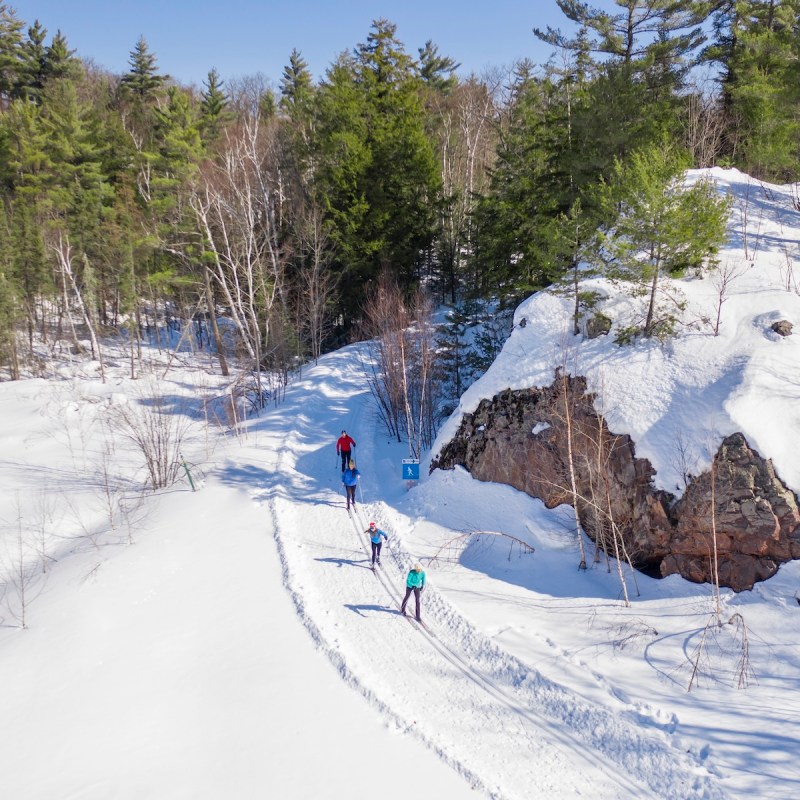 A snowy location that could serve as Michigan's North Pole, Marquette is all set for the 2023 holiday season. Located along the southern coast of Lake Superior, from the months of November through February, Marquette turns into a winter wonderland full of activities and events for couples, families, and more.
Welcoming all to the northern Michigan town this winter, Travel Marquette has officially released its itinerary of winter events, from the Lasers on the Ore Dock starting in late November to the UP200 dog race in the middle of February. In between, visitors to Marquette will have the opportunity to experience every winter holiday in one of the more fitting locations across the country.
"Marquette's seasonal transformation into a picturesque snowscape is embraced by our community with incredible events and programming designed to welcome visitors from near and far," shares Susan Estler, president and CEO of Travel Marquette. "We look forward to celebrating the holidays and offering unique and unrivaled winter adventures, sure to delight visitors of all interests and ages."
Now, let's take a look at some of the incredible events hosted in Marquette this holiday season and the reasons why you may want to plan a visit before it's over.
Upcoming Marquette Events
Travel Marquette has a slew of winter events starting this month and running through February. Whether you're looking for holiday celebrations or outdoor winter activities, Travel Marquette has you covered.
Holiday Lasers On The Ore Dock
A new holiday light show tradition, the 3rd Annual Holiday Lasers On The Ore Dock event occurs from 6–9 p.m. every Thursday, Friday, and Saturday from November 23–December 30. The spectacular light show is presented in partnership with the Fresh Coast Light Lab and features weekend light projections on the north side of Marquette's Lower Harbor Ore Dock.
"Mattson Lower Harbor Park is a great place to enjoy the show," says Travel Marquette. Whether it be a Thanksgiving, Christmas, or New Year's visit to Marquette, enjoy this laser show from Thursday–Saturday throughout the entire holiday season.
Downtown Holiday Market
For all of your Christmas needs this holiday season in Marquette, the town's Downtown Holiday Market is the place to be. On the first three Saturdays of December, the Downtown Farmers Market will organize booths selling artisan crafts, fresh local food, and even Christmas trees from 10 a.m.–2 p.m. at the Marquette Commons.
New Year's Eve Ball Drop
Capping off the Marquette holiday season is the annual New Year's Eve Ball Drop.
"Ring in the New Year in downtown Marquette at the annual New Year's Eve Ball Drop," says Travel Marquette. "The 100 block of West Washington will be closed for this event and all are invited to close out 2023 the Marquette County way."
Post Holiday Season Events
As the holiday season winds down, Marquette certainly does not. Here are just some of the events hosted in town after the New Year's Eve Ball Drop: