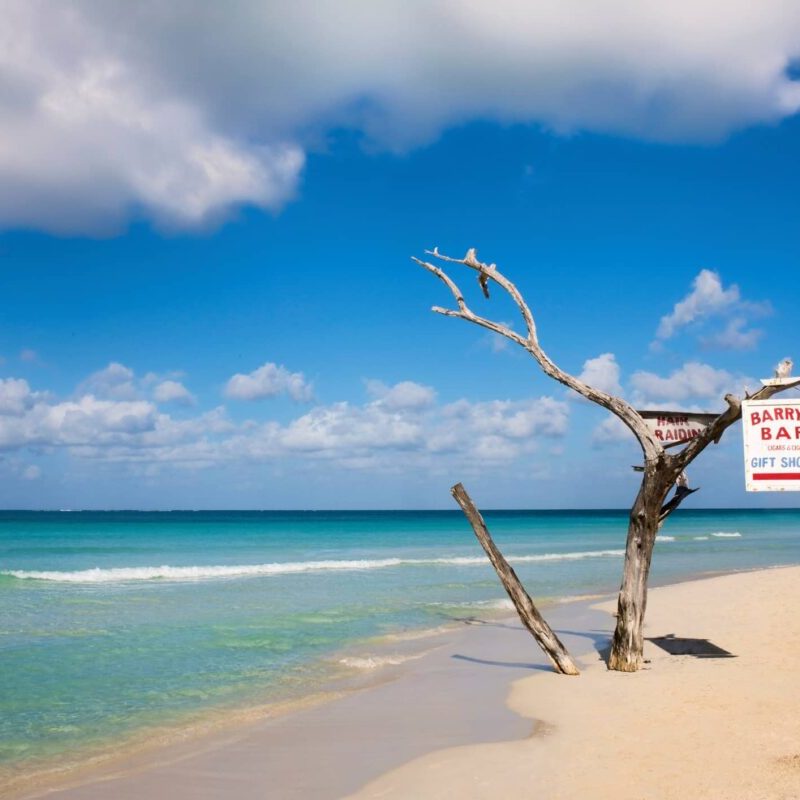 Home to one of the best beaches in Jamaica, awe-inspiring cliffs, and nighttime revelry, sun-soaked Negril offers the ultimate Caribbean escape. More low-key than bustling Montego Bay, this island paradise boasts an array of accommodations, from luxurious all-inclusive beachfront resorts and chic boutique hotels dotted along the coast to cliffside hideaways and more budget-conscious options.
Our curated hotel guide will help you wade through the sea of options with meticulously handpicked top contenders for hassle-free travel planning. One gem outshines them all: Skylark Negril Beach Resort. Offering beach access, new rooms, good food, and close proximity to nightlife, this retro beach chic stay ensures your Jamaican journey is full of relaxation, luxury, and adventure.
Whether you're looking for a luxury resort, boutique hotel, or budget-friendly option, we've got just the place for you! Here are the best hotels in Negril, Jamaica.
Top 9 Unforgettable Hotels in Negril, Jamaica for Your Dream Vacation
Best Hotels in Negril Jamaica
Situated on the white sands of Seven Mile Beach, Skylark Negril Beach Resort is the sister hotel of one of Nigril's coolest retreats, The Rockhouse Hotel & Spa. Boasting new rooms, good food, close proximity to nightlife, and relatively affordable rates, this retro beachfront hotel is our pick for the best hotel in Negril. Tropical mid-century touches make for a playful and airy ambiance.
While there are no activities specifically for kids, children are welcome at this island oasis. Breakfast is not included, but the onsite restaurant, Miss Lily's, an outpost of the island-inspired East Village restaurant, is open all day every day, offering up jerk chicken, sunset views, and local breakfast.
Skylark's location on Norman Manley Boulevard puts guests near Negril's nightlife scene. Book tours or a scenic sunset catamaran cruise through the front desk for some fun in the sun. A holistic spa overlooks tropical gardens, while rooftop spa bathhouses look onto turquoise waters.
Here, guests can experience the Bathing Ritual made famous by its cliffside sister property's award-winning spa. Then treat themselves to a couples' massage followed by a therapeutic tea ceremony. Curated classes from cooking to painting keep guests entertained.
Activities at Rockhouse, such as yoga and Caribbean dance, are also included and can be reached in just 10 minutes by a complimentary hotel shuttle. But who needs entertainment when you've got 220 feet of pristine white sands right outside your door? Settle into a lounger, order a beachside beverage, and listen to the sounds of the sea.
Complimentary paddleboards and beach games are provided, and there's a lifeguard. Get married at Skylark and they'll throw in a wedding planner for free! Book your stay at this beach escape today!
Perched on the west end's rocky limestone cliffs, Tensing Pen Resort is consistently rated as one of the top hotels in Jamaica. Nestled in a private cove, this boutique resort boasts lush grounds and uninterrupted sea views. This cliffside hideaway does not offer beach access, but Seven Mile Beach can be reached in just 10 minutes by car and you can always catch some rays by the outdoor swimming pool.
Built by hand using local stone, wood, bamboo, and thatch, each unit has a garden or ocean view as well as a balcony, patio, or veranda. Stay in a cottage or a treehouse-style cabin, complete with an outdoor shower and stunning sunset views.
Practice yoga overlooking the waves and indulge in outdoor sunset massages. Delight your taste buds with unique dishes like akee pizza and lobster thermidor at the open-air restaurant. Cliff dive or leap off the iconic 18-foot bridge that links both sides of the property.
Don't worry — the Carribean Sea will catch you! Swimming with dolphins, horseback riding, and rum factory tours are just a few of the fun things that can be arranged through guest services. With rustic chic suites, infinity pools, spa treatments, and complimentary continental breakfast, Tensing Pen promises an idyllic Jamaican escape.
Beachside relaxation awaits at this top-rated luxury oceanfront resort! Nestled on 19 acres, Couples Swept Away is an enchanting seaside paradise for honeymooners and couples of all kinds. Conveniently located on Seven Mile Beach, one of the best beaches in Jamaica, this romantic all-inclusive resort also offers easy access to Negril nightlife along Norman Manly Boulevard.
Each of the chic suites boasts a balcony or terrace, many with mesmerizing sea views. For added luxury, upgrade to suites with hammocks or direct beach access. With six restaurants, eight bars, three pools, five hot tubs, a private beach, a spa, the largest fitness complex on the island, and tennis and squash courts, you won't have to leave the resort.
Catcha Falling Star is a breezy retreat for budget-conscious travelers. Nestled on Negril's cliffs overlooking the Caribbean Sea, this cozy resort offers casual rooms as well as airy suites and cottages, some with kitchenettes and verandas with a view. Complimentary snorkeling gear and a relaxing oceanfront pool add value to your stay.
Indulge in budget-friendly delights at Ivan's Bar, known for its famed jerk penne pasta. With a warm atmosphere and a location near the renowned Rick's Café, this small independent hotel is the perfect choice for travelers seeking affordability and charm.
Nestled atop a six-foot rocky cliff overlooking the Caribbean Sea, The Cliff Hotel in Negril offers thrills and chills. Adventurous souls can try cliff diving under lifeguard supervision or a serene ladder descents to the sea. Those who would prefer to relax can head to the outdoor pool, sidle up to the swim up bar, or savor fish tacos on Zest Restaurant's terrace.
Located in Negril's West End, this chic boutique hotel offers stylish suites and villas surrounded by total seclusion. Spectacular sunsets, warm Jamaican hospitality, 33 luxury accommodations, Carribean flavors at Zest, various amenities, and in-room or clifftop spa treatments make The Cliff an unbelivable Jamaican retreat.
Cliffside cottages boast breathtaking views at The Caves Hotel, where artsy, bohemian vibes meet unparalleled luxury. Unwind with a spa treatment in a candlelit cave. Impress your partner with a five-course meal in a private cave adorned with candles and petals. Don't miss the magic of The Caves' Blackwell Rum Bar, nestled in volcanic cliffs with candles flickering in limestone crevices.
The only catch? Its about 10 miles south of the beach. Although there is no beach, guests can explore the natural caves on a snorkeling expedition with the hotel's resident cliff diving expert. Book this extraordinary oasis for an unforgettable Jamaican vacation.
Looking for luxury on the beach? Located on Long Bay, Azul Beach is an upscale, all-inclusive resort that boasts direct beachfront access. If you're traveling with family and interested in resorts that cater specifically to both adults and children, discover the best all-inclusive family resorts in Jamaica.
Just steps away from Kool Running Adventure Park, this idyllic retreat provides yoga classes, water sports, outdoor pools (some with swim-up bars), a gym, and a luxurious spa.
Complimentary meals and 24/7 room service ensure guests never go hungry. Onsite eateries include an Italian restaurant, a Caribbean dining spot with sea views, and a beach bar.
Nestled on Negril's rugged limestone cliffs, The Rockhouse Hotel & Spa is just steps away from the azure waters of the Caribbean Sea. Colorful rooms feature canopy beds, stone floors, and private outdoor sitting areas with mesmerizing sea views. Indulge in delectable cuisine at the hotel's sea-view restaurants, and unwind in the cliffside pool, soaking up the sun and taking in breathtaking vistas.
Treat yourself to a therapeutic aromatic bath and select from several holistic therapies at the award-winning spa. Candlemaking classes and complimentary paddle boards keep guests entertained, but if you really want to take a trip, sign up for the Sunday morning Psilocybin Soundbath.
Nudist groups, naturists, and the otherwise uninhibited can embrace their free spirit at Hedonism II. Spring break never stops at this adult playground. Rooms feature multi-head showers, hot tubs, and mirrored beds. For a truly liberating vacay, book a stay at Hedonism II.
What to Look for When Choosing a Hotel in Negril
Key factors such as location and onsite dining options come into play when considering which Negril hotel is right for you. Pick the perfect tropical escape with help from our handy guide.
Beach or Cliffs
Tourists to Jamaica's western coastline have a choice to make: beach or cliffs. Filled with food, drinks, and music, Seven Mile Beach boasts turquoise waters, palm trees, and epic sunsets. Surrounded by lush gardens, luxury boutique hotels located on the cliffside of Negril offer a quieter area, further from Negril's beach and bustling nightlife scene.
So, if your idyllic escape includes beach walks and dancing to reggae all night, select a stay near Norman Manley Boulevard. But if sea waves crashing against cliffs sound more serene, reserve a room at a cliffside resort.
What's Included
Many of the hotels in Negril are actually all-inclusive resorts, so be sure to check what is included in your rate before booking. Even those that are not all-inclusive may offer breakfast, giving you one less thing to worry about while on vacation. Some will offer activities such as snorkeling, kayaking, and jet skiing or at least complimentary watersports gear. See if the hotel shuttle runs to local attractions such as the beach, the lighthouse, and Rick's Cafe.
Entertainment and Activities
Kicking back on the beach with a good book is always an option, but Negril offers all sorts of activities for the more adventurous. Go swimming, scuba diving, horseback riding, kayaking, jet skiing, and more! Glass-bottom boats provide coral reef snorkeling, island picnic, fishing, sightseeing, and sunset cruise excursions. Book a tour through the hotel concierge or just stroll up to a glass-bottomed boat on the beach.
Dining
An assortment of bars and restaurants dot the beach — just follow your nose! Most hotels and resorts in Negril offer onsite dining, while all-inclusive resorts usually have several restaurants to choose from.
Budget
Looking for a deal? For lower rates, try booking in advance, staying mid-week, and going during the off-peak season, late spring and early fall.
FAQ
1. When Is the Best Time to Visit Negril
Winter months, from mid-December to mid-April offer pleasant weather with warm temperatures, little rainfall, and plenty of sunshine, making it ideal for beach activities and outdoor adventures. However, this is also the peak tourist season, so accommodations and attractions might be crowded, and prices can be higher.
If you prefer to avoid the crowds and secure more budget-friendly deals, consider visiting Negril during the shoulder seasons of late spring (May and June) or early fall (September and October). During these times, the weather is still generally good, although there might be occasional rain showers. It's also less crowded, allowing for a more relaxed experience. However, be mindful of the hurricane season, which officially runs from June through November. While hurricanes are rare during this period, it's essential to monitor weather forecasts if you plan to visit in the fall.
2. Do I Have To Book In Advance?
Accommodations available upon arrival, especially during off-peak seasons, however it is advisable to book in advance to secure your preferred hotel and ensure a seamless check-in experience, especially during peak travel times.
3. What Is the Best Area to Stay In Negril for Easy Access to Both the Beach and Local Attractions?
Staying in one of the stunning beachfront hotels on Seven Mile Beach gives tourists easy access to restaurants, bars, and popular attractions like Rick's Cafe and Kool Runnings Water Park.
Conclusion
Pristine beaches, dramatic cliffs, and vibrant nightlife beckons travelers seeking a quintessential Caribbean experience. From luxurious beachfront resorts to intimate cliffside retreats and budget-friendly gems, Negril has the perfect accommodations for your island getaway.
Topping our list is Skylark Negril Beach Resort, a retro-chic haven on Seven Mile Beach. With newly designed rooms, delectable locally inspired cuisine at Miss Lily's restaurant, holistic spa treatments, beach access, and nightlife on Norman Manley, Skylark Negril Beach Resort has all of the ingredients for an unforgettable Jamaican adventure.
Book now to embrace the enchantment of Negril!
When you purchase through links on our site, we may earn an affiliate commission.
Images courtesy of KAYAK