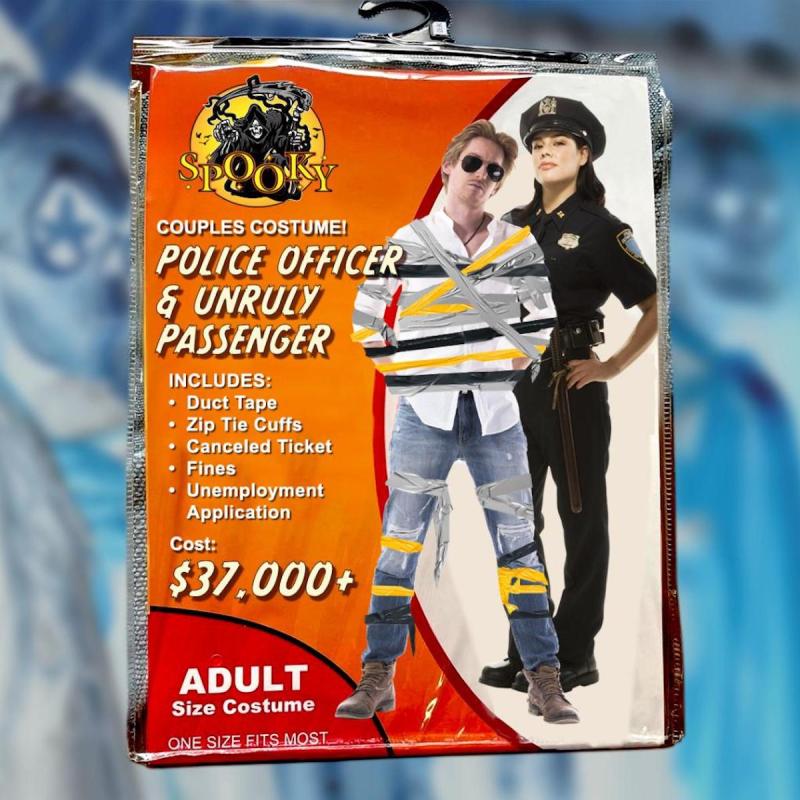 Ahead of the holiday travel season, the Federal Aviation Administration refreshed its campaign to warn the public against becoming an "unruly passenger' with new memes.
"The scariest thing this Halloween is an unruly passenger," the FAA said in an announcement last week alongside an image of a couple's costume.
The costume package is titled "Police Officer & Unruly Passenger" and lists the items included as duct tape, zip tie cuffs, canceled tickets, fines, and an unemployment application.
"Unruly behavior outside the Halloween store and inside the airplane really does result in hefty FAA fines and possible jail time," the FAA said, adding the fine for unruly behavior could cost up to $37,000.
The FAA launched the awareness campaign in January 2021 when then FAA Administrator Steve Dickson signed an order directing stricter legal enforcement to prevent "unruly and dangerous behavior."
Along with memes spoofing costumes, Wheel of Fortune, Fight Club, and more, the agency published a series of videos and statistics as well. 
According to the data, unruly behavior aboard planes peaked in 2021 with 5,973 reports filed and set a record for fine, but that number dropped 59% in 2022. The FAA linked the 2021 surge to COVID-19 policies and face mask enforcement.