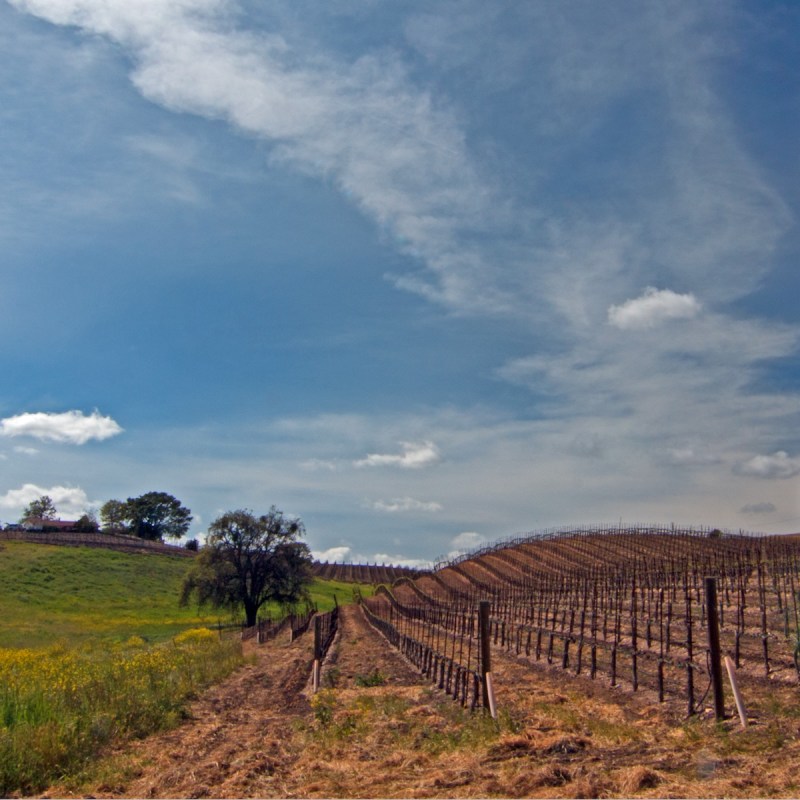 Visiting wineries during the fall and winter months can be a wonderful experience for wine lovers. The cooler weather and changing colors of the leaves create a beautiful backdrop for wine tastings and vineyard tours. Many wineries also offer unique seasonal experiences, such as harvest festivals and holiday events, that can make your visit even more memorable.
The off-season can mean fewer crowds and more personalized attention from winery staff, allowing for a more intimate and relaxed experience. Some wineries even offer special tastings and tours of their cellars and barrel rooms during this time of year.
For a fun and cozy way to enjoy the beauty of wine country, consider visiting a winery this fall or winter. Try one of these three to get you started in California's many diverse wine regions.
1. Roederer Estate, Anderson Valley, California
Roederer Estate is a winery in one of California's oldest wine-growing regions, Anderson Valley. Established in 1982, it is owned by the renowned champagne house Louis Roederer and produces exceptional sparkling wines. The winery's estate vineyards span over 600 acres. They are planted with chardonnay and pinot noir grapes, ideally suited to the cool climate of Anderson Valley.
Roederer Estate is best known for its award-winning brut and rosé sparkling wines, made using méthode champenoise. These wines are characterized by their delicate bubbles, crisp acidity, and complex flavors that reflect the terroir of the Anderson Valley. In addition to these classics, Roederer Estate creates still wines including chardonnay and pinot noir.
When you visit Roederer Estate, you can try tastings and tours, including a guided vineyard walk, a cellar tour, and a tasting of the winery's signature wines. The winery chef creates light bites and small plates perfect for pairing with Roederer wines. Laze away the afternoon under a grape arbor with a bottle of bubbly and a plate of locally sourced nibbles.
Roederer Estate is a sparkling destination for all wine lovers with its stunning vineyard views, elegant tasting room, and exceptional wines.
2. Frey Vineyards, Redwood Valley, California
Frey Vineyards is a family-owned and operated winery in the heart of Mendocino County, in the Redwood Valley. Known for producing organic and biodynamic wines, the winery has been a pioneer in sustainable agriculture for over 3 decades.
The Frey family has been committed to organic farming since the 1960s and was the first winery in the U.S. to be certified organic in 1980. Today, the vineyard spans over 350 acres and includes several grape varietals, including cabernet sauvignon, zinfandel, and syrah. White selections include sauvignon blanc, chardonnay, pinot gris, and my favorite, viognier.
Frey Vineyards produces a variety of award-winning wines, including red and white varieties and dessert wines. When visiting the winery, enjoy tastings and a guided tour of the vineyards and wine-making process. The tasting room and picnic area offer stunning views of the Coastal Mountains and Redwood Valley.
Frey Vineyards has a solid commitment to sustainability and is an excellent example of how winemaking can be done in an environmentally conscious way.
3. DAOU Vineyards, Paso Robles, California
More above the radar than under, DAOU Vineyards is a family-owned winery in the Adelaida District of Paso Robles. Founded by brothers Georges and Daniel Daou in 2007, the winery sits atop a mountain peak 2,200 feet above sea level. The elevation and the area's unique terroir provide an ideal environment for growing premium Bordeaux varietals such as cabernet sauvignon, merlot, and petit verdot.
DAOU Vineyards is known for producing world-class wines with numerous accolades, including high ratings from wine critics and publications. Their flagship wine, Estate Soul of a Lion, a cabernet sauvignon, is rich and complex, showcasing what this region offers.
When you visit DAOU Vineyards, you can participate in guided vineyard and winery tours. Tastings of the winery's extraordinary wines combined with a food pairing are never forgotten. The tasting room overlooks the panoramic views of the Paso Robles wine region and the Santa Lucia Mountains. It is a flawless spot to relax and sip the sun down.
The winery hosts annual special events, like wine dinners and concerts. With its unique mountaintop location, brilliant wines, and commitment to quality, DAOU Vineyards is a bucket-list destination for all wine lovers.
Conclusion
Visiting a winery during the fall or winter months is a unique and memorable experience that every wine enthusiast should consider. Wineries are more inviting and less busy as the leaves change color and the temperatures cool.
Visiting a winery in the fall or winter can be an ideal way to experience the spectacle of wine country, taste exceptional wines, and create unforgettable memories.