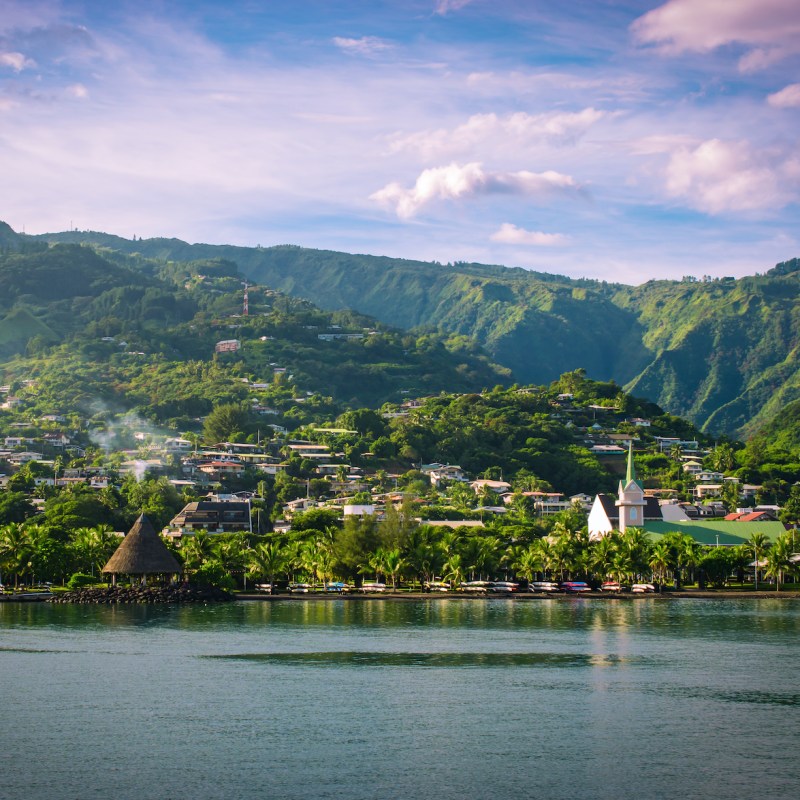 Located in the Pacific Ocean, Tahiti is the largest of the Windward group of the Society Islands in French Polynesia. The capital, with an international airport, is Papeete. French painter and sculptor Paul Gauguin (1848-1903) was not the only artist attracted to and inspired by Tahiti's exotic beauty and the other archipelago islands. Still, his paintings are immediately recognizable, although he found much-desired acclaim only after his death.
Living in France, married to a Danish wife, he painted in the impressionistic style with very little success. Disenchanted by his life, France, and his constant lack of recognition and money, he decided to find fame and fortune in a different environment. He chose Tahiti, where he first arrived in 1891. He settled in Papeete. Later, after a short return to France where he divorced his wife, he lived in Mataiea in a native-style bamboo hut and finally moved to the Marquesa Islands, where he died after many illnesses.
His painting style changed dramatically. He was inspired by the beauty of nature, traditional arts and crafts, and the appearance of local women, with several of whom he lived during his ensuing years in French Polynesia. He used vivid colors and stronger, simpler lines, sometimes with black outlines, which made him a representative of the symbolist movement.
To follow the footsteps and locations that inspired Paul Gauguin, which will make your visit to Tahiti a "themed" experience, I have relied on his travelogue, Noa Noa, museums in Tahiti, and movies like Voyage to Tahiti and Paradise Found. Of course, a lot has changed since the days of Gauguin, but the essence can still be experienced and admired. Once you have visited all these exciting places, you will view his paintings with different eyes.
The best time to visit is between May and October. December and January see the most rainfall, but temperatures are warm and balmy year-round.
Papeete
Papeete is the capital, and you'll probably arrive at the international airport and get a first impression of the laid-back Polynesian lifestyle. The airport is called Faa'a, and there are direct flights to the U.S. I have traveled several times direct from Los Angeles.
Gauguin, of course, arrived onboard the comfortable liner Oceanien, albeit due to his dire finances, as a third-class passenger. The same crowd of smiling people greeted him, and not a single one, man or woman, didn't adorn him with at least one flower. The town center is busy and noisy, the streets are narrow, and traffic can be daunting. But still, it's best to explore on foot. Start by visiting the Papeete Tahiti Temple, The Church of Jesus Christ of Latter-Day Saints.
For a walk in cooler air, and to get an impression of the gorgeous plants and flowers that so dominate the paintings of Gauguin, make your way to Bougainville Park. There is even a playground for kids.
For a first encounter with the locals and their way of life, head to the municipal market. Although this is a tourist attraction, spread over two floors, it's also a place where the locals come to buy fresh fruit, fish, and vegetables every day. It's also where you'll hear at least three languages: French, Chinese, and the local dialect. Need a hat or sunglasses? You'll find these and much more in one of the stalls. No doubt Gauguin went here to buy his daily necessities when he first settled in Papeete.
Tahiti is famous for its black pearls, and there is a separate pearl market, too, but you need deep pockets if you want a necklace or even a pair of earrings.
Teahupo'o
One of the locations for the film about Gauguin we mentioned above is Teahupo'o in the southwest of Tahiti, and the village of Tantira, at the end of the peninsula. We recommend a visit just for the thrill of the view because it's the site of some of the most dangerous waves surfers can ride. Don't even think about it, just look and enjoy the wild nature, far from any tourist crowds; black beaches and a Tahiti landscape unchanged since the times of the famous painter.
Robert Wan Pearl Museum
Talking about the famous Tahiti pearl: whilst in Papeete, a visit to the Robert Wan Pearl Museum is a must. It's the world's only pearl museum which not only has the biggest Tahiti pearl ever found, but it also explains the history and culture of pearls and how they are harvested or grown in the South Pacific.
Fautaua Waterfalls
Tahiti stands for lush, green vegetation, abundant flowers, stunning waterfalls, pristine beaches, and beautiful people. For the waterfall experience, you may want to head for the Fautaua waterfall. Cascading down through the jungle, it spills into a natural pool. Be aware, though, that you need to be quite fit to reach the top of the fall. If you are, you might consider a guided tour to get the full view. You'll see where Gauguin got the vibrant colors for his landscapes.
Vaipahi Gardens
Where did Gauguin and many other visitors find paradise? In the Vaipahi Gardens. About 30 miles from Papeete in the direction of Mataiea, you come to a tropical paradise of natural beauty and waterfalls, depicted in many of his paintings. Full of relics of ancient Tahiti culture and legends, several easy to maneuver paths lead through the park and along the river once, legend has it, the seat of the water god. In the middle lies lake Vaihiria, Tahiti's only freshwater lake.
Toaroto Beach
You may have seen the painting called Horsemen on the Beach, showing locals riding bareback on horses on a white beach. Tahiti is best known for black beaches, but Gauguin may have seen Toaroto Beach, one of the few with white sand, as his model for the painting. When visiting, you may not see riders on horseback, but the fine white sand and deep blue water will delight you. Another of the rare white beaches is La Plage de Maui. Although the sand is white and palm trees hang over the beach, step into the water with care because many black boulders are lead into the water.
Mount Oroheno
Mount Oroheno, at the height of 7,352 feet above sea level, is Tahiti's highest elevation. An extinct volcano, the mountain is featured in several of Gauguin's paintings. To visit, it's best to go on one of several tours.
Manua Exquisite Tahitian Art
We mentioned before that Gauguin was impressed and inspired by the ancient art and crafts of the people of Tahiti. To see for yourself, visit the Manua. It didn't exist during Gauguin's time, but it gives you an impression of what he saw.
Moorea Island
Just a short 30-minute ferry ride from Tahiti sits the beautiful island of Moorea. Eight mountain peaks stick out of the lagoon, and flowers and palm trees grow everywhere. It's no wonder that this paradisiac little island, which, from the sky, is heart-shaped, is a much-in-demand honeymoon destination. A luxury resort caters to the honeymooners and visitors who want a day away from Tahiti. One is the Manava Beach resort, which features the famous overwater bungalows and pretty gardens.
One of the main subjects of Gauguin's Tahiti paintings are women, clothed, nude, and in many different postures. Today, they dress more or less like the French after missionaries introduced western textiles to them. At the time of Gauguin, many went "topless" or used cloth called tapa, made from tree bark. It will be difficult to find today, but a tradition that persists, often for weddings, is wrapping up in elaborate quilts made by hand with leaf and flower motives. If you are lucky, you can find one in the market in Papeete.
However, garlands and headdresses made from leaves and flowers are to be seen everywhere today, just like in the times of Gauguin.
Museum Of Tahiti And Her Islands
This fabulous museum about history and art and crafts is located 10 miles south of Papeete in the tiny town of Puna'ania. Divided into four sections and provided with written explanations in English, the museum documents the area's history from ancient to colonial times.
Pro Tips
This tip has nothing to do with Paul Gauguin but is an experience you should not miss on your trip to Tahiti, provided you have the time.
Have you ever heard of a vineyard on a coral reef? Hard to believe, but it exists just a short trip from Tahiti on the Rangiroa atoll. And it recently celebrated over 50 years of the successful production of delicious reds. The name of the vineyard is Vin de Tahiti, and it even has two harvests per year.
Save yourself the time to look for the Gauguin Museum. It's been closed for some years now.
Related Reading: