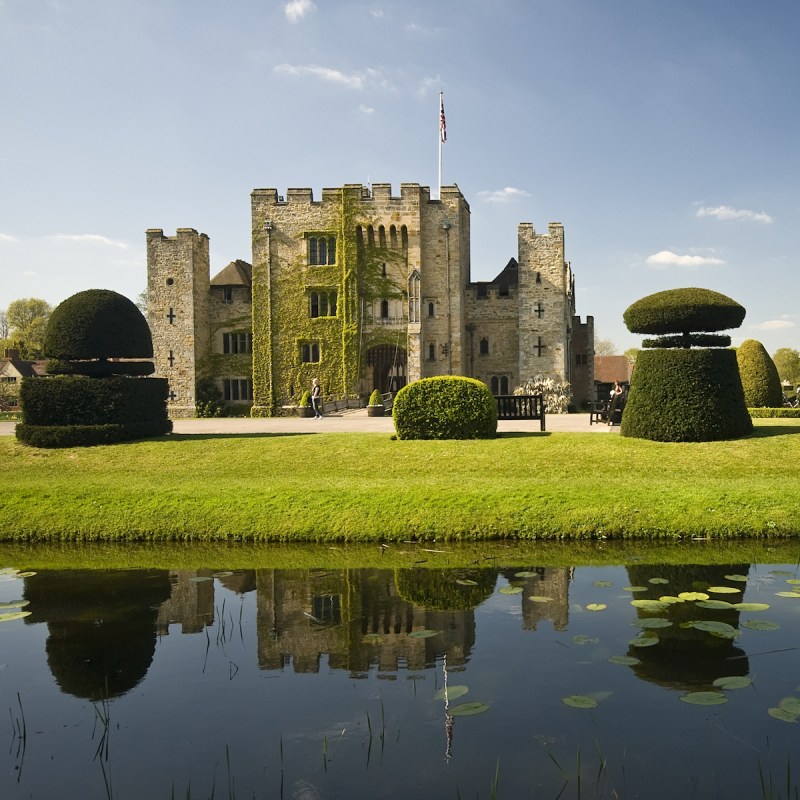 A hunting party rides into camp through the rising morning mist. Red and blue tents are assembled. Meat is roasting on a spit. Food and wine are abundant. Fletchers' ready their bows, arrows, and quivers. A king and his queen arrive on horseback with their entourage.
This might have been the scene surrounding Kent's Hever Castle in the 1530s. Hever was the childhood home of Anne Boleyn, Henry VIII's second wife and mother of Queen Elizabeth I.
Have you imagined yourself in a castle? Lord of the kingdom, lady of the realm, knight of the province? In the UK, numerous historic castles have been reimagined as luxurious hotels. Any of these five is where you can make your dreams of a castle life come true.
1. Hever Castle – Kent
When you stay at Hever Castle in Kent, you time travel to the Tudor era. Once the childhood home of Anne Boleyn, the castle has been handsomely restored and transformed into a unique luxury bed and breakfast. Guests choose from 28 stunning bedrooms, each with its own individual character and style.
The castle's rich history is evident in every detail, from the antique furnishings to the original Tudor portraits adorning the walls. The castle's gardens are also a highlight, with over 125 acres of park land, including a golf course, a jousting arena, a boating lake, and a maze.
Despite its historic nature, modern amenities like ensuite bathrooms and Wi-Fi are available in each room, ensuring a comfortable stay. Dining options include a formal restaurant and a more casual bar and brasserie, both of which offer delicious seasonal menus.
I stayed at Hever Castle; it was a once-in-a-lifetime experience that combined history, luxury, and natural beauty in a truly unforgettable backdrop.
2. Langley Castle – Northumberland
Langley Castle in Hexham, Northumberland, is a fairy-tale setting. This 14th-century castle has been transformed into a luxurious hotel offering guests an experience once reserved for royalty. Each of the 27 rooms is individually decorated with antique furnishings, four-poster beds, and original features such as stone walls and arrow-slit windows. Some rooms have private hot tubs.
The castle's location, in the heart of Northumberland, is surrounded by verdant countryside. Guests can enjoy outdoor activities like hiking, cycling, and fishing. The castle's restaurant, Josephine's, serves seasonal menus using locally sourced ingredients from the county.
One of the highlights of your stay at Langley Castle is the castle tour, teaching you about its fascinating history. The castle also hosts medieval banquets and murder mystery events for a truly immersive experience. Langley Castle is the perfect destination for a luxurious and treasured stay in a historic setting.
3. Cave Castle – Yorkshire
Cave Castle in Brough, Yorkshire, is a stunning 18th-century manor house transformed into a luxurious hotel. Guests choose from 70 gorgeously appointed rooms with unique character and features like canopied beds and historic furnishings. Many rooms offer views of the castle's beautiful grounds, including 150 acres of park land and a nine-hole golf course.
The castle's award-winning restaurant, The Courtyard, offers sumptuous meals made with locally sourced ingredients. Guests enjoy afternoon tea and cocktails in the castle's lounge bar. Relax and rejuvenate at Cave Castle's spa with hair, body, and nail treatments.
Discovering the castle's history will be a highlight of your stay. Explore the castle's original features, like the grand staircase and the great hall. Each has been painstakingly preserved. Guests can arrange a guided tour to learn about the castle's fascinating past.
Your stay at Cave Castle will be luxurious and unforgettable, uniquely combining history, beauty, and relaxation.
4. Lumley Castle – County Durham
Standing for 600 years in County Durham, Lumley Castle is a spectacular 14th-century palace transformed into a luxurious hotel. With its rich history and striking architecture, a stay at Lumley Castle is a true fantasy. The castle also features a beautiful Gothic-style chapel for weddings and other events.
Each of the 73 rooms is exclusively decorated with antique furnishings, four-poster beds, and modern amenities like flat-screen TVs and Wi-Fi. Guests enjoy gorgeous countryside views from their rooms in the castle's original towers and battlements.
The Lumley Castle's dining options are exciting. A formal restaurant serves meals made with locally sourced ingredients. At the same time, a bar and brasserie offer a range of casual dishes and drinks.
During your stay, you can explore the castle's history and architecture with a guided tour or relax and enjoy its beautiful grounds, including a moat, a lake, and a walled garden. Lumley Castle offers a deluxe and memorable stay in a celebrated setting.
5. The Castle Hotel – Somerset
The Castle Hotel in Somerset will take you to a bygone era of grandeur and elegance. The exquisite castle, dating back to the 18th century, has been transformed into a luxurious hotel that provides guests with a unique and unforgettable experience.
The castle's 44 rooms are handsomely decorated with antiques, luxurious bedding, and modern amenities. Many of the rooms offer views of the castle's picturesque grounds, which include a walled garden and a croquet lawn. The castle's dining options include a formal restaurant, casual brasserie, and bar.
A stay at The Castle Hotel is a luxurious and unforgettable experience that combines history, beauty, and relaxation in a truly unique way.
Conclusion
Experiencing a royal life is possible in many of the UK's historic castle hotels. Luxuriate in rooms dressed in antiques, wine and dine by candlelight on the finest ingredients, immerse yourself in history, and relive a bygone era.
So, my lords and ladies, no matter what part of the UK you choose, staying in one of its historic and luxurious castles will be a dream come true, with bragging rights to last a lifetime.