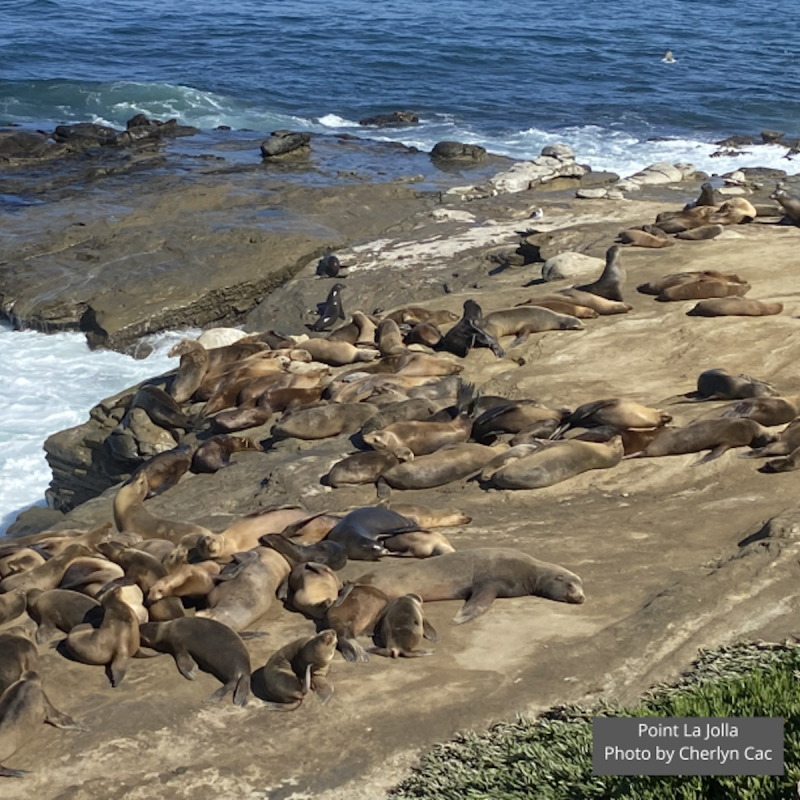 One of San Diego's most popular tourist spots is about to close for at least 7 years.
The year-round closure of Point La Jolla and parts of Boomer Beach is necessary because people won't stop bothering the resident California sea lions, even though the area has been closed seasonally since 2021, city officials explain.
Notably, the area is the only sea lion rookery on the California mainland, which means they mate, give birth, and rest there. From May through October, during sea lion pupping season, mother sea lions and their pups bond, nurse, and the pups learn to swim there.
The problem is that the area is also increasingly popular with tourists who want to see the sea lions up close. And while there are posted signs warning that it is a violation of the federal Marine Mammal Protection Act to approach within 50 feet of the sea lions, visitors have been spotted snapping selfies with them, throwing sand at them, and generally harassing the sea lions. A viral video posted last year even showed people who were too close to the sea lions scrambling to get out of the way as one male chased a second male away from some female sea lions during mating season.
Now, in response to the escalating situation, the San Diego city council recently voted unanimously to approve an amendment which changes the seasonal closure of Point La Jolla and areas of Boomer Beach to a year-round closure. The closure is not permanent, and in 7 years, the city must apply for a new amendment.
It should be noted that the amendment's passage is no surprise. It has been discussed for years and the California Coastal Commission also voted to approve the year-round Point La Jolla closure earlier this summer, ABC News 10 San Diego reports.
What To Know About California Sea Lions
California sea lions, which are native to the West Coast of North America, live in coastal waters and nearby beaches, docks, buoys, and jetties, according to the National Oceanic and Atmospheric Administration (NOAA) Fisheries. Their territory ranges from southeast Alaska along the Pacific Coast to central Mexico.
Amazingly, male California sea lions can weigh up to 700 pounds and reach lengths of 7.5 feet. On the other hand, the smaller females can weigh up to 240 pounds and be 6 feet long. Pups typically weigh about 16 pounds.
California sea lions, which live 15–20 years in the wild, feed mainly offshore. Their diet consists of a variety of prey, including squid, anchovies, mackerel, rockfish, and sardines.
Know Before You Go
It's important to note that the new beach closure doesn't mean visitors can't see the sea lions — it just changes where and how you can see them.
The closure is only for an area that stretches about 150 yards along the coastline, encompassing Point La Jolla and parts of Boomer Beach. However, although the land is closed to humans and dogs, an ocean access lane remains open for swimming, surfing, and other water sports, according to the Times of San Diego.
What's more, visitors will still be able to see the sea lions from behind new barriers.
Finally, the closure does not include the immensely popular swimming area at La Jolla Cove or Shell Beach and Ellen Browning Scripps Park.
"What makes this such a special place is that it is the only sea lion rookery on the California mainland but even more importantly, it is in an urban environment accessible to thousands of visitors annually," said Richard Miller, Sierra Club chapter director, according to SFGATE. "The year-round closure will keep the public and sea lions at safe distances to protect both people and the animals while giving the public the opportunity to observe nature close-up."