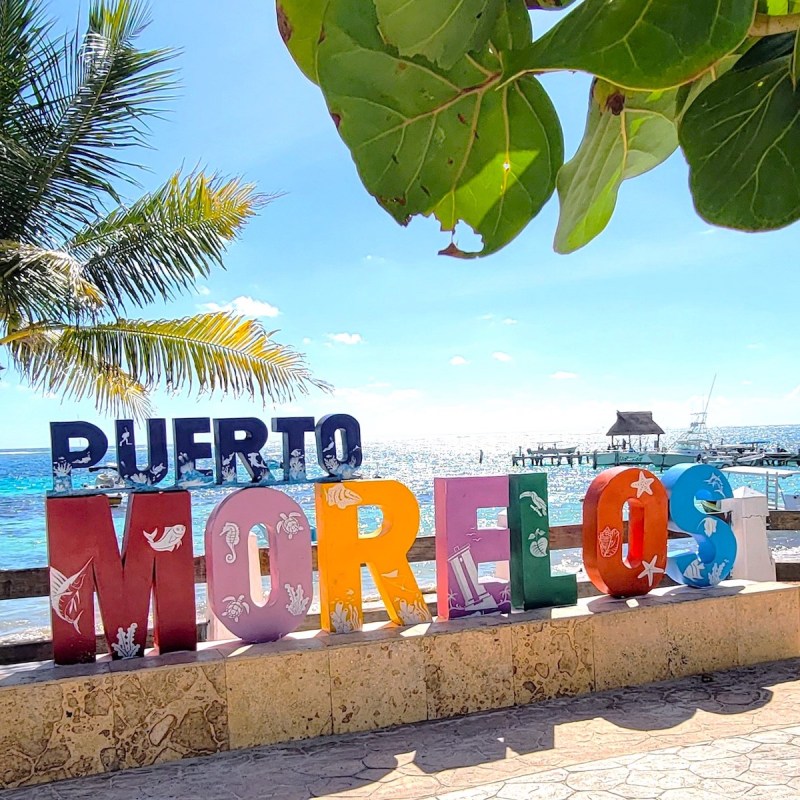 Sometimes, we take great pains to find great places, but other times, luck has more to do with it. That's how we discovered the best-kept secret of the Mexican Riviera. In 2018, our timeshare called to tell us that we would lose a bunch of points if we did not use them by year-end. We chose to spend that Christmas in El Cid's La Ceiba in Cozumel. They wanted us to extend our membership to include their sister resort in a town called Puerto Morelos, so they gave us a day there to try. And we were able to find every reason to go back, including the fabulous sunrises!
The town is 25 minutes southeast of the international airport, 45 minutes south of Cancun, and 35 minutes north of Playa del Carmen. It may not have Cancun's glitz, nor Playa del Carmen's vibe, certainly not Tulum's (25 minutes south of Playa) coastal archeological ruins. But if you love nature and prefer a laid-back experience, this is where you want to be. It has become our second home for 3 months every winter.
The Jungle Meets The Sea
Puerto Morelos is small. There's no concrete jungle; it is au naturelle with four ways to enjoy the tropical rainforest.
1. El Cid Marina Spa And Beach Resort
In the El Cid Marina Spa and Beach Resort, swamp and mangrove creatures are around you constantly. Carved from the natural environment, it has pockets that are double-fenced to protect guests while keeping the wildlife encounters up close and personal.
Two special ponds outside the two buildings where we usually stay are our favorites. That's where we have our pets: turtles, fish, birds (anhingas, kiskadees, egrets, grackos, and herons), and the baby, mama, and papa cocodrilos. On display daily is a perfect ecology that we dare not disturb. We just whisper, "How are you today?"
Pro Tip: Hundreds of iguanas roam around, looking like fierce but totally harmless contributors to the ecological balance. But don't leave used room service plates outside the door or you will have raccoons and coatis hovering around.
2. Croco Cun
Just a couple of miles away is Croco Cun, best experienced through a 1-hour interactive tour with a guide familiar with the animals. The guide is helped by Lorenzo, the talking parrot who cannot stop introducing himself after greeting you with "Ola!"
Besides the Burmese python, other deadly snakes, and tons of crocodiles, there are hairless dogs to pet, deer to feed, turtles to throw crumbs to, baby crocodiles to touch, and a boa imperator to hold. Yes, we even walked inside a crocodile den (the crocodiles had just been fed)! And wild spider monkeys freely swung from tree to tree.
Pro Tip: The interactive tour is $35 per person.
3. Jardin Botanico
This is Mexico's largest botanical garden, with 65 hectares (over 160 acres) of cacti, ornamental palms, medicinal plants, and other jungle flora and fauna. There are some boardwalks but it is the last jungle remaining between Cancun and Playa del Carmen. It also boasts a chicle camp, reading cottage, small archaeological site, waterfall, and suspension bridge.
Pro Tip: It's only $6 a person to visit.
4. Cenotes Kin-Ha
Twelve cenotes are grouped together: open, cave, and open cave, all in one place. They are virgin cenotes, not fully developed for tourists, so you'll need to walk through Mayan jungle trails, drive ATVs, or ride on horses to get to them.
Pro Tip: You will enjoy swimming in open cenotes just like my daughter when she visited us.
A Host Of Water Activities
The Mexican Riviera has an enviable 150 miles of shoreline on the Caribbean Sea. The water is also a prime playground.
5. Fishing
Puerto Morelos is known for big game fishing through charter companies, including one at El Cid. But the town is also a quaint fishing village. Very early in the morning, rows of colorful boats go out into the sea and later come back with their catch to sell at the local market.
Pro Tip: You can ask any chef around to cook your catch or package it to ship back home.
6. Swimming
Swimming remains the best activity, even if the pesky sargassum has hit the beaches with brownness. It can even smell if left too long. Many work together to shovel it off the shores, haul in trucks to work sites, and dump truckloads of sand to reclaim the beachfront. At El Cid, two rows of air-filled tarp barriers that parallel the beach have succeeded in sifting the invasion, leaving more manageable chunks. Yes, they are finding ways to deal with it.
Besides, large swimming pool/hot tub complexes complement the ocean. Infinity pools that blur the line between sea and pool have, in fact, become the norm. Your swimwear may never get dry!
Pro Tip: But, avoid the sargassum peaks. Mid-February to mid-March was a peak last winter. This summer, there will be another one.
7. Snorkeling And Scuba-Diving
The Mexican Riviera also boasts The Great Mayan Reef, the second-largest coral reef in the world, beginning less than a quarter-mile offshore. Snorkeling is great everywhere on the Riviera, and so is scuba-diving. When my husband's daughter visited us, she went diving.
Pro Tip: There are many diving shops and centers in town, including one in El Cid.
Provisions From Downtown
Puerto Morales is divided into two sections. The downtown, the Plaza, and the Parroquia (church) are on the beachfront where the ex-pats stay, shops and resorts are located, and restaurants thrive. Across Highway 307 — the Mexican Riviera's main corridor — is Colonia, the residential area for 9,000 locals.
Pro Tip: You can take a collectiva to reach any part of town for only about 50 cents. The terminal is on the northwestern corner of the Plaza.
8. Shopping
The big supermarket chain Chedraui serves both parts. The one near the beachfront is where we go for supplies. Around the Plaza are many places where we go for clothes, medicines, facials and massages, nail and hair services, and even medical and dental care.
Pro Tip: The prices are much cheaper than back home but more so in Colonia.
9. Dining
Two streets branch north and south of the Plaza. You can find a wide variety of options, from holes-in-the-wall to fine-dining places and everything in between.
Pro Tip: The main restaurants on the Plaza are Pelicanos and Café Amancia.
Other Activities
At the Plaza, you can enjoy the idyllic scenes during the day, especially the Leaning Lighthouse and the Broken Boardwalk, symbols of resilience from the day a strong hurricane hit them. And the best swimming in town is just north and south of where the boats are moored.
Puerto Morelos is also known for hosting Xoximilco, which gives you 3 hours of culinary feasting on a festive boat with well-curated stops at places that showcase the vibrant and colorful Mexican culture.
Pro Tip: Every Friday night there is a flea market; every Wednesday, a farmers market.
Our Winter Home
El Cid has almost 900 of the now 7,000 rooms available in Puerto Morelos. Together with Dreams, Fives, and Dreams Jade, they are the top four resorts in town. There are lower-cost options like Hacienda Morelos just beside Pelicanos and across from Chedraui.
Our resort, a complex of about 22 buildings, brings an all-inclusive luxury Cancun lifestyle to the little town and jungle. There are three lobbies, three bars, eight restaurants, a food court, a café, four Platinum Clubs, many drink kiosks, and a convention center.
Evening entertainment is aplenty: two variety shows and other features in each bar. Parties are staged for many special occasions (like the Superbowl). Regular activities are hosted around the two fitness centers or the six pools (three of them infinity pools). One pool even turns into a soap bubble wonderland!
I do not gain weight (even with all the food) because there are two gyms and a great spa. Although there are golf carts that get you around, we opt to walk.
There is also a Teen Center, a Kids Club, and a Family Fun Center (being built). Giant chess boards occupy several corners. You can borrow equipment for different sports, or simply lounge around in chairs, hammocks, gazebos, or sofas, all around water.
Day Trips Are Easy
Puerto Morelos is central to landmarks, much like Playa del Carmen. We have rented a car to go to Chichen Itza and the Ik Kill cenote. But to visit Cancun, Playa del Carmen, or Tulum, we use a combination of collectivas, taxis, and/or buses. When the Maya Train is completed, all-day trips will be much easier, even to Merida.
Pro Tip: We also went to Isla Mujeres via a 15-minute ferry from Cancun. The ferry to Cozumel is 45 minutes from Playa del Carmen.
Related Reading: