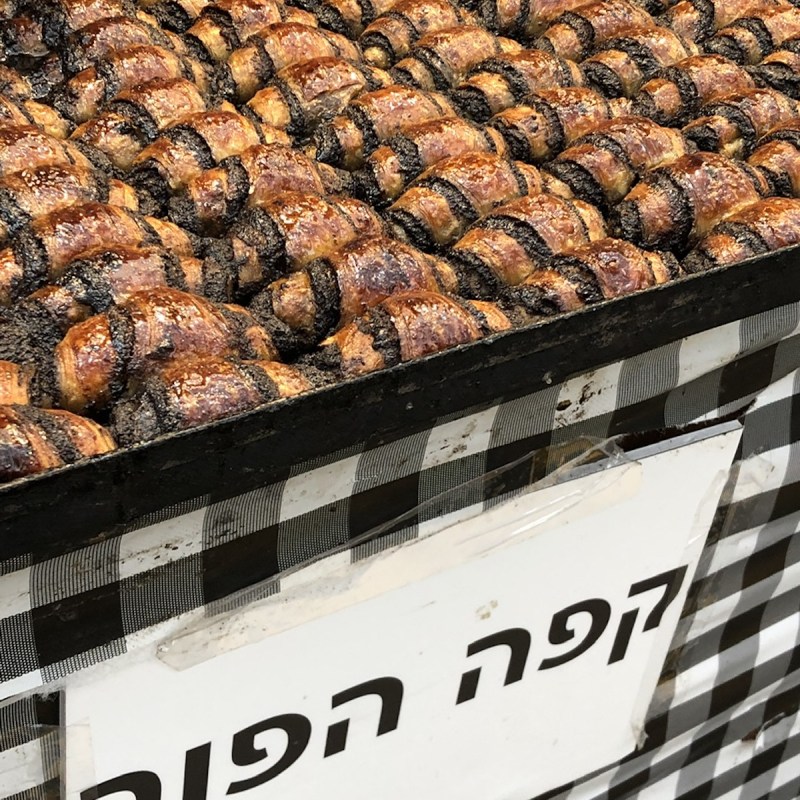 Israel is known for its fresh and flavorful food. Vibrant produce, aromatic spice-led dishes, and vegan fare make up the core of Israel's culinary canon, but there's something else the visitor should know about it: The country has an array of utterly delicious baked specialties. (It makes sense when you think of how many Jewish grandmothers there are in the country.)
Little baked goods are called mapas in Hebrew, and you'll see countless small shops, kiosks, and bakeries — from modern ones to old-school and generational versions selling sweet treats and unusual bread. However, mapas and bread, either savory or sweet, really help tell the story of this country of immigrants from all four corners of the earth.
Here are nine of my favorite baked goods in Israel and the best places to try them.
1. Boureka
Burekas Penso
The Levinsky Spice Market in southern Tel Aviv is something everyone, not just foodies, should visit because it tells so many stories of people coming to the country. Early 20th-century Greek immigrants, Holocaust survivors, Iranian Jews who immigrated from Tehran to sell Iranian saffron, and generations of family bakers are the kinds of vendors you see along this colorful market street.
In the middle of it all, at Levinsky 46, is Burekas Penso, specializing in bourekas, the flaky, hand-held savory pies filled with potatoes, spinach, salty cheese, and other stuffings that came to Israel by way of Turkish immigrants. The current owner, Yocahi Panso, is a fourth-generation boureka baker who makes them by hand with all the traditional fillings
Pro Tip: Try the traditional potato boureka; grab a table just outside and watch the market mayhem. Fridays are an especially great time to view as people shop before the beginning of the Sabbath.
2. Jachnun
Jachnun Mul Hayam, Tel Aviv; Jachnun Bar, Jerusalem
Jachnun is a slightly sweet and very rich bread so buttery that it's almost a pastry. It comes from Israel's Yemenite Jewish community. The dish is one of many slow-cooked for Shabbat (Sabbath on Saturday mornings). Jachnun is typically prepared the day before and baked in the oven on low heat overnight for a hot dish to eat on the Sabbath day when lighting fires is prohibited.
The dough is made of flour, white sugar, and water, rolled out thinly, coated liberally with margarine or butter, and then rolled back up. Typically, it's served with roasted eggs; these are often cooked in the oven along with the bread.
Jachnun's popularity has spread beyond the Yemenite community and you can now find it all over the country even at roadside stalls and in the grocer's frozen food aisles. It's also become a popular brunch staple at restaurants.
In my opinion, the best (short of someone's home cooking) can be found at Jachnun Mul Hayam in Tel Aviv and at Jachnun Bar in Jerusalem.
3. Challah
Berman Bakery, Jerusalem
Probably the best-known Jewish baked good, challah is the braided bread loaf, traditionally eaten by Jewish families on Friday nights (the evening of Shabbat).
A good challah is just the right balance of doughy and fluffy, slightly sweet and golden brown on the outside. It's often covered with sesame or poppy seeds but can also be plain. Most families can claim at least one great challah maestro among them.
Of course, it's better to eat this bread hot out of the oven around a crowded table full of family and friends. And nothing beats homemade, but that isn't a typically available experience for travelers. So it's good to know you can get very authentic, homemade-tasting challah at the longtime Jerusalem eatery Berman Bakery. Their challah is also known as their signature house bread. You may come for the challah, but a warning: You'll be tempted by the many other pastries and breads in the shop.
4. Knafeh
Uri Buri Restaurant, Acre; Yaffah Knafeh, Jaffa
Knafeh is a traditional Arab dessert, originating in Nablus. It's made of a spun pastry called kataifi, which is soaked in a sweet honey-based syrup, mixed with a sweet cheese, and typically topped with chopped pistachio.
Makers of this refined and delicious dessert indulge in a healthy competition for the prize of the best. I've had several memorable ones, including at Uri Buri fish restaurant in Acre, the ancient port city in the north. The restaurant is owned by the legendary Uri Jeremiah and it's a destination restaurant.
Uri Buri's knafeh is next level but it comes at the end of a meal. When I want to eat knafeh on the go, I like Yaffah Knafeh in Old Jaffa, the conjoined city of Tel Aviv. Yaffah Knafeh is a small cave-like restaurant with a big following thanks to its fantastic knafeh.
5. Rugelach
Marzipan Bakery At Machne Yehuda Market, Jerusalem
Rugelach is something like Jewish pain au chocolat — a small, rolled crescent filled with chocolate (or alternatively jam or cinnamon). It's a great little treat to have with a cup of coffee in the afternoon.
You can get some of the country's best at Marzipan Bakery in the colorful Machne Yehuda Market in Jerusalem. Little wonder that this merchant is one of the market's most popular. The fantastic smell of hot-out-of-the-oven rugelach draws crowds.
I can rarely resist biting right into one of the warm, buttery, chocolatey, and gooey crescents made with quality ingredients. I always remember to bring wet wipes with me as my shirt is often a casualty.
6. Maamoul Cookies
Spice Market, Nazareth
The ancient Levantine Maamoul cookie has been an important part of religious holidays for Muslims, Christians, and Sephardic — mostly Moroccan — Jews. It ushers in Easter, Eid, and Purim.
Maamoul cookie dough is made with semolina flour and then pressed into special maamoul molds that are typically carved of wood. These molds can be found in predominantly Arab markets such as the bustling market in Nazareth. The mold's patterns are often representative of the time of year the cookies are being made; for example, Jesus's crown of thorns at Easter.
The dough is stuffed with dates or walnuts, rosewater or orange blossom water, and the cookies are eaten while they're soft, crumbly, and buttery.
Pro Tip: Matkonation, a tour group and food blog started by two American expats, does wonderful food tours of the Nazareth market as well as great food photography workshops.
7. Cheesecake, Poppy Seed Cake, And Orange Cake
The Drisco Hotel, Tel Aviv
One of the great culinary experiences in Israel is the hotel breakfast buffet. These spreads defy imagination and the limits of your morning appetite. Long buffet tables are heaving with fresh fruit, eggs, cheeses, yogurt, fish, dips, olives, salads, pastries, and more. However, most hotels in Israel adhere to kosher food law, so there won't be any mixing of milk and meat, and no bacon or pork products at all.
These breakfasts are incredible once or twice, but after a while, they can be overwhelming. The Drisco Hotel — located in a very unique neighborhood of Tel Aviv called the American Colony — offers a more elegant and refined version of the breakfast spread.
Highlights are their extraordinary versions of well-known Jewish cakes such as cheesecake, poppy seed cake, and orange cake. (Delicious!) I like to try a little slice of each.
8. Haute Couture Pastries
High Tea, Jaffa Hotel Jaffa
High tea isn't a typical Israeli tradition, but it fits perfectly at the Jaffa Hotel, a stunning luxury hotel that was built on the site of a French hospice. It also incorporates an extraordinarily refurbished chapel. That is the setting of one of the most incredible high teas you'll ever experience, short of Buckingham Palace.
The tea's pastries are brought to you by Alon Shabo, Tel Aviv star pastry chef, whose contemporary modernist concoctions are inspired by architecture and design. The beautiful treats are even more beautiful against the backdrop of the chapel's marble floors, stunning sky-blue vaulted ceilings, and stained-glass windows.
Pro Tip: The hotel's signature orange scent is an homage to the Jaffa orange, once the backbone of Israel's export economy. It's a beautiful fragrance available to purchase as an incense or liquid soap.
9. Kaak Bread
Abouelafia Bakery, Jaffa
Not far from the Jaffa Hotel is Abouelafia Bakery, one of the most famous bakeries in the country.
The bakery, owned by the Abouelafia family and dating back to 1879, cooks up rounds of pita sprinkled with zaatar and sesame seeds, baklava, and triangle sesame-puffed "kaak bread" filled with different kinds of cheese. The warm and welcoming staff invite you to try and taste different things. Basically, anything you buy here will be fantastic!
Related Reading: