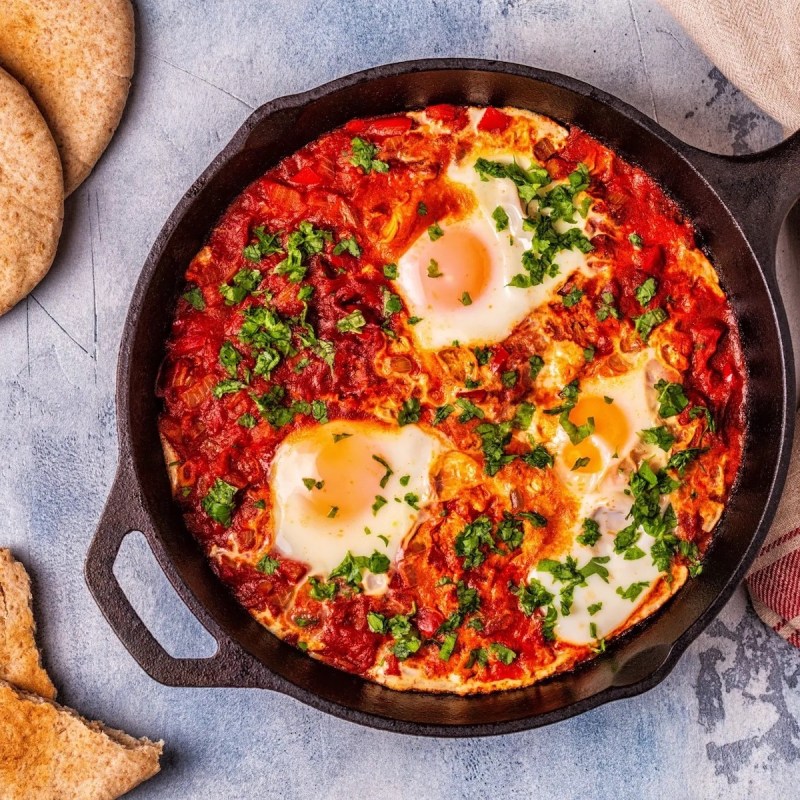 With its sprawling beachfront and wide, shady boulevards, Tel Aviv is a stunning city that never sleeps. But the White City offers more than just its good looks — it's a"foodie-forward" city. Its diversity of fresh, flavorful, and fabulous food has resulted in being voted one of the top destinations for vegan travelers. From street food to top chefs, the cooks and kitchens of this city adopted a fusion of culinary traditions and cooking methods spanning 3,000 years of history all over the globe.
From the pedestrian streets of Carmel Market to the stone paths of Jaffa's old city, I absolutely fell in love with the delicious dishes and food culture in Tel Aviv. I have listed some of my favorite foods in Tel Aviv, giving you a bit of background on what and how, as well as where to go and try each one.
Tourist Israel was my host for the Tel Aviv Food Tasting Tour of the Carmel Market which contributed to this article. However, all opinions are my own.
1. Falafel
Hakosem Falafel
Falafel is a fried ball made of chickpeas, spices, and herbs; it is one of Tel Aviv's most recognized street foods and is considered the national dish of Israel. Crispy and crunchy, it's most often served in a fresh pita with a salad, pickles, and tahini. It's one of Israel's favorite street foods and vegetarian, perfect for everyone.
You can find great Falafel everywhere in Tel Aviv, from street stalls to markets. My favorite was Hakosem Falafel in the heart of Tel Aviv-Yafo. It's a street food establishment that offers Israeli cuisine with good vibes and a bustling atmosphere.
2. Knafeh
Yaffa Knafeh
Knafeh is a fantastic traditional Middle Eastern sweet dessert of syrup-dipped pastry filled with cheese and often pistachios and other treats on top. Near the flea market, I passed Yaffa Knafeh on my bike and noticed a line of people wrapped down the street. I just had to stop and see what the fuss was all about.
Watching the cooks put the knafeh pans on the hot coals, flip them, add a splash of sweet syrup, and listen to it sizzle — the best. If you eat dinner in Jafffa or are simply out for a stroll, do not pass up Yaffa Knafeh for dessert. Your sweet tooth will thank you.
Pro Tip: Top off the warm knafeh with goat cheese ice cream and chopped pistachios.
3. Halva
Magic Halvah
Halva is a confection made from sesame seed paste and sugar with a dense texture and a nutty aroma. It comes in different flavors, such as vanilla and chocolate, and is infused with nuts and other things.
Magic Halvah (Kesem Ha Halva) is a small shop in Levinsky Market offering a variety of halva and is a must-visit. My favorite is topped with pistachios. They will cut a whole slice for you, then you cut it into bite-sized pieces to savor along with coffee or tea.
4. Spices And Herbs
Pereg Spices
Tel Aviv is famous for hard-to-find eastern spices and herbs. Pereg Spices in Levinsky Market is one of the hidden gems of Tel Aviv, loved by locals and tourists alike who quickly fall in love with its one-of-a-kind atmosphere and a plethora of local and Middle Eastern spices and herb blends, including za'atar.
In the late 1920s, many working-class immigrants from Greece settled in the Florentin neighborhood in the south of Tel Aviv. Levinsky Market became the throbbing heart of this immigrant neighborhood, a reflection of the cultural melting pot where you could find spices and goods from around the globe.
5. Shakshouka
Dr. Shakshuka
This North African baked egg dish contains tomato, onion, cumin, chili peppers, and spices. It is served sizzling hot with sunny-side-up eggs on top. Traditionally eaten for breakfast, this one-skillet dish is best enjoyed with warm slices of thick bread to mop up all the flavors. It's an Israeli staple and the ultimate comfort food.
Dr. Shakshuka is a well-known culinary institution in Jaffa. Founded in the '90s, this kosher establishment feeds hungry people who love this authentic food.
6. Druze Pita
Carmel Market
The freshly-rolled dough is stretched by spinning it between the hands and flipping it onto a dome-shaped oven on which it cooks. The pita, which is large and thin, browns and bubbles lightly. It's folded and slathered with Labneh white cheese, za'atar spice, tabouli, and olive oil; rolled up; and sliced into pieces for easy eating. The Druze are a small ethnic minority in Israel, but their bread — and reputation for making it — is renowned.
Carmel Market is Tel Aviv's largest and most-famous cultural melting pot. It was a popular stop on my food-tasting tour of the Carmel Market. Crowds gathered and watched the cook transform one giant pita after another, waiting for a taste.
This Yemenite flatbread has a touch of tang, similar in texture to Ethiopian injera bread, spotted with holes created by fermentation bubbles. Spongy like a crumpet on one side and smooth like a pancake on the other, it is served with tasty Yemenite sides like baked eggs, fresh tomato, and spicy green chile sauce called "zhug." I recommend savoring the bread with delicious Yemini stews or soups.
Shaluf and Sons is an authentic Yemini eatery where you can eat on a budget in the Kerem Hateimanim neighborhood, outside the Levinsky Market. Stop for lunch, sit at a communal table, and the staff will assist with recommendations on all the delicious Yemenite delights.
7. Local Cheeses
Beit Kandinof
Israel's cuisine is heavily influenced by dairy, which plays a prominent role on most menus throughout the country, especially around the Festival of Shavuot. This delicious, grilled bryndza cheese is a sheep cheese swimming in a savory tomato cream, topped with mixed nuts and green chili oil.
Beit Kandinof is a combination of an art gallery, bar, and restaurant with a fun atmosphere. Located in the Kandinov House, it was built adjacent to the walls of Old Jaffa and the port walls at the end of the 19th century. This satisfying grilled bryndza cheese was just one course of my favorite meal in Tel Aviv.
8. Hummus
Abu Hassan Restaurant
A plate of hummus is one of Israel's most iconic dishes. Any rendition of Israel's most iconic food you find in Tel Aviv will shame the supermarket version in the U.S. The simplicity of the chickpeas with fresh tahini scooped up with warm rounds of pita can't be beaten.
Abu Hassan is said to serve the best hummus in Israel. This culinary gem is a tiny place with simple kitchen tables and a scarce amount of chairs; the long lines prove something special is done here.
Pro Tip: You must go before 2 p.m. as they close after the daily batch finishes.
9. Shawarma
Golda's Deli
Shawarma is a popular Middle Eastern dish featuring slow-roasted, mouth-watering meats, usually cooked on a revolving spit and shaved for serving. I had a turkey shawarma plate with burnt eggplant, onion in sumac, tomato, parsley, and sauerkraut tahini served with pita at Golda's Deli in the Jaffa Hotel.
Named after Israel's first female prime minister, Gold Meir, the deli-style restaurant features Israeli classics, a street-food-inspired menu, and fresh Mediterranean salads from an open kitchen. Dining in the lovely open courtyard of the hotel, choosing just one of the options was hard. I couldn't resist adding a poppy-seed-covered bagel as big as the plate.
10. Kubbeh
Levinsky Market
Kubbeh is a popular dish in Levantine cuisine and is made of bulgur and minced onions with ground beef, lamb, or goat. Aromatic meat and spices can be fried, baked, or cooked in a broth. Proprietor Avi was surrounded by giant bubbling pots and everything smelled delicious.
Located at Stall 53 in the Levinsky Market, in the southern part of Tel Aviv, it brims with atmosphere and aromas. The Levinsky Market was founded by Greek immigrants in the 1920s, and later, welcomed an influx of Iranian, Persian, and Yemenite immigrants who shared their dishes and customs from home.
Pro Tip: The market operates daily from Sunday through Thursday and closes early Friday afternoon through Saturday for Shabbat.
11. Kataifi
Carmel Market
Kataifi is a popular dessert in the Middle East, Turkey, and Greece. The buttery, shredded dough and a mixture of coarsely-chopped nuts are generously soaked in cinnamon-flavored sugar syrup. Much like baklava, I loved the little bird nest shapes filled with pistachios.
This is one of many vendors in Carmel Market that first opened in 1920. I marveled at the sweet treats around every corner. This stall was overflowing with heavenly bites just waiting for passersby to try and take home.
Pro Tip: Take the Tel Aviv Food Tasting Tour of the Carmel Market with Tourist Israel. The 2-hour tour is an introduction to the market and a delicious tasting opportunity.