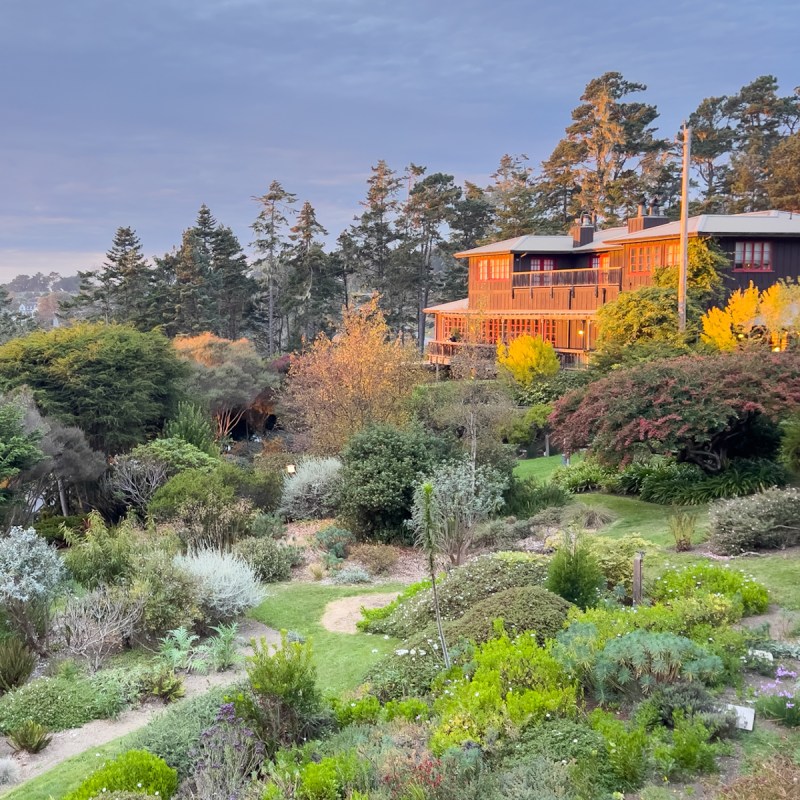 The natural, rugged beauty of the Mendocino Coast in northern California is a spectacular setting to relax and recharge from our busy lives. The Stanford Inn by the Sea is the perfect place to rejuvenate. They have an ocean view, an award-winning restaurant, cooking classes, massages, yoga classes, outdoor activities, and comfortable and luxurious accommodations surrounded by redwood forest ridges overlooking Mendocino Bay.
Jeff and Joan Stanford, the owners, extend exceptional care to their guests, the land, and the animals. They created an award-winning eco-resort and Wellness Center, based on sustainability and compassion, designed to provide guests with maximum comfort and relaxation.
Stanford Inn by the Sea hosted my husband and me. However, all opinions are my own.
How To Get To Stanford Inn
The Stanford Inn is an hour and a half from the nearest major highway. Flying and driving are the best options to reach Mendocino, California.
The closest airport, Charles M. Schulz-Sonoma County Airport in Santa Rosa, is 2 hours away. San Francisco International Airport is 3.5 hours away. You can rent a vehicle at either airport.
Driving from San Francisco in the south or Leggett in the north, take picturesque Highway 1 along the coast.
Pro Tip: Allow plenty of time for stops along the way and slow traffic.
Exit at Highway 128 near Cloverdale or Highway 20 in Willits, and head towards the coast. Both roads have many curves and are best traveled during the day. You can also take Highway 101 inland from the coast more quickly.
Fort Bragg is about 11 miles north of Stanford Inn, located at Comptche Ukiah Road, and is the home of Glass Beach, the historic Skunk Train, and many other fun things to do.
When To Visit Mendocino
The coastal Mediterranean climate is mild; spring and fall are the most popular times to visit Mendocino.
On our fall visit to Stanford Inn, we experienced fog the first evening and a stunning sunset the following evening. That awe-inspiring sunset lasted more than an hour.
Amenities At Stanford Inn
All guest rooms, suites, and cottages include these amenities:
Chef-prepared breakfast
Cellular service
High-speed wireless internet
Free Wi-Fi
Satellite HDTV
Private Deck
Cozy robes
Small refrigerators and microwaves
Coffee maker with organic coffee
Signature eco-friendly bath products and hair dryers
Free mountain bike rentals
Our room overlooked the gardens and the Pacific Ocean. All rooms are paneled in redwood and pine, with wood-burning fireplaces ready to light with the touch of a match.
The Ravens Restaurant
The Ravens opened in 1997 as a vegetarian restaurant consistent with Jeff and Joan's lifestyle. It became a vegan restaurant when they became vegan and is different from most vegan restaurants in the U.S. The Stanfords choose to serve a whole-food, plant-based diet by avoiding soy protein isolates and adding tofu that is flavored to replace meat. More than most restaurants, it's about nourishing and enhancing our sense of living.
I was eager to try everything when I learned that The Ravens Restaurant serves entirely plant-based meals and vegan food, emphasizing locally-sourced organic ingredients. My husband and I feasted on the vegan cuisine that was as beautiful as it was healthy.
Happy hour made us happy because they had our favorite Hendricks gin and the light bar menu of vegan snacks. The bartender crafted cocktails from the full bar with premium liquors and organic ingredients. Bite-sized vegan sandwiches and cinnamon cake snacks were enough to satisfy our growing appetites but not enough to spoil our dinner.
Chef-Prepared Breakfast
A breakfast of fresh, organic foods is served in The Ravens Restaurant. Fruit-infused water, freshly squeezed juices, and organic coffee or tea begin the meal.
My choice for breakfast was the signature brunch entrée, Stanford Herbed Polenta. The crispy, flavorful grilled sun-dried tomato polenta with garden greens sautéed in braising sauce was served with cashew "cream" sauce. My husband chose the buckwheat pancakes served with organic maple syrup and fresh organic seasonal fruit compote.
Swimming Pool, Hot Tub, And Sauna
You can enjoy the indoor pool, hot tub, and sauna any time of year in the greenhouse building. The pool has a chair apparatus to assist disabled people with access to the water. Chairs, tables, and showers make this building a retreat in itself.
The Wellness Center
The Stanford Inn's Wellness Center is the perfect health and wellness getaway destination.
Spa services include basic, deep tissue, hot stone, and aromatherapy massage treatments. If you are into bliss and ecstasy through herbal oils, the Ayurvedic treatments will rejuvenate your body like no other method.
The team of instructors at Stanford Inn offers yoga classes for every level of fitness — from absolute beginners to seniors, or those with special needs and physical limitations. Classes on a drop-in basis and private classes are available.
Mindfulness, meditation, Kundalini yoga, and Chinese medicine are strategies for wellness offered by experts at The Stanford Inn.
Many wellness resources, books, and healthy snacks are available in the main building. The enormous room filled with new books on many topics quickly became my favorite bookstore. I bought Dining at The Ravens by Jeff and Joan Stanford to try to recreate the delicious dishes we enjoyed in the dining room.
The Nurseries And Grounds
Farming began at The Stanford Inn by the Sea in 1985 as a landscaping feature. With a natural spring-fed pond running throughout the year, organic methods practiced in the gardens deliver much of the produce in The Ravens Restaurant.
The on-site Big River Nurseries is a USDA-Certified Organic Farm. A team of dedicated people tends to 10 acres of organic gardens, with the same co-creative relationship with the land as the Stanfords'.
On my tour of the grounds with Jeff, he told me that the organic gardens are their most important work. They use no pesticides and natural composting feeds the plants. A flock of ravens came to roost during my garden tour and Jeff affectionately drew that to my attention.
A stop at the seed storage shed was fascinating. Jeff explained how the seeds are harvested and the importance of age rotation in the collection. The oldest seeds are planted first to keep a healthy supply.
Recognized as environmental leaders, Jeff and Joan Stanford went to Mendocino to create a stellar resort and a premier destination. They've worked hard since 1980 and have done just that. Their lifelong passion and commitment to health for themselves and their guests have earned them awards and loyal employees.
Outdoor Activities
In addition to hiking trails just behind the inn, there are four state parks within 2 miles of the property.
Make reservations at The Stanford Inn's Catch a Canoe & Bicycles, Too! located at the foot of the property at the neck of Mendocino Bay. Bicycle rentals are complimentary for guests. Kayaks and outrigger canoes are available for a fee.
We rented a very stable outrigger canoe, which was life-changing for me. Kayaking or canoeing on the calm, green waters of the Big River is easy and a must-do experience.
Pro Tip: Wear your cell phone on a lanyard so you don't drop your device in the water.
Indoor Activities
Creative Playshops require no art experience and all materials are provided. Led by Joan Stanford, who has a private workshop and retreat practice, guides you in the powers of creativity and nature to heal. These playshops tap into your creativity by using art-making techniques. An abundance of materials filled the entire classroom wall and my fingers were itching to create.
Cooking Classes
Sid Garza-Hillman — the wellness programs director, certified nutritionist, and author — hosted the cooking class where I learned how to make plant-based cheese and bacon-flavored mushrooms. In the private cooking class, Sid demonstrated easy cooking skills and recipes that even I can make at home.
Fitness Center
The fitness center, located downstairs in the main building, was outfitted with strength training and cardio equipment personally selected by Jeff.
Family-Friendly
With scavenger hunts to discover points of interest on the property for the younger kids, families can explore tide pools, borrow pails and shovels to use at the Big River Beach, visit parks, meet rescued animals, and enjoy time in the pool. Headlands State Park is across the bridge from Big River Beach, an easy walk only a quarter-mile away.
Pet-Friendly
Rescued animals, like donkeys, horses, and llamas, receive fond care on the grounds. The black cat, decked out in Halloween garb, greeted us at the concierge desk. The family dog held court at a reserved seat in front of the fireplace in the Great Room.
Jeff told me that he would have pigs if he had more property. I didn't understand because, being vegan, all I could think of was that they would not use them as food. Jeff gently explained the benefits of raising pigs because it's good for the environment and fulfills fertilizer needs for the organic gardens.
ADA-Accessible And EV Charging
ADA-accessible executive queen rooms on the main floor may include roll-in showers with shower seats, accessible parking, and ramps for wheelchair users at check-in. Electric vehicle charging stations are conveniently located near the middle of the main building.
My stay at The Stanford Inn by the Sea proves that you can have fun and be eco-friendly while enjoying a luxury vacation in style and comfort.