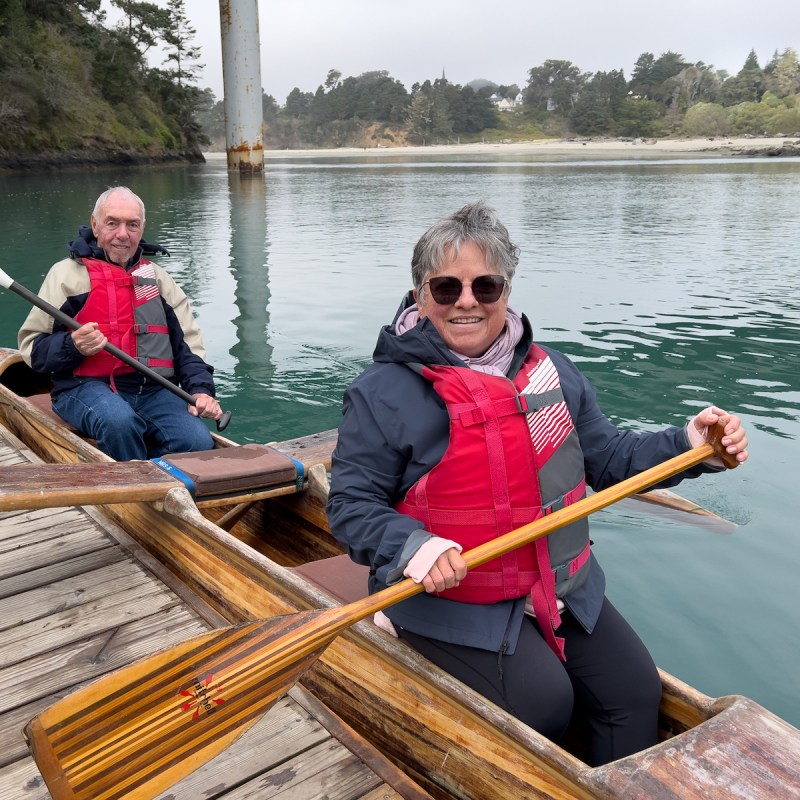 As a child, our family went to the lake for summer vacation, as many do in Michigan. Sometimes, our aunts, uncles, and cousins visited the cottage with us. I fondly remember the giant block of ice delivered to the front door for our ice box and sleeping on the enclosed balcony over the front porch, listening to the water lapping at the lakeshore, lulling me to sleep.
I also vividly remember the fateful day at the lake when my father thought loading all the cousins on an inner tube at once would be fun. Even as a child, I knew it wasn't wise, but he wouldn't listen to my terrified whining.
As expected, the inner tube submerged, and arms and legs wildly beat the water to rise to the top and the precious air. I woke up face down on the sand coughing up water.
---
Since that day, I've gotten into pools but seldom leave the shallow end. Even after swimming lessons every summer for the rest of childhood, I never conquered my fear of water. I was forced into the swimming pool for gym classes in high school and am sure it was comical to see me "swimming" in the deep end — refusing to let go of the side of the pool. My synchronized swimming antics in the pool's shallow end must have been hilarious to the casual observer.
Time And Tide Wait For No (Wo)man
Naturally, my travel experiences have challenged me to overcome my fear of water. Last year, I went glamping at Backland in Williams, Arizona, and kayaked alone on their small lake. Realizing I could do this — and enjoy being on the water, if not in it — was a thrill and a revelation.
Next up: gliding through the viridian green water of Big River Estuary at the mouth of California's Mendocino Bay, with only my husband (steering with foot pedals behind me) and the harbor seals lounging on the river's edge as company.
This remarkable outrigger canoe experience, one of the unique nature offerings at the award-winning The Stanford Inn convinced me that I had finally conquered my fear of water.
While my husband and I were hosted by The Stanford Inn and Catch a Canoe & Bicycles, Too, all opinions and recommendations are my own.
Why Kayaking Works For Me
When my husband and I arrived at the Big River canoe launch, we were the only guests on-site, so, much like my solo kayaking excursion in Williams, I had the opportunity to concentrate and not be distracted by other people.
We donned our life vests, and the boat guide gave us detailed instructions and helped us board. As we stepped in, the canoe tilted slightly, and my anxiety ratcheted up. That was momentary as I quickly felt how stable the canoe was and realized we were not going to capsize.
The guide pushed the canoe off the dock and we were on our way upriver.
We had 3 hours to immerse ourselves in the experience — paddling upriver, around a sand bar, and on to a remote area before the Big River drains into Mendocino Bay.
The paddling was easy, the weather mild, the colorful water mesmerizing, and the silence heaven-sent — a far cry from my childhood tubing experience. As we rounded the curve into the wilds and left human sounds behind, we encountered wildlife, waterfowl, and harbor seals lounging on the riverbanks.
This water experience was life-changing for me. I was surprised by how much I enjoyed paddling the outrigger canoe. It took me only a few minutes to get into the repetitive motion of rowing and propelling us across the water.
Being so close to the water level — not seeing what was below and not being fearful — astounded me.
Tips For An Enjoyable Kayaking Experience
Whether you're a water baby or a landlubber like me, plan ahead by committing to the following:
Learn as much as possible about your excursion ahead of time. Knowledge is power and will help eliminate fear if you're facing any.
Pay attention to all the safety precautions and comply with them. You'll feel more comfortable with your adventure and so will anyone you're kayaking with.
Wear a life preserver when you are on the water. That alone will give you the confidence to be on the water, even if you prefer not to be in it.
Being on still water is relaxing. I was glad there was no white water in sight. Ask ahead if this is a concern for you.
Consider avoiding any excursion that requires a helmet. I for one will never get used to that much adventure.
Cushions to sit on would have allowed us to stay out longer and go further up the river.
Put your cell phone on a lanyard to prevent dropping it into the water.
If you're feeling out of shape, work on your physical fitness ahead of time.
Finally, don't carry old experiences through life. Fear limits simple pleasures.
Healed By The Water
In the past, I avoided trips that involved canoeing, rafting, or water sports. Now, I look forward to adding these excursions to my itinerary. While I doubt I'll ever make them the primary focus of a trip, today, I actually find myself looking forward to exploring new bodies of water.
In my retirement, I'm looking for local opportunities to hone my paddling skills and further reduce my anxiety when on the water. Repetition and strengthening my abilities are significant achievements that encourage me to continue to achieve more.
Being outdoors and experiencing something enjoyable is excellent for our mental and physical health, and I'm eager to get out on still water again to fulfill my new passion.
Want to take up kayaking yourself? Consider: