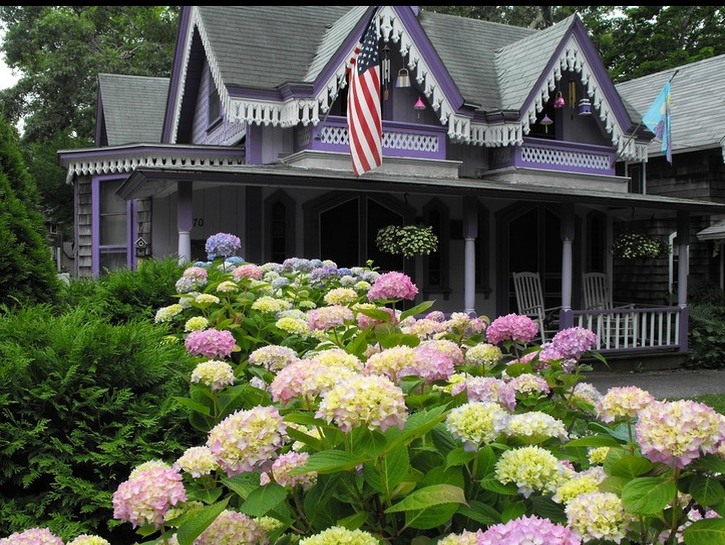 Experiencing Martha's Vineyard as a day trip is doable, but makes for a very long excursion. It's a perfect overnight trip and a world away from the hustle and bustle of Boston. In recent years, the island's been in the news as the vacation spot for President's Clinton and Obama. Just because it's frequented by movers and shakers, it's not fancy and exudes that rustic New England charm.
You can catch a ferry to the island either in Woods Hole, near Falmouth, or in Hyannis. If you plan to take a car over for the day, you will need to reserve your spot well in advance with the Massachusetts Steamship Authority. Grab a map of the island at the ferry terminal and give it a good look as you relax on the 45-minute ferry ride.
You can rent a bike, moped, or just walk around when you get there. The island offers a shuttle to help you get you from place to place. I would recommend taking your car over on the ferry, if you don't mind the cost. It will allow you to see the entire island and experience an amazing sunset! Just make sure your car is filled up before you get on the ferry. Gas is expensive on the island.
The Vineyard is made up of six towns, each with its own unique character. Your ferry will drop you off in either Vineyard Haven or Oak Bluffs.
In Vineyard Haven, officially called Tisbury, stroll along Main Street taking in the cute shops. Bunch of Grapes bookstore is nice to browse and grab a bite or just a cocktail at The Black Dog Tavern or Bakery Café. The restaurant's black lab is practically the island's unofficial mascot.
Oak Bluffs' iconic 19th-century gingerbread cottages make it the most colorful town on the island. Each home is unique with filigree detail and a quaint front porch. The area was originally a Methodist Campground and surrounds the historic Trinity Park Tabernacle, where community sings still take place on Wednesday evenings.
Oak Bluffs is also home to Flying Horses, America's oldest carousel. It's fun to take a spin and grab a brass ring, or at least watch others try and do it. You can then take a stroll up Circuit Ave for more shopping and a bite to eat at Slice of Life.
Before you leave Oak Bluffs, pick up a bottle of wine at Our Market, if you'd like to enjoy a glass on the beach later. Don't forget some plastic cups, and an opener if you need it. It's not classy, but they don't want glass on the beach, unless it's sea glass.
In Edgartown, stately Greek Revival homes built by whaling captains line the streets. Take a walk along Water and Main Streets to take in the architecture of the homes, the grand churches, and to browse the upscale boutiques.
If you want to spend some more time in Edgartown before heading Up Island and would like a refreshment, try Newes from America Pub, where you'll feel like you've stepped back in time, or The Seafood Shanty, which has magnificent water views.
It's 20 miles from Edgartown, on the southeastern corner of the island, to Aquinnah, on the southwestern corner, but beautiful clay cliffs await you. And while it may seem incorrect to call this area Up Island, it comes from the nautical definition where "up" takes you west. The towns of Vineyard Haven, Oak Bluffs and Edgartown are considered Down Island.
There's a lovely little chocolate shop called, Chilmark Chocolates, on your way to Aquinnah. It's scheduled to be open Thursday-Sunday, late morning through the afternoon, but those days and times can change.
In addition to great chocolate in a cute little shop, the owners' mission of employing workers with disabilities makes it really something special. A visit is not only a wonderful experience for you, but also for the employee. Just pay attention to any signs explaining how to order so you can best help them fill your box, or two, of chocolate. This is a perfect treat to take with you, so you can savor your stay on the Vineyard once you're off the island. Chilmark Chocolates doesn't have a website, but it's located at 19 State Road in Chilmark.
Once you get to Aquinnah, you can walk along the cliffs, or view them from above. Allow a good hour or so to walk the path down to the beach and over to the cliffs and back. You can also take in their beauty from above at the Gay Head Lighthouse or a nearby observation area. The beach area directly under the cliffs is called Moshup Beach and if you're so inclined, you can go au naturel. If it's not your thing, don't worry. You won't be able to see anyone sunning themselves while you admire the cliffs from above.
Gay Head lighthouse is open to the public during the summer months and it recently made a big move. In 2015, the historic structure took a 135 feet trip away from the ocean to keep it from falling over the cliffs below.
The fishing village of Menemsha is the best place to watch the sunset on the entire island. People gathered on the beach actually applaud as the sun disappears into the ocean. If it works with your ferry departure, or if you're spending the night on the island, plan to end your day here while eating a seafood dinner and enjoying a cocktail on the beach. If this sounds appealing, you'll need to plan ahead.
When you get on the island in the morning, check out the kitchen menu for Larsen's Fish Market in Menemsha. Call your order in and schedule it to be picked up about 45 minutes before sunset. If you don't mind a bit of a mess, order a boiled lobster and oysters on the half shell or some steamers. Or, try a stuffie (stuffed quahog) and a cup of lobster bisque or chowder. You can also just grab a lobster roll and any of the above. Ordering early in the day allows you to skip the lines and the confidence that a fabulous seafood dinner will be ready when you get there.
Depending on the time of year, parking can be really challenging in Menemsha. Just allow yourself plenty of time (and patience) to find a spot.
Grab your order at Larsen's, your bottle of wine and walk down to the beach. Any spot is nice, but go to the right and find a place at the base of the dunes. A tip: bring a beach towel or chairs for the beach. It's time to eat, relax and wait for the sun to slip into the blue water.
Once the sun sets, you may not want to linger too long or a skunk or two is likely to join you. They seem to be everywhere on the island, especially around food, but if you don't bother them, they shouldn't bother you.
If you're spending the night, or decided to skip Menemsha and have some time before your ferry leaves, head back to Oak Bluffs to Back Door Donuts. They literally sell donuts out the back of the Martha's Vineyard Gourmet Café and Bakery starting at 7 p.m. Once you've tasted their warm apple fritter you will dream about it every day until you're able to return. You will tell your friends about it, your hair dresser, your mail man, anyone who will listen.
If you decide to make this an overnight trip, the island is filled with lovely Bed & Breakfasts including Hob Knob and The Christopher in Edgartown, and Lambert's Cove Inn in West Tisbury. The Mansion House in Vineyard Haven and Harbor View Hotel in Edgartown are also nice, if you prefer a hotel setting.
Tip: If you're constantly in search of the best lobster roll, every Friday from the end of May through September, Grace Episcopal Church in Vineyard Haven serves up a meat filled roll, chips and a drink for about $20. Just search Grace Church Lobster Rolls on Facebook for more information.