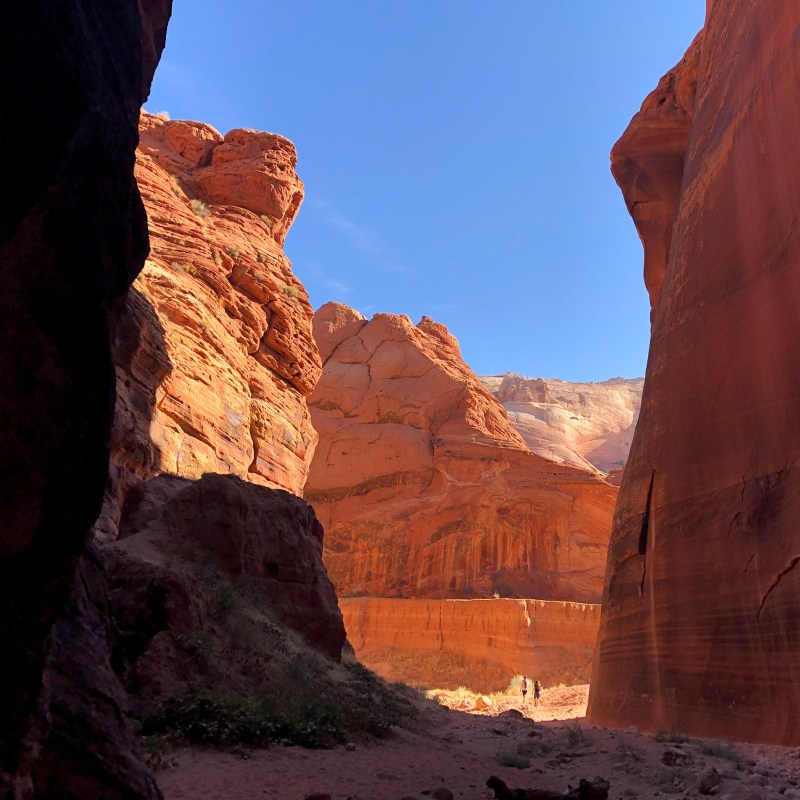 Don't be surprised if a visit to Buckskin Gulch feels like a step into another world — one where sounds are hushed, colors are softly muted, and the hot southern Utah sun is largely veiled.
Dust motes dance in the occasional beam of sunlight, but for the most part, the narrow rock passageways of Utah's famous slot canyon are bathed in a softly filtered glow. The trail meanders through towering walls of sandstone that have been fluted beautifully by eons of water erosion.
It's no wonder that Buckskin Gulch has landed on bucket lists of hikers the world over. Not only is it the longest slot canyon in the southwestern United States and possibly in the world, but Buckskin is also wonderfully photogenic.
I had been eager to visit ever since I had spotted a photo of the remote Colorado River tributary in a backpacking magazine years ago. I finally made it to Buckskin Gulch on a recent trip to southern Utah, and it was every bit as magical as I expected.
To make the most of the hike, there are a few things to know. Here are 11 tips for hiking Buckskin Gulch.
1. Make Kanab, Utah, Your Base
For a scenic base camp with all of the comforts of home, consider staying the night before your hike in Kanab, Utah.
Along with being just an hour or so from the main trailhead for Buckskin Gulch, Kanab is within easy reach of several other notable southern Utah attractions, such as Zion National Park, Coral Pink Sand Dunes State Park, and Bryce Canyon National Park. This means that after hiking the gorgeous Buckskin slot canyon, you could be taking in Utah's famous rock hoodoos or climbing colorful sand drifts.
With a population of less than 5,000 people, Kanab offers a small-town feel, but with a surprisingly broad selection of dining and accommodation options. Another alternative for overnight accommodations is Page, Arizona, which is about an hour-long drive southeast of the main trailhead.
2. Evaluate Your Car
Although there are several ways to get to Buckskin Gulch, the route that offers the easiest and shortest access to the start of the slot canyon is via the Wire Pass Trailhead. To get there from Kanab or Page, you will have to travel more than 8 miles on a relatively rough road.
The trailhead is along House Rock Valley Road, a dirt road that is located south of the paved Highway 89, between Kanab and Page. House Rock Valley Road is considered to be passable with a car in dry weather, but a four-wheel-drive vehicle is recommended in wet weather. In dry weather, drivers should expect some rutted sections and a lot of loose gravel and dust. A high-clearance vehicle would be best on the rough terrain.
3. Get An Early Start On The Wire Pass Trailhead
Even though the Wire Pass Trailhead offers ample parking spaces, it is best to arrive early to secure a spot. When I arrived mid-morning on a warm October Saturday, the parking lot was already at near capacity. Arriving by 9 a.m. or earlier is recommended.
The trail begins across House Rock Valley Road in an exposed and rocky trail along the Coyote Wash. An early morning hike will also offer cooler temperatures and more shade.
4. Bring Cash For Parking
Permits are required for hikers at Wire Pass, and day-use permits are available at a kiosk at the trailhead. The Bureau of Land Management's website notes that the fee is on a per-person and per-dog basis (the fee was $6 per person and $6 per dog when I visited).
Fees must be paid by cash or check, so remember to come with currency other than credit or debit cards. Annual passes such as interagency or senior passes are not accepted. Permits for overnight use are available online only on the Paria Canyon Permits website.
5. Keep A Close Eye On The Weather
With their steep, narrow passages, slot canyons are especially susceptible to flash flooding, so hikers should never venture into Buckskin Gulch while it is raining or when rain is in the forecast. Remember to check the National Weather Service for flash flood reports before heading out.
The months of July and August are especially dangerous because of the region's volatile summer monsoon rains.
6. Determine A Turning-Back Point Beforehand
Although Buckskin Gulch runs for about 15 miles, most hikers do not do the entire route. Rather, they make an out-and-back day hike into the gulch. It is best to determine beforehand how long you are comfortable venturing in before turning back.
From the Wire Pass Trailhead, hikers will first traverse a mostly flat, dry wash for a little more than a mile to the start of the narrows that lead toward Buckskin Gulch. The trail soon intersects with the gulch, where hikers should take a right turn toward the slot canyon.
I recommend continuing on for at least a mile or two into the canyon, where you will pass by steep walls with tantalizing glimpses of the blue Utah sky and views of the beautifully swirled and curved sandstone walls.
For adventurous and fit hikers ready for a 20-plus-mile trip, a through-hike is possible with the use of two cars positioned at the two ends, or a shuttle. Hikers can begin at Wire Pass, hike about 14 miles to the confluence of the Paria River, and continue upstream for another 7 miles to the White House Campground.
7. Take Plenty Of Water And Snacks
There are no potable water sources along the trail, so you should always remember to carry enough water and drinks to get you through what can be a hot, dry hike. Depending on how long you intend to continue into the canyon, you should also take along a lunch, as well as salty snacks such as nuts and pretzels to maintain your energy level.
8. Be Prepared For Obstacles
While the first mile or so along Coyote Wash is an easy hike, the trail soon encounters a wood ladder that requires an abrupt climb downward. Although somewhat steep, the ladder is short, and most fit hikers should be able to navigate it easily.
The trail also features piles of boulders that can present a challenge. The deeper you get into the canyon, the more rock obstacles and steep drop-offs you should expect. Experts suggest hiking with a rope to help navigate some of the rock piles deep in the canyon. You should also expect to wade through water during the wet months, although the canyon was completely dry when I hiked it in October.
9. Watch Where You're Walking
Even on the flat sections of the trail, hikers should be on the lookout for rocky sections. While it's tempting to look upward at the rock formations as you walk, the trail's surface can be treacherous, so it's best to watch where you're walking. Buckskin Gulch is also known to have rattlesnakes — another reason to pay attention to the ground.
10. Soak Up The Views
With any bucket-list-worthy hike, I believe it is important to savor the journey, and Buckskin Gulch is no exception. I suggest taking plenty of rest stops along the way to gaze up at the soaring walls. Photographers will also want to allow time to capture the rock walls in the changing light.
11. Don't Forget The Petroglyphs
As you pass through the large rock alcove just before the confluence with the main slot canyon, be sure to look at the wall to your right for a series of petroglyphs that show the ancient rock art of the cultures that came before.
What To Know Before You Go
Just 5 minutes or so south of the Wire Pass Trailhead is a small seven-site Bureau of Land Management campground called the Stateline Campground. As the name implies, it's right on the Arizona-Utah border. The sites are first come, first served, so you would need some luck to get a spot. But camping there the night before would give you the chance to get out on the Buckskin Gulch trail extra early.
On your drive south of Highway 89 on House Rock Valley Road, don't confuse the first trailhead you come to — the Buckskin Trailhead — with the Wire Pass Trailhead. Use of the Buckskin Trailhead will require a hike of several miles through less-scenic terrain before reaching the main slot canyon, while Wire Pass will get you there in just over a mile. To get to Wire Pass, continue on past the Buckskin Trailhead for another 4 miles or so.