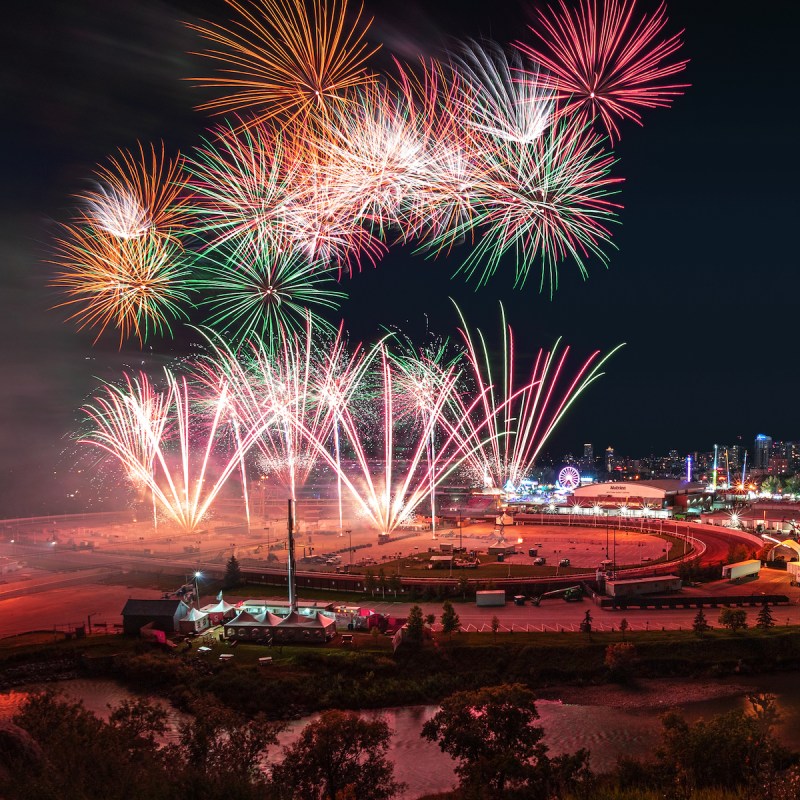 The Calgary Stampede has recorded as high as 1.4 million visitors and thrilled people for more than 111 years, even running through two world wars. For the very first time, it was canceled in 2020 because of COVID, and the year after, a scaled-down event was staged. Last year, the organizers declared they were "back in the saddle" with the theme "Together Again."
Back in 2013, we got to see the show for the first time while visiting my Calgary-based daughter. It wasn't COVID but heavy rainfall and Alberta's worst flooding that threatened cancellation at the time, but thousands of volunteers managed to get the show together. Coined in the late 1800s to describe cowboys having to cross flooding rivers to bring cattle to the railroads, "Come Hell or High Water" was on t-shirts that sold out. The theme became "We're Greatest Together." Interestingly, this is also the theme for 2023, scheduled from July 7–16.
Read on to find out why the Calgary Stampede is called "The Greatest Outdoor Show on Earth."
Pre-Stampede Events
1. Pancake Breakfasts
Calgary is dubbed "Stampede City" and it takes on a whole different look on event days. Besides all the goings-on at Stampede Park, city offices and stores are bedecked in cowboy themes, residents dress in their best Western outfits, and hundreds of get-togethers are hosted by individuals and organizations.
My daughter's office turned their parking lot into a Pre-Stampede Pancake Breakfast event. There was mini-golf and car racing for the kids, while buckaroo cuisine (pancakes, scrambled eggs, bacon, and sausages) and fruits were served while a DJ played great country songs.
2. Stampede Parade
The next day, we witnessed the Stampede Parade at my son-in-law's pre-Stampede party at their fourth-floor office in center city Calgary. The mile-long spectacle had more than 50 organizations participating with floats, horses, clowns, cars, and ethnic groups including a Filipino contingent! Last year, the organizers staged a coup by having Kevin Costner, the Yellowstone star, as Parade Marshall. For 2023, fans are petitioning to have Pedro Pascal, star of the hit HBO drama series The Last of Us, which was filmed in Alberta.
Daytime Events
For 10 days, Stampede Park oozes with sights, sounds, and smells, giving lots of magic, music, and more. Imagine our tremendous luck seeing it for free on two of the days: Family Day gave families free admission if they reached the Stampede grounds before 9 a.m.; Senior's Day gave free breakfast and free rodeo seats aside from free admission to those aged 65 or older.
3. Stampede Market
The newest gadgets and gizmos were on sale at the Stampede Market. My older grandson was stuck at the Zoku Stand where a popsicle maker used blast-freezing to create healthier options. My son-in-law and husband just had to bring home miracle cleaners and sprays for their cars. On Senior's Day, we explored the Western Oasis, which had everything Western, including a heritage art show and a wine and beer garden.
4. Stampede Midway
The Midway is where carnival rides and games are staged. Last year, favorite rides (Crazy Mouse, Wave Swinger, Zipper, Polar Express, Mega Drop, etc.) returned along with the kiddie ones at the Great FUNtier. This year, the giant Superwheel, North America's largest traveling Ferris wheel, will make its Stampede debut. There are lots of games to test hand-eye coordination. On Family Day, my grandson took home two prizes: a giant Teddy bear and a cuddly dinosaur.
5. Saddledome Steps And Other Side Shows
The globally-acclaimed Calgary Show Band performed along with other groups at the Saddledome Steps (the iconic Saddledome is nearby) where a show started every half-hour. Amazing Bendy Em squeezed herself into a foot-and-a-half cube and an acrobatic bicyclist wowed us with his grand finale — riding through a ring of fire on a low-foot-long bike.
At another section, we were able to catch Bell Ranch's H20 Extreme Show ("Some ride horses, we ride waves!"). Both the jetski daredevil rides and the waterspout show were awesome. Luckily, our seats were high up in the bleachers, sparing us the wetness of the occasion.
6. Stampede Music
Lots of boot-stomping, two-stepping, line dancing, and beer-drinking happen at three venues with rousing Stampede Music. Over 100 acts are performed at Nashville North, the Coca-Cola Stage, and the Big Four Roadhouse. Last year, the latter featured Kevin Costner and the Modern West as their main attraction. This year, Lord Huron has been announced.
Outside the Stampede Park other music festivals and tents are held and they have also announced headliners: the Cowboy Music Festival, the Badlands Music Festival, and the Back Alley Stampede Tent. It's a whole lot of music goin' on!
7. Agricultural Shows
For families with kids, The Agriculture Shows and Competitions were a major draw. There were many interesting horses like the miniature and other breeds at Horse Haven. With our grandson, we saw the smallest rams and other cute animals at the sprawling stock "barns."
We even got to watch our first World Stock Dog Championship on Senior's Day. A stock dog and his trainer compete with other tandems for the shortest time to shepherd a trio of sheep to a fenced yard. (They figure eight around three barrels and slide through a fenced sidebar.) The fastest time of 117 seconds was clocked by a lady/dog tandem.
8. The Indian Village
Some Stampeders have a great interest in the different tribes of the First Nation who assemble as an Indian Village at the Eagle Bow River Camp. This part had the most damage from the flood but it's also where I found my yellow teepee among all the different colors. That year, there was a small powwow, but last year, it was moved to the Saddledome as a major Powwow Competition.
9. Midway Food
One of the best reasons to go to the Calgary Stampede is to eat your favorite fair food. We had lunch at Cowshack, which had special burgers and drinks in a shaded and fenced-in area where we could rest, but it was the funnel cakes, blooming onions, and elephant ears that we enjoyed the most. Last year, our friends loved the deep-fried Oreo mini-donuts. But corndogs are the usual bestsellers and new versions are introduced each year (like the Korean squid ink style!).
10. The Rodeo, The Highlight Of The Calgary Stampede
But the highlight of the Calgary Stampede is the Rodeo held every day at 1:30 pm at the Grandstand, recently renamed the GMC Stadium (17,000 capacity). The quality of any rodeo is based on the caliber of the competitors, both men and animals (horses, steers, and bulls). This rodeo, having the world's richest prize winnings of over $2 million, always attracts the best from around the world, mostly from the U.S. (Texas, Oklahoma, etc.), Brazil, Australia, and of course, Canada.
Expert contestants were divided into two pools, the first competing on the first 4 days and the other on the next four. The top four winners advanced to Showdown Sunday. The remaining six competitors from each pool compete on Wild Card Saturday, whose event winners also advanced to Showdown Sunday.
There are five events:
Bareback horse riding
Steer wrestling
Saddle-bronc horse riding
Bull riding
Tie-down calf roping
Unbelievable strength, stamina, and determination are required from both the cowboy and the animal, but in the first two events, the rider must stay in rhythm with the horse, properly use spurs, and stay on! Events two, three, and five are contests of sheer strength and skill.
There was also a ladies' barrel-racing event and, of course, a queen and two princesses were "crowned." The opening act was a sensational demo of motorcycle daredevil riders, while at the intermission, there was a massively spectacular Indian hoop dance.
Evening Events
We failed to join the evening events in 2013, and now that we know how much we have missed last year, we want to complete our Stampede experience this year.
11. Virgin Plus Concert Series
Also known as Stampede Saddledome Shows, this series features singers who have sold millions of albums and won many awards. Last year, the popular judge of The Voice! and country singer Blake Shelton was the headliner. This year, it was just announced that Pitbull will be on stage on July 7, the American rock band Alabama on July 8, and All Elite Wrestling on July 15. But in 2013, even if water was gone from most of the fairgrounds, it was still being pumped out of the bottom floor of Saddledome (capacity 19,300), so the concerts weren't held.
12. Chuckwagon Races
The other part of the evening shows is the Rangeland Derby Chuckwagon Races. With nine heats every night, 162 horses race, pulling chuckwagons. It has become a controversial part of Stampede, however, condemned by activists because many horses suffer and die. Last year, even with safety practices introduced, one still had to be put down. But they say the Stampede experience isn't complete without it.
13. End Of Day Parties
At the end of each day, a fireworks extravaganza explodes at the grandstand. The Bell Grandstand Show can be seen from various viewpoints in the city, like Scotsman's Hill. As the big party bursts, you can bet other parties are also being held elsewhere in the city.
The highest-ever attendance was recorded at 1.4 million in 2019. The year after, it closed its doors and lost $26 million. In 2021, the loss was reduced to $8 million with more than half a million people braving COVID risks. And 2022 registered a near-comeback of 1.2 million. This year, "The Greatest Outdoor Show on Earth" promises to surpass pre-COVID days. Watch out for more announcements!
Pro Tip: Experience Calgary Stampede, like we did, during these Value Days in 2023!