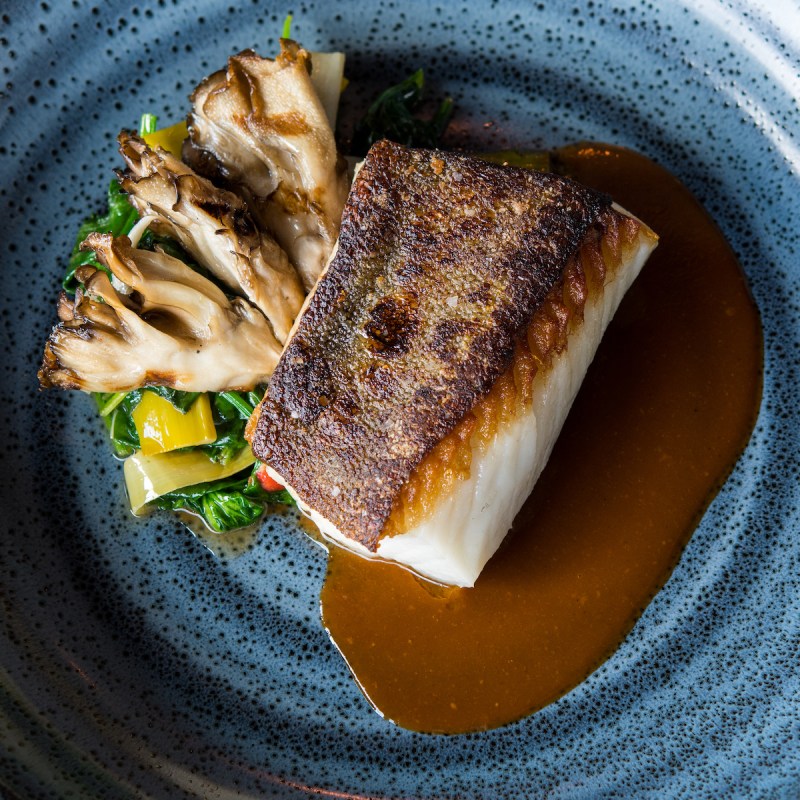 Seattle, Washington, is a melting pot of cultures represented in the city's incredible restaurants. Puget Sound and the Pacific Coast bounty allow chefs to highlight their region's finest seafood.
Agriculture and the foraging movement are regarded here. Chefs work with local purveyors, Indigenous people, and foragers to provide ingredients like chanterelles, stinging nettles, fiddlehead ferns, and organic produce.
While there are so many fantastic places to dine, seven recently-opened restaurants showcase chef heritage, coastal location, or locally-grown and sustainable foodways.
I was a guest of Visit Seattle for these experiences but all opinions are my own.
1. Musang
Musang's Filipina-American Chef Melissa Miranda's pop-ups became so successful she was supported (through a kick-starter campaign) to open her brick-and-mortar location in Beacon Hill. The 2023 James Beard semi-finalist won in the regional category for her Filipino dishes "inspired by her childhood memories." The intimate dining space inside feels like a home. The patio out back is open, rain or shine, with the help of heaters and a protective covering. Musang's mission is community-driven. They support community members in need and several of Seattle's non-profit organizations.
What To Order At Musang
I am unfamiliar with Filipino cuisine, which made my visit an adventure. Our server helped us narrow our choices and suggested the Lumpiang Shanghai, spring rolls fried to a perfect crisp. The rolls, stuffed with pork, shrimp, and water chestnuts, are served with a house-made sawsawan or dipping sauce. These rolls dipped in the vinegar sauce were crunchy and full of flavor. We moved on to the signature Musang Joy Fried Chicken, a must-try here. We thoroughly enjoyed that crisp buttermilk exterior and added the Musang gravy, a creamy, delicious addition. We also savored the short rib Kare Kare braised and topped with a peanut butter bagoong sauce. The short rib fell off the bone, making the sauce rich and addictive. Lastly, we ordered the corn bibingka, a corn pudding/bread with warm honey and Maldon salt. It was the best savory, sweet finish.
Pro Tip: Order from the craft-cocktail menu. I sipped the Lima, a vodka, and a coconut milk concoction with pandan and guanabana juice; it was so tasty. You must make reservations here; it's a popular spot.
2. Driftwood
Driftwood was opened in January of 2023 by Chef Dan Mallahan and his wife, chef, and business partner Jackie Mallahan. The acclaimed pair welcome you to their Alki Beach (West Seattle) dining room — a lovely, ocean-inspired space whose décor reflects the water with glass tiles, bleached wood, and marine hues. The seasonal offerings from Mallahan's kitchen are an authentic taste of the Pacific Northwest, from the mountains to the sea. You'll find exceptionally sourced fish, oysters, and shellfish, plus wild foods foraged for generations by native peoples. The hyper-local menu is curated from partnerships with farms and the local Quinault and Makah tribes.
What To Order At Driftwood
The menu is seasonal but you can bet on Chef Dan's "Shellfish From Our Friends" — oysters and accompanying mignonette. I was introduced to the salted Columbia River sturgeon with bok choy, local pear, watermelon radish, green tomato, aji pepper aioli, and Marrakech olive oil. This fish is exceptional and elevated with fresh ingredients. I savored the Bellingham Bay Dungeness, lump crab with fennel powder, crab fat hollandaise, and pickled celery root over chickpea "panisse" fries. The dungeness crab was the star and so fresh. The other ingredients were the perfect backdrop to showcase this local crustacean. I dug into a salad of winter greens and Cascadia Creamery glacier blue cheese garnished with poached apples, spiced pecans, and an apple pâte. This is Washington on a plate and it's tasty. Lastly, the pumpkin cheesecake on a local ginger shortbread crust had the right spice and incredible silkiness. It was decorated with toasted pepitas, fried sage, and Chantilly cream. This was a lovely experience in the perfect setting.
3. Aerlume
Aerlume is perfectly placed above Elliot Bay, near Pike Place Market. It's a dramatic space to dine, embracing the elements of earth, water, air, and fire. The jaw-dropping views and the dusky light streaming through the floor-to-ceiling windows open to the outdoors and align with the restaurant's philosophy. The 20-seat indoor fire table adds that dramatic touch to a stunning interior. At the same time, Executive Chef Douglas Jones honors local seasonal ingredients and pure flavors in his expansive open kitchen. Even the name keeps the heirloom seeds that grow those impossibly fresh ingredients.
What To Order At Aerlume
As a vegetable lover, I adored the crispy cauliflower with golden raisins, caper salsa, and red curry yogurt. The dish, sprinkled with fresh herbs, was flavorful, and the crunch was satisfying. The dungeness crab lettuce wraps with crispy shallots, Fresno chiles, and red curry citrus vinaigrette had a hint of heat that didn't overwhelm the delicate crab. I adored the wild Alaskan black cod served with lemon chile spinach, andouille sausage, heirloom carrots, and brown butter chestnuts. It was earthy and delicious.
Pro Tip: Make your reservation before sunset to enjoy the gorgeous view.
4. Mountaineering Club
Mountaineering Club sits on the 16th floor atop the funky Graduate Seattle hotel supplying panoramic city views. Folks flock here for the regional ingredients in cheeky campsite-inspired plates, creative craft cocktails, and a roast-your-own marshmallow s'more dessert.
What To Eat At Mountaineering Club
Start with potato chip nachos as you sip a Forest Floor cocktail. It's mixed with Sennzafinne autumn amaro, cinnamon syrup, lemon, and sparkling apple cider. It's delicious and garnished with a mushroom slice and an acorn. Next, tuck into a wagyu and dungeness dog, or a mushroom grilled cheese with wild mushrooms, truffle, and Comte cheese.
5.Tidal+
Tidal+ is a beautiful spot to enjoy sustainable seafood and locally-grown ingredients. The floor-to-ceiling windows and low lighting make for a romantic setting in the heart of downtown Seattle. The menu is over 50 percent gluten-free, so guests who prefer this style of dining can enjoy various dishes on the reimagined menu.
The seafood-focused menu features local salmon, a catch of the day, and a fresh oyster program. I enjoyed the seafood chowder with clams, fish of the day, shrimp, potato, thyme oil, and bacon. Since the chowder was hearty, I chose the crab cakes with bearnaise sauce, fennel piquillo salad, espelette, and American caviar. Dessert lovers who prefer gluten-free should try the mango cherry passion, a mango passionfruit crème, lemon sponge cake, vanilla almond shortbread, and cherry glaze.
Pro Tip: There's live music on Wednesdays during their incredible happy hour.
6. Taku
Taku's Japanese-American Chef, Shota Nakajima (Top Chef), opened Taku in 2020. It closed during the pandemic, reopening in May 2021 as a fried chicken (karaage) restaurant and bar. Taku has a relaxed vibe with a rainbow of colored chairs and vibrant Japanese comics and posters pasted on the walls. It feels like you are in the back alley of Osaka.
What To Order At Taku
Nakajima's karaage is marinated, battered, and twice-fried, creating a moist crunch. Its menu focuses on fried chicken thigh nuggets served with your choice of flavors alone, as a bowl or sandwich. I ordered General Shota's Chicken, a stir fry of seasonal veggies like kale and zucchini tossed in a garlicky, teriyaki sauce topped with a few karaage nuggets. It was addictive. I sipped a Dirty Shirley, a Shirley Temple with homemade grenadine and vodka. The bar crafts its shrubs here.
Pro Tip: The three-time James Beard Award semi-finalist expanded his empire next door at the Redhook Brew Lab when he opened Kōbo, an unusual pizza restaurant combining Detroit-style pizza and Japanese ingredients.
7. The George
The George, inside the Fairmont Olympic Hotel Seattle, has been reimagined with a modern aesthetic. Initially opened in 1924, the doors reopened in 2022, and now, weekend brunch is on the menu.
What To Order At The George
Spanish design studio Lázaro Rosa-Violán reimagined the historic dining room, and now the menu reflects that modern vision. Classic dishes like eggs Benedict, especially topped with local smoked salmon, are fantastic, as is the smoked salmon quiche with Comte, asparagus, and mixed greens. If you're hungry for lunch, choose the decadent Chanterelles Gnudi with nettle pesto, baby spinach, pinenuts, and parmesan cheese.