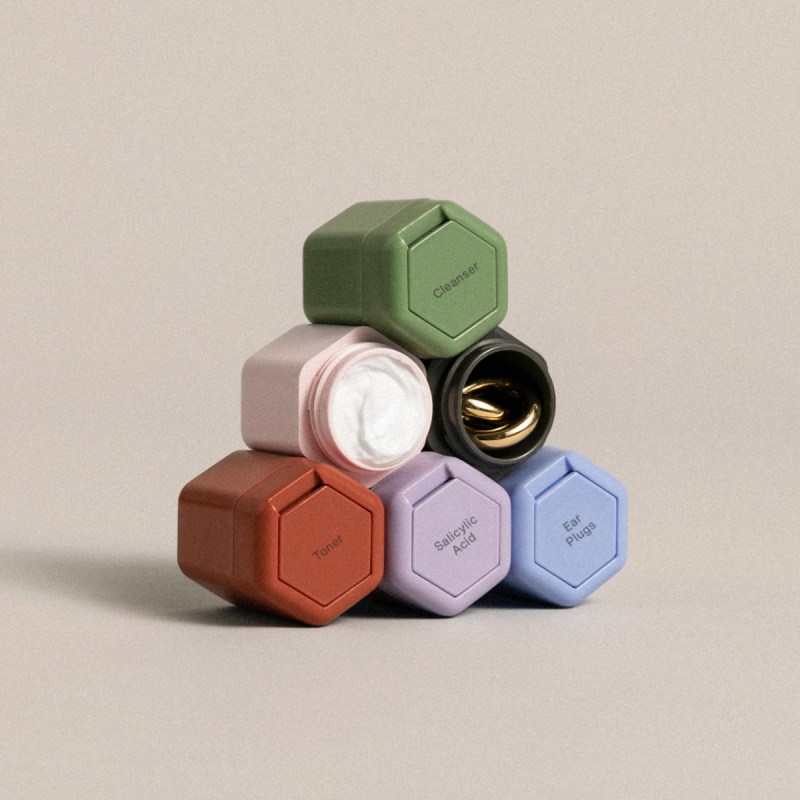 As a fan of using only carry-on luggage when I travel — even for far-flung trips to Thailand and French Polynesia — I've long had my routine for packing clothing down pat. Where I've had more trouble is figuring out how to store all my liquid toiletries in 3.4-ounce-or-less containers that conveniently fit into a TSA-compliant, quart-sized clear bag.
Enter Cadence Capsules: sleek, customizable, magnetic containers designed to hold everything from moisturizer and makeup remover to serum and sunscreen. Some users store small pieces of jewelry and vitamins in these stylish modular capsules — though my purpose in purchasing the expensive organizational tool was solely to neatly transport the liquids (or creams and lotions, really) I use regularly on the go.
I spent a whopping $161 on 13 hexagon-shaped, travel-sized containers. It's a hefty investment, but I'd say my purchase was worth it, since I do use the containers often. That said, I recommend Cadence Capsules with some key caveats.
Here are some of the pros and cons of a product that has changed the way I pack my carry-on luggage.
Reasons I Like Cadence Capsules
They Are Fully Customizable
What tipped the scales for my purchase was that I could choose the colors of the capsules and label the interchangeable and removable tiles with exactly the product names I wanted.
For example, for products I use on my face, I chose the sage green color and named tiles "Face Moisturizer," "Face Sunscreen," "Face Cleanser," etc. My shampoo and conditioner went in light pink containers. (Though, in hindsight, I should have made those two different colors, as I can't read the tiny type without my reading glasses in the shower, so it's hard to discern which is which when I'm washing my hair.)
They Are Good For The Environment
I appreciate that the capsules are composed of 50 percent recycled material, including recycled, previously ocean-bound plastic. These solid containers are designed to be filled and refilled again and again. They are a smarter, eco-friendly choice than purchasing new travel-sized toiletries time and time again.
The Magnetic Factor Is Cool
The hexagonal capsules stick together easily, so all of my face products remain neatly organized in a honeycomb shape when placed on a hotel sink; unlike mismatched tubes and vials that often end up all over the place.
I like that the capsules stay attached when I fit them in a quart-sized clear bag, allowing for additional products (for example, a small-bottle body sunscreen or tube of antibiotic ointment) to fit in there as well.
A Couple Of Reservations I Have About Cadence Capsules
I Don't Love Using A Capsule For Face Serum
I use grapeseed oil on my face, so I purchased a capsule and labeled it "Face Serum." But scooping slippery oil out of the container with my finger isn't as efficient as using a pump bottle (or dropper) for a few drops. I end up getting oil on the outside of the container and have to wash it with soap to remove it.
Scooping out moisturizer, cleanser, shampoo, and conditioner from the wide-mouthed capsules is much easier. The interior of each capsule is rounded, so nothing gets stuck in corners.
The Capsules Are Not Lightweight
According to the company FAQ, each capsule weighs 1.5 ounces with nothing in it — about the weight of a small lime. Put six or seven of them together, with nothing inside, and it'll feel "lighter than one mango," says the company.
I've carried 10 capsules in a quart-sized bag, all filled with product, so clearly my TSA-compliant clear bag of liquids now weighs a lot more than it did when I used mismatched, lightweight travel-sized products. This is important to note if you're toting around your clear bag in, say, a backpack or oversized purse — and like me, you pack your plane-friendly "personal item" to the brim. On my last trip, I tucked my capsules and clear bag in my roller board just so I wouldn't have to heft them around in a shoulder tote.
While these containers may not be lightweight, they are hardy. I accidentally set a flat iron up next to one of them and it melted the plastic on its side a little bit, not ruining it at all — the container is still totally usable. If I'd put a 300-degree Fahrenheit iron next to a typical clear, cheap travel-sized container, the plastic would have melted.
They Are More Ideal For Short Trips
Each Cadence Capsule is about 1.8 inches tall and 1.5 inches wide, fitting 0.56 ounces of product. The company's FAQ suggests that's enough for 14 uses of cleanser, 14 uses of moisturizer, and seven uses of toner. I think those estimates might be pushing it a little bit — or perhaps I use more product than typical. Most recently, on a 7-night domestic trip to greater Palm Springs, California, I packed all of my capsules for my face cleansing and makeup routine, and returned home with product to spare.
I think these capsules are best used for week-long or shorter trips. That said, I did take them on a 3-week adventure in Thailand last year and my husband and I only used carry-on luggage. I knew one capsule wouldn't hold enough face cleanser and moisturizer for the entire trip, so I threw in a couple of sample-sized face products I'd gotten from my aesthetician. I also mixed some cleanser into my capsule for face exfoliator to ensure I'd have enough product to keep my face clean. Tapping into body lotion provided by some of the hotels in Thailand also helped me stretch out product, and we purchased most of our body sunscreen once we arrived in Southeast Asia.
The Bottom Line
I love that I can be kind to Mother Nature by using these durable, refillable containers. I feel super organized and efficient when I come home from a trip and immediately refill them with product, knowing I'll be all set to grab them and go when my next getaway arises.
I enjoy using capsules on weekend getaways and up to week-long trips, when I know I'll have plenty of lotion and cream in each container to see me through the vacation. Longer trips need a bit more planning and flexibility with packing the appropriate amounts of face and body products if you're not checking luggage.