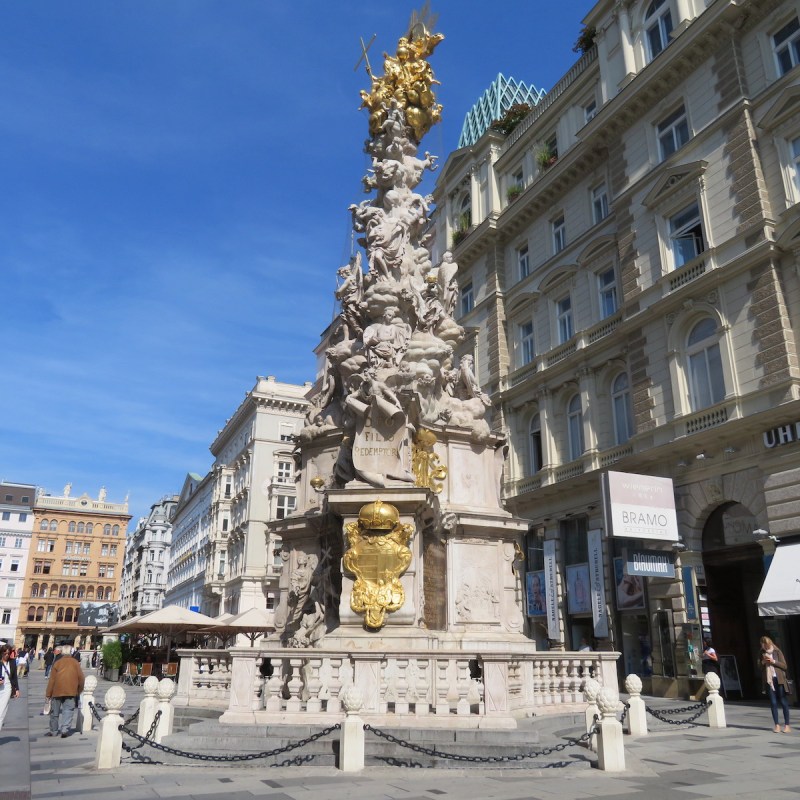 As the former capital of the Austrian-Hungarian Empire (1867–1918) — and now the capital of modern Austria — Vienna has not lost any of the luster, architecture, or cuisine meant for royalty. Although not as popular as Prague, Budapest, and Zagreb, which were also within the empire, prior to 2020 Vienna attracted over 34 million international visitors who arrived via planes, trains, and automobiles.
Beethoven, Freud, and Gustav Klimt are some of the hometown heroes whose presence can still be felt and, in some cases, seen on the buildings that carry on their legacies. As Austria moves forward with tourism campaigns to highlight lesser-known destinations such as Salzburg, Linz, and Graz, it is essential to start in the capital city as an introduction to all that the country has to offer.
Since Vienna is a highly walkable city with a great metro rail system (U-Bahn), you may want to put on a comfortable pair of walking shoes, buy a Vienna Pass at any train station, and get a map from any tourism office in town.
Below are some of my favorite unique neighborhoods in Vienna, as well as suggestions on what to see and do while there.
1. Inner Stadt (1st District)
All trips to Vienna truly begin with a visit to the Innere Stadt (Historic Area). Go over to the State Opera House (Staatsoper) for a 40-minute guided tour (€7 at the time of this writing). For opera fans, tickets to performances start around €65, but you have to be flexible on your availability and seating.
The Café Sacher Eck Wien is a good place to get a coffee and get going on exploring the historic district. What put this place on my list are its famous Sacher cakes and sweets.
Walk to the corner of Operngasse and Hanuschgasse for a Vienna sausage or pose for photos in front of the Albertina, which was a former Habsburg palace and is now used to display art. From here, you are only a few steps away from the palace garden (Burggarten) and palace (Hofburg Wien).
Go toward the Danube to visit both Hohermarkt and Judenplatz (Stephansplatz U-Bahn Station), which was the center of the Jewish ghetto from the 13th to 15th centuries. From here, you can visit the Museum Judenplatz and Mittalalterliche Synagogue.
Hidden History: Hohermarkt (Stephansplatz U-Bahn Station) was once the site of a public gallows. The area was originally settled by the Roman Empire. According to historians, this is also where Marcus Aurelius died from the plague.
2. Leopoldstadt (2nd District)
The picturesque Second District is bordered by the Danube River on one side and Park Prater on the other. Depending on your preferences, you can stroll along the river or go to the amusement park areas of Prater, which have a number of entertainment options, including Wiener Riesenrad (the Ferris wheel).
If you are looking for a more vigorous activity, you can rent a bike to explore Vienna's 200 miles of bike paths. Most are identifiable by a yellow image of a cyclist on the pavement or images constructed from rows of red bricks in cobblestone or concrete. Some of the most popular paths are in or near Leopoldstadt.
A visit to the Chocolate Museum is worth the time if you have a sweet tooth. You can also learn about the darker parts of Vienna's past by stopping at the Crime Museum Vienna.
My personal and always enjoyable favorite activity is a visit to the Schweizerhaus (Swiss House) beer garden in the center of Prater, which is open from mid-March to the end of October.
Foodie Alert: Near Leopoldstadt is the Griechenbeisel Restaurant (Schwedenplatz U-Bahn), which has been serving generations of Greeks since 1450. Various luminaries such as Mozart, Twain, Pavarotti, and Johnny Cash have eaten here. Highly recommended is the Stelze Roast Pig Leg with cabbage.
3. Wieden (4th District)
Follow the popular Kärntner Straße until it changes into Wiedner-Hauptstrasse, which is the main artery of the 4th District. Galleries, bookstores, and local designers are the types of stores and people you will come across in Wieden. Start your exploration at the baroque church of Karlskirche and the adjacent Karlspltz Square, which attracts students from the University of Technology.
Forming the border of this district is Belvedere Palace, which was once the summer residence of Prince Eugene of Savoy. After a brief break, go to the adjacent Botanical Gardens to explore and see the hundreds of exotic plants.
After you are done, go to one of the many Austrian bars for cocktails or national beers.
Pro Tip: If you are a craft beer lover, then try an Ottakringer, one of the most popular regional beers. It's on tap at almost every establishment.
4. Mariahilf (6th District)
Every foodie traveler finds themselves at Naschmarkt, which features a number of food stalls between Rechte Wienzeile (Right Street) and Linke Wienzeile (Left Street). If you are looking for inexpensive meals, then you have come to the right place. Trendy Mariahilf is lined with beisls (small eateries), Viennese coffee houses, pubs, and shops. Return in the evening to experience Viennese nightlife.
Art, music, and architecture lovers should stop at the Art Nouveau Otto Wagner Haus or visit some of his structures (for example, Majolikahaus). Visit the Secession Building (Secessionsgebaude) where artist Gustav Klimt led a separatist movement and where some of his major works are displayed. Make time to stop at the home of composer Franz Haydn, who lived at Haydnhaus from 1797 to 1809.
Before leaving the area, take a stroll past Akademie der Bildenden Künste (Fine Arts Academy) (Karlsplatz U-Bahn Station). It was at this school that a young artistic Adolf Hitler was denied entry — twice.
Hidden History: Anti-Aircraft Flak (Flaktrum) Towers (five) were placed around Vienna to defend the city from enemy fire during World War II. You will find two within the Mariahilf District. One is located in Stiftgasse (the closest U-Bahn is Neubaugasse Station) and the other in Esterházy Park (U-Bahn Neubaugasse).
5. Neubau (7th District)
Starting at the performing arts theater of Volkstheater and buttressed by MuseumsQuartier, the up-and-coming Burggasse begins with cafes, small craft stores, pubs, and restaurants all the way to Halbgasse.
The street is fairly popular, and you will find a mix of people and age groups congregating at various points along the way. Neustiftgasse and Lerchenfelder StraBe offer a similar mix along with a number of musical venues with contemporary entertainment and live music. No matter which street you gravitate to, don't neglect the side streets and connecting alleys. Hermangasse and Neubaugasse are two examples of streets that could go overlooked but offer a lot.
Kaiserstraße in the Schottenfeld neighborhood within the 7th District is another personal favorite due to the number of small restaurants and neighborhood bars along the street. This is ideal if you like smaller, more intimate locales that allow for making new friends.
Foodie Alert: A personal favorite is Ulrich. I discovered this small restaurant while waiting out a brief storm. My time there was so enjoyable that I stayed after the rain and decided to have dinner there. The Ulrich Burger with the option to add bacon was delicious!
If you are in the mood for dessert, one block away is Vienna's first vegan ice cream shop. Veganista was a spur-of-the-moment try, but it was worth the time. It was opened by sisters Susanna and Cecilia, who work with natural ingredients.
Vienna has a lot to offer, so once you become acclimated to the environment, hire a local guide to show you the hidden aspects of the city. If you have time, visit the surrounding areas such as Niederösterreich (Lower Austria). The region has fortresses and castles. You will also find a few vineyards.
If you happen to be in the region during the early summer months, you will witness the Night Concerts in Schönbrunn. The Bregenz Festival brings in international guests and is another fun event that attracts travelers from throughout Europe.
Regardless of how you go about spending your time in Vienna, don't spend all of your time in the historic district. Yes, there is a lot to see there, but exploring the city allows for a more modern look at the culture and the Austrian people.