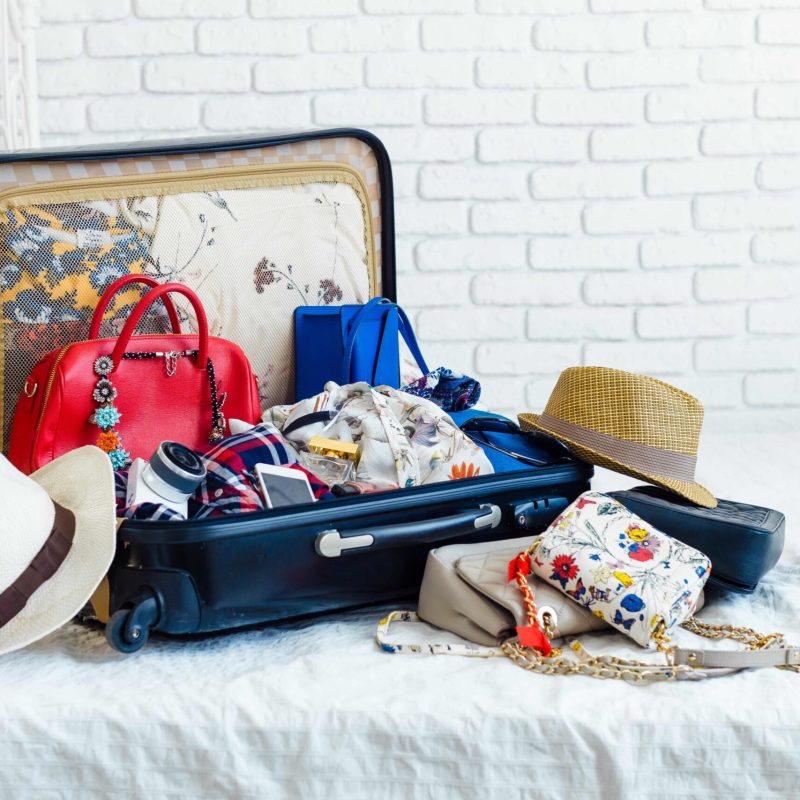 No matter how fabulous your upcoming trip might be, packing can be a real pain. Making those critical decisions — what to bring, what to leave behind, and what you can't do without — can be tough. And let's face it, we've all been a bit out of practice!
Last year, I traveled internationally three times in 2 months, truly making up for lost time. I also realized I needed to make some adjustments when it came to my packing strategy.
Here's my list of five must-haves and four more things I'm leaving behind as I continue to travel into 2023.
Must-Haves
1. Perfect Travel Shoes
Late last year, I stumbled upon what I call my trifecta of perfect travel shoes. These three pairs took me from exploring historic, cobblestone cities and towns along the Rhine to dressy dinners, and they even saw me through my daily running ritual. My feet were never cramped or achy, even after the longest days!
I'll start with my clunkers, the pair I wore on the plane both for comfort and to free up space in my luggage. My Brooks Glycerin 20s get me through my daily miles — and through the airport — with ease. I always try to grab a pair in black so they don't stand out too much if I choose to wear them during daytime outings. A second, but very different active shoe is also always in my suitcase: my Allbirds. Made from wool and other sustainable products, they are warm, washable (yes, washable!), and cozy. Finally, Rothy's pointed toe flats are perfect for special events and evenings.
These three perfect pairs get me through every adventure, and they'll do the same for you!
2. Electronics Accessory Bag
When you're on the go, it helps to be fully charged. Same goes for your electronics! Your phone, iPad, laptop, camera… you want to make sure they are as ready to go as you are each day. When I found myself frustrated as I fumbled for yet another charging cord, I knew I had to get better organized!
I'm able to fit all of my cords, batteries, and adapters into the compact bag I pack before my trip and stash it into my carry-on. It's made a big difference, and I know I have everything in one place.
3. Neck Pillow
As seasoned travelers know, it's critical to get sleep on a time-zone skipping flight, so you arrive at your destination somewhat rested. As I get older, that's a more difficult task, especially while crunched in coach.
I used to make fun of the folks bringing neck pillows on board the plane. No longer. This year, I decided to try them out. I found those little donuts let me get pain-free rest, even when I don't score a seat upgrade! Rollink's neck pillow is supportive and sturdy yet folds down into a small bag.
4. Merino Gear
I'm a big believer in packing light (more on that in a moment!) and choosing pieces that can work double, or even triple-duty when you're on the road. Merino wool garments are up to that challenge! They're lightweight and soft instead of scratchy. Merino is wrinkle-resistant and stink-resistant, too — naturally antimicrobial. These benefits all add up to a packing no-brainer.
I love classic crew neck sweaters from Uniqlo. They come in pretty colors, are budget-friendly, and easy to pack. Darn Tough socks are also always in my suitcase, or on my feet, during my travels.
5. Packable Shopper
While I was on the Rhine River last year for a Christmas market cruise, I did a lot of shopping. During that retail extravaganza, I missed having an easy-breezy shopping bag and instead had to rely on the vendors for an endless array of plastic bags that just got tossed.
Enter the Baggu. This tote punches above its tiny pack-down size, expanding into a sturdy shopper. The shoulder loops are large and comfortable, and the totes come in a variety of fun prints. I also use this bag at home for quick grocery runs. It's become a go-to, no matter where in the world I might be!
Leave Behind
1. Full-Sized Beauty Products
In the past, I've packed full-sized beauty items in my checked luggage. I'm alright to rely on a hotel for the basics: soap, shampoo, and the like. But my face and nails I don't leave to chance. In the past, this has meant a large amount of packing real estate devoted to my daily beauty routine. Not great.
That's why I was thrilled to find my favorite No. 7 items in a travel-sized kit. I've been a big fan of this British skincare line for years, way before it became mainstream in the States. And I especially love their Lift and Luminate line. During the pandemic when I couldn't get to the nail salon, I became obsessed with Olive and June's at-home manicure system. Now that they've got the tiny Mani Jetsetter kit, I am equally obsessed. It tags along with me most places!
2. Checked Luggage
My beloved checked bag took a beating last year during a difficult trip back from Amsterdam. It was beyond repair and I went with a carry-on for its replacement.
While compact, the Nomatic Carry-On Classic easily fits and organizes several days' worth of clothes thanks to its built-in garment pockets and compression panels. It's lightweight, handles like a dream, and will keep me rolling through the airport for years to come.
3. The Good Jewelry And Lesser Substitutes
Wearing your best jewelry can make you stand out for all the wrong reasons when you're on vacation, potentially setting you up for theft. But it can be tough to find quality costume pieces. Add to that the fact that I tend to have skin sensitivity with random metals, and I've got an accessory issue.
Embracing the twin mantras of "less is more," and "simplicity is elegance," I've become a fan of the Mejuri jewelry line. Crafted from precious metals, these pretty pieces are meant to be worn every day. They are also responsibility sourced, which means I feel great wearing them as well. They are terrific stand-ins for my larger pieces while I'm on the road, or just bumming around the house!
4. An Expanded Wardrobe
Clever, careful choices while packing can help save you room and hassle. I've become a big believer in the capsule wardrobe while on the go. Take a close look at each article of clothing you want to bring. Is there a way it can be used twice, or even three times during the trip? Would accessories — such as a scarf — change up the look? Plan out those looks and outfits, and chances are you'll ditch a lot of unnecessary baggage, pun intended! You'll feel more confident and be able to focus more on fun rather than what to wear when you reach your destination!
Make a commitment to take your time and pack strategically this year; you won't regret it! You'll feel more organized, confident, and ready to hit the ground running. And remember, if you ever find yourself in a bind and really need something, you can always buy it when you reach your destination.
For more on travel essentials, check out these articles: