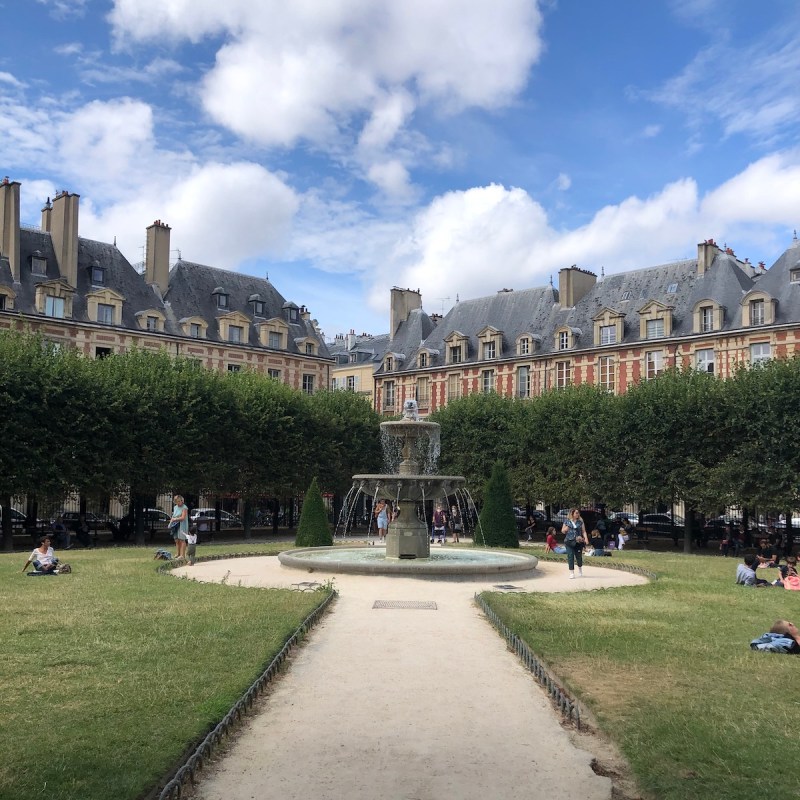 Ahhh, Paris. The light. The beauty. The romance. Show anybody even slightly romantically inclined a picture of the Eiffel Tower, and they will sigh contentedly. Paris does that for you. But, while I still love the Eiffel Tower, I have to admit that after so many years of living in the city when it comes to romance, la tour Eiffel does not spring to mind immediately. When it twinkles at night, then yes, but in the daytime? Not so much.
Instead, I love to search out more hidden places, those which might not be overrun with visitors posing up a storm at every corner. It is so easy to feel romantic in Paris. The beauty of the architecture goes a long way, just the shutters on the windows and the pretty balconies can do the trick. Then there is the Seine with its islands and the many green spaces with its iconic café terraces — all are part and parcel of the romance. But here, I want to suggest some other little places — in no particular order — where you can saunter or sit with your beloved and get romantic. Be it over a picnic, a walk, or just sitting down soaking up the atmosphere. Yes, there are also some iconic hotspots included.
1. Parc Monceau
7th Arrondissement
Parc Monceau was my go-to park in Paris when it was a nice day and I wanted to soak up a bit of greenery over a book on a park bench. Hidden away in the 7th arrondissement, this park hardly ever sees a tourist. Instead, its little lake, faux temple, huge trees, pretty carousel, and a kiosk selling decent coffee, are all reserved for locals coming to exercise, play with their families, or simply sit, hand-in-hand on the grass or benches.
Pro Tip: Just a few steps away lies the wonderful Musée Jacquemart-André, a beautiful former private residence turned art museum. The building is wonderful and the café serves the best lemon meringue tart in Paris.
2. Saule Pleureur De La Pointe
The Seine
You will have walked across Pont Neuf many times to get to Notre Dame, or just across the Seine, but have you ever climbed down the quite hidden staircase to the pointy end of the Île de la Cité? The tiny park, Square du Vert Galant, is pretty enough, but head past it right to the end of the island, and you'll see the willow tree. Head underneath it and sit with your feet dangling above the water while nibbling on a fresh croissant, maybe clink with a glass of champagne, and romance does not get any better, trust me.
Pro Tip: Nearby is probably my favorite "place" in Paris, Place Dauphine. Hidden away, lined with small restaurants, this is the place to sit and watch the locals play either boules or a game called Mollky, involving small wooden sticks you throw a ball at.
3. Au Vieux Paris D'Arcole
Île De La Cité
On the same island, but toward the other end, north of Notre Dame, lies the small, cobbled Rue Chanoinesse. Along it lies a tiny little café, which you might normally walk straight past. But come in late spring, when the wisteria flowers, and you have romance in one Instagram-able picture. The café restaurant, Au Vieux Paris d'Arcole, with its aqua-colored exterior and ancient wisteria plant curling itself around the property promises even more inside. A tiny restaurant, serving traditional French food such as escargots and confit de canard, is decked out in plush deep-red velvet seating and matching wallpaper, looking more like a boudoir than a café, but all the more romantic for it.
Pro Tip: Saunter across to the romantic Île Saint-Louis, with its super-expensive real estate. What's more romantic than dreaming of — and searching out — your favorite Paris apartment? Mine is right at the other end, 1 Quai d'Anjou, with the rounded corner and the blue door. If only.
4. Pont Alexandre III
The Seine
It is hard to beat the Seine when it comes to romance. It offers so many great views alongside it. There are plenty of iconic bridges crossing it, be it Pont Neuf, as I mentioned above, the Pont des Arts famed for its — not very romantic — padlocks, and then there is Pont Alexandre III. Personally, in the daytime, I find it a little too much with all its gold décor, although you cannot beat its approach between the Grand and Petit Palais and Les Invalides. But come at night, preferably in the full hour when it is dark, and watch the Eiffel Tower begin to twinkle, with its lights reflected in the water and the golden statues of the bridge, and even a sometimes quite cynical expat can get romantic. Head right to the middle of the bridge and just stand there at night. It doesn't get much better than that.
Pro Tip: From April, the quay below Pont Alexandre III springs to life with many bars and houseboats. Perfect for a sultry summer's evening by the Seine.
5. La Printemps Rooftop
9th Arrondissement
Best views across the Parisian rooftops? Everybody has a different idea, but one of my favorite places from where to look out across the Palais Garnier, all across to the Eiffel Tower, is from the roof terrace of the Printemps Haussmann Department store. Nothing fancy, no money involved, unless you stay for a coffee, a snack, or indeed a romantic glass of something nice. Otherwise, just stand and look out across Paris. It's pretty perfect.
Pro Tip: To round up a romantic trip to the famous department stores on Boulevard Haussmann, head a block down to Lafayette, where, on the first floor, you can sit at the champagne bar with your glass in hand under the grand glass dome and look out over the iconic and so beautifully done circular department store's interior. Come in December and that center will be filled with a gigantic Christmas tree.
6. Place Des Vosges
Le Marais
Surrounded on four sides by history, the beautiful Place de Vosges offers a haven of tranquility in the otherwise bustling Marais district. This, the oldest square in Paris, is hemmed in by gorgeous red and cream brick architecture, colonnades studded with restaurants and art galleries, and Victor Hugo's former home. When first designed, the square was filled with sand, for the royals who resided in the two main pavilions, his and hers, on either side of the square, to ride their horses. Today, the square's center is a park with lawns on which it is perfect to have a romantic picnic. Just bring a blanket.
Pro Tip: Steps away, just through the rather lovely Hôtel de Sully's gardens, on Rue Saint-Antoine, there is a small Monoprix supermarket. Grab some cheese, a chilled bottle of champagne, and a baguette from the nearby boulanger, and you're ready to go.
7. Cité Des Fleurs
Batignolles
This is a bit out of the way of the well-trodden tourist paths, but all the better for it. The northern district of Batignolles is a wonderful residential area to explore any time, with its markets, many individual stores, and restaurants, but step into the Cité des Fleurs, the City of Flowers, and you step completely away from Paris. This so-called city is one roughly 1,000-foot-long pedestrianized and cobblestoned street and is usually only accessible to residents. Locked at night, the gates open between 7 a.m. and 7 p.m., and you can stroll along a quiet street lined with unique residences, many of them single-family homes, with stunning gardens. Enchanting architecture makes this a real estate dream, and just strolling through here, peeking into the gardens, and wondering what it might be like to live here, is a wonderful treat.
Pro Tip: Pop for lunch at Le Cyrano, a lovely little restaurant serving great sandwiches and other Parisian snacks.
For more information on traveling to Paris, check out these articles: