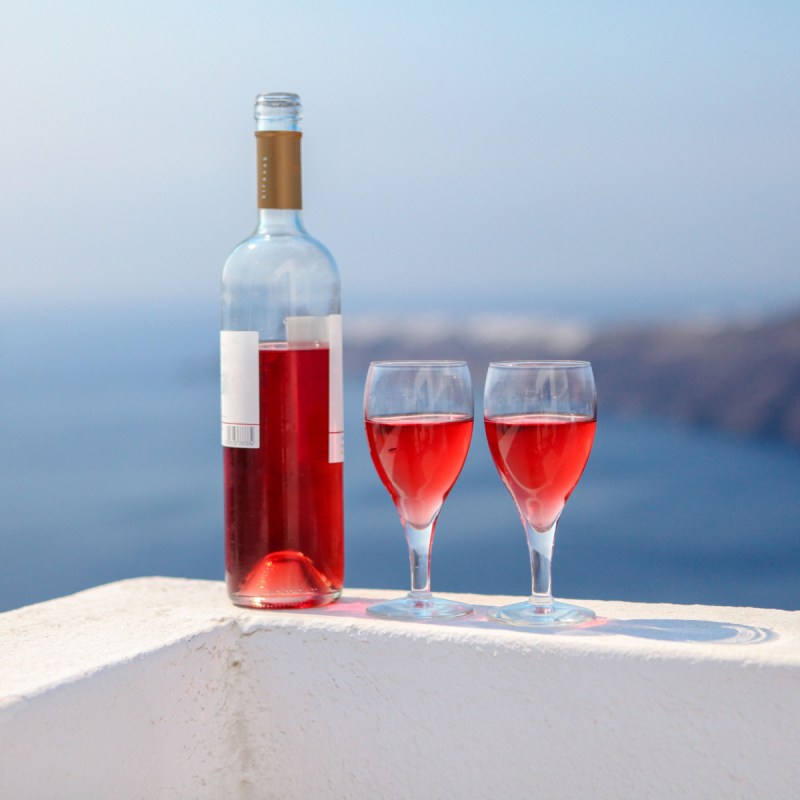 I've traveled around Greece many times and I've tried many Greek wines, but for some reason, once I'm back home, I don't often follow up to buy any. I'm unsure why, because Greek wines are really good, but they just don't seem as popular as those from Italy, France, and even Spain. Greek wine perhaps suffered in the past from a preconceived idea of it being cheaper, or not as "fine." But if that was ever true at all, it certainly isn't now.
If you haven't tried Greek wine before, you're in for a treat, and if you've already dipped your toes, here are some suggestions to get you trying a few more. I've started buying more at home and I'll definitely be buying more Greek wines from now on.
1. Vidiano, Iliana Malihin
There are few things I love more than discovering a new grape, and when it's a heritage grape from a specific location being brought back to life, I love it even more. The vidiano grape is indigenous to the island of Crete, where winemaker Iliana Malihin lives. She's a dynamic winemaker who's determined to make vidiano great again. With this white wine, she's definitely on the right track. Flavors of peach, pear, and melon all come through in this vibrant wine. It pairs beautifully with a Greek salad, though, this is an intense wine and makes great for an evening meal rather than at lunchtime.
2. 'Wild Ferment' Assyrtiko, Gaia Wines
The Assyriko vineyard is located in beautiful Santorini, where the vineyards date back 3,000 years. This one has been here since 1994, so there's a lot of history and experience going into these wines. The 'wild ferment' Assyrtiko is so named because it's a minimal-contact wine. It is left with skin contact for 12 hours; is an oaky, smokey wine; and is quite minerally, but with a tangy finish that makes it great for an evening with friends. I wouldn't choose this one at lunch, but paired with a seafood meal, and with chocolate, it's a wine with great depth that's interesting and quite unique.
3. Malagousia PGI Epanomi 2022
The location of the Ktima Gerovassiliou vineyard, near the popular city of Thessaloniki in Macedonia, is pretty perfect. This vineyard has been here since 1981, slowly building a reputation for producing great wines, and with such close proximity to the city, the wines don't have to travel far to be enjoyed at their absolute best. The malagousia grape is indigenous to this area and this wine is an aromatic white with hints of jasmine and some spiciness. For a pretty intense wine, it's surprisingly refreshing. It pairs great with any chicken dish.
4. Akra Chryssos, Santorini White Blend
Wines from the island of Santorini are very popular at the moment, but producers from such a small island can only produce so much. So Akkra Chryssos, and other wines from Santorini, are in short supply, which only makes them more desirable. Some of the vines on this island date back 200 years, so there's a lot of history in the winemaking here. It is a blend, but the assyrtiko grape is dominant and it's a punchy white with a mature taste of lemon, apple, quince, and a smokey tone that almost tastes like the rocks on the island. It pairs perfectly with any fish dish, especially mackerel.
5. Akrathos, Assyrtiko 2019
This is a relatively new vineyard, only being realized in 2007 in Halkidiki. As you'd expect from a young winery, the process is very low-interference, and the winemaking is kept as natural, and as close to how wine has always been made in this region, as possible. This crisp white wine has a really long finish. Assyrtiko is citrussy with definite notes of lemon and it pairs beautifully with any pasta dish. It's a high-alcohol white wine; personally, I'd choose to drink it in the evening, but a small glass with lunch is very memorable.
6. Koutsogiannopoulos, Assyrtiko, Ksera Homata
This incredible white wine is one of those you should have on a wish list of wines that are hard to find but so worth the effort if you do find them. The vines at this vineyard in Santorini are old and gnarly and clearly have special powers. It could also be the soil in Santorini, of course, which is volcanic, that gives Ksera Homata its earthy tones. The finish is zesty and citrusy, and this must-try wine is perfect when paired with a fish dish. The taste goes especially well with any fish prepared with Mediterranean flavors and herbs.
7. Vidiano, Idaia Winery, Dafnes
Grown from grapes in a vineyard in Dafnes, Heraklion, on the island of Crete, this white wine is a delicate dry wine that truly tastes of the sea. The vidiano grape is indigenous to Crete, as I already mentioned, and in this wine, the grape somehow reminds you of being on the island when you drink it. The husband-and-wife team who make these wines are passionate about maintaining the heritage of winemaking on the island, and they definitely succeed with this one. If you've never tried this grape before, this wine is the perfect introduction to it. It tastes of melon and peach, but it has an aromatic finish that gives it great depth. The dryness of this wine makes it the perfect pairing with any pasta dish. Personally, I like it with Greek meatballs.
8. Moraitico Island's Rose 2021
Produced on the island of Paros, Moraitico Island's Rose is a light wine that's slightly sweet but also citrusy. It brings flavors of grapefruit and melon to the forefront when you drink it. The moraitico grape almost went extinct until it was rescued in the 1970s and nurtured back to life, which only makes this wine feel more special. It's now enjoying a resurgence in popularity in Greece and recently further afield too. It's a very low-intervention wine that's perfect with any tuna or lobster dish. I would definitely choose this one for a light lunch, as it's lower in alcohol and is very refreshing.
9. Methymnaeos Orange 2021
This is a very individual orange wine made from the chidiriotiko grape found in the eastern part of the island of Lesvos. The Methymnaeos Orange is another wine that's not so easy to find, but it's well worth putting on your list of must-tries. It's a minerally wine, due to the volcanic soil of the island, and also has a hint of marmalade. It's unusual, and if you do find it, get more than one bottle as it's certainly going to become rare. The hint of marmalade makes it a great wine to pair with lamb dishes, very popular in Greece, but it also goes especially well with chocolate desserts, particularly rich and bitter chocolate.
10. Thymiopoulos Xinomavro 2019
The Thymiopoulos winery has been at the foot of the Vermio Mountain in the village of Trilofos, Macedonia, for generations, and there's a wealth of experience going into winemaking here. This bold red has a lot of character and the flavors of black olive and red fruits come through strongly. Xinomavro pairs perfectly with red meat, as you might expect, but a small glass is also perfect as an aperitif. It's quite pale in color for such a rich red, but don't be fooled, this wine is no pushover, and it's bolder than its color suggests.
11. Domaine Economou, Sitia Antigone
This one is extremely difficult to find outside of Greece, but it's almost worth the trip alone! The Liatiko vines are only found in Crete, making Sitia Antigone pretty rare to begin with. But on top of that, winemaker Giannis Economou makes his wines limited edition, which means once he's sold them, it's a case of tracking one down in a wine shop or restaurant. It's hard to put your finger on the flavors of this wine. It's complicated, which I love, but whatever you're getting from it when you drink it, it's a truly great wine. I could drink this wine with anything, and easily on its own, but it goes especially well with any mushroom dish. If you can find it, well done, and make sure you buy a case!
12. Papagiannakos, Erythros
I'm aware that some of the wines on my list are hard to find and quite expensive, but this one is much easier to locate and much more affordable. Papagiannakos is produced in the Peloponnese region of Greece and is a rich red that contains 70 percent agiorgitiko grape and 30 percent cabernet sauvignon. It's very fruity, but you can also pick up some spiciness with a definite hint of star anise. It's not a heavy wine, though it has lots of flavor, and it's great to drink with friends in the evening, or with a starter of pate during your evening meal.
Related Reading: