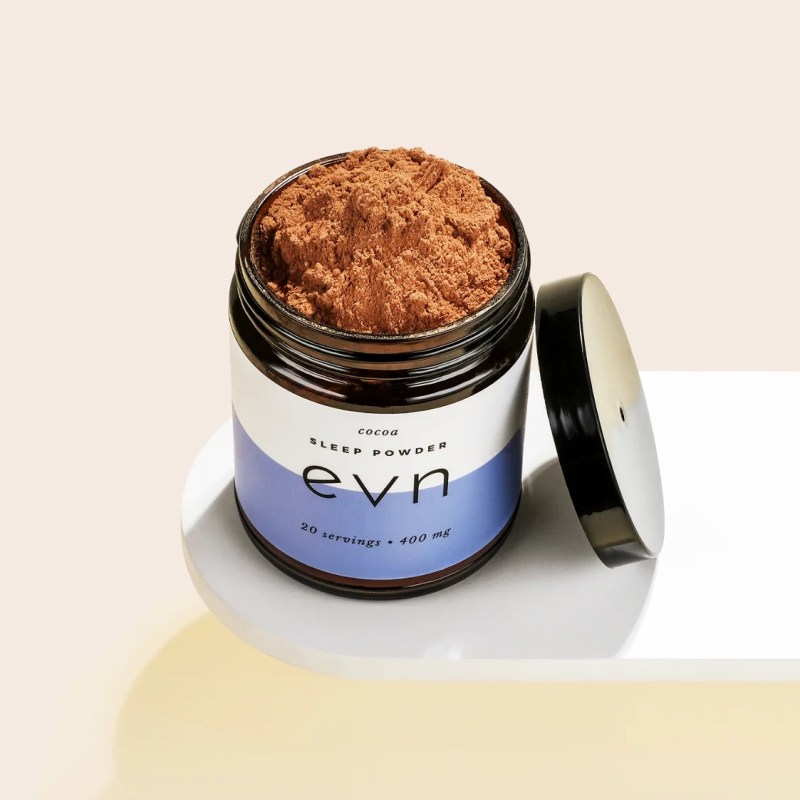 Like at least 40 percent of Americans, I have trouble turning my brain off to go to sleep. Even once I do finally slip away, my smartwatch likes to remind me in the morning that an alarming percentage of my sleep was considered "light" compared to the more restful deep and REM. I lean on coffee to keep me moving throughout the day and the cycle continues.
That's why when I discovered Evn CBD Sleep Powder, I jumped at the opportunity to try it out!
What Is CBD?
CBD is a natural compound found in the cannabis plant. Unlike its counterpart THC, which is also found in cannabis, it does not produce the high or intoxicating feeling associated with marijuana. Instead, CBD produces both mental and physical therapeutic healing effects when ingested or applied topically. It can be used to treat inflammation, pain, anxiety, skin irritation, and many more common ailments. It also poses no dependency or withdrawal risks and is a safe alternative to many pharmaceuticals.
Why Is CBD Beneficial For Sleep?
When ingested, CBD is a powerful calming remedy to treat anxiety, ADHD, stress, and many other mental inhibitors to restful sleep. It stimulates serotonin and dopamine, both mood-regulating and pleasing neurotransmitters, receptors in the brain, in order to help regulate your body's homeostasis. It also includes a sedative property that helps your mind and body relax in order to "turn off" for the night.
When taken correctly, CBD enables sleep to come much more quickly and last throughout the night — without the frustrating hangover effects that many sleep medications can produce.
Evn CBD Sleep Powder
Evn formulated their Sleep Powder with full spectrum CBD, an extract that includes terpenes and minor cannabinoids from the cannabis plant in addition to CBD, to maximize its anti-anxiety properties. They source the CBD from organically grown hemp plants. Additionally, the powder includes the following ingredients to enhance sleep:
Magnesium: a natural mineral that has a calming and stress-reducing effect and can help the body produce melatonin
Passion Flower: a plant used as an herbal remedy to treat insomnia due to its calming and sedative effects
L-theanine: an amino acid found naturally in tea leaves that promotes relaxation and sleep by increasing levels of the neurotransmitter GABA
Melatonin: a hormone generated by the body in response to darkness, stimulating the natural sleep cycle
The final product is fully third-party lab-tested and approved for over-the-counter use, contains zero THC, and is gluten- and GMO-free. Each jar contains 400mg of full spectrum CBD total, designed to be taken in 20–20mg servings, containing only 7 total calories.
Although I'm personally willing to try any natural remedy to help me get better sleep regardless of taste, the Sleep Powder is cocoa-flavored for a much more enjoyable nighttime treat. It can be mixed with milk, tea, or hot water depending on your preference.
My Experience Taking Evn CBD Sleep Powder
The day my jar arrived, I anxiously anticipated finishing up my daily activities and hitting the couch for a quick TV show before bed. Evn recommends taking the Sleep Powder about 30 minutes prior to bedtime. When that time finally arrived, I mixed one teaspoon of the cocoa powder into my almond milk and took a taste. I was immediately pleased that it tasted like a glass of guilt-free chocolate milk!
When I got into bed, I noticed my mind wasn't racing through the to-dos still left on my list, as I have been accustomed to. While it wasn't a euphoric feeling, I did feel like my mind and body were much more relaxed. "This might finally be the answer," I thought hopefully as I turned off the light.
As I do every night, I set my phone sleep timer for an hour and turned on an episode of The Office (if you know, you know). Well, I must've been out within 10 minutes because I woke up the next morning with almost no recollection of the episode after the introduction music. I felt more refreshed than I had in weeks! I excitedly checked my smartwatch to see if I had indeed slept more deeply and I did! My percentage of the night spent in REM and deep sleep cycles was higher than I can remember seeing in the past.
It goes without saying that after this first successful night, Evn CBD Sleep Powder has become my nightly ritual. I truly believe it has helped me adjust my body back to its natural, healthy sleep cycle. I no longer dread lying awake in the middle of the night cycling through stressful thoughts and I find myself only needing that first cup of coffee in the morning for the taste.
It's time to treat yourself to a healthy sleep routine. Don't wait! Right now, readers can get 25% on Evn CBD Sleep Powder with the code SLEEP25 until March 31st. Valid for one-time purchases, no subscription orders.
Curious about CBD and its health benefits? Read up on