I didn't grow up using electric toothbrushes — the first one didn't even hit the market until 1960, and it took a while for them to catch on!
Electric brushes have become the standard for top-notch dental hygiene within the past few years since their range of motion vastly outperforms what you can do with a manual toothbrush. Electric toothbrushes typically come with features such as a timer and pacers to alert you how long you should spend brushing each section of your mouth. I adore this nifty feature since it helps keep me from accidentally under-brushing!
There are several of electric toothbrushes specifically designed with travelers in mind. Features like travel cases and long-lasting batteries make it easier than ever to travel with a high-quality toothbrush, no matter how frequently you fly.
The Top Features I Look For
Although the best electric toothbrushes don't always come cheap, there are some great budget electric brush options out there as well. In general, the number of neat tech features and customization available in the electric toothbrush market make it well worth shopping around and picking out the best brush for your needs.
Some important features I'd recommend looking for in a quality travel electric toothbrush include:
Bristles and handle designed with the help of dentists and hygienists
Has a travel case, preferably one that encloses the entire brush, including the handle
Includes a two-minute timer (for the ADA-recommended brushing time)
Water-resistant
Long battery life and rechargeable battery
Just remember, as always, that the best toothbrush in the world is no substitute for good brushing habits and dental hygiene!
Keep reading for the six best electric toothbrushes for travelers of 2022: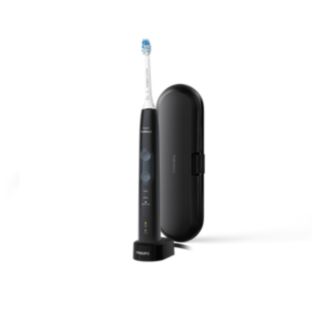 Buy Now
$79.95
The Philips Sonicare Protective Clean 5100 is a level up from the 4100, thanks to a few more cleaning modes and a travel case. It offers everything you need in a rechargeable electric toothbrush and then some.
I love that it has three cleaning modes. They are clean, whitening, and gum care; a pressure sensor and built-in timer; and BrushSync technology, which alerts you when it's time to replace the brush head. 
It comes with a sleek travel case to protect both the handle and brush head on my voyages. Just make sure the brush is charged up before your trip, and you're good to go.
My favorite feature of this sonic toothbrush is the pressure sensor in the oscillating replacement brush heads. The benefit of an electric toothbrush is to let the brush do the work and prevent under or over-brushing.
The Philips Sonicare Protective Clean 5100 takes that one step further by alerting me with a vibration in the handle if I'm exerting too much pressure. It's a nice little feature on a brush that already knocks it out of the park.
If you're looking for an excellent sonic electric toothbrush and money isn't an issue, you can't go wrong with the Philips Sonicare Protective Clean 1500.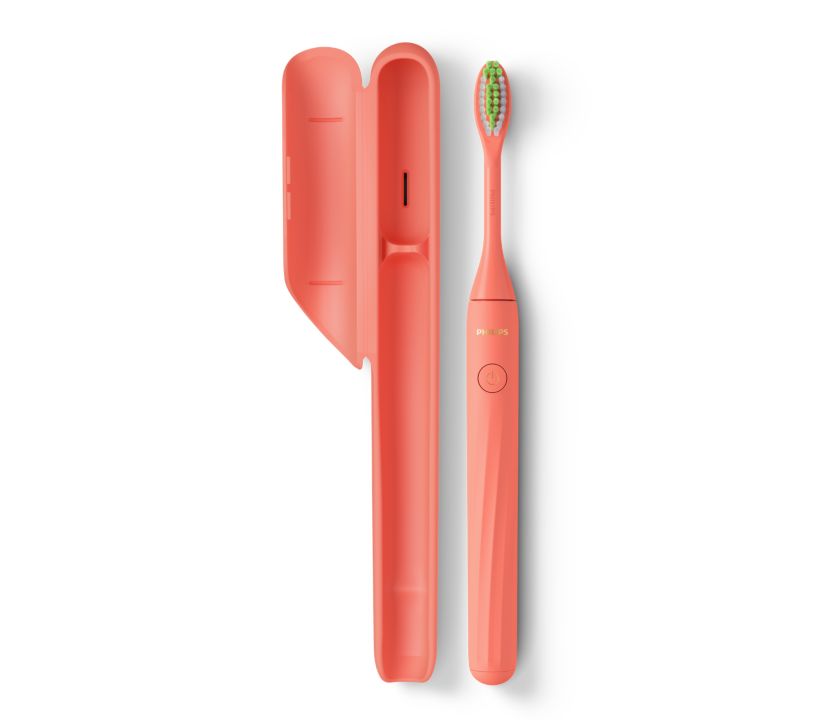 Buy Now
$24.96
If you're looking for a budget alternative to the Protective Clean 5100, the Philips One by Sonicare is a fabulous option for a similar brushing experience. It's a powered toothbrush that offers similar features, including a travel case, timer, and pacer for brushing, and a grippy, slim handle that is tactically and visually appealing.
I like the fact that this brush gives you options, coming in both a rechargeable model and a battery-operated model.
The battery-operated brush comes in a range of fun colorways, including midnight blue, mint blue, miami (a salmon pink), and mango (yellow). The rechargeable version of this dentist-recommended toothbrush offers a different selection, including snow, shimmer (peach), shadow (black), and sage.
The variety of colorways and power options give the Philips One more of a luxe feel compared to other budget brushes. Plus, the versatility makes this toothbrush a perfect gift for jetsetters; choose the battery-operated option, and there's no need to pack a charger. Just slip the entire brush into the travel case, and you're all set!
One thing to note is that this brush isn't quite as powerful as some other electric brushes on the market. It's a great starting point in the world of electric toothbrushes for frequent travelers, but its power may leave something to be desired for those who ditched the manual toothbrush a long time ago.
Buy Now
$30
In my opinion, toothbrushes don't get any sleeker or more stylish than the Quip Metal Adult Electric Toothbrush. The streamlined metal handle comes in four polished shades — silver, slate, copper, and gold.
Even better — it does not need a clunky cord or charging station, thanks to its battery-operated status. Compared to most of the dated toothbrushes gracing drugstore shelves, the Quip metal brush is downright futuristic.
It boasts all of the features I look for in any electric toothbrush:
It's approved by the American Dental Association for plaque removal and reduction of gingivitis.

It's water-resistant.

It has timed pulses to guide you as you brush different sections of your mouth, a key factor in thorough brushing habits.
The best part about this toothbrush, though, is how functional it is for travel. It runs on AAA batteries rather than recharging with a cord, meaning it stores (and travels) just like a manual brush.
No need to worry about packing a cord or charging block in your carry-on next time you fly — just bring your brush and some toothpaste! It's pretty compact compared to other electric toothbrushes, which tend to take up a lot more room in your carry-on.
Quip is a subscription-based service, and if you sign up for the subscription, they'll send you a new toothbrush head and new battery every three months for $5 (Three months is the estimated lifespan of those AAA batteries).
That'll earn you some big savings compared to other budget electric brushes with non-replaceable heads. Overall, the Quip Metal Adult Electric Toothbrush is an affordable and stylish option that doesn't sacrifice functionality for looks.
Buy Now
$105
Another sleek and stylish electric toothbrush option, the Brüush Electric Toothbrush Kit proves once again that there's no need to sacrifice functionality at the altar of style. This brush comes in five different colors and boasts a whopping six different cleaning modes, including daily, white, gentle, gum, max, and tongue (which is targeted for the tongue cleaner on the back of the Brüush's head).
Electric brushes are generally much better for gum health than manual toothbrushes, and with so many brushing modes to choose from, the Brüush just takes that up a notch. If you tend to struggle with dental hygiene — perhaps you've got gingivitis or sensitive teeth or just can't seem to make flossing with string or a water flosser a regular habit (no shame) — this could be the brush for you.
Like Quip, Brüush is also a subscription service. Sign up and they'll send you three replacement toothbrush heads every six months for 10 percent off the sticker price — plus, for every replacement head they ship out, Brüush will donate an oral care kit to someone in need. It's hard to argue with those perks.
Buy Now
$47.75
Colgate might be one of the most recognizable dental care brands on the market, and for a good reason. Consumers trust them to make high-quality and long-lasting products to get them clean teeth, and that trust continues to hold up with their smart brush, the Hum Rechargeable Toothbrush.
Right off the bat, you're given the option to choose between a rechargeable or battery-operated brush, which is a nice touch. Frequent flyers may opt for the battery-operated version, while others might prefer not having to deal with the hassle of a battery replacement every few months.
One thing to note is the rechargeable version comes with an extra cleaning mode, Deep Clean, in addition to the Normal and Sensitive cleaning modes offered on the battery-operated version.
Besides these fantastic options, the brush has a travel case, tongue cleaner on the back of the toothbrush head, a timer, and pacer for the recommended brushing time. It also has an aesthetically-pleasing tapered design, although it's not quite as sleek as other brushes (such as the Quip). But, the real draw to this brush is its smart features.
You can download the Colgate app and pair it to your brush via bluetooth connectivity to get real-time feedback on your brushing habits, including suggestions for improvement. The app will also tell you how much charge is left, a handy feature for travelers not planning on bringing extra batteries or a charging block with them on their trip.
I've never seen a brush with quite as many clever details for the price of the Hum; as far as smart brushes go, this one is a steal.
Buy Now
$49.99
This Oral B electric toothbrush is a safe bet for consumers looking for a simple and functional electric toothbrush at a reasonable price point. Without the tech and fancy add-ons of other brushes, the Oral B Pro 1000 clocks in at around $50. The entry-friendly price and more user-friendly experience make this a fan favorite for a reason. 
It comes with one cleaning mode and a timer with pacers for improved brushing habits. It also has a pressure sensor, which automatically reduces brush movements when it detects the user is brushing a little too hard. I like how simple and small this toothbrush is in comparison to other electric brushes on the market right now. It packs well in a carry-on, which is one of the key things I consider with every purchase I make.
The one drawback to this brush is that the charge time only lasts around ten days, which is low compared to some of the other options, especially if you frequently travel and don't want to worry about accidentally bringing an uncharged toothbrush on your trip. But, the big picture is that all of these features for an affordable ADA-approved rechargeable brush make for a great deal.
A Clean I Can Count On
A lot of the time, toothbrushes aren't really something the average consumer thinks about — after all, a toothbrush is just a toothbrush, right? However, there's a huge range in the quality and features offered in today's toothbrushes, especially when it comes to rechargeable and battery-operated brushes.
I grew up using the standard manual toothbrush, but now I just adore how the electric toothbrush gives me a shine I can see and a clean bill of health from my dentist. Whether I'm traveling the globe or relaxing at home, who says that my smile can't be one of the modern wonders of the world?
To read more about our favorite travel personal care products, check out: