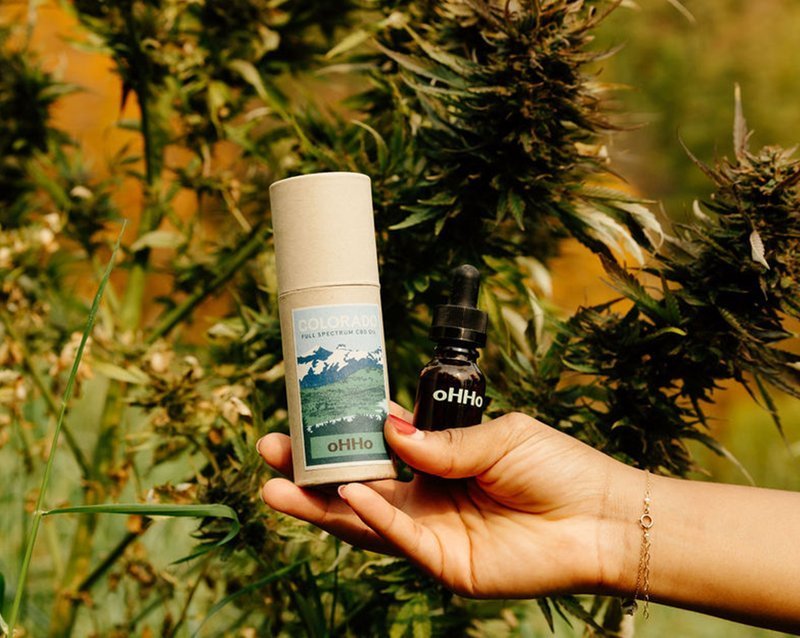 Many people love to travel but suffer from the fear of flying. This keeps normally adventurous people only taking trips that can be done by car, trains, and even boats. For some travelers, this is not a big deal. They accept their limitations and explore as they like. Others wish they could overcome their anxiety about flying to broaden their travel experiences.
Fortunately, there are more than a few ways to tackle the fear of flying. One of them is the use of cannabidiol (CBD) oil. You've likely heard of CBD. Perhaps you've wondered what it is, whether it works, whether it's legal, and whether it will make you high. All good questions, which we'll explore for you here.
In short, CBD is an active chemical ingredient of cannabis that comes from the hemp plant, which is in the same family as the marijuana plant. CBD is not marijuana and will not make you high. It is a hemp-derived product containing less than 0.3 percent THC, the active ingredient in cannabis that is psychoactive and provides that "high" feeling. While the Food and Drug Administration has yet to approve most CBD products for medical use, early research suggests the compound can alleviate certain conditions.
The 2018 Farm Bill is a federal law that considers CBD legal in all 50 states. Local laws vary and change quickly, however, so be sure to check your local laws and regulations.
Today, people use CBD to relieve anxiety, insomnia, inflammation, and chronic pain. As travelers over 50, we find that CBD oil has benefits for many aspects of our travel experience. Let's take a look at some of the reasons we think CBD oil should be in every traveler's travel bag.
Note: As with any supplement, consult your doctor before using CBD.
CBD Oil For Flying
Climbing into a giant metal tube that weighs tons and is about to fly through the air can be a daunting proposition for even the most intrepid traveler. With the added stress of changing schedules, health concerns, and costs, flying can make many of us more anxious than ever.
When planning a trip, we check to be sure that CBD is legal in the destination we plan to visit. When it is, we take CBD oil on our travels. It helps to take the edge off while still keeping your wits about you. If you're sensitive to medications, taking a sleep aid or tranquilizer can have a strong effect and knock you out. If you're like us, you want to be relaxed but still alert so you will not miss out on any directions or instructions during the flight. CBD can be a much gentler choice.
CBD is easy to take with you on CBD And Travel: What You Need To Know, Whether You're Road Tripping Or Want To Use CBD Abroad. The small bottles easily meet TSA restrictions. To get the benefits, just place a few drops of CBD oil under your tongue and hold it for about 30 seconds. You can usually begin to feel the effects in 15 to 30 minutes or so. Taking CBD oil before you begin your journey may make the whole experience more tolerable. Even things like a kid kicking the back of your seat or someone talking loudly near you can become less annoying.
CBD Oil For Anxiety
There have been recent studies stating that smoking marijuana could significantly reduce anxiety. They also indicate that the use of CBD oil could offer similar relief without the mind-altering effects of marijuana.
Let's face it, sometimes our days are full of anxiety. From downloading the latest update on the computer to planning the weekly grocery shopping, life is full of constant decisions and choices that sometimes keep us a little on edge. While we often just go outside for a brisk walk in the fresh air to decompress and reset our thinking, sometimes that's just not enough — or circumstances prevent us from being able to get outside. We need a good alternative to de-stress. CBD oil may just be that good alternative. Just a few drops of CBD oil can calm your nerves, help you lighten the load, and release the tension that builds up over time.
Also, consider CBD oil for travel anxiety. Sometimes we experience the general anxiety of being in an unfamiliar place, acclimating to a new environment or time zone, or getting on a long plane ride. We find CBD oil is helpful for whatever stresses we may encounter throughout our journeys.
CBD Oil For Sleep
It's no surprise that restful sleep is vital to our wellbeing. Getting a good night's sleep allows us to rest our minds and lets our bodies rejuvenate for the next day. Sleeplessness or insomnia is common in our challenging world today. 30 to 48 percent of older adults have some form of sleep disorder. Not getting the rest we need can leave us groggy, crabby, and not much fun to be around.
CBD oil may be worth a try if you're having trouble sleeping. CBD can not only help those who have trouble falling asleep but may also help you stay asleep.
We often have trouble turning off our brains at night. Work deadlines, family concerns, and pet interruptions often have us spinning so much we can't sleep. Even when we do fall asleep, waking up repeatedly throughout the night does not make for a truly restful sleep experience.
Taking CBD oil helps ease us into getting the shuteye we need for taking on the challenges of the next day. We take a few drops of CBD oil, climb into bed with an absorbing novel, and drift off to dreamland in no time. Only an emergency or the pawing of a persistent cat will wake us up. We arise refreshed and renewed without that hangover feeling we get in the morning from many over-the-counter sleep products.
CBD Oil For Aches And Pains
Like many other people of a certain age, we have our fair share of aches and pains. We try to stay as active as possible, but sometimes a pulled muscle or twisted back occurs when we least expect it. It could be as simple as reaching for something in a cabinet or even just an awkward sneeze that leads to a whole day or several days of unexpected pain.
After one of us got a particularly severe back muscle strain during a move a few years ago, a friend recommended trying CBD. Taking CBD helped alleviate the pain and prevented the need for a strong pain reliever prescription that comes with unwanted mental fuzziness. CBD lets us get on with our day without ending up passed out on the couch in a drug stupor.
Even for minor soreness, CBD oil helps take the edge off so we can go about our day and get things done. We don't get any mind-altering feelings, just a subtle sense of wellness.
CBD Oil For Inflammation
Beyond chronic pain issues, CBD oil may be quite effective in relieving inflammation. Old college sports injuries, consistent use of keyboards, repetitive motions, arthritis, and just plain-old sitting too much have all accompanied us as we're reaching the prime of life.
Some animal studies have suggested that CBD can provide pain relief and that it has positive anti-inflammatory properties. Some people have found relief for their arthritis and other inflammation troubles by using CBD.
Back to sleep: Since CBD may help relieve pain and inflammation, it may also help get a better night's sleep. If you've ever been up all night with sciatica pain or a pulled muscle, you know what we're talking about. A few drops of CBD oil or a CBD balm or lotion may be the difference between being able to get some rest and spending all night just trying to get comfortable.
Best CBD Oil For Travel And Where To Buy It
The good news is that CBD oil is quite easy to find. You will discover that there are many brands and forms of CBD at vitamin and health stores, grocery stores, online, and other places. CBD's growing popularity has it showing up in just about every product you can imagine, including products for pets, too.
We've tried several different brands of CBD oils, gummies, lotions, and balms. We've found that the CBD oils are fast-acting and get into your system pretty quickly.
When choosing a brand, you'll want to be sure that the company is reputable and responsible. One of our favorite brands is oHHo. Their CBD products are sustainably grown, ethically sourced, and harvested from small farmers to help local communities. They are a member of 1% for the Planet, a network of like-minded businesses and individuals that donate one percent of their annual sales to help respected environmental organizations around the world.
We also appreciate that oHHo's sustainable kraft tube packaging is eco-friendly and recyclable. They clearly care about the environment, which makes them friends of ours.
Check out their website for details on their products, easy ordering, and more information on CBD. They have a great page answering frequently asked questions.
CBD can be helpful for a variety of different health concerns frequently experienced by us as travelers. Whether you have stress or anxiety from the whole travel experience, a fear of flying, sleeplessness, aches, or pains, CBD might offer support to help you enjoy your travels even more.
Please check with your physician before trying CBD yourself and discuss its potential benefits or impacts, especially if you are taking any medications. CBD tinctures and oils come in many different types and forms, and proper dosages will vary for each individual. But if you give CBD a try and find it works for you, you'll be able to keep it with you easily to enhance your wellness whether you're traveling near or far.
Further Reading: