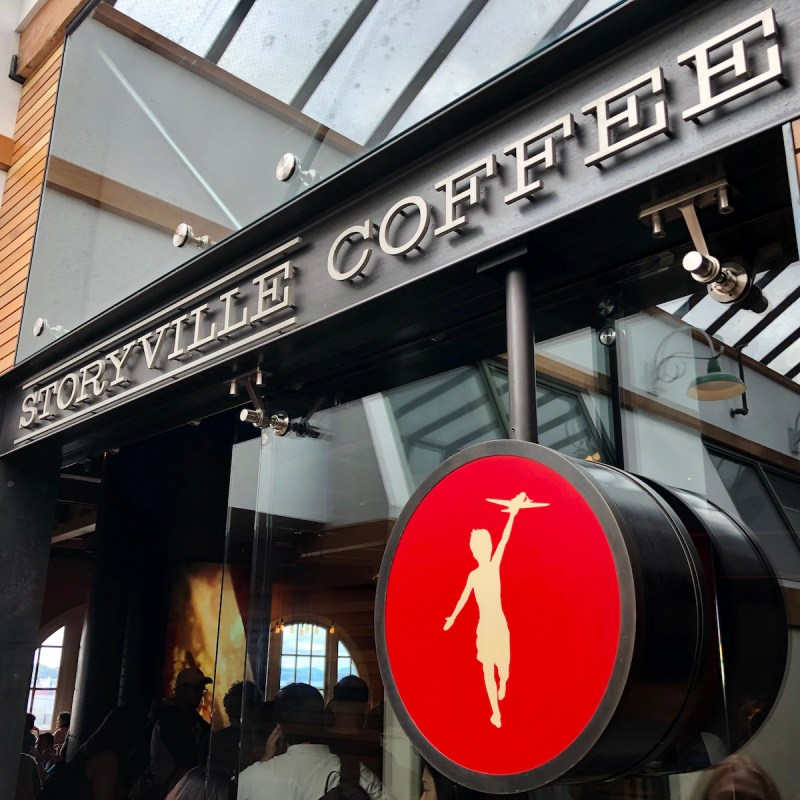 Seattle is considered by many to be the birthplace of America's modern coffee culture, so it's no surprise that the city is home to some of the best coffee shops in the world. As the birthplace of Starbucks, the global chain is undoubtedly the best-known coffee house in town, but there are many other spots to satisfy your caffeine cravings.
After a recent trip to "The Coffee Capital of the Country," these are some of my favorites that don't feature a green siren (it's not a mermaid) trapped in a bubble.
Some of my experiences were hosted. All opinions are my own.
1. Elm Coffee Roasters
For a cozy, neighborhood coffee shop with a focus on house-roasted, single-origin brews, check out Elm Coffee Roasters. Located in the heart of Pioneer Square, Seattle's oldest neighborhood, Elm sources high-quality, sustainable coffee beans from around the world and roasts them in-house 3 days a week. So if you visit on a Monday, Tuesday, or Thursday, be sure to watch the action through the large viewing windows.
The Pioneer Square Cafe menu features a variety of espresso drinks and iced coffees – all made with care and precision. So whether you indulge in a latte or chill out with an iced coffee, you'll quickly understand why Elm Coffee Roasters is one of Seattle's most beloved coffee shops.
2. Victrola Coffee Roasters
For more than 20 years, Victrola Coffee Roasters has been sourcing its coffee beans from small, family-owned farms and roasting them to perfection in the Emerald City. As Victrola is committed to sustainable production and ethical sourcing, all of its beans are produced without chemical treatments or pesticides, and its owners have long-lasting relationships with coffee growers in Nicaragua, Honduras, and other well-known coffee regions.
Victrola's main location — housing its showcase cafe, roastery, and training facility — is located in an old 1920s auto row building at the base of Capitol Hill. But there are several other locations, from Downtown Seattle to Beacon Hill. Stop by to sip a high-quality espresso drink and enjoy a delicious fresh pastry from The French Bakery.
3. Ghost Alley Espresso
Tucked under the main entrance of Pike Place Market, just a short walk along old cobblestones from the infamous Gum Wall, Ghost Alley Espresso serves impressive coffee with spirit. And while the baristas and staff are friendly, I don't mean that in a peppy cheerleader way. Legend has it that the coffee shop is haunted by the ghost of Arthur Goodwin, one of the Market's first managers whose office was near Ghost Alley Espresso.
The basic drinks — from Americanos to macchiatos — are excellent, and the signature drinks are truly otherworldly. Try a Mystery Mocha with a one-of-a-kind mocha and your choice of chocolate (dark or white) or get an extra jolt from the habanero pepper sea salt in the Spicy Mocha. If you like to sweeten your coffee with flavored syrups, you'll be delighted to learn that Ghost Alley Espresso crafts them all in-house, from vanilla made with real vanilla beans to caramel made with applewood roasted sea salt and brown sugar.
Pro Tip: Want to do more than sip coffee and watch the fish fly through the air at Pike Place Market? Here's how to do a unique food crawl.
4. Storyville Coffee Pike Place
You'll find Storyville Coffee Pike Place a few flights of stairs from the crowds wandering through the main corridor of Pike Place Market. And its location on the top floor of the Corner Market Building at First Avenue and Pike Street provides amazing views of the iconic red neon "Public Market Center" sign and the oldest continuously running farmers market in the U.S. while you sip your espresso drink and nibble on a freshly baked pastry.
All of Storyville's espresso drinks are made with Storyville Sunrise, a smooth espresso blend with hints of caramel, chocolate, and toffee. Try it with velvety steamed milk as a cappuccino or served in a 5-ounce Gibraltar glass as a cortado. Either pairs perfectly with a buttery croissant or frosted cinnamon roll in the morning or a slice of decadent triple chocolate flourless cake for an afternoon pick-me-up.
Pro Tip: While this article focuses on delicious coffee shops that aren't Starbucks, coffee lovers will still want to visit the original Starbucks store before leaving Pike Place Market. You'll find it on the north side of Pike Place, usually with a line out the door.
5. Moore Coffee Shop
Built by flamboyant Seattle real estate developer James A. Moore in 1907, the Moore Theatre is the oldest operating theater in Seattle. And in this historic building that served as a lavish social venue for Seattle's upper class, attached to the Moore Hotel, you'll find Moore Coffee Shop.
While you can certainly order a traditional espresso, I recommend something more exotic, like a Cafe Madrid or a horchata latte. Why? Because you won't want to miss the impressive latte art. Look for elaborate owls, pandas, and more that put standard leaf and heart foam finishes to shame.
And be sure to visit Moore Coffee Shop with an appetite, because you won't want to miss its famous breakfast waffles. With sweet options — like peanut butter and jelly, Nutella banana, and brie cheese and fresh berries — as well as savory selections — like Monte Cristo (ham, turkey, Swiss cheese, and raspberry jam), prosciutto and cream cheese, and bacon and mascarpone — they're unlike any waffles you've ever had.
Pro Tip: As the coffee shop quickly needed "moore" space, a second location opened right around the corner from the original. Find it at 112 Stewart Street.
6. Espresso Vivace
While Starbucks founder Howard Schultz was inspired to start his company based on the Italian espresso culture he experienced in Milan, Espresso Vivace truly delivers the most Italianesque experience in Seattle today. This specialty coffee roaster and cafe located in Seattle's Capitol Hill neighborhood is known for its artisanal approach to coffee, focusing on sourcing high-quality coffee beans and roasting them to perfection.
If you want a fast cup of drip coffee, this isn't your spot. But if you want an amazing espresso drink made with perfectly pulled ristretto pours that maximize the flavors of the coffee and minimize excess acid, this is a spot that coffee enthusiasts will cherish. My favorite drinks at Espresso Vivace are the caffe espresso and cappuccino.
Pro Tip: While enjoying a great cup of coffee is one of my favorite pastimes, there's so much more to do in beautiful Seattle. Here are 14 fantastic ideas for ways to spend a long weekend in the Emerald City.
7. Monorail Espresso
When I travel, I always ask the locals about their favorite coffee shops and eateries. And it's the concierge at Level Seattle who shared Monorail Espresso with me. Located about 0.8 miles south of my South Lake Union accommodations, this gem was on my route on the lovely fall day I opted to walk to Pike Place Market. When sharing his recommendation, the concierge warned me that it was "a bit of a hole in the wall." He wasn't wrong, but I'd describe it as a waist-to-ceiling, glass-walled walk-up espresso bar.
Don't let its appearance fool you. While Monorail Espresso isn't a traditional coffee shop where you can sit in a cozy space and linger over coffee, the espresso drinks are still excellent. And while Monorail Espresso may not be at the top of a traveler's list, the smooth and tasty cappuccinos and rich and creamy lattes have been bringing the locals back time and time again since 1980 when it was just a coffee cart.
Pro Tip: Don't miss the Monorail Espresso directions menu that lists prices for questions like "Where is the Monorail?" and "Where is Starbucks?"
8. Mr. West Cafe Bar
For a coffee shop that serves up more than expertly prepared espressos, head to Mr. West Cafe Bar. This downtown coffee shop has you covered morning, noon, and night by combining coffee, food, and cocktails into one experience.
If you're stopping by for just coffee, you'll find everything from drip coffee to espresso drinks, to seasonal drinks like the chestnut latte, maple salted toffee latte, and orange mocha. Mr. West also serves a wide range of teas, including a golden milk latte made with spiced turmeric tea and oat milk, and unique sodas and kombucha on tap.
If you want a bite for breakfast, try one of several delicious toasts, from pear and ricotta to cured salmon and whipped horseradish cream. The shakshuka, Turkish eggs, and seasonal yogurt dishes are also wonderful. Lunch and dinner options include several salads and sandwiches as well as smaller bites and shareable plates with offerings like salad Niçoise, spiced chicken shawarma, and fried Brussels sprouts. And you can pair your pick with wine, beer, cider, or a cocktail.
Pro Tip: After taking advantage of the special happy hour offerings at Mr. West, check out these fantastic things to do in Seattle at night.
9. Olympia Coffee Roasting
Launched in a warehouse in Washington's capital city, Olympia Coffee Roasting has grown to an award-winning coffee roaster that sources beans from small farms in eight countries across three continents. Located in Seattle's Columbia City neighborhood, this is a great spot for excellent espresso, whether it's a double shot or a cortado "cut" with steamed milk.
Whether you're looking for a classic European-style coffee shop, a cozy neighborhood cafe, or a bustling coffeehouse, Seattle is sure to deliver!