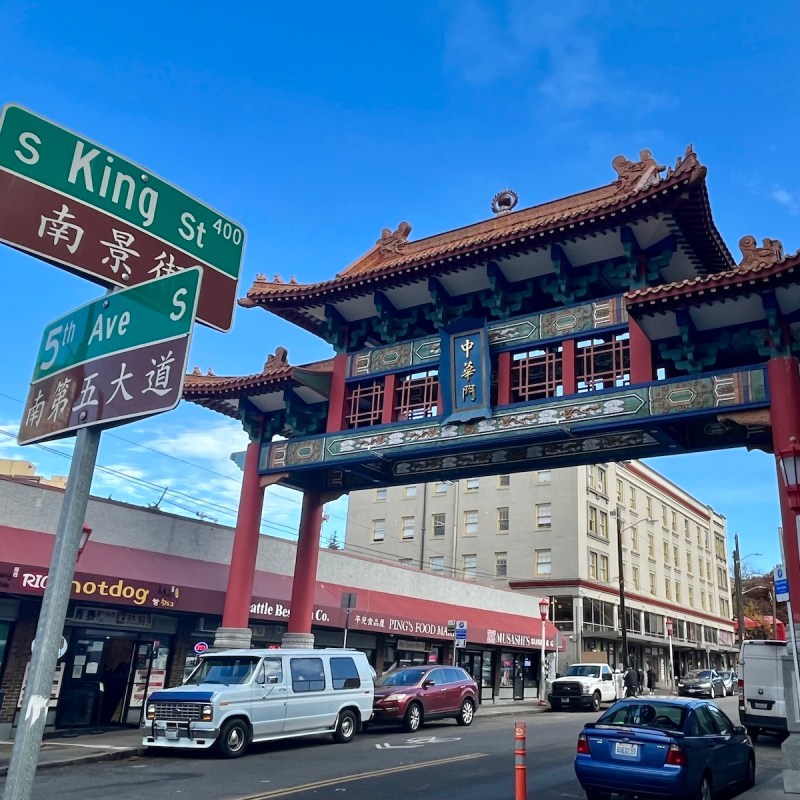 From plump shrimp dumplings served in a bamboo basket to crispy banh mi baguettes filled with barbecue pork to artfully arranged raw-fish sashimi, the culinary delights of China, Vietnam, Japan, and other Asian cultures all come together on a visit to Seattle's International District.
Once known primarily as Chinatown, the neighborhood that is situated between Seattle's downtown and its sports arenas became designated as the International District in the late 1990s. Today, the district takes in areas such as Japantown and Little Saigon along with the original Chinatown.
On my recent trip to Seattle, I set out to sample as much of the city's Asian cuisine as possible, and I found many International District spots catering to locals and visitors alike. One of the beauties of the district is that the varied Asian cuisines are all in fairly close proximity. You could easily enjoy an authentic Vietnamese appetizer, a Chinese entrée, and dessert from the Philippines all within blocks of one another.
Here are nine Asian foods to try in Seattle's International District.
1. Seafood Hot Pot
Happy Lamb Hot Pot
For a warming lunch on a chilly Seattle afternoon, few options are more satisfying than hot pot. As the name implies, the hot pot cooking method features a heating source in the middle of the table, where a pot of hot broth is placed to simmer. Diners order their preferred broths, along with varieties of meat, seafood, tofu, and vegetables. After the broth comes to a simmer, everyone cooks their choices using the handy utensils that are provided.
On a rainy November afternoon, my family visited Happy Lamb Hot Pot, a cozy second-story restaurant in the International District. We chose the all-you-can-eat option, which allowed for multiple courses and a seemingly endless combination of meats and veggies.
I love hot pot not just for the nicely cooked foods that come out of the broth, but for the social aspects as well. It makes for a great family meal, with everyone contributing and choosing their favorite combos.
Although Happy Lamb is known for its tender lamb and beef, I also enjoyed the varied seafood choices, including mini octopus, prawns, and fish.
2. Har Gow And Barbecue Duck
Honey Court Seafood Restaurant
Dim sum — the traditional Chinese meal made up of small portions of dumplings, steamed buns, and deep-fried delicacies — is available in numerous spots in the International District. A quick internet search will yield a variety of choices, each with its own specialties. For classic choices with a seafood focus, my family loves the Honey Court Seafood Restaurant, an unassuming spot in the middle of the International District.
One of the things I enjoy about a dim sum brunch or lunch is the ability to try small bites of numerous dishes. Honey Court has an extensive menu featuring shrimp, crab, sole, oysters, spare ribs, duck, and tofu. We tried a variety of dishes, including the barbecue duck served with small fluffy buns, walnut shrimp, and taro cakes. For me, the standout was the har gow, a steamed dumpling with shrimp encased in delicate rice flour dough.
Honey Court allows diners to check off their choices on a paper menu, and the various dishes come out of the kitchen as they are ready. Traditionally served with tea, dim sum makes for a leisurely and relaxing meal.
3. Garlic Shrimp And Cabbage Soup
Tai Tung
The International District's venerable Tai Tung restaurant has a couple of claims to fame that set it apart. One is Tai Tung's place as the oldest Chinese restaurant in Seattle, and the other is the restaurant's history as a favorite dining spot of martial arts legend Bruce Lee.
Those two features — along with the restaurant's classic Chinese cuisine — make Tai Tung an iconic stop in the International District. The Visit Seattle website notes that the restaurant "has been serving incredible Chinese food since Grandpa Quan opened the doors in 1935."
Tai Tung memorializes its connection with Bruce Lee with a booth at the back of the restaurant that was Lee's favorite. Fans of the martial artist and actor might also want to check out Lee's two favorite dishes at Tai Tung — the garlic shrimp and the oyster sauce beef, both served with cabbage soup.
4. Sashimi And Peking Duck
Uwajimaya
For a tour of Asian cuisine all under the same roof, the flagship location of the Asian market and grocery store Uwajimaya is the place to go in Seattle. The complex in the International District features more than 35,000 square feet of Asian specialties, which, along with its 93 years of history, make the store "a must-see destination in Seattle," according to the store's website.
I love to visit Uwajimaya not just for its amazing selection of Asian groceries like quality sesame oil, noodles of virtually every variety, and remarkable selection of fresh seafood, but also for its fun food hall that features nearly a dozen individual restaurants featuring cuisines from all over Asia.
In addition, Uwajimaya's deli has an impressive selection of favorites like sushi rolls, pork buns, and poke. Two of the standouts for me were the freshly roasted Peking duck, and the raw-fish sashimi that is available beautifully sliced and packaged at the sashimi island.
5. Ube (Purple Yam) Cream Puff
Beard Papa's
Among the Asian specialty spots in the Uwajimaya Food Hall is Beard Papa's, the Japanese cream puff chain that has become a popular dessert staple in locations around the world. Billed as featuring "the world's best cream puffs," Beard Papa's began in Japan nearly 25 years ago and has since expanded to more than 400 stores in 15 countries.
What sets Beard Papa's apart are the unique flavors available. You will find green tea éclairs, crispy almond donuts, and cream puffs filled with vanilla, green tea, or chocolate. For a decadently delicious treat, try the ube cream puffs that were filled with a fluffy cream flavored with the purple yam (ube) that originated in the Philippines.
6. Pan De Sal And Ube Latte
Hood Famous Bakeshop/Café + Bar
A taste of the Philippines is available in several dining establishments in the International District and in the area sometimes known as Filipino Town. For a traditional breakfast or late-night snack, check out Hood Famous Café + Bar, a bakery-café during the day and a cocktail bar offering Filipino bar food at night.
Hood Famous is located in the International District's Publix Building, which was originally built for migrant workers and was home to Filipino cannery workers and farm laborers, according to the café's website. "Since opening our Café + Bar in 2019, we reclaim this history through our cuisine, Filipino style hospitality, storytelling, and outright visibility," it adds.
The daytime menu focuses on desserts, baked goods, and light snacks, along with Asian-Pacific coffees. It's hard to beat an on-the-go breakfast of Hood Famous' pan de sal rolls, freshly baked throughout the morning (also available in a breakfast sandwich with sweet pork, egg, mayo, and butter lettuce), and a hot ube latte.
7. Shrimp Spring Rolls And Banh Mi
Saigon Deli
From pho to stir-fried noodles to banh mi, diners will find all of the traditional Vietnamese favorites at the Saigon Deli, a mainstay in Seattle's International District.
Saigon Deli is known for its flavorful barbecue pork banh mi served on a crispy Vietnamese baguette and filled with shredded carrots, cucumbers, and cilantro. For a perfect accompaniment, consider the deli's freshly made shrimp spring rolls (goi cuon) filled with rice vermicelli and lettuce and served with peanut sauce, or the hearty pho (noodle soup) with beef, chicken, tofu, or shrimp, and served with beansprouts, basil, and lime.
8. Hot Clam Miso Soup And Gyoza
Maneki
Lovers of traditional Japanese cuisine should make a point to check out Seattle's oldest Japanese restaurant, Maneki, a favorite in Japantown for more than 100 years. When it opened its doors in 1904, Maneki was the city's first sushi bar, tatami rooms (private matted rooms), and karaoke bar.
Maneki is known for its authentic atmosphere and cuisine, and its menu includes everything from black cod collar miso to udon noodle dishes to beef teriyaki-and-tempura to nigiri sushi with yellowtail, prawn, octopus, or scallop.
For a hot and nourishing appetizer, consider the plain miso soup or the steaming hot clam miso soup served in an iron pot, alongside an order of Maneki's homemade gyoza (potstickers). Maneki's website notes that the restaurant offers dine-in by reservation.
9. Japanese Taiyaki
BeanFish
Another Japanese comfort food that can be found at the Uwajimaya Food Hall is taiyaki, a fish-shaped waffle that is traditionally filled with red bean paste and sold as street food. The BeanFish restaurant at Uwajimaya makes its waffles to order using cast iron pans, flame, and homemade batter.
The stuffed waffles are served either sweet or savory. BeanFish's sweet fillings include unique flavors like the original sweetened organic azuki bean or classic smooth vanilla custard, along with choices like matcha green tea or strawberries and Nutella. Among the savory fillings are bacon, egg, tater tots, cheese, green onions, or mushrooms and garlic sauteed in sesame oil with wasabi peas and Swiss cheese.
BeanFish's website notes that the business started as a food truck appearing at street fairs, business parks, and markets before becoming a permanent restaurant at Uwajimaya.
Pro Tip: The International District is one of the major stops on Seattle's efficient light rail system, and many of the district's eateries are within walking distance from the International District/Chinatown Station.