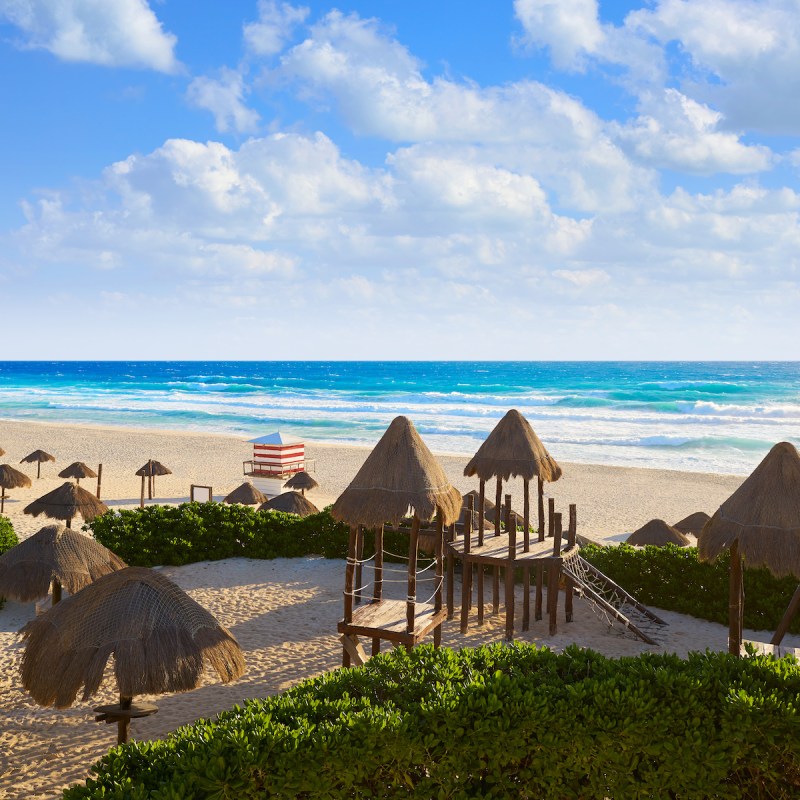 The U.S. Department of State has a warning for the crowds of U.S. citizens planning to travel to Mexico's state of Quintana Roo this winter.
The travel advisory, which was originally posted by the U.S. Embassy & Consulates in Mexico, was issued following numerous incidents involving taxi and Uber drivers.
"Application-based car services such as Uber and Cabify are available in many Mexican cities, and generally offer another safe alternative to taxis," the U.S. Embassy & Consulates in Mexico explains. "Official complaints against Uber and other drivers do occur, however, and past disputes between these services and local taxi unions have occasionally turned violent, resulting in injuries to U.S. citizens in some instances."
While Quintana Roo is home to Cancún, Cozumel, Isla Mujeres, Playa del Carmen, Tulum, and the Riviera Maya, the warning mainly applies to Cancún.
The problem is that taxi drivers, who are protesting that Uber has begun operations in Quintana Roo, have repeatedly blocked the main road from the airport to Cancún's Hotel Zone. At other times, cab drivers have allegedly thrown rocks at Uber drivers, and fights have allegedly broken out between taxi and Uber drivers in the street.
In what has since become a common sight, numerous people have posted images on social media of licensed taxi drivers blocking the road to Cancún's airport with their taxis, which, in turn, has led to more images of tourists abandoning rides so they could walk to the airport.
Why There's A Conflict
The issue stems from a recent ruling by a Mexican federal court that allows rideshare service company Uber to operate in Quintana Roo without a public transport license because it isn't a form of public transportation, according to Mexico News Daily. Instead, the ruling noted that the service simply facilitates agreements between private parties.
The problem, however, is that taxi companies are required to have a public transport license, which comes with high costs. What's more, cab drivers are subject to other fees and vehicle inspections as well.
Consequently, some taxi drivers complain that Uber drivers have an unfair advantage because they can operate at a considerably lower cost, and have been acting on that frustration, leading to blockades and physical confrontations.
Importantly, taxi union leaders in Quintana Roo have taken great care to note that these actions and events are the work of individual drivers and they are not condoned by the union.
"We do not approve of any protest that affects third parties, either residents or much less tourists, nor any act of violence, like blocking roads or chasing Uber vehicles, as happened in recent days," said Ruben Carrillo, leader of the Cancún taxi drivers' union, according to ABC News.
Luis Mis, a spokesman for the taxi drivers' union, noted that the union cannot stop individual drivers from acting out, however, it can discipline them for those actions afterwards, such as by suspending them from work for a month, according to La Jornada.
Know Before You Go
If you'll be traveling to Quintana Roo soon, or specifically Cancún, Frank Harrison — regional security director for travel risk management company World Travel Protection — has some practical advice.
First, while many Americans prefer using Uber at home, Harrison recommends using a licensed taxi driver when traveling because they can provide local information and recommendations, according to the Washington Post. He also recommends asking your hotel or resort if they have a courtesy shuttle or can arrange for you to travel with a trusted driver.
Secondly, all travelers need to be careful that they don't get into a fake taxi or Uber. If you think that's happened, or you don't feel safe, Harrison recommends getting out of the vehicle, trying to take a picture of the license plate, and reporting the incident to the local police.
If you're planning a getaway to Quintana Roo, be sure to also read: