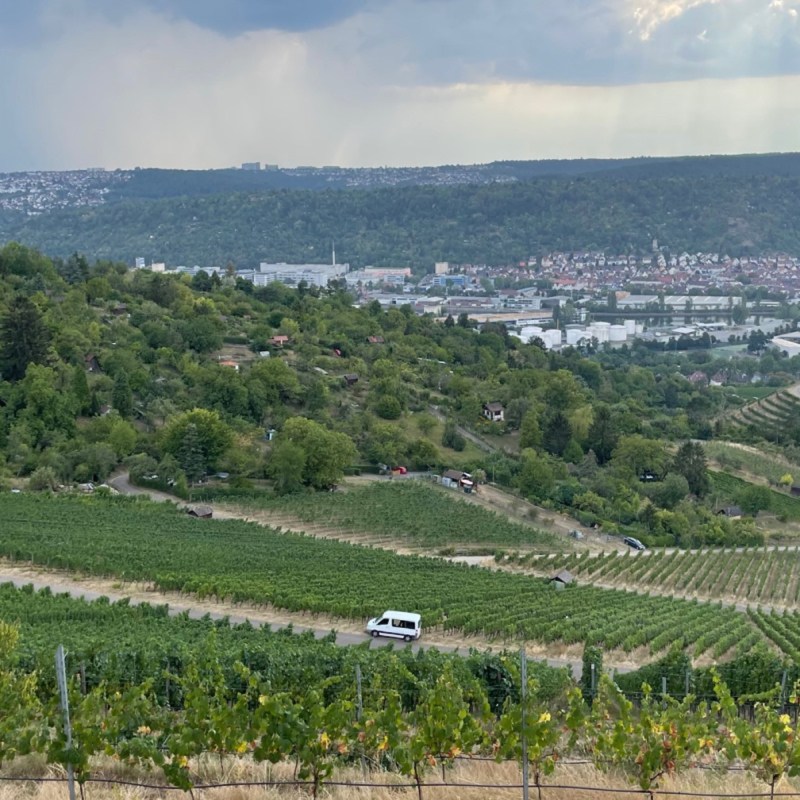 I'm one of those travelers who are hard to impress. In my 25+ years of travel to Europe, I rarely return to a destination unless it blows me away. This past fall, I found myself on a solo trip to Stuttgart, Germany. I had no expectations and knew very little about the city, except for its reputation as the home of Mercedes-Benz and Porsche. As it turns out, the city has more to offer than luxury automobiles, and I was so enamored, I'm already planning a return trip. Here's why Stuttgart should be on your "must-visit" list.
I was a guest of Visit Stuttgart. As always, my opinions are 100 percent my own.
1. Old World Charm Meets Modern Technology
Stuttgart is the capital city of Baden-Württemberg and is located along the Neckar River, in a valley that was once surrounded by vineyards. Today the city seamlessly blends old with new, traditional with cutting edge, and nature with industry.
In addition to the Porsche and Mercedes-Benz museums, the Staatsgalerie, Kunstmuseum, and Stuttgart Public Library are all stunning examples of innovative modern architecture. There are still vineyards throughout the city and an extensive amount of green space. These blend seamlessly to create a city that has something for everyone.
2. An Enviable Location In Southern Germany
Stuttgart is just over 2 hours from Frankfurt and Nuremberg by car and has its own international airport. The city has easy access to the Black Forest and several towns famous for their half-timbered houses. However, visitors are sure to find plenty of reasons to explore Stuttgart and may find they never need to leave the region.
3. An Abundance Of Beautiful Parks
Stuttgart is surrounded by forests and vineyards but it offers an abundance of green space within the city center. In the heart of it is the Schlossgarten, a park that spans over 150 acres. These castle gardens have lagoons, fountains, and the New Palace which dates to the early 19th century. This is the perfect spot for picnics, bike rides, and people-watching.
Another popular park is Wilhelma, the city's botanical gardens and zoo. The park is over 75 acres and the zoo has over 11,000 animals. This area was originally built for King Wilhelm I of Württemberg as a Moorish-styled private garden but opened to the public in 1880. Today it is one of the most popular tourist attractions in Stuttgart and a must-visit for all ages.
These might be the most popular parks in Stuttgart, but others shouldn't be missed, including Weissenburg Park with stunning views over the city, and Killesberg Park with beautiful gardens and a miniature steam train that loops around the park.
4. Unique Museums
As to be expected, Stuttgart is home to the Mercedes-Benz and Porsche museums. Both offer a fascinating look at the history of these automobile giants and their impact on Stuttgart and Germany as a whole. Even non-car fanatics will find these museums enjoyable.
The Landesmuseum Württemberg is a must-visit for history lovers. Housed in the city's Old Castle, the museum covers Baden-Württemberg's cultural heritage and development through the centuries. The collection has everything from Iron Age relics to post-World War I royal decor.
Pro Tip: The museum offers an audio guide with admission. I recommend taking this with you for translation as many of the exhibits are in German only.
Staatsgalerie Stuttgart is the city's main art museum, featuring works covering seven centuries, including pieces from Rembrandt, Gaugin, and Picasso. Kunstmuseum Stuttgart is the city's contemporary art collection with pieces by famed German painter Otto Dix and rotating exhibits of modern art creations.
Pro Tip: Have dinner or drinks at CUBE Restaurant on the top floor of the Kunstmuseum. The restaurant overlooks the main square and has beautiful rooftop views.
5. Year-Round Festivals
Germany is famous for Oktoberfest, especially in Munich, but there are plenty of lesser-known festivals happening all year long.
In Stuttgart, the most popular festivals are Frühlingsfest (Spring Festival), Sommerfestival der Kulturen (celebrating the city's diverse cultural groups), Weindorf (Wine Festival), Cannstatter Volksfest (Beer Festival), and of course, the Christmas markets.
There are also a few lesser-known events like Long Night of the Museums (where museums stay open until 2 a.m.) and Filderkrautfest, the largest festival in the world that celebrates cabbage.
Many of the city's festivals take place in the center of Stuttgart. For the wine festival and Christmas market, wooden chalets are lined up throughout the main square. Each one serves either food and beverages or local products for sale. It's a festive atmosphere where locals and tourists alike come to enjoy a good meal and do a bit of shopping.
Frühlingsfest and Cannstatter Volksfest take place at the Cannsatter Wasen fairgrounds along the Neckar River. The Spring Festival is similar to a state fair in the United States with rides, games, food, and performances. It runs for three weeks from mid-April to May. The Beer Festival is the annual harvest festival that rivals Oktoberfest in Munich. There are beer tents, a parade, and even carnival rides.
6. Delicious Food And Wine
Stuttgart has restaurants serving cuisine from around the world but I recommend trying the local regional dishes. This area is known for its simple and hearty dishes (aka comfort food). Many recipes feature meat, potatoes, egg noodles, and sausage.
When you are visiting Stuttgart, here are some of the must-eat foods:
Maultaschen — a dumpling filled with meat, spinach, and various spices, served in a broth.
Spätzle — egg noodles. I prefer käsespätzle which is a heavenly version of noodles and cheese. Many also like the linsen (lentils) and spätzle dish, but I'm not a fan.
Swabian potato salad — warm potato salad made with potatoes, onions, vinegar, oil, and broth.
Zweibelrostbraten — roast beef with fried onions.
Swabian Brezln — a soft pretzel sliced and filled with butter, cheese, ham, or salmon. The arms of the pretzel (ends) are thin and crunchy, but the bottom is soft and thick.
As I mentioned, there are vineyards in and around Stuttgart, and they are easily accessible by public transportation. To learn about the region's wine history, head to Uhlbach and the Museum of Viniculture, housed in a former wine-press building. Here you can learn about the varietals native to the region, including Trollinger, Lemberger, Kerner, and Riesling.
Afterward, you can try samples from local vintners or walk through the vineyards to the Sepulchral Chapel on Württemberg Hill. From here, you can view the Stuttgart valley and take in an epic sunset.
If you would rather enjoy a meal overlooking the vineyards, I recommend Rotenberger Weingärtle. They have a lovely assortment of Swabian dishes and wines.
7. Efficient Transportation Options
Yes, I know Germans are known for their efficiency, but I was blown away by how easy it was to use public transportation in Stuttgart. There are buses, underground trains, trams, and even a cog-wheel train. Choose a single-day or multi-day ticket and punch the card the first time you use it on the train or bus. It is your pass to explore the entire city!
Pro Tip: If you are exploring Stuttgart for a few days, be sure to download the VVS app. It interacts with your location and can tell you exactly which trams/buses/trains to take and how long it will take to reach your destination.
Stuttgart isn't on everyone's must-see destination in Europe list, but it certainly should be. With all of these reasons to tour the city, why would you go anywhere else?