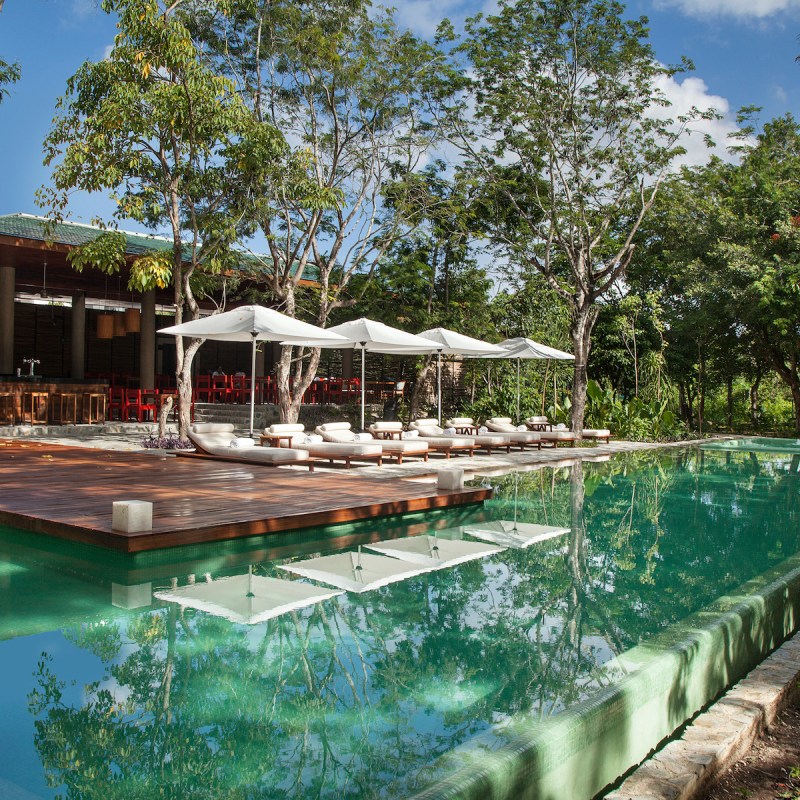 During those dreary days of pandemic lockdown, savvy resorts in Cancun and neighboring Isla Cozumel seized the opportunity to revamp, expand, and elevate their guest experiences.
I checked out three amazing resorts at the invitation of La Colección Resorts, a Mexico-based hospitality group known for upscale properties throughout Mexico and the Dominican Republic, to see what's new.
Each is all-inclusive, meaning that meals and libations are included in the daily rate, with multiple dining options ranging from grab-and-go to white tablecloth. (Upcharges may apply.) The resorts are beautifully appointed, and the safety and sanitation protocols are reassuring.
Otherwise, they are as different as a coconut and a conch shell.
The city of Cancun is located on Mexico's Yucatan Peninsula, which separates the Gulf of Mexico and the Caribbean Sea. Isla Cozumel, typically shortened to "Cozumel," is an island 9 miles east of coastal city Playa del Carmen, which is 35 miles south of Cancun.
Here are the three resorts, in no particular order, along with my best activity and dining delight for each. Surely, you'll find one that matches your travel style.
1. Fiesta Americana Condesa Cancun
Located along Cancun's Hotel Zone between the sea and Nichupte Lagoon, Fiesta Americana Condesa Cancun is a vibrant, family-friendly resort. The ambiance is contemporary Mexican, energized by joyful murals, sculptures, and lots of other artwork. A ginormous palapa — a conical thatched roof — crowns the entrance, waterfall, and escalators that flow to and from the lobby. The palapa is said to be the largest in Cancun.
On the back side of the resort are an expansive white sand beach, a freeform swimming pool with water features and a children's play area, and lounging areas and cabanas.
The 500 amenity-rich guest rooms are smartly decorated in crisp white and azure hues, and the baths are designed with rain showers and lighted mirrors. The newest premium rooms have private plunge pools.
The daily agenda is packed with games, workouts, dance lessons, and more. Learn to make mojitos and guacamole, book a massage or body treatment at the renovated Miiluma Spa, or show off your moves at the Lobby Bar, which boasts an elevated stage and nightly entertainment.
Dining choices feature global and regional cuisine, including an Italian ristorante, an Argentinian steakhouse, a sushi bar, and buffets. One of my favorites is the open-air, seafood-forward La Cevicheria, where the shrimp tacos were divine. Walk-up poolside eateries offer Neapolitan-style pizzas, burgers, fries, nachos, and a full complement of beverages.
El Mexicano
The flagship restaurant, El Mexicano, serves up flavors and aromas of Mexico, both classic and contemporary. The eatery presents a happy environment of brilliant colors, fanciful murals, and wildly painted animal sculptures. On the menu are classics like tableside-concocted guac and chips, and my personal downfall, hibiscus margaritas.
We went the gastronomic route with a tasting menu that included clams with citrus fruits and caviar served atop a bed of sea shells; and crusted sea bass over a pool of creamy peas sprinkled with sprouts. Our courses were embellished with foams, infusions, dusts, flowers, and chapulines (crickets, a protein-rich Mexican treat).
Aquaworld Jungle Snorkel Tour
We booked the 2-hour Jungle Snorkel Tour with resort partner Aquaworld, which has a sign-up desk by the swimming pool. We drove our two-person canary yellow speedboats through a mangrove jungle until we reached open water and coral reefs. Our guide tied the boats together and anchored them, then we donned our gear and jumped into the clear water. It was thrilling to see such plentiful and diverse marine life as well as corals and a few submerged statues.
Pro Tip: A nifty resort amenity is the waterproof ID bracelet you get at check-in that unlocks the door to your room. No worries about losing your key!
2. The Explorean Cozumel
The Explorean Cozumel is a low-key eco-resort that emphasizes nature and adventure. Its 56 casitas are spread out into verdant jungle rife with fruit trees and wildflowers. Daily guided excursions on land and water, such as dune buggy tours, kayaking, paddle boarding, and snorkeling, are included at no extra cost.
On the property is a swimming pool for lounging and bicycles available for borrowing. Take a serene stroll along the stone path veering from the paved sidewalks. You'll encounter meditation areas as well as a couple of stone structures, like little houses or caves. They were built to please the aluxes, mythical Mayan creatures who are said to cause mischief and mayhem if they are annoyed.
The guest rooms are styled for tranquility, with no phones or television for distraction. (Wi-Fi is provided.) My king-size bed faced a private patio, so I woke up to a jungle view accompanied by a choir of birdsong. The linens were luxurious, and the rainshower bath was well-stocked with spa essentials.
Lool Kan, the only onsite restaurant, features creative Mexican cuisine for breakfast, lunch, and dinner in an open-air setting. In addition, a basket of coffee, juice, and bread is delivered to your door each morning. A full-service bar is in the lobby.
Guests of The Explorean have full access to the amenities and restaurants of its sister resort, the Americana Fiesta Cozumel — but not vice versa. The Explorean does not have a beach, but beach clubs are nearby.
Peninsula at Fiesta Americana Cozumel
The Explorean is a 3-minute walk from the Fiesta Americana Cozumel resort, and we dined at the Peninsula restaurant there. While we waited for our table to be set up, we caught a dazzling performance by musicians and fire dancers on the plaza. The Peninsula specializes in Pan-Asian fare in a serene, Zen-like environment. The menu that night included ceviche, empanadas, sushi, samosas, and satays. Vegetarian options were no problem.
El Cielo Snorkeling Excursion
One afternoon, we boarded a 15-passenger dive boat and launched into coastal waters. We snorkeled in three different areas where we spotted an abundance of stingrays, a vast school of sardines, and other marine life. The high point was El Cielo, known for the gigantic starfish. The water is so clear, you can see them from the boat. Then our guides broke out sandwiches and sodas, and we headed back to the dock beneath a vivid orange and yellow sunset.
Pro Tip: You can fly into Cozumel from Cancun and many U.S. cities. The Ultramar ferry from Playa del Carmen is a fun 45-minute ride with food and beverage service.
3. Grand Fiesta Americana Coral Beach Cancun
Luxurious and elegant, the Grand Fiesta Americana Coral Beach Cancun is in Cancun's Hotel Zone. The classically designed lobby makes a grand first impression with a stained-glass ceiling, towering potted palm trees, and titanic floral arrangements. Live entertainment is performed there nightly. The lagoon-like pool meanders among palm trees and lounge seating. Beyond the pool is the resort's powdery beach.
Each of the 602 all-suite guest rooms has a private terrace with water views. My apartment-size one-bedroom suite was styled with a king-size bed; lounging, dining, and work areas. The bath, with stained glass windows and a whirlpool tub, was larger than many hotel rooms I've stayed in.
The resort recently converted to an all-inclusive format from its former European style that charged separately for food and beverage. A dozen dining and imbibing options include room service and poolside bars. Viña del Mar serves an elaborate breakfast buffet with made-to-order eggs. Le Basilic presents a lavish menu of French Mediterranean cuisine; ballet dancers performed a pas de deux while we dined on steak au poivre and crème brûlée. Other restaurants focus on Mexican, Italian, and international fare.
The Table
Dinner at The Table is the most creative tasting experience I've encountered. The 9-course meal is accompanied by high-tech video imagery that immerses the room; costumed singers, dancers, and orators; and musicians playing modern-day and ancient instruments. Together, they tell the history of Mexico, from prehistoric times to the Spanish invasion and colonial settlement.
Even our elongated dining table, which seats 20, is a projection screen. At various times, imagery of galloping dinosaurs or leaping fish appeared beside our plates.
Each segment of the story comes with complementary cuisine. For example, after the fiery period when Earth was formed, crustaceans were the first creatures to appear. That course was a tasty fish soup with a crab leg served in a bowl that resembled a volcano crater. Other courses featured fish, beef, roasted vegetables, and churros.
Gem Spa
After a pandemic hiatus, facials are back on the menu at the ultra-luxe Gem Spa, which also offers massages and body wraps. I selected the 50-minute Ancient Wisdom Massage, which combined four Asian massage techniques like Chinese reflexology and Thai acupressure and stretching with scented oils.
Plan on about three hours to take it all in. You'll start with a 90-minute, 10-step Hydrotherapy Ritual that guides you through a circuit of water pressures and temperatures, steam, sauna, ice, rain shower, and aromatherapy. After your treatment, bask in the stillness and quiet of the dimly lit relaxation lounge.
Pro Tip: Guests who reserve a master suite have access to the new Infinite Club privileges and amenities like exclusive lounge and beach clubs, premium beverages, priority restaurant reservations, spa hydrotherapy treatments, and personalized dining experiences.