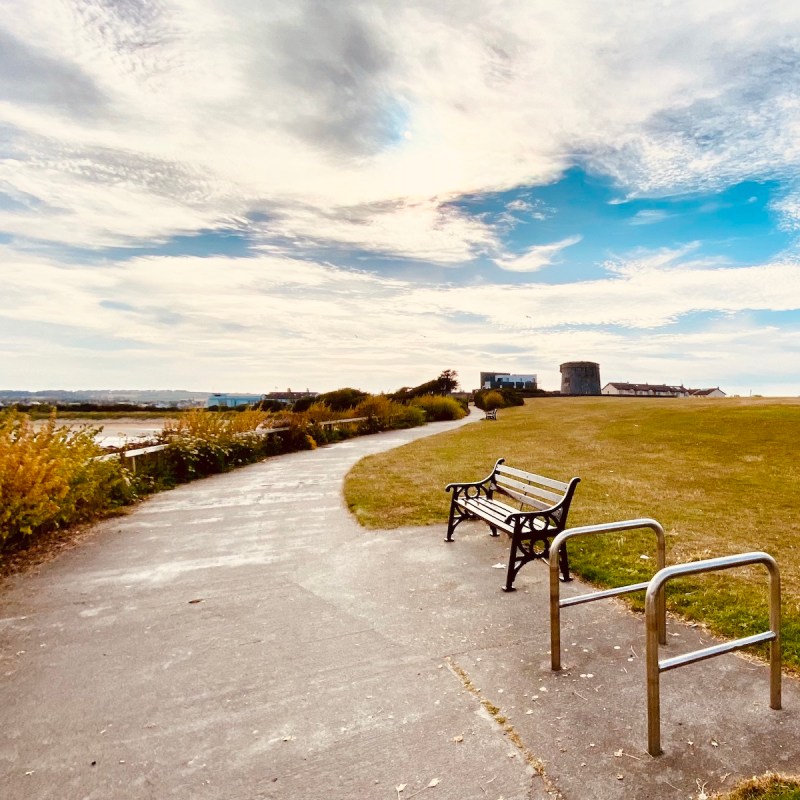 Located just north of Dublin on the coast of the Irish Sea, the small town of Skerries greets you with its windmills and watermill. Explore the town's ancient churches or enjoy a gorgeous seaside walk where you can spy three islands and the purported first place St. Patrick stepped foot on the island.
Living in Ireland, I love everything Skerries offers adventure seekers, history buffs, and watersport lovers. Here are my favorite things to do.
1. Skerries Mills
Skerries Mills, a living museum located in Skerries, Dublin County, just a 30-minute train ride from Dublin city center, is the only property in Ireland with three national monuments. Both the four and five-sail windmills hold this distinction, as does the watermill. It's too bad that the bakery can't also claim this prize as, in my humble opinion, it too deserves national treasure status under the watchful eye of Chef Ivo, housing both sweets and savories to match any appetite.
The tour is handled by the same two resident tour guides, Gavin and Paddy, for more than 20 years, both descendants of early workers.
You'll visit the mill building and witness the process of sifting, grinding, sifting, and packaging that occurs in each of the three mills.
"Since the 12th century, flour has been milled at this unique location. The fully restored complex brings to life the authentic workings of a five-sail windmill, four-sail windmill, water mill, and bakery of the 1800s. This provides the visitor with examples of how wind and water energies were harnessed by our ancestors," Skerries Mill explained.
The Windmills
The four-sail windmill, or small windmill, circa 1460, the oldest in Ireland with a thatched roof, requires canvas sails to be dropped from the end of each section. It has one stone.
The five-sail windmill, or Great Windmill, circa 1780, with a copper roof, has wooden shutter sails that can be opened and closed from below. It has two sets of stones and can have twice the output of the four-sail mill.
The Watermill
There's no river nearby, so these industrious souls created the mill pond and their river to flow to the building, with the wheel always within the miller's view from his office. On the tour, they've re-created the miller's office, a town hub. The waterwheel powers the building's sieves, shakers, and millstones.
The Gift Store
Fine award-winning crafts, high-quality Irish-made giftware, and goods, including delectable Irish vanilla fudge, make excellent souvenirs and gifts for people back home. You simply can't go wrong with the quantity and quality of choices.
The Watermill Café
A cozy and warm space, savories like Cajun chicken salad would make a New Orleanian feel right at home. Their scones, with an unsweetened cream on request, have just the right lightness to make your tastebuds dance. The ability to have both sweet and savory at such a high level of execution makes this the best place to stop for your mid-day meal.
In addition to the mills, grain-planted fields, an associated mill pond (complete with mallard and swan), mill races and wetland make this an ideal property for a good walkabout.
2. Skerries Coastal Walk
From the mills, walk past the Church of Ireland and the Holmpatrick Cemetery, and over to the water's edge at the South Shore Esplanade with plenty of benches along the path to sit and admire the view of the Irish Sea.
Once you reach the Red Island Martello Tower, built to oppose a potential Napoleonic invasion, head towards North Strand Bay Beach, and up the Barnageeragh Bay steps. Mind the water flag warnings. One of the 1916 Easter Rising widows, Muriel MacDonagh, died by drowning in Skerries in 1917, which was a double devastation to the family.
3. The Beach
From the beach, three islands are visible: Shenick's, St. Patrick's, and Colt. You can only reach the latter two by boat, but Shenick's, where Martello Tower resides, can be reached on foot via the sand flats at low tide. Be mindful of the tides so you don't get trapped.
If you reach the north end of the beach, around the horn, and down a slippery path, you'll find St. Patrick's Footprint, where he's said to have first stepped foot on the island nation of Ireland. Kidnapped and enslaved twice, British subject Patrick ultimately returned to Ireland for a third time to convert to Christianity and became the patron saint of the land.
4. Kayaking
I found my kayak group through a MeetUp (social network) that kayaks around the region. Joining a Latvian-born gentleman who emigrated to Ireland and helps people find adventure safely along the coast was the perfect place for a story-to-meet function. He kitted us out with a wet suit, footies, a paddle, and a kayak partner before our final safety briefing.
Perched on the Skerries beach below the Red Island Martello Tower, our twenty-two kayaks looked like miniatures against the Irish Sea. The plan? To paddle over to Shenick Island with Martello Tower, then, tides allowing, over to Colt Island, then back in through the only west-facing harbor on the East coast of Ireland.
Kite-boarders loved the strong tide we faced as they rode high into the air over the lapping waves. We paddled hard and disembarked onto little Shenick island, enjoyed a delicious treat of bananas and a chocolate-covered imported Latvian treat, then climbed through the weeds to the Martello Tower.
The tide was too strong for us to make it to a second island. It was quite the workout paddling for more than two hours for a round trip back into the Skerries marina. We were ready for a good meal.
5. Restaurants
While my favorite place to eat in Skerries remains the Skerries Mills Café, there are plenty of other excellent restaurants in town.
Blue Bar
A local favorite thanks to its chicken wings, Blue Bar may have one of the best locations in town. Go early to snag one of the outdoor tables with the best view of Skerries Harbour. With offerings that span the protein flavor profile, it's hard to choose between crab salad, lobster, fish pie, duck breast, ribs, burgers, or steak. You'll just have to return often until you've made your way through the menu.
Stoop Your Head
Stoop Your Head, named Best Gastro Pub in Leinster in the Best Chef Awards 2018, opens at noon and serves crab claws New Englanders will covet.
5 Rock
For a lively atmosphere, visit 5 Rock. Just along Skerries Harbour where we finished our kayak trip, their brick walls and wooden bar welcome all (though we did eat out on the terrace). Grilled pizza, Irish steak with pepper sauce, and crispy onion rings hit the spot for our band of water warriors, though it was the honeycomb with the chocolate brownie that struck us as most whimsical. Accompanied by melted marshmallows and gelato, the "Goat in the Boat" is a decadent dessert.
Brick House Restaurant And Tapas Bar
If you favor tapas, you'll want to stop at the Brick House Restaurant and Tapas Bar. Their terrace is one of the best places to drink in the sunset views in Skerries. Great food, great views, and great company make for the perfect evening.
Potager
Looking for ambiance? Check out Potager, housed in an old bank building on Church Street, its Victorian fireplaces serve as the perfect backdrop for two tasting menus. For those with a hearty appetite, check out the eight-course vegetarian option with wine pairings. It may be your perfect Skerries gourmet dining experience.
Di Vino
For Italian, travel to Church Street and visit Di Vino. Their artisan Filotea egg pasta is unlike anything I've ever tasted. From an ancient recipe, the chef uses it in a variety of dishes.
Fifty4 Pizzeria
Our favorite crisp crust pizza comes from Fifty4 Pizzeria where they make their pizza dough fresh daily but then rest it for 48 hours. Their foodie scene extends to crab claws and antipasti.
Molly's Café
If you're in the mood for great Irish sandwiches, check out the affordable Molly's Café. Their burgers and chicken tenders are delicious as well.
Piccolo Trattoria
The cozy Piccolo Trattoria serves some of the best tortellini we've ever tried. Other patrons rave about award-winning Chef Giorgio Borzacchiello's pancakes. He's one of Skerries' hidden treasures.
6. Drink With The Locals
Tourists and locals alike enjoy stopping at Olive's Coffee Shop for a warm pick me up around water sports whilst reading a good book, starting their day sightseeing, or starting their commute to Dublin. I love their smoothies.
For adult beverages, you'll want to visit Joe Mays, now run by its fourth generation. Opened in 1865, it feels like the fire's always been a-blazin'. Another local favorite is The Snug, filled with memorabilia and whose back bar glassware shines like another chandelier. Friends have also recommended Nealon's and The Malting House.
7. The Skerries Bookshop
Like most writers, I love to read. I can spend days in libraries or bookstores, especially when they contain the scent and feel of the Skerries Bookshop. From the colorful green storefront to the friendly staff, this family-run shop has books covering local authors, current fiction, mysteries, and non-fiction to school necessities. Paddy will order anything you need that's not already on the shelves.
Time in Skerries fills the brain, belly, and restores the spirit. It's glorious.
For more information on traveling to Ireland, check out these articles: