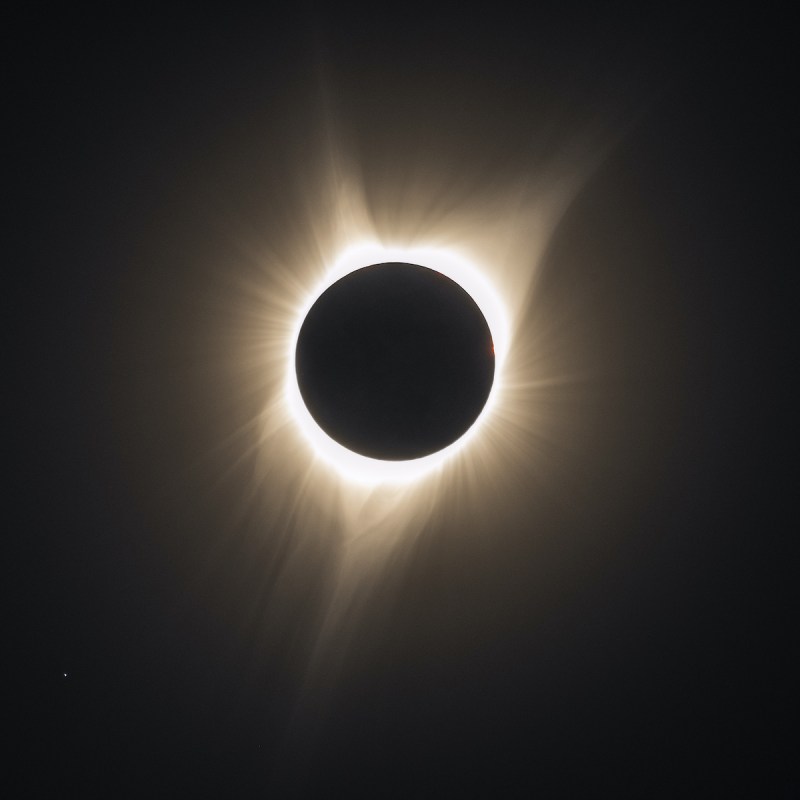 If you liked the total solar eclipse that occurred on August 21, 2017, you're going to love what happens on April 8, 2024.
On August 21, 2017, a total solar eclipse was seen in a narrow band that moved across the contiguous United States, from Oregon to Charleston, South Carolina. What's more, a partial solar eclipse was visible across much of North America, as well as parts of South America, Africa, and Europe.
Totality — when the sun was completely obscured — lasted 2 minutes.
On April 8, 2024, a total solar eclipse will once again stretch across the United States, this time from Texas up to Maine, and then on into Canada.
This time, however, the duration of totality will be a staggering 4 minutes and 27 seconds, according to Great American Eclipse.
Amazingly, after the eclipse on April 8, 2024, the next total solar eclipse that will be seen from the contiguous U.S. won't occur until August 23, 2044. However, it will only be visible to a small part of the northern U.S. in Montana and North Dakota. 
The next total solar eclipse that will be seen in the contiguous U.S., with a path of totality stretching from coast to coast, will be on August 12, 2045. Its path of totality will begin in northern California before arcing southeast across the country ending in Florida.
You can see the projected path of the total solar eclipse on August 12, 2045 on Time and Date's Eclipse Map.
Why A Solar Eclipse Occurs
A solar eclipse requires a somewhat rare alignment of Earth, the moon, and the sun. When they line up exactly, the moon blocks the sun's light from reaching Earth, and instead, the moon casts a shadow on Earth.
The moon's shadow isn't large enough to cover Earth, which is why the shadow is always limited to a certain area. This area moves during the eclipse because the moon is in constant rotation around Earth, and Earth continuously rotates on its axis while it orbits the sun, according to NASA.
During a solar eclipse, the moon casts two shadows on Earth. The first shadow, known as the penumbra, gets larger as it reaches Earth. People in the penumbra will see a partial eclipse.
The other shadow, known as the umbra, is the dark center of the moon's shadow. It gets smaller as it reaches Earth. People in the umbra will see a total solar eclipse.
"People viewing the eclipse from locations where the moon's shadow completely covers the sun, the path of totality, will experience a total solar eclipse," NASA explains. "The sky will darken, as if it were dawn or dusk. Weather permitting, people along the path of totality will see the sun's corona, or outer atmosphere, which is usually obscured by the bright face of the sun."
What Will Happen On April 8, 2024
Totality for the total solar eclipse on April 8, 2024, will begin over the south Pacific Ocean before then covering Mexico at Mazatlan. After that, it will travel northeast and enter the United States at Texas before moving diagonally across the country up to Maine, and then moving into Canada.
In the United States, totality will begin in Texas at 1:27 p.m. Central Daylight Time and will end in Maine at 3:35 p.m., Eastern Daylight Time, Great American Eclipse explains.
In between those times, the path of totality will move across parts of Texas, Oklahoma, Arkansas, Missouri, Illinois, Kentucky, Indiana, Ohio, Pennsylvania, New York, Vermont, New Hampshire, and Maine.
The path of totality will also enter Canada in southern Ontario, then make its way across parts of Quebec, New Brunswick, Prince Edward Island, and Nova Scotia.
The eclipse will eventually exit continental North America off the Atlantic coast of Newfoundland, Canada, at 5:16 p.m. Newfoundland Daylight Time, NASA notes.
The major cities that will be in the path of totality are Mazatlan and Torreon, Mexico, San Antonio, Austin, Dallas, Fort Worth, Indianapolis, Cleveland, Buffalo, Rochester, Syracuse, and Montreal.
You can use Great American Eclipse's Map of Totality to see where and when totality will occur, as well as see what parts of the country will only experience a partial solar eclipse and see when that will occur.
How To View The Total Solar Eclipse
During the solar eclipse, it will be safe to look directly at the sun only for the brief moments when totality occurs.
However, during the partial phases of the solar eclipse, which happen before and after totality, you'll need to use so-called "eclipse glasses," which are thousands of times darker than regular sunglasses. Alternatively, you can also use a handheld solar viewer that is similarly dark.
If you don't have eclipse glasses or a handheld solar viewer, you can still safely watch the eclipse indirectly. One way to do that is to use a pinhole projector, such as an index card with a hole punched in it, that projects an image of the sun onto a nearby surface.
You can learn more about safely viewing the eclipse in NASA's Projection: Pinhole & Optical tips.
For more about stargazing, be sure to read all of our stargazing content, as well as: