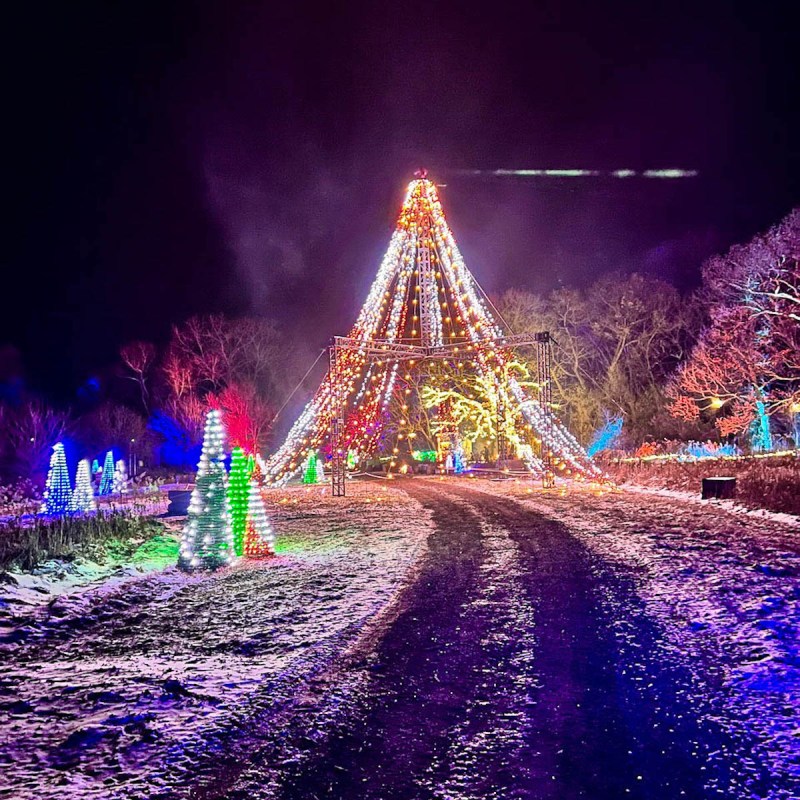 Fair Oaks Farms is known as one of the top destinations for agritourism in the Midwest. The farm transforms into a magical winter wonderland and offers something fun for adults and children to enjoy during the holiday season. Located in northwest Indiana, less than an hour and a half outside of Chicago, enjoy ice skating, ice sliding, and more holiday fun.
Check out what's happening at Fair Oaks Farms this holiday season.
Pro Tip: It is cold outside. Make sure you bring your hat and gloves. There will be opportunities to warm up, but most activities are outdoors.
1. The Forest Of Lights
This mile-long nature trail is illuminated with lights in trees, colorful displays, and holiday music. You might see some flying cows on the course. Along the path, fire pits are placed in areas where you can stop, get warm, and roast marshmallows to make s'mores. You can buy everything you need at the Holiday Market before you start your walk. Also on the trail is the Forest Pub, where you can purchase your favorite alcoholic beverages, cookies, holiday snacks, hot chocolate, and much more. You can also pick up holiday glow souvenirs to take home to remember your experience.
Pro Tip: The Forest of Lights trail is stone and can accommodate strollers and wheelchairs with sturdy, thick tires. If you have special accommodations, call ahead for assistance.
2. Fun On The Ice
Do you like ice? Grab your skates for ice skating or a tube for sliding down the 135-foot ice slide. The ice activities are open day and night, 7 days a week, weather permitting. If you need a break, or if ice skating is not your thing, you can watch the fun inside the Ice Dome. On weekends, food and hot chocolate will be available for purchase in the dome. You can rent skates or bring your own.
Pro Tip: Admission tickets to Forest of Lights, ice skating, and ice slides can be purchased separately or in a package. Tickets can also be purchased online here.
3. Holiday Market
Before heading to the trail, stop at Fair Oaks Farms Holiday Market for some holiday shopping. Find a wide variety of seasonal and locally-sourced jams, jellies, and honey available for purchase. Also, buy poinsettias, locally-crafted items, gifts, stocking stuffers, Christmas décor, and Fair Oaks Farms merchandise.
4. Stories With Santa
Children can listen to Christmas stories read by Santa in The Farmhouse Ballroom. Check the website for dates and times. When Santa is done, take photos and write your Christmas list for him. Afterward, grab a hot chocolate, head to Santa's sleigh or wagons, and ride through the Forest of Lights.
5. Private Farmhouse Igloo
If you are looking for a unique dining experience, Fair Oaks Farm offers private farmhouse igloos at the full-service restaurant with a complete dining and bar menu. The domes are heated and can accommodate two to 12 people. Reservations and a deposit are required at booking.
Pro Tip: Visitors from out of town can book a room at the Fairfield by Marriott at Fair Oaks Farms.
Read about what's happening all around the country this holiday season: