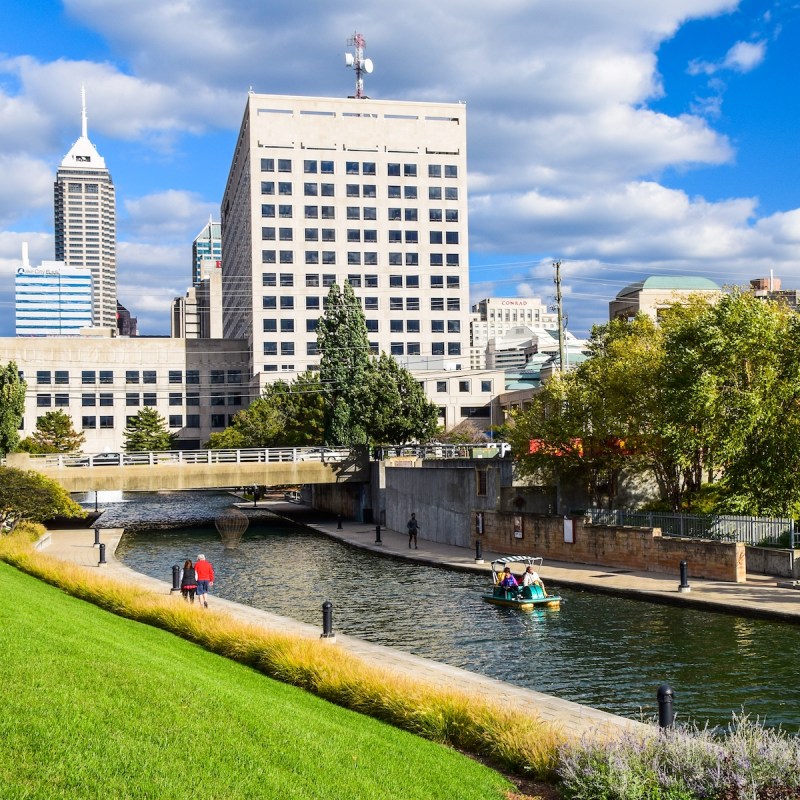 Central Indiana might not be the sort of place you think about for a vacation on the water, but the Midwestern hub isn't as landlocked as it appears. The serpentine White River and its more than 100 miles of shoreline provide a spectacular natural backdrop for myriad recreational adventures and cultural attractions.
Among them are verdant parks and trails, fascinating museums and historical sites, engaging public art, and culinary excellence.
The following are my favorite experiences along the White River in Central Indiana. Each one is on the water, near the water, offers fabulous views of the water, or is a recent attraction spurred by the growing popularity of the Hoosier State's most significant waterway.
Pro Tip: As you visit these sites, look for brightly painted, upturned canoes. They are part of a public art campaign designed to build awareness of the White River.
This trip was hosted, but all opinions are my own.
1. Guided Kayak And Canoe Excursions
White River Canoe Company
Paddle or float your way along the White River in a kayak, canoe, or tube with White River Canoe Company. The Noblesville tour operator offers guided excursions ranging from one hour to all day long. We launched the "Rusty Oar to River Road" kayak excursion, a distance of 6 miles from our starting point back to the company livery. It was supposed to take 2 to 3 hours, but we were slow and chatty, and we made an extended restroom break mid-way. As we paddled the calm, shallow waters that mirrored the foliage edging the banks, our guides narrated local river history and pointed out the native flora and fauna. Sightings of blue herons and other waterfowl were a bonus of the adventure.
Pro Tip: It's hard to avoid wet feet as you get in and out of the kayak or canoe, so wear shoes that dry quickly or go barefoot.
2. Conner Prairie
Sprawling over 1,000 acres of plains and woods on the White River, Conner Prairie in Fishers is a living history museum and educational center that commemorates Indiana's rich natural and cultural heritage.
Throughout the campus are several themed areas such as a pioneer village, Civil War camp, and Native American camp. Costumed interpreters are on hand to share their knowledge and invite your participation. You can feed and pet barnyard animals, tour the 1836 two-story brick home of the museum's namesake William Conner, and take a leisurely nature walk through the thriving forest. If you visit in September or October, stop at the apple store for hand-dipped caramel-coated apples.
While we were there, we got a sneak preview of a new exhibit opening in 2023 that traces the African American journey from pre-colonial Africa to present-day Indiana.
1859 Ballon Voyage
One of many highlights at Conner Prairie is the 1859 Balloon Voyage, a helium-filled balloon ride. But the ride isn't just for amusement. It's a nod to the country's first air mail delivery, which launched via balloon in 1859 from Lafayette, Indiana. From more than 300 feet in the air, you have a bird's eye view of the horseshoe bend of the White River, downtown Indianapolis, and other landmarks. Don't worry about floating away to Neverland. The balloon is tethered, and only goes straight up and down.
Pro Tip: Some of the activities and exhibits at Conner Prairie are seasonal, so check ahead of your arrival if there is something specific you want to see or do.
3. Freedom Helicopters Aerial Tour
Book a thrilling flight above Indianapolis and its scenic surroundings with Freedom Helicopters. Your half-hour tour in a four-seater chopper (five, counting the pilot) takes off from Indianapolis Metropolitan Airport in Fishers.
The excursion wound above sprawling urban forest and the White River, ballparks and golf courses, and downtown skyscrapers. Our congenial pilot identified for us such significant structures as Butler University; Lucas Oil Stadium, home of the Indianapolis Colts professional football team; and the Indianapolis Motor Speedway, an automobile racetrack that has hosted the famous Indy 500 for more than a century.
As we flew over Newfields, an urban park I'll tell you about further down, we spotted the outdoor sculpture of a stylized human skeleton called "Funky Bones." You might recall the sculpture (actually, a replica) was featured in the 2014 tear-jerker movie, The Fault in Our Stars.
Pro Tip: Hold your camera as close to the window glass as possible to reduce glare and flashbacks.
4. Fishers District
Anchor your river adventures — or unwind — at the new and nearby mixed-use Fishers District, an energetic and upscale destination for dining, shopping, lodging, and entertainment in Fishers. More than a dozen local and regional restaurants and cool boutiques surround a greenspace called The Yard, a gathering spot for cornhole games and special events.
Fisher's Test Kitchen is an innovative dining space where culinary entrepreneurs try out new restaurant concepts and menus. It's open for lunch and dinner. When morning came, we walked across The Yard to Rize, a breakfast-and-lunch eatery known for beautifully presented farm-to-table cuisine and decadent cinnamon rolls.
Pro Tip: Next door to Rize, Rise'n Roll Bakery sells freshly made Amish donuts.
5. Broad Ripple Village
One of 7 cultural districts in Indianapolis, Broad Ripple Village is a charming neighborhood with an easy-going artsy vibe. The White River runs through the district.
Indianapolis Art Center
In the center of it all is the Indianapolis Art Center, which hosts contemporary art exhibitions and a wide array of art classes. The peachy stucco-clad building was designed by renowned post-modernist and Indiana-born architect Michael Graves. Behind the building is an immense portico overlooking the river and a sculpture garden. Admission to the art center is always free.
Public Greens
We walked a short distance from the art center on the paved, tree-lined Monon Rail Trail, a former train line converted to a 25-mile public hike-and-bike path. We soon arrived at the new Public Greens, a farm-inspired eatery using ingredients from its adjacent produce garden and apiary. I went veg, and my falafel burger was just the right crunchy without overpowering the creamy chickpea flavor.
Public Greens is part of the Won't Stop Hospitality restaurant group owned by Martha Hoover, a six-time semifinalist for the James Beard Foundation's Outstanding Restaurateur award. She created the Patachou Foundation to provide healthy meals to at-risk children in Indianapolis.
Fun Fact: Funnyman and television host David Letterman grew up in the Broad Ripple neighborhood.
6. Newfields
A magnificent urban park any time of year, Newfields is a composition of nature and art, often blurring the lines between the two. The 150-acre complex that backs up to the White River in Indianapolis is well-known for an art museum featuring the works of classical, contemporary, and global artists. The yearly calendar lists temporary exhibitions and a dazzling holiday light show.
Formal gardens and lush lawns are punctuated with sculpture and water features, and the natural prairie is chock-full of wildflowers and avian life. You can also tour the Lilly House — a 1907 French-style country estate home original to the property — and a working greenhouse. Don't miss the gift shop inside the museum for unique jewelry, textiles, stationery, and more.
From Newfields, we rented bicycles from Indiana Pacers Bikeshare and pedaled our way to White River State Park, a distance of about 4 miles.
7. White River State Park
When you're downtown Indy, it's hard to miss White River State Park. Wrapping the shores of the waterway and its man-made tributary, the Central Canal, is a constellation of attractions and activities. Among them are acres of greenspaces, miles of connected trails, formal gardens, scads of art sculptures, kayak and pedal-boat rentals, and a zoo.
Several museums crown the park as well, including the NCAA Hall of Champions (National Collegiate Athletic Association), and the Eiteljorg Museum, a repository for Native American and Western art and artifacts. The newest attraction in the park is TCU Amphitheater, which features scenic river views and a schedule of world-class headliners. The amphitheater capacity is covered, with reserved seating for 2,500 and general admission lawn seating for 3,500. The acoustics are astounding, as I learned by attending a concert by The Head and the Heart, a Seattle-based indie-folk band with more than 3 million listeners on Spotify.
Pro Tip: White River State Park does not charge an admission fee, but some of the attractions do.
History Of The White River
Central Indiana's White River isn't deep enough to serve as a significant transportation artery, so it largely became a sewage and manufacturing dumping ground. In 1999, chemical discharge caused a massive kill of 5 million fish.
Public outcry prompted a large contingency of community leaders, governmental organizations, nonprofits, environmentalists, and citizen activists to rally. They created an ambitious action program to restore and improve the river, and to increase opportunities for recreation, entertainment, and art within the communities that share its banks. Much has been accomplished in the past two decades.
In essence, the White River in Central Indiana has transformed from a polluted dump to a tourism gem.