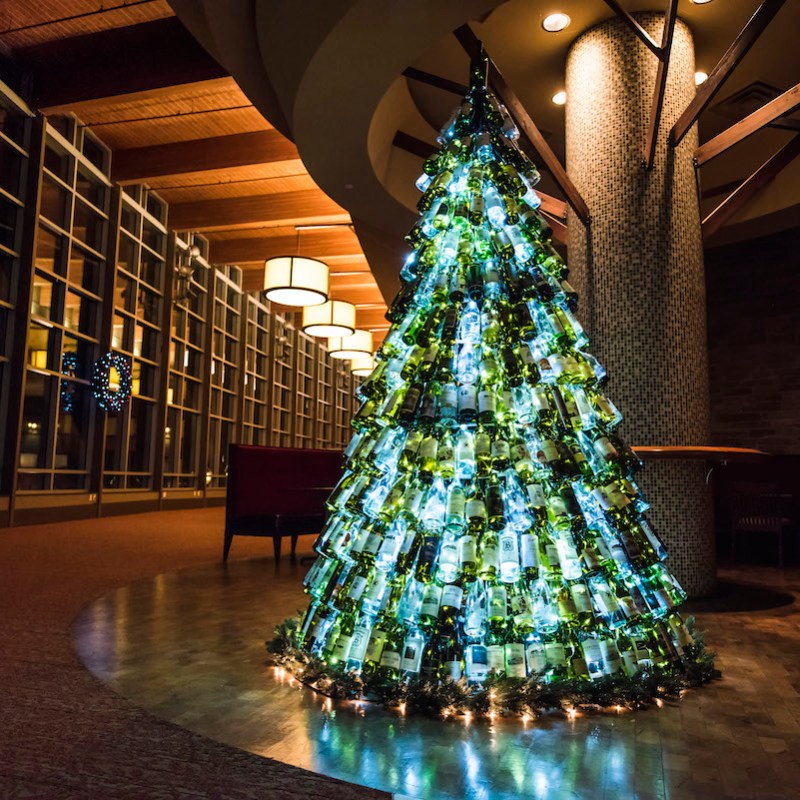 Branson, Missouri, has been called the perfect winter holiday vacation. With festive live shows, holiday shopping, family attractions, and more, it has something for everyone in your family, especially those who love a Christmas tree.
With more than 700 unique trees in every shape and size, Branson is known as America's Christmas Tree City for a reason. Located at venues all across Branson, these trees create a winter wonderland with a twist. Each tree is unique and pays tribute to its location or the city itself.
We narrowed the list down to 20 amazing Branson Christmas trees you must see this season.
1. We All Shine On
Branson's third annual community Christmas tree has more than 200 LED stars in different shapes, sizes, and colors, representing the "variety of creativity and talent that comes together to make Branson, Missouri, an amazing holiday destination during the Ozark Mountain Christmas season."
2. Track Family Fun Parks: Go-Kart Tire Tree
This 25-foot tall Christmas tree is made up of more than 500 upcycled go-kart tires. It's located at The Track Family Fun Park, which features three high-rise go-kart tracks and classic go-karts.
3. Veterans Memorial Garden Tree
As a tribute to those who keep our country safe during the holidays and all year long, the Veterans Memorial Garden tree, proudly situated on Main Street in Branson, stands 26 feet tall. It's decorated in gold, silver, and blue stars to honor military families.
4. Hilton Branson Convention Center's Vintage Trees
Located inside the Hilton Branson Convention Center, these trees are a tribute to the comprehensive wine list at Level 2 Steakhouse and the company's recycling efforts. Three 10-foot-tall trees are handmade by the in-house engineering team using vintage wine bottles.
5. Big Cedar Lodge Tree
This 25-foot tall, 12-foot-wide tree is the centerpiece of a synthetic ice-skating rink on the Lodge's Christmas-themed trail, which features more than a million lights. The tree has more than 2,000 lights that are set to music as you skate.
6. Cox Medical Center's Branson Trees
As a way to lift the spirits of those on the medical campus, a 50-foot rope light tree and eight live and artificial evergreen and RGB light trees mark the entrance to Branson's Historic District.
7. Kringles Christmas Shop Trees At The Grand Village Shops
Visit Kringles Christmas Shop, the largest Christmas shop in the Midwest, and see all kinds of trees. The themed trees include angels, Santa, dogs, cats, '50s, firemen, nurses, teachers, and more.
8. Showboat Branson Belle Trees
Twenty trees make up this display at White River Landing and aboard the Belle. There are artificial and fresh-cut trees, all decorated in a nautical theme.
9. Comfort Inn & Suites – Myer Hotels Tree
More than 5,000 red, white, and blue lights sparkle on this 20-foot tree that honors Branson's first responders.
10. Ripley's Believe It Or Not Tree
The eyeballs on this 26-foot tree are blue for a reason. It's because Rudolph the Red-Nosed Reindeer, like all reindeer, has eyes that turn from brown to blue in the winter.
11. I Am A Veteran Honor Tree
This tree, part of Dick Clark's American Bandstand Theatre's A Brett Family Christmas, is decorated with photos, pins, patches, and other memorabilia that are tokens of the service and sacrifice the United States military service men and women and their families have given our country.
12. Legends In Concert Trees
Located inside the Dick Clark's American Bandstand Theater lobby is a 12-foot All Elvis Christmas tree along with a tree decorated in tribute to the Blues Brothers.
13. Sight & Sound Theatre Tree
More than 4,300 LED lights and 1,260 ornaments create this 52-foot-tall tree which welcomes people inside for the Miracle of Christmas show.
14. Titanic Museum Attraction: Upcycled Star Tree
Designed by Ozark craftsmen, this tree frame is made from salvaged metal from the former Grand Palace theater and several old and damaged light pole display fixtures from the City of Branson.
15. White Water Tree
While the water rides at White Water Branson waterpark aren't open again until May, 10 fresh-cut and artificial trees light up with multicolored LEDs on the park's front lawn.
16. Top Ops Tree
Every year, the employees at this laser maze get together to come up with an idea, engineer, and design this 25-foot tree, so visitors will see something new each season.
17. Runaway Mountain Coaster Tree
This 25-foot-tall tree is made from twisted stainless steel coaster track. Runaway is the first mountain coaster in Branson. It takes you on more than 5,000 feet of track at speeds up to 30 miles per hour. You can go full speed or enjoy the scenery at your own pace using the personal braking system.
18. Branson's Lights Of Joy Drive-Thru Display
This Christmas tree forest has 28 trees ranging in size from 8 feet to 28 feet. Drive through this bright and colorful display that promises to put you in the holiday spirit.
19. Pasghetti's Italian Restaurant Tree
Decorated in red and white poinsettias for the Italian flag, this evergreen stands 25 feet tall inside the restaurant's two-story interior atrium.
20. Fritz's Adventure Tree
Outside of Fritz's Adventure, you'll find an 18-foot tree made of welded metal, and inside there's a Christmas tree lot with adventure-themed decorations to snap that holiday family photo.
Remember, these are only 20 of the 700 trees in Branson. There are dozens more that will get you in the holiday spirit. Plus, there are 1,000 more located in Silver Dollar City. Check out the full list of tree locations and see what else you can do during the holidays.
For more on Branson, check out: