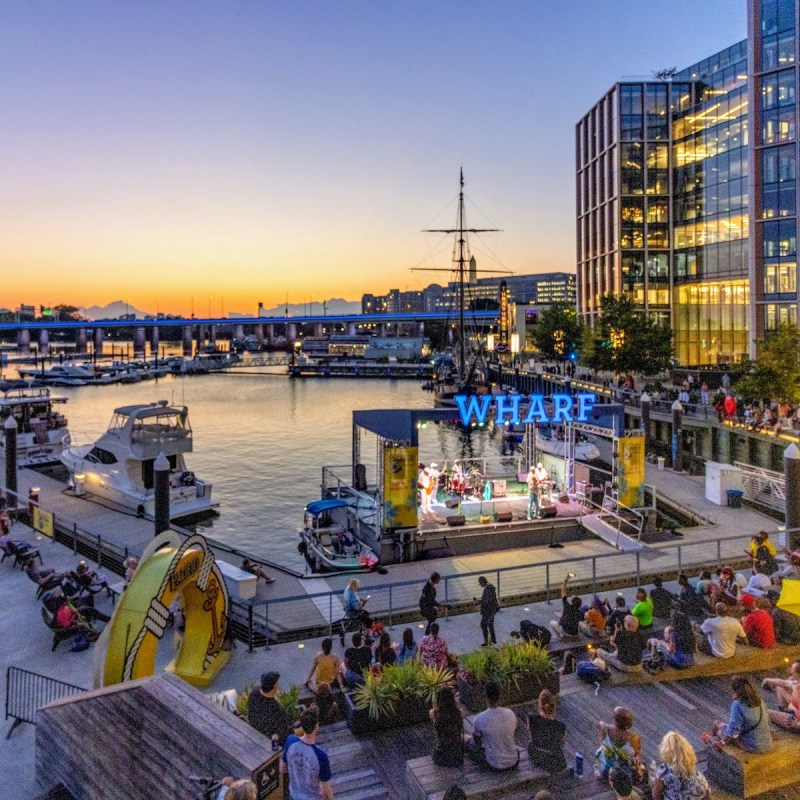 Visitors usually experience the nation's capital as a city of marble and granite — all monuments, memorials, museums, and grand buildings. It's easy to forget that the District of Columbia was established as a waterfront city, its location selected partly for its generous exposure to the Potomac River, providing an 18th-century gateway to the world.
Now you can connect with today's capital waterfront again, at the D.C. Wharf — a 5-year-old waterside neighborhood and entertainment zone bursting with opportunities for travelers. It's a great place to spend half a day of your D.C. trip, or recover after a long afternoon of all that marble and granite. You can stay overnight in one of four hotels and spend a weekend water taxiing to and from D.C.'s monumental core and other neighborhoods.
The Wharf features some truly great restaurants — it will soon be home to a Gordon Ramsay's Hell's Kitchen, only his third in the U.S. It has a small handful of interesting one-off shops, some of the best rooftop views in — and of — the city, opportunities to get out on the water, three music venues, and a strollable mile-long promenade. All this has been developed around an open-air fish market said to be the oldest in continuous operation in the U.S.
My wife and I have been to The Wharf many times. In no particular order, here are my seven highlights:
1. Potomac Distilling Company & Tiki TNT
You can't miss Potomac Distilling Company & Tiki TNT bar, and shouldn't. Its brick smokestack anchors one end of the dock. Todd Thrasher, one of the capital's most awarded mixologists, makes his Thrasher's Rum here — and monetizes it at a rousing three-story tiki bar that's a social center of The Wharf.
The tiki drinks are authentic, made from historic recipes, befitting Thrasher's cocktail-master background. If it's near the end of the day, try a Pain Killer, whose name suggests its powers.
Pro Tip: You can do an $18 tour and tasting at the rum distillery every Tuesday through Saturday. Make reservations if you want to go on the weekend.
2. Live Music
A big, retro-styled marquee for The Anthem, a venue for big national acts, looms over one part of the waterfront dock. But the smaller Union Stage features a wide variety of artists with admission starting at $20, with better seats hovering around $100+. The even more intimate Pearl Street Warehouse showcases up-and-comers. Some shows are free; some are in the $15 to $30 range.
Pro Tip: You can often just walk in, especially at Pearl Street, but some shows sell out. Buy early to be sure.
3. Walk Along The Potomac
Just strolling the waterfront is a form of modest entertainment. You'll see more boats than you can count, a few small environmental installations supporting the Potomac's ecosystem, a pier with a sinuous sculptural fire cone at the end, and, sometimes, yachts of alarming dimensions.
At Camp Wharf at the Firepit, a vintage Airstream seasonally dispenses kits of graham crackers, marshmallows, and chocolate that you convert into s'mores at the adjacent firepit.
But my favorite attractions, oddly, are the huge swings, their bases as wide as park benches. Go ahead and climb on, pump slowly, and glide. You'll feel downright childlike. In the best sense of that word.
Pro Tip: The surface of The Wharf's promenade is a mix of scalloped brickwork, cobblestone, and wooden dock. Wear appropriate shoes.
4. Kayak, Cruise, Or Tour On The Potomac
Depending on your preferences for physical activity, there are a handful of ways to enjoy the river itself. You can kayak, paddling as far as the monuments if you wish. Or you can arrange a luxe riverboat dinner tour.
But a low-key, low-cost ($15) option is to take a monuments tour by water taxi, where you'll see the major highlights from afar and can hop on and off at Georgetown or Alexandria, Virginia, two nearby riverfront neighborhoods worth exploring.
Pro Tip: Taking any of the cruises at sundown or nighttime amplifies the beauty and impact of the D.C. skyline.
5. D.C. Wharf Restaurants
Food is everywhere at The Wharf. You'll find some worthy casual places for oysters, burgers, tacos, and more. But if you're feeling flush and looking for a memorable dining experience, target one of the restaurants that represent some of the best you'll find in the D.C. area.
Pro Tip: To dine at Ramsay's Hell's Kitchen, you'll need to make reservations well in advance or queue up at 4:30 p.m. for the 5 p.m. opening and hope to snag a bar seat or a cancellation. But in the meantime, the British bad boy has opened a fish and chips restaurant at The Wharf (perfect fish, sharp sauces, forgettable chips). Lines may be long around peak lunch and dinner times. 
In the meantime, my top recommendations:
Mi Vida
The Mexican Mi Vida instantly gained a place on the D.C. must-eat list when it opened at The Wharf. The dishes, created by Roberto Santibanez, owner of New York's Fonda restaurants and a global Mexican food ambassador, are "cheffy" in a way you don't expect from Mexican home-style cooking and street food.
The Salmon con Calabacitas, baked in adobe, served in a pool of adobo and pepper sauce, and topped with a crown of hot pineapple pico, is spectacular — my high-foodie brother who eats at fine restaurants internationally proclaimed it the best salmon he's ever had. The tuna ceviche was the best I'd had. The tacos are creative and popping with flavors. And the bar turns out some cocktails to remember: The Mez-Skull mixes among other things mezcal and Green Chartreuse, and is served in, yes, a glass skull.
Del Mar
The Michelin-starred local chef and restaurateur Fabio Trabocchi helms Del Mar, whose cooking pays tribute to the Spanish Mediterranean. Swing by for a tapas lunch, and you'll sample delicious food and escape without much damage to your credit card. Or the three-course Chef's Experience costs under $30 per person.
Evening meals here, which have received lavish reviews, are an investment in dining memories. For instance, if you're with a group, the menu recently included a shared 40 oz. (!) Canary Islands Branzino (upward of $200, serves six). A Bavette steak serves one for just under $60.
Officina
Officina, headed by another Michelin recipient, Nicholas Stefanelli, offers three stories of Italian experiences: A cafe, a trattoria, and a terrazza — the last an open-air terrace that yields great views of The Wharf and surrounding areas. It's got firepits and lovely little semi-private settings.
My wife and I spent one late afternoon lounging on the couches with friends, sampling obscure Italian wines and nibbling antipasti. The food was excellent, the prices moderate, the vibe informal. Note: Hours can be a maddening challenge, with the cafe, trattoria, and terrace opening at different times. Check the website for details.
6. Cocktails With A View
I mentioned the views at Officina's third-story terrace. But you can score more sweeping prospects of The Wharf and parts of the nation's capital from at least two higher perches — and this was before Phase 2 opened, where additional promontories were promised. I can't recommend either for the food, so just go for a drink — of the beverages and the view.
Whiskey Charlie, on the 10th floor of the Canopy by Hilton hotel, offers 360-degree views, meaning you can see the entire D.C. skyline in panorama: the major monuments, Arlington Cemetery, the Capitol, the White House, the Library of Congress, Alexandria, Memorial Bridge. You can spin all night and get a different view.
12 Stories, at the Intercontinental Hotel, is a clubby bar offering views from — wait for it — 12 stories up. The views face the water and sweep 180 degrees, allowing views of the National Mall and some monuments. It's got floor-to-ceiling windows for intemperate weather.
Pro Tip: Most of The Wharf's high places take on Instagram-beautiful-people vibes after 9 p.m. If that's not for you, head to one of the many Wharf redoubts closer to the ground.
7. The Municipal Fish Market
You'll have experienced the Municipal Fish Market from the instant your shoes hit the cobblestone. The smells of a working dock, where some seafood arrives on boats from the Chesapeake Bay, are instantly recognizable. This isn't a bad thing. The market adds some historic waterborne gravitas to a neighborhood still in its shiny youth.
Fresh fish, mussels, clams, and of course live Chesapeake Bay blue crabs, the essential regional specialty, are spread on thick beds of ice. It's worth just browsing the stuff. Maybe you'll see small headless sharks. Or a rockfish as long as your arm. Or veteran fishmongers gutting, scaling, and fileting.
Pro Tip: For a snack or affordable meal, pick your favorite and order it steamed or fried, served in a carry-away container with wedges of lemon and sauces. Go elsewhere for sides. Happily, a Shake Shack is a few steps away. And street tacos. Noodles. Pizza. Did I mention s'mores?
Headed to the D.C. area? Don't miss