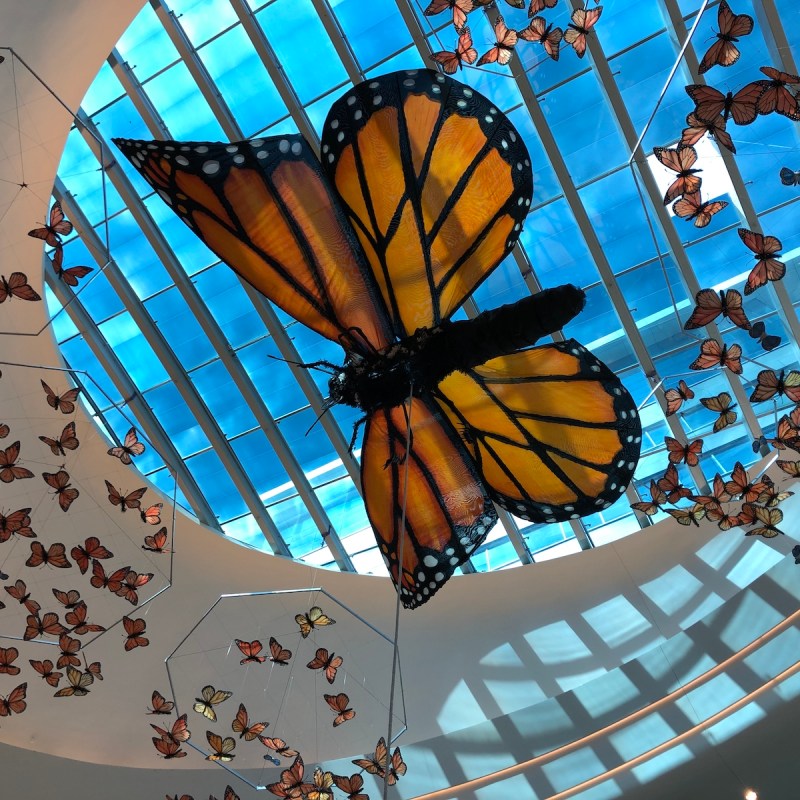 The Mall of America is one of the most popular tourist destinations in the United States. With over 520 stores, 50 restaurants, an amusement park, miniature golf courses, an aquarium, and so much more, there's something for everyone to enjoy at the Mall of America.
The largest shopping mall in the United States, Mall of America, covers an area of over 5 million square feet and is located in Bloomington, Minnesota. This shopping and entertainment complex is like no other and is minutes away from the Minneapolis-St. Paul International Airport.
Open since 1992, the Mall of America is celebrating its 30th birthday this year, and they are still going strong and growing. Over 40 million people visit the mall every year.
Whether you're looking for a fun day out with your family or some retail therapy, there are plenty of activities at the Mall of America to keep you entertained! Here are 25 experiences that will make your trip to the mall unforgettable.
My hotel stay and VIP tour was complimentary. All opinions are my own.
1. Participate In Interactive Art
If you look up when you enter the main entrance of Mall of America, you will see a large-scale art installation entitle "Kaleidoscope." It features a majestic 30-foot monarch butterfly surrounded by over 300 butterflies of various sizes suspended from the atrium skylight. These butterflies are made from recycled waste-stream materials such as straws, plastic spoons, and plastic bags.
The art installation created by Christopher Lutter-Gardella explores eco-consciousness and resourcefulness while sharing information about the decline of monarch butterflies.
The giant center butterfly has a rope connected to it that hangs down to the floor. Guests are encouraged to pull on the rope to move the butterflies wings. Adults and children get a kick out of making the wings of the butterfly move as though it is flying.
2. Ride A Rollercoaster At Nickelodeon Universe
Nickelodeon Universe, the largest indoor theme park in the nation, has 27 rides to appeal to all ages. Many of the rides are Nickelodeon-themed, such as the SpongeBob Squarepants Rock Bottom Plunge and the Teenage Mutant Ninja Turtles Shell Shock. They even have a Ferris wheel and roller coasters in this indoor theme park. The Orange Streak roller coaster is exciting, and the exhilarating Log Chute is a fan favorite. My favorite ride was the swings.
3. FlyOver America
Enjoy a virtual flight as you FlyOver America in this thrilling and breathtaking attraction showing you views of some of the most significant landmarks in the United States. 62 people can ride the FlyOver at one time, and the spherical screen is giant at 60 feet in width and 40 feet high. At 10 minutes in length, it is the longest ride of its kind. The flights sometimes alternate between FlyOver America and Fly Hawaii.
Flights take off daily within the Nickelodeon Universe, but it is not included with the regular access pass. There is an extra charge, but it is so much fun you will want to be sure to get a ticket and FlyOver America.
4. Stand On Home Plate
The mall was built on the site of the former Metropolitan Stadium, which was home to the Minnesota Twins baseball team from 1961 to 1981. You can stand on the Metropolitan Stadium home plate bronze plaque embedded into the floor in the amusement park.
Another reminder of the site's baseball history can be viewed from the Log Chute. I had to go hunting for this one, and it looks like a random chair hanging from the wall. It marks the spot where Minnesota Twin Harmon Killebrew hit the longest home run in the Old Met Stadium. He smacked that ball 520 feet from home plate.
5. Attend Events And Performances
The mall hosts free events, from fashion shows and musical performances to celebrity meet and greets. Over 400 events are scheduled for this year. You can view their upcoming events on the Mall of America event calendar.
6. Have A Colorful Crayola Experience
Little ones have the opportunity to create their own crayons. Star in a coloring page and enjoy a variety of hands-on attractions when they visit the Crayola Experience. Color, technology, and chemistry combine to create a vivid adventure for the imagination.
7. Reminisce Football Highlights On The 50-Yard Line
The 50-yard line marker from the Metropolitan Stadium is embedded on the floor in the amusement park. It is where the game-winning touchdown "Hail Mary Pass" was thrown by Roger Staubach to Drew Pearson in a game between the Minnesota Vikings and the Dallas Cowboys on December 28, 1975.
8. Immerse Yourself In M&M's Mall of America
A new attraction, M&M's Mall of America, is all things M&M's. You can learn all about M&M's and virtually morph into one of the brand's characters. It is a fun, engaging visit for the whole family.
9. Play Mini Golf
There are two mini golf courses for your enjoyment. The Moose Mountain Adventure Golf provides full accessibility for guests and is an 18-hole miniature golf course.
The Rock of Ages Black Light Course is also an 18-hole miniature golf course highlighted by music from the 1950s to the present.
10. Visit An Escape Room
Are you ready for an immersive, problem-solving adventure? The Escape Room gives you one hour to crack the codes, solve puzzles, uncover clues, and complete a mission.
11. Shop Till You Drop
The Mall of America offers a variety of stores to fulfill your retail therapy needs. From stores selling soaps and luxury items to designer stores like Canada Goose, you are sure to find what you are looking for in the 500 stores on four levels of the mall.
Minnesota offers tax-free shopping on clothing items and shoes.
12. Play with LEGO Bricks
The iconic LEGO Store features a 34-foot tall robot towering over visitors and seven other larger-than-life models. A Pick-A-Brick wall with 180 different LEGO elements to choose from is another feature. They also have a variety of play tables to inspire creativity.
13. Take A Behind The Scenes Tour
The "VIP Behind the Scenes Tour" at Mall of America gives you a behind-the-curtain view of the operations that keep everything running smoothly. I enjoyed this tour with Mall of America Vice President Dan Jasper and I loved peeking behind the scenes and learning details only insiders know. The tour lasts approximately 90 minutes and is perfect for groups. Individuals can also go on public tours.
What amazed me the most was the size of the Paul Bunyon on the sides of the Log Chute Ride. Paul stands 27 feet tall. In the above photo, you can see how large Paul's Christmas Cape is.
I also enjoyed seeing the massive Christmas holiday decor items in storage and learning how the mall recycles and handles waste.
14. Eat Delicious Food
With over 50 restaurants to choose from, you will surely find one that suits your palate. They have everything from first-class dining options to food courts. You can find a complete list of restaurants on their dining page.
15. Fill Your Sweet Tooth
Perhaps a meal is not what you are looking for, and you just want to sink your teeth into a sweet and tasty dessert. The Mall of America has you covered with Ice cream stands, candy shops, and the legendary Wafels & Dinges. Delicious Belgian waffles topped with ice cream, fruits, chocolate, nuts, and more. I enjoyed one topped with candied bacon and bourbon barrel-aged maple syrup.
16. Throw Your Change Into The Fountain
Every year, over $24,000 in coins is collected and donated to twelve different charities. So go ahead and throw a few coins in to help others. Don't forget to make a wish when you throw the coins into the fountain.
17. Play Laser Tag
State-of-the-art equipment makes Tactical Urban Combat the most modern laser tag in the world. 30-minute open sessions are available to the public, or book an hour-long private session for your group.
A Nerf option is available for ages 6+. Up to 30 people can play at a time. The foam balls are enough to feel but not leave bruises.
18. Tour The Candy Cane Institute
This bigger-than-life Santa Claus experience takes you inside the Candy Cane Institute, where Santa's elves are researching to find the true meaning of the holiday season. Participants tour the institute, see all the science items connected to Santa and his elves, and then visit the jolly old elf to tell him what's on their Christmas list!
19. Visit The Sea Life Aquarium
Sea Life Aquarium at Mall of America showcases the fantastic sea creatures in and around the ocean. In a simulated tide pool, you can touch mussels, starfish, anemones, sea urchins, and more.
A highlight at the aquarium is entering the 300-foot-long underwater tunnel in the middle of a 1.3 million-gallon tank. You will see fish, sharks, rescued turtles, sawfish, and hundreds of other aquatic creatures.
20. Enjoy Some Comedy
Get ready to laugh at Rick Bronson's House of Comedy. The lineup features performers and stand-up comedians, often with national acclaim.
21. Count Your Steps
You can easily get your steps in at the Mall of America. Walking around just one of the four levels is slightly more than a mile. There are lots of stores, plants, and sights to see as you walk around the mall.
Bonus: Dream About The Future
The mall announced plans to build a $500 million expansion that will add a new water park, an indoor skydiving facility, and additional retail space.
Where To Stay Near Mall Of America
Two hotels are connected, and many others are very close. The Radisson Blu Mall of America and the JW Marriott Minneapolis Mall of America are connected to the mall.
There are more than 50 hotels nearby within 10 minutes of the mall. All offer complimentary shuttle service to the Mall of America. I stayed at the Hyatt Regency. It was a short shuttle ride (5 minutes max) to the mall, and the Light Rail also had a stop at both places.
Interesting Facts About The Mall of America
No Central Heat
The Mall of America does not have a heating system. Even during the cold Minnesota winters when the temperature is usually 22 degrees Fahrenheit, they have no heating system. Three things maintain the 70-degree temperature:
Residual heat from the many light fixtures in the building
Over 1 mile of skylights providing passive solar energy
Body heat from the more than 40 million annual visitors to Mall of America
Live Plants Everywhere
There are over 30,000 live plants throughout the park and mall to give the amusement park the feel of the outdoors.
Pro Tip: Download The App
Mall of America has a mobile app that helps you navigate the five million square feet of the mall. You can search for restaurants, attractions, stores, deals, and more.
Mall of America is a wonderland for shoppers, tourists, and families. You can find anything you're looking for at this mega-mall, from high-end brands to mini golf. Plenty of activities keep you busy, and the food options are diverse and delicious. If you're looking for a fun day out, check out the Mall of America!