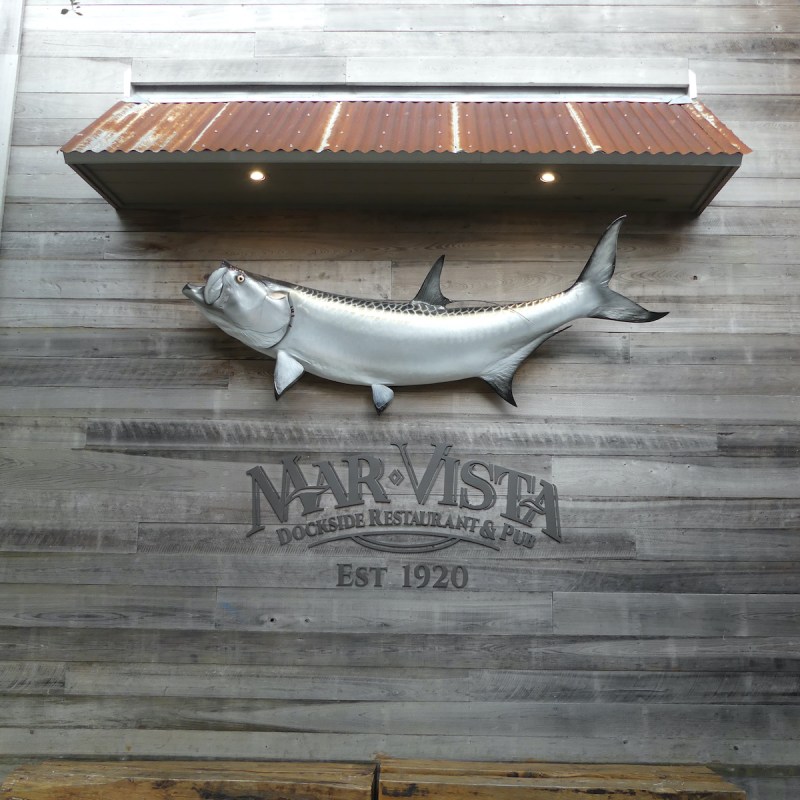 The Tampa Bay area offers a wide variety of restaurants. Some are upscale dining; others are down-to-earth waterfront places where you pick shrimp or crab and toss the shells on the table. But wherever you go in the area, you'll find delicious food.
From Anna Maria Island, which divides Tampa Bay from the Gulf of Mexico, through St. Petersburg with its urban charm and Tampa with its mix of cultures, the food reflects in all of these Florida locations.
I've numbered my favorite restaurants but not in order of preference. I was also comped at most of them but all taste choices are my own.
1. Columbia Restaurant
Much of Tampa's food history began at Columbia Restaurant in Tampa's Ybor City. Founded in 1905, it's the oldest in Florida and the largest Spanish restaurant in the world.
Fun Fact: Although its origins are debated, Columbia claims to be the inventor of the Cuban sandwich.
2. James Joyce Irish Pub
James Joyce Irish Pub is an Ybor City restaurant with an Irish flavor. I felt like I had stepped into an Irish pub in Dublin with its dark wood, stained-glass windows, and lots of plaques on the walls and ceilings. The 30-foot-long dark wood bar has about 50 beers on tap, as well as 30 Irish whiskeys, and lots of other spirits. They are a seven-time winner of the Tampa Bay Times Ultimate Bar of the Year Award.
Chef Trey Taylor's Jamison Burger won Best Burger at Burger Showdown, an annual event at Curtis Hixon Waterfront Park. He blends tender ground beef with Jamison whiskey and special seasonings.
What To Order At James Joyce Irish Pub
I tried their rueben quesadilla. It's a sweet and sour blend of German and Mexican cultures.
3. Ulele
Ulele is on Tampa's Riverwalk. The name honors Princess Ulele, daughter of the Tocoboga tribe's Chief Hirrihigua. Legend says, in 1528, she saved Juan Ortiz, a member of the Pánfilo de Narváez expedition, by throwing herself over his body when the tribe sentenced him to death by roasting.
The décor here is a mix of Spanish and Native American. There's a larger-than-life wild horse, stained-glass windows, and brick walls. The outside patio has vibrant orange and black seating protected from the weather by large yellow umbrellas. There are Native American sculptures, including a statue of Ulele in the courtyard. The restaurant has an outside bar, a 10-foot barbacoa grill, and an on-site brewery.
Dishes reflect Native American culture like the Native Chili with alligator, wild boar, venison, duck, ground chuck, cranberry beans, and chili spices. You can add jalapeño, red onions, and white cheddar to make it Loaded Native Chili.
What To Order At Ulele
I tried the gator tails. They were tender with a crisp coating, seasoned with chili marinade, and served with a remoulade sauce for a bit of spiciness. The sides of wild rice blended with crispy carrot ribbons and asparagus were a nice contrast.
For dessert, we shared candied bacon maple ice cream and pineapple upside-down bread pudding. The ice cream had a crispy cornflake crust. The pineapple gave the bread pudding a tang and the toasted coconut ice cream mixed well. The dark rum sauce added a buttery-liquor flavor.
Pro Tip: It's pronounced You-lay-lee.
4. Housewife's Bakery And Cafe
If you want to dine with locals, Housewife Bakery & Cafe is the place. It's a small family business serving Tampa since 1959. The food is a mix of the family's Italian recipes and Tampa's Cuban culture. You can choose a Cuban pork roast or Italian sausage with peppers and onions served with chicken and yellow rice. They have their own take on the Cuban sandwich using their own Cuban bread with salami, ham, cheese, pork, pickles, and a mix of mayo and mustard. One of their specialties is an Italian-inspired dish, Scacciatta, related to pizza.
The side of the building is decorated with a mural showing pies, cookies, and a gingerbread house.
What To Order At Housewife's Bakery And Cafe
They bake a huge selection of cookies. I had to choose between about 32 varieties. I settled for brownies and rum balls. Pastries, guava turnovers, mini cream puffs, mini eclairs, and more occupy another case. Carrot cake, cream pies, assorted cakes, and cheesecake tempt from a revolving case.
5. Doc Ford's Rum Bar And Grill
Doc Ford's Rum Bar and Grille is owned by Marty Harrity and Mark Marinello in partnership with Randy Wayne White, author of the Doc Ford books. It sits on St. Pete Pier where the restaurant and White's Books meet. Marion "Doc" Ford is a marine biologist who lives in his house lab in Tampa Bay. Doc Ford, once a government agent, is sometimes called back for secret jobs. Both Ford and his restaurant specialize in seafood, so dining here and watching boats cruise across the bay made me feel like I was in one of his books. White's favorite is the Yucatan shrimp, a spicy boiled peel-and-eat shrimp.
What To Order At Doc Ford's Rum Bar And Grill
I chose the Cuban sandwich with ham, Swiss cheese, slow-roasted pork, mustard, and pickles served on a crispy Cuban roll. For a side, I went healthy and had a fresh fruit bowl.
6. Ginny's And Jane E's
Ginny's and Jane E's on Anna Maria Island began as the creation of two sisters — one a farmer, the other an art and antique dealer. The cafe/store they opened in a former IGA grocery is a unique blend of local art and collectibles combined with down-to-earth food like salads, sandwiches, and bakery items.
Around me, unique folk art, bicycles hanging from the ceiling, fish mounted on the walls, racks of clothing, and antiques all created a fun atmosphere. Jerry Lee Lewis's "Whole Lotta Shaking Goin' On" playing in the background took me back to the 1950s. Like in the '50s, the food is real farm-raised products.
What To Order At Ginny's And Jane E's
My juicy, chunky chicken salad sandwich was a one-of-a-kind experience.
7. Floridays Woodfire Grill And Bar
How often are you greeted by a life-sized shark hanging over the bar? Floridays is a cross between an old Florida fish house and a Key West beach restaurant. It overlooks Anna Maria Sound. We dined in the tiki hut to enjoy the waterfront views.
What To Order At Floridays Woodfire Grill And Bar
We shared mussels cooked in garlic butter and white wine sauce for our appetizer. I went all out and had a seafood boil with shrimp, mussels, clams, sausage, potatoes, and corn on the cob. It was boiled in an herbed beer broth that added a depth of flavor to it. We finished up with a shared key lime pie and the P-nut Butter Chocolate Bar. The key lime was my favorite, as I could taste the tartness of the fresh key limes.
8. Anna Maria Island Beach Cafe
For breakfast, Anna Maria Island Beach Café's all-you-can-eat-pancakes are a tradition on the island, but I had the French toast.
We sat outside to enjoy the breezy sandy beach view. They are open from breakfast through dinner.
What To Order At Anna Maria Island Beach Cafe
Some of us couldn't decide between the French toast with blueberries or strawberries, so we got both and shared. The egg-dipped toast was nicely browned and the sweet fruit topping plus the whipped cream was a flavorful addition
9. Swordfish Grill And Tiki Bar
Swordfish Grill and Tiki Bar in Cortez Fishing Village is a waterfront treasure. It's a spot where locals ramble in on a covered pier and boaters tie up and dock for great seafood fresh out of the local waters. You can dine indoors or outdoors. There's a side patio, if you want a quiet spot, and the back deck where a musician competes with the diner's conversations from a small stage. The sea breeze wafts the smell of frying fish over the area.
What To Order At Swordfish Grill And Tiki Bar
We spread out on the side patio at a picnic table. The menu is extensive and mostly seafood. For starters, we ordered something you seldom find outside the Keys, Bahamian conch fritters. According to the menu, these are from "a secret recipe from the islands passed down through generations." The seasoned outer crust was crisp, and the inside soft and chewy. Conch meat tastes a little like chewy oysters. Remoulade sauce added a layer of spiciness.
I ordered the oyster sampler with four each of the oysters Rockefeller, garlic parmesan oysters, and bacon jalapeno oysters. My favorite was the oysters Rockefeller.
10. Mar Vista
Mar Vista is a cross between fine dining and a Florida fish house. It's on the water in Longboat Key and offers beach dining under softly-lit oak trees or a covered patio. We enjoyed a four-course meal paired with fine wines.
What To Order At Mar Vista
The most interesting dish was the main course, Shogun Farms pulled pork. Chef Aaron Kulzer told us the meat comes from wild boars. Shogun Farms captures them, feeds them healthy diets for at least a month, and then they slaughter them. The meat is tender and tastes fresh, not gamey. The paired wine was Lola Russian River pinot noir.
11. Anna Maria Oyster Bar
In 1995, John and Amanda Horne opened an oyster bar that grew into one of Bradenton's most beloved seafood restaurants, Anna Maria Oyster Bar. They now have four sites. The one I visited is on Anna Maria Island's Historic Bridge Street Pier with a view of Tampa Bay. Boaters can dock at the pier and come dine.
Naturally, oysters are a specialty. They come raw; steamed; tequila lime, what you get when an oyster marries a margarita; garlic parmesan; Grandma Georgie's chipotle, a bit spicy; or oysters Rockefeller. There're lots of other choices too.
What To Order At Anna Maria Oyster Bar
I had coconut shrimp with a sweet and spicy apricot horseradish sauce. The large shrimp had enough coconut in the crust I could taste its sweetness. My side choices were French fries and cheese grits. Drinks range from soft to all versions of hard.